Implementing Agency
Year
3/3
Project classification

Self-Operated

Grant

Commissioned

Others

Year project budget implementation
6,150,514yen
Project Contents
Municipal governments in Japan that are in charge of regions bordering other countries are not only affected by the relationship between Japan and the country concerned, but also face a number of policy-related and practical problems that arise when trying to balance economic development and border control. However, the measures taken by those municipalities are not well attended by the central government, and in addition to that, although they face similar challenges and problems, there is few opportunities for those municipalities to share their experiences and build their relationship for cooperation. Furthermore, associations such as the Association for Borderlands Studies (ABS), International Boundaries Research Unit (IBRU), and Border Regions in Transition (BRIT), which provide opportunities for researchers and practitioners to jointly conduct border studies research do exist at various regions throughout the world, there are no such institutions in Japan, East Asia, or Eurasia.
In this project, Slav Research Center, which has worked to build networks between border studies researchers in Japan, will attempt to create forums for discussion between practitioners such as officials of municipalities and related ministries. The network of practitioners will then be linked with Japanese researchers in order to establish 'Border Studies Network Japan', which will then forge connections with border studies researchers worldwide.
Implementation Plan
In the first year of the three-year project, the following activities will be carried out.
Meetings of practitioners


September

1st Meeting: Practitioners' meeting in Tokyo:Officials of municipalites and relevant ministries, and a number of researchers as permanent members, will attend regular meetings to hear themed presentations from other experts in the field.

December

Second practitioners' meeting

"Tsushima Forum"


November

Tsushima Forum at Tsushima City: (In addition to officials of Japanese municipalities, border studies practitioners and officials of Korean local governments will be invited to the forum. )

January 2011

Publication of a report on Tsushima Forum
Project Results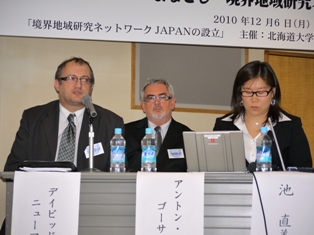 The network has been established to examine the challenges facing municipalities in Japan's border areas (national boundaries), establish forum for practitioners and researchers to discuss policy challenges, and connect them with the international network of researchers on the world's border regions.
This year, two meetings were held in Tokyo bringing together local government and ministry officials and researchers with the aim of building networks of practitioners and researchers. In addition, the Tsushima Forum was held in Tsushima for in-depth discussions on the challenges directly facing Japanese border municipalities. A seminar was held in Tokyo to report the outcomes of the Tsushima discussions.