The Sasakawa Peace Foundation (SPF) is a private, non-profit organization established in 1986 with the aim of promoting international exchange and international contributions among nations.
Currently, we have set five priority goals, and strive to tackle international challenges using free ideas and methods unique to private foundations. SPF cooperates with research institutes and governments around the world as well as experts and various stakeholders. We undertake a range of activities including research and analysis, drafting of policy recommendations, sharing information, and more.

In August 2018, SPF was granted Special Consultative Status for NGOs by the UN Social and Economic Council (ECOSOC), making the foundation one of the world's leading non-profit organizations with the ability to express its views in UN conferences. At SPF, we strive to bring together researchers and staff with diverse backgrounds and expertise who are also active at the forefront of international cooperation.  We look forward to welcoming you as a member of our team to realize our goals and work together to create a stronger international society!
Note: Due to a large number of applicants, the application process may be terminated without notice. We thank you in advance for your understanding.
Diversity & Inclusion (D&I)
We firmly believe that the diversity of the people involved in our projects and the pursuit of inclusion drives the creation of new values and supports the foundation's efforts to address complex global challenges. Visit our
Diversity and Inclusion (D&I) page
to learn more about our efforts to promote diversity and inclusion throughout our organization.
Features of our foundation
Benefits of being a private, nonprofit organization
■ Approaching international problems as only a private foundation can
The world today must face various issues that may be difficult for governments to negotiate directly and that private companies are not able to take on due to their focus on maximizing profits. To address these challenges, we seek out solutions to international problems without being bound by conventional thinking.

■ World leading Ocean Policy Research Institute (OPRI)
OPRI conducts research on ocean policy, creates policy proposals, and shares information in pursuit of coexistence between humankind and the ocean. As an example of our achievements, we contributed to the enactment of the Basic Ocean Law in 2007. We conduct cross-sectional research in collaboration with experts in various fields to confront urgent ocean challenges from a global perspective. 

■ Developing a wide-ranging network 
We have built a broad network of experts in various fields including government, academia, and the private sector. This cooperation creates the opportunity for experts who collaborate on SPF projects to pursue new partnerships based on the connections built through the foundation. In this way, we seek to develop a deep network linking Japan with countries around the world. 
 
■ A small group of elite professionals 
While SPF is one of the largest foundations in Asia in asset size, the foundation has only about 100 employees. We expect every staff member to have issue awareness and a strong commitment to the overall management of the foundation. 

■ Challenging ourselves to take on risks 
SPF is able to take on risks in our projects when the need arises. We are unique in our ability to address challenging themes and projects. Since there are fewer restrictions in use of our funds as a private foundation, we are able to take bold action and make quick decisions in our projects.
Well-equipped office facilities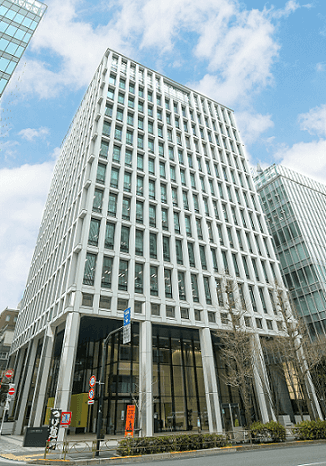 Sasakawa Peace Foundation exterior
■ An air of openness
The Sasakawa Peace Foundation Building, located in Toranomon (Minato Ward, Tokyo), was completed in September 2015, and features a bright and open atmosphere.

■ Fully equipped with the International Conference Hall
The top floor of the building has an International Conference Hall that can seat up to 300 people. It is used for holding public events and international conferences.

■ Special facilities
The staff cafeteria on the upper floors of the building has a bright atmosphere and our staff loves it! We also have a lounge to welcome visitors from all over the world as well as to serve as a meeting space for staff.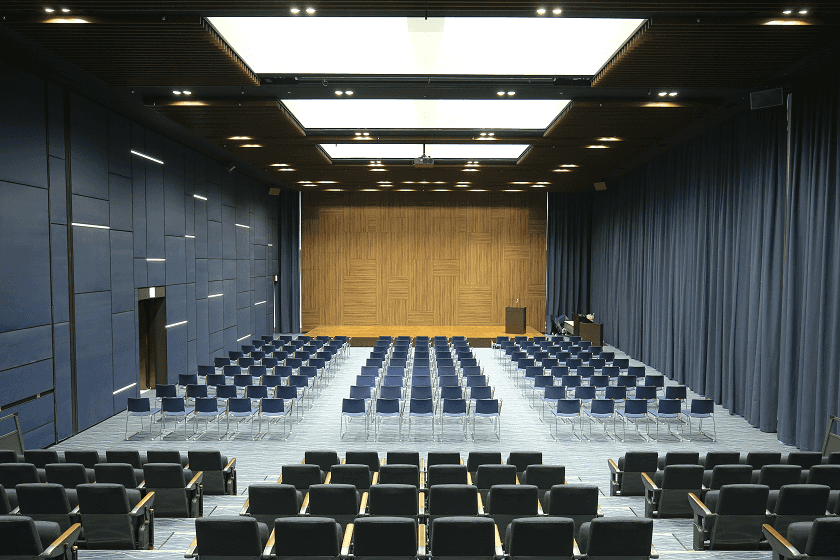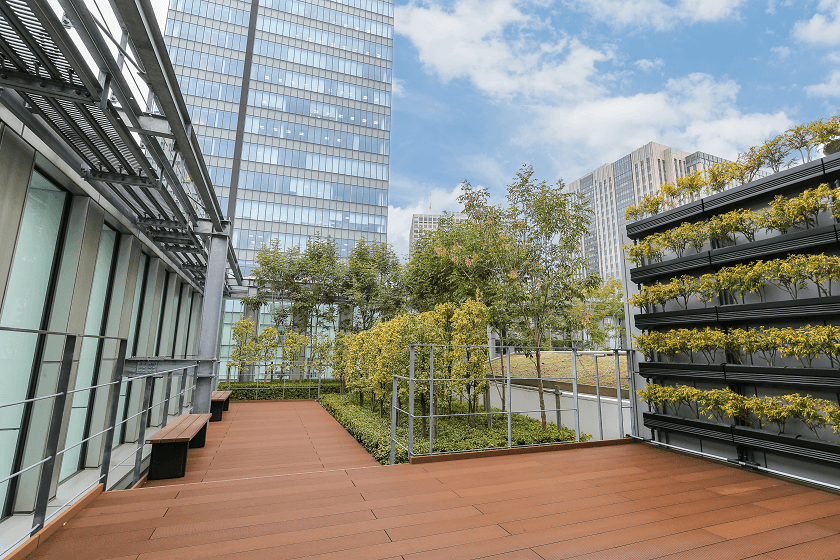 For inquiries, please contact the Human Resources Department, Sasakawa Peace Foundation.
Email: spfmail@spf.or.jp