2011
Project
Deep South Peace Media Network Development Project
Implementing Agency
Deep South Watch (Thailand)
Year
2/3
Project classification

Self-Operated

Grant

Commissioned

Others

Year project budget implementation
8,620,080yen
Project Outline
This project aims to support the creation of strategies for the "Peace Media Network" of about 30 alternative media groups active in Southern Thailand, and capacity building for the network's members.
Implementation Plan
In the second year of this three year project, the following activities will be implemented.
Regular meetings to develop network strategies
Representatives of about thirty participating organizations will meet three times (about once every four months) to analyze the status of conflicts and to formulate a peace-oriented "communication agenda." They will also develop strategies for their development as a network. In order to create the framework to continue expanding activities after the end of current grant funding, participating organizations will refine collaborative action plans (capacity building of participating organizations, improvement of quality of reporting, stronger networking with organizations in Bangkok and overseas, promoting citizen-level policy recommendation efforts, and so on), and seek external funding to implement the plans.
Launch of journalist training program
Lectures will be held once every two months relating to techniques as well as reporting principles based on the concept of "peace media," for local journalists affiliated with participating organizations. Local journalists with extensive experience will serve as lecturers. In addition, guest speakers will be invited from Bangkok several times during the year.
Photojournalist project
With the objective of creating a network of Southern Thailand photojournalists and demonstrating the effectiveness of photographic images as a medium for improving the environment for resolving conflicts, two workshops, as well as four exhibitions (in Bangkok and three locations in Southern Thailand will be held). In addition, this project's website (www.wewatch.in.th), which mainly features photographs, will be further developed. Three videos on this project and one edition of a photo book will also be published.
Program Results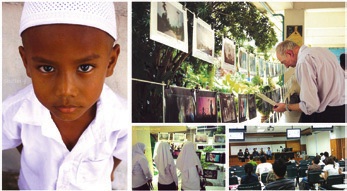 Scenes from a photo exhibition and public debate in progress
This fiscal year, members of the media network met three times in Bangkok and Southern Thailand, creating strategies for conflict resolution and hosting events to raise the profile of alternative media in Southern Thailand, as well as organizing photograph exhibitions and public debates on policies for governance in Southern Thailand.