2011
Project
Peace Building in Asia and the Role of Japan
Implementing Agency
The Sasakawa Peace Foundation
Year
2/3
Project classification

Self-Operated

Grant

Commissioned

Others

Year project budget implementation
25,920,299yen
Project Outlines
Since the end of the Cold War, conflicts tend to take place within, rather than between, states. In this context, international society is paying more attention to "peace building" efforts to prevent conflicts from occurring (or recurring) in certain countries and regions. With the aims of raising awareness in Japan and strengthening international collaboration, this project will conduct a comprehensive set of activities, including hosting of persons from overseas, an international symposium, project development, management of support projects, and so on, with an emphasis on support for alternative media (radio, Internet, etc.).
Implementation Plan
In the second year of this three year project, the following activities will be carried out.
Symposium on "Peace Building in Asia and the Role of Japan" (tentative title)
A symposium will be held in around November in Tokyo with the aim of arousing public interest in the role of Japan in peace building in Asia. The plan is to invite Mr. Martti Ahtisaari, Nobel Peace Prize laureate and former president of Finland, as a keynote speaker, and about three persons from Asia who are experts relating to peace building.
Promoting dialogue for peace-building (and conflict transformation) in Southern Thailand
With the objectives of fostering opinion leaders working to promote peace in Southern Thailand, and forming a network of knowledgeable persons in Bangkok and other areas to support peace building in Southern Thailand, activities of this project will include the invitation of about 12 persons (experts, politicians, journalists, etc.) from Thailand to Japan for dialogue meetings. Public seminars will also be held where the invitees can address participants.
Creation of media persons' network in (former) conflict areas in Asia
This activity will involve sending media persons whose activities support peace building to international media conferences, etc., and will contribute to creation of a network.
Management of the grant program
The following activities will be conducted:
(1) Monitoring of the grant project (through on-site visits)
(2) Evaluation (outsourced to external specialists)
(3) Project development (field studies, meetings of experts, and outsourced surveys)
(4) Information dissemination activities relating to peace building (requests to external specialists to write articles, etc.)
Project Content
Nobel Prize Laureate, President Martti Ahtisaari, former President of the Republic of Finland comes to Japan with the invitation of SPF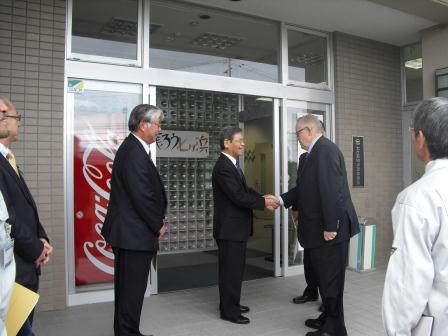 Meeting with Mayor Watanabe at Shichirigahama Town Hall
SPF invited the 2008 Nobel Prize Laureate and former President of the Republic of Finland, Martti Ahtisaari between November 23 and 27, 2011 to Japan. On Nov. 24, the President gave a lecture "On Peace Mediation ? Learning from the Experiences of President Ahtisaari.".On 25 Nov. he gave a Master Course (closed to the public) for the scholars, NGO staff members and specialists working in the field of Peace Making. He also met Japanese MPs later in the day for informal discussion. On 26 Nov. the President visited Shichigahama in Miyagi prefecture, a small town affected by the East-Japan Earth Quake on March 11. He was given a briefing on the reconstruction plan by the mayor, Mr. Watanabe at the town hall and later visited the temporary housing of the afflicted people as well as the local volunteer center and expressed his condolences.
Although it was a very short stay, the President shared his rich experience of Peace Mediation with various people in Japan.
The Lecture by President Ahtisaari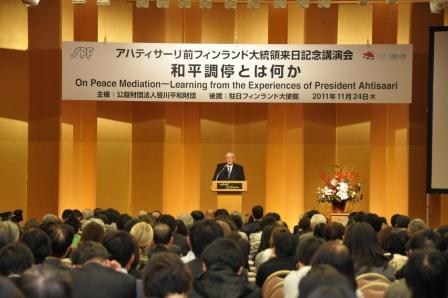 More than 400 people listened to his lecture
On 24 Nov. the President gave a lecture in front of an audience of more than 400 people at Hotel Okura in central Tokyo.
In his lecture, President Ahtisaari insisted that peace mediation is just a beginning; only a step on the way for achieving sustainable peace. At the same time, he gave a strong message to the audience "But conflicts do end ? if we so decide".
By referring to the examples from his experiences in Aceh (Indonesia), Namibia (Africa) and Kosovo, President Ahtisaari told the audience that Mediation activities must be strategically designed, well supported and skillfully implemented. He also stressed the importance of thorough analysis of the conflict situation, a clear goal and engagement of various parties. After stating that there is a certain skill needed for a mediator, he described himself as "an honest broker". It was impressive to hear that the President has never been neutral or impartial with regard to the issue of a peace process. "The mediator may well have a clear stance on the issues under discussion and at the same time not to side with any of the parties" he said with power and persuasiveness that is supported by his rich experience.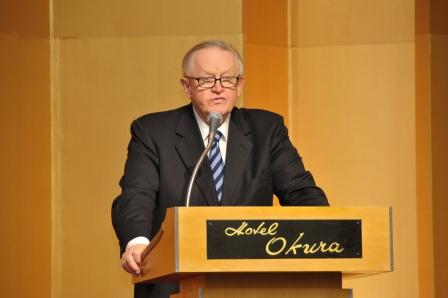 Spoke about Japan's future role
During the Q&Q session, a number of questions were raised. Especially for the questions regarding Japan's role, the President supported Japan for sending PKO to south Sudan and pointed out Japan's contribution in reconstructing the broken infrastructure such as roads needed by the civilians. The President expressed his belief that to bring peace, it is important to regain the normal lives of the citizens. Japan's contribution, therefore is crucial and he emphasized that this is a kind of role Japan could play. In responding to the question from a student, he mentioned about the importance of going abroad while young and to learn from different experiences.
Project Results
This fiscal year, the project invited 2008 Nobel Peace Prize laureate and former President of the Republic of Finland, Martti Ahtisaari, to Japan, where a lecture and discussion roundtable were held to explore the question of what contributions Japan should make in the context of conflict resolution (see above).
Furthermore, the project held a closed meeting among a diverse group of opinion leaders and experts from Southern Thailand, Bangkok and Jakarta in Kyoto to discuss possible initiatives for conflict resolution in Southern Thailand.