2010
Project
Research on New Maritime Security
Implementing Agency
The Sasakawa Peace Foundation
Year
1/3
Project classification

Self-Operated

Grant

Commissioned

Others

Year project budget implementation
6,888,545yen
Project Contents
While the United Nations Convention on the Law of the Sea, which came into force in 1994, provides a basic framework for maintaining maritime order, the various treaties formulated by the International Maritime Organization (IMO) establish a range of measures for maritime safety, security and environmental protection. However, in recent years threats to maritime security, such as piracy and use of seaways by terrorist groups, in addition to the more conventional problems of transportation of narcotics, human trafficking, and illegal fishing are increasing in frequency, complexity and gravity. Moreover, there is also a strong, growing interest among some countries to establish territorial rights to islands and to demarcate boundaries of EEZs and continental shelves. As a result, tense relations are beginning to flare at the international level. To prevent these problems from developing into military conflicts in the future, the development of a mechanism for resolving such problems and building trust between the countries concerned is essential.
In this project, research will be carried out on two major themes of "Creating a framework for new international and maritime law necessary for strengthening maritime order and "Strengthening of effective regional frameworks of cooperation through maritime safety institutions," with the ultimate aim of making international policy recommendations. Special attention will be paid to the potential role that coast guards or maritime safety institutions could play in strengthening maritime security.
Implementation Plan
Research group meetings in Japan (October 2010 to March 2011)
A ten-member research group consisting of experts in the fields of maritime policy, security, and international law including Dr. Takashi Inoguchi, the President of University of Niigata Prefecture, Prof. Mariko Kawano, School of Law, Waseda University will be assembled in order to conduct research on relevant themes. Meetings of the research group will be held mainly in Tokyo.
Outsourced research (October 2010 to March 2011)
Research topics requiring expert validation over long period of time will be outsourced to external organizations.
In this year, the research on "New Approach to the Law Enforcement against Unlawful Act on the Sea" will be outsourced to Prof. Mariko Kawano, School of Law, Waseda University.
International Committee Meetings (January - February 2011)
An international committee consisting of research group members from Japan and approximately five international experts from the US, Australia and elsewhere will meet in Tokyo to investigate major research themes.
Activities of the Secretariat (October 2010 to March 2011)
The Secretariat will coordinate and gather information as necessary for the operation of the project.
Project Results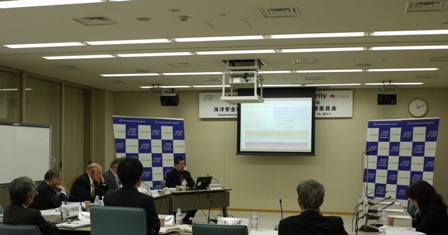 The project's aim is to formulate international policy recommendation for means to strengthen maritime security, based on the findings of discussions and researches conducted by Japanese and international experts on maritime policy, security and international law. In this project, special attention will be paid to the potential role of coastguards and other law enforcement agencies, considering the growing tensions among states over maritime interests. In fiscal 2010, the first year of this project, study groups comprised of experts in the fields of maritime policy, security, and international law met twice for in-depth discussions on the increasingly serious threats to maritime safety and security, and the potential for international cooperation being able to overcome these threats. In March 2011, specialists in maritime safety and security from the United States and Australia attended an international committee meeting in Tokyo to exchange ideas on major research themes.