2010
Project
The Global Demographic Change and Labor Migration in Asia
Implementing Agency
The Sasakawa Peace Foundation
Institute for Human Diversity Japan (Japan)
Year
3/3
Project classification

Self-Operated

Grant

Commissioned

Others

Year project budget implementation
38,179,804yen
Project Contents
During this time of global change in population composition and the labor market, and while discussions continue at the international level regarding the intake of foreign workers, Japan continues to import labor without any real consensus in public opinion or government policy.
In this project, surveys will be conducted into the current practices of Japan, Asia and Europe regarding the sending and intake of foreign workers, as well as the various surrounding issues, with the aim of making policy proposals regarding the intake of workers from overseas.
Implementation Plan
In the third year of the project, the following activities will be carried out. The surveys conducted in this project will, on the basis of the results achieved up to and including last year, focus on analysis necessary to create policy proposals.
Research committee meetings:
All necessary activities will be carried out for creating an overall summary of the project-related activities, and drafting of policy proposals.
Subcommittee 1: (The labor market and changes in population composition)
Subcommittee 1 will conduct surveys in Japan, analyze simulations based on numeric data, and host research meetings attended by various experts in the field. Analysis work and management of the subcommittee will be outsourced to the Mitsubishi Research Institute (MRI). In addition, the committee will conduct field-specific surveys of foreign workers and perform qualitative analysis of any problems that arise.
Subcommittee 2 (Ageing and migrant labor policy)
Subcommittee 2 will conduct local surveys in Europe and Asia and host research meetings.
Subcommittee 3 (Social integration policy)
Subcommittee 3 will conduct field surveys in Japan, hold a stakeholders' dialogue on issues relevant to multicultural coexistence policy, and host a research meeting (management outsourced to the Institute for Human Diversity Japan).
Creation of the second collection of documents pertaining to the problems surrounding intake of
foreign workers, an integrated edition of the documents, and an English translation.
International Symposium (planned for December 2010):
Experts from Europe and Japan will be invited to attend an international symposium to hold a primary discussion of policy proposals on the basis of the research results.
Meeting to discuss policy proposals (planned for February 2011):
Policymakers from Asia and experts from Japan will be invited to attend this meeting, at which ideas for a policy proposal document will be discussed and finalized.  
Coordination of the committee and subcommittees
Project Results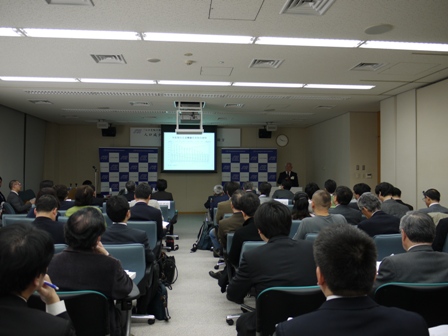 The purpose of this project is conducting investigative research on host countries, migrant-sending countries and the current status of foreign workers in Japan and making policy recommendations. Subcommittees were established for conducting investigative research on three themes (Subcommittee 1: the labor market and changes in population composition; Subcommittee 2: aging and migrant labor policy; and Subcommittee 3: social integration policy).
In the first fiscal year, studies were conducted on systems and conditions in Japan and other host countries, the status of foreign workers residing in Japan, and the histories and current issues identified with regions advanced in hiring foreign workers as well as migrant-sending countries. In the second year, investigative research continued based on analysis of the previous year's findings. This year, each subcommittee organized its research findings and worked to create policy recommendations.
An international symposium entitled 'Societies with Declining Populations and Migrant Policies?Learning from Europe's successes and failures' was held featuring Dr. Emmanuel Todd, an expert on France's historical demographics; in addition, the research findings were analyzed.