D&I (Voices of our Staff)
Acting as bridge between Japan and my home country with lessons learned in a diverse working environment
Michael C. Huang, Research Fellow, Policy Research Department, Ocean Policy Research Institute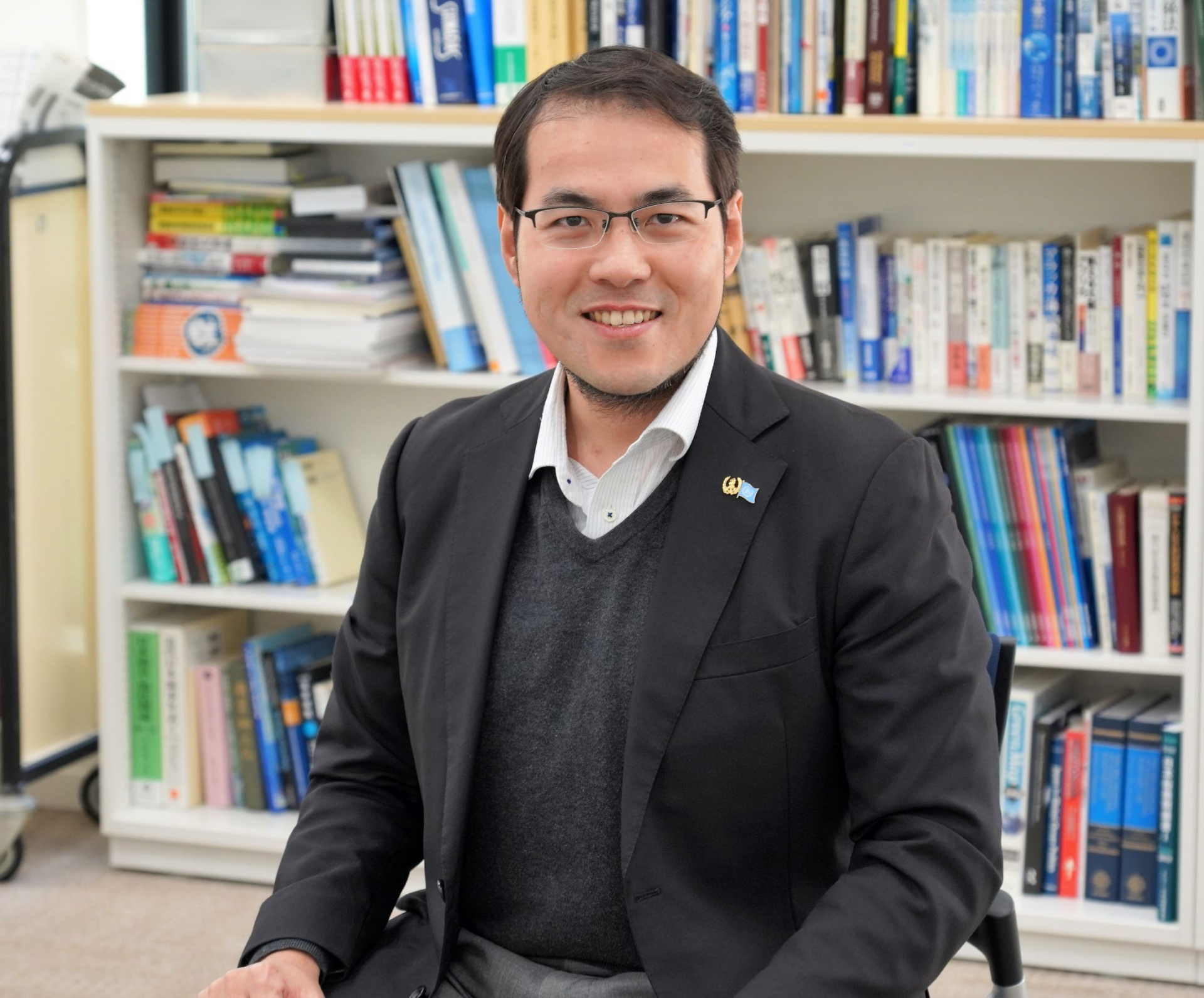 ■ Tell us about yourself.
 
I am from Taitung in Taiwan, which is located on the southeast part of Taiwan facing the Pacific. In this area, numerous ethnic groups have lived together for centuries.
 
The school I attended had students from a variety of ethnic backgrounds. People wore traditional garments and spoke their indigenous languages. It was quite normal to hear about five different languages spoken on the school grounds. Having grown up in such an environment, diversity was a familiar part of my upbringing.
 
My interest in Japan stems not from anime but from the feudal lord Oda Nobunaga's concept of rakuichi rakuza (free market system) and international exchange. This introduction to Japan led me toward a greater interest in Japanese history and castles, inspiring me to one day move to Japan to visit castles and other historical sites.
 
After completing graduate school at the age of 25, I was granted a Japanese government scholarship to pursue a PhD at the National Graduate Institute for Policy Studies (GRIPS) in Japan. About 70% of GRIPS students are international students from around 100 countries, and both Japanese and English were used as official languages in the university. Many students were mid-career governmental officials in their respective countries. I was blessed to be introduced to cultural diversity from around the world including Islamic culture, African cultures, and European cultures.
 
I have never studied Japanese at a language school. Instead, while I was in Taiwan I tried to learn the language by watching Japanese historical dramas. After coming to Japan, I had the opportunity to hone my language skills through a weekly one-hour class on Japanese culture and history for international students. The culture of nominikeshon, or communicating over drinks, has also helped me become well-versed in the Japanese way of thinking.

■ How did you come to work for the Sasakawa Peace Foundation?
 
After completing the course at GRIPS, I began to focus on science, technology, and innovation policy analysis as a postdoctoral fellow. After learning about Taiwan's new initiative to establish a governmental council for general management of ocean affairs and the National Academy of Marine Research in 2018, I felt strong motivation to work in a field that acts as a bridge between Japan and Taiwan on a national level.

Since I studied for my PhD on a scholarship program sponsored by the Japanese government, I felt it was my duty to pay back Japan while also contributing to my home country of Taiwan. Fulfilling this mission while living in Japan seemed to be the best way of realizing my full potential as an economist in an environment whereby I can help deepen mutual understanding between Japan and Taiwan.
 
As I looked for ways to pursue this goal, I came across SPF's Ocean Policy Research Institute (OPRI). Both Japan and Taiwan are countries surrounded by the ocean, so I was convinced that these countries could forge a strong partnership in various academic fields and policy studies. I also learned that SPF participates in the advisory network of the High Level Panel for a Sustainable Ocean Economy, and is therefore in the position of using the platform to make UN-level contributions. I found this very appealing and decided to work at SPF.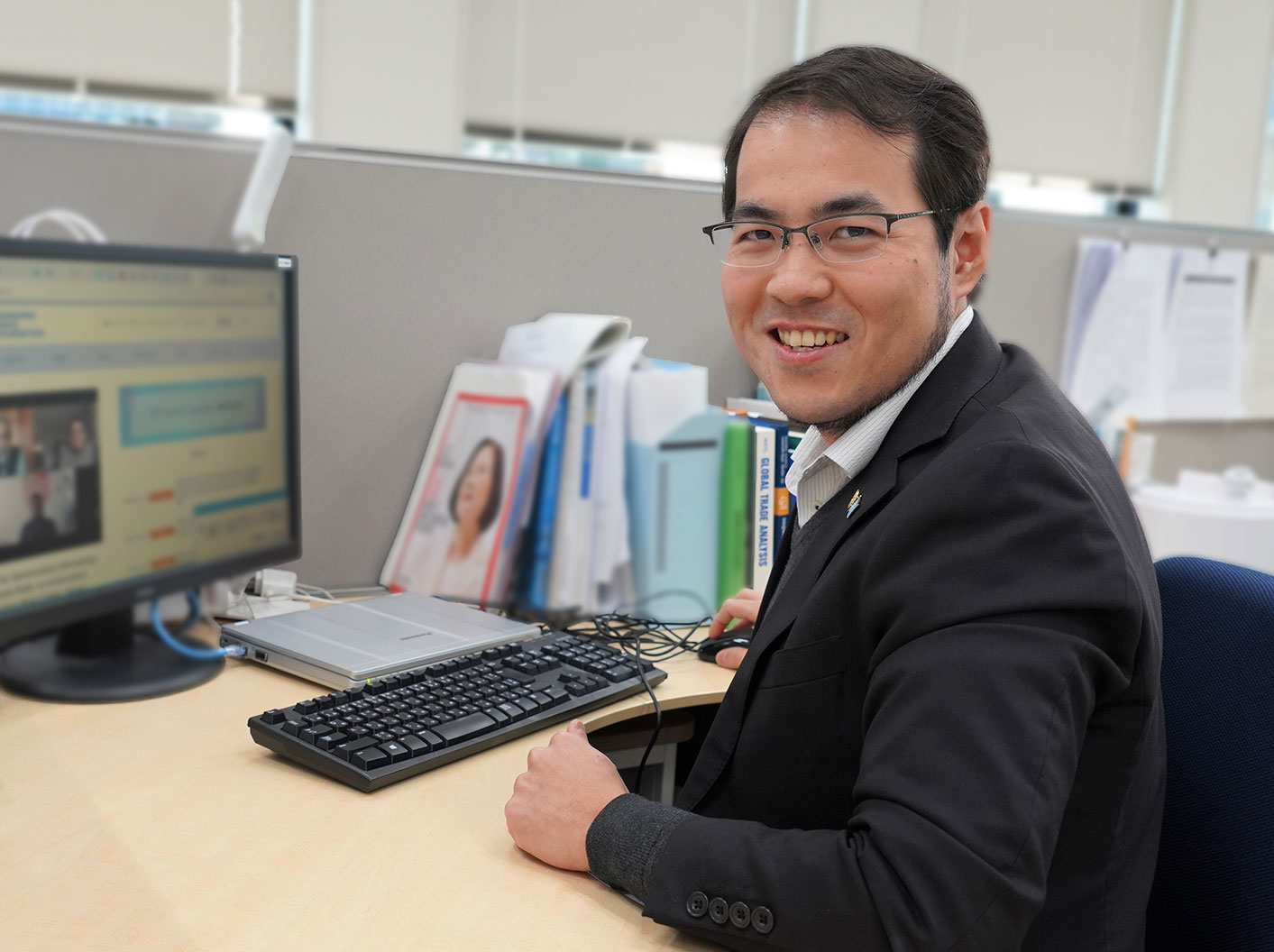 ■ What are your current duties?
I specialize in the fields of blue finance and the blue economy, so my work consists of carrying out quantitative analysis of ESG (Environmental, Social and Corporate Governance) and impact investments to formulate policy recommendations. More specifically, I prepare guidelines and policy recommendations for island states that require advice regarding how they can raise funds efficiently not only in pursuit of profits, but also for the purpose of environmental conservation through initiatives such as cultivating seaweed to reduce CO
2
. I provide guidance particularly to developing countries regarding the amount of funds necessary, strategies for raising capital, and advice regarding negotiations with development banks for ocean development projects.  
In 2019, I went on 20 international business trips, mainly to give presentations at numerous academic conferences and economic forums to boost awareness about blue finance. The Asia-Pacific Economic Cooperation (APEC) conference on ocean energy adopted the content from my presentation on the development of this financing method as one of their key recommendations. In 2020, the COVID-19 pandemic has kept me from traveling outside of Japan, but I have continued my academic collaboration online by compiling my experiences and the insights gained from previous business trips and publishing the findings in academic journals.
■ What are your expectations for SPF regarding diversity and inclusion?
OPRI, my department at SPF, is a truly international workplace. As much as 90% of communication within the research teams is conducted in English, making it easy for me to discuss potential research ideas and consult with my colleagues. I realize that I am overwhelmed with gratitude to be part of such a workplace.  
In addition, OPRI is already full of diversity and I feel completely comfortable working here. Official announcements within our group are increasingly issued in both Japanese and English, and I am impressed with the evolution I see within the organization.  
I hope that SPF can continue progress toward becoming an organization whereby all members feel they can make contributions to their workplace and society regardless of nationality or language. In addition, I believe that there should be more opportunities for everyone, regardless of rank or position, to freely share their ideas. Establishing a diverse and international work environment will deepen the insight and achievements of organizations such as SPF, providing future opportunities to engage in extensive debate and deliver knowledge to various sectors throughout the world.  
I believe that initiatives of this kind are needed in the long term to bring sustainable solutions not only to SPF but also to the rest of the world.