Interview with Dr. Michael C. Huang, Research Fellow at the Ocean Policy Research Institute, on supporting sustainable ocean development with Blue Finance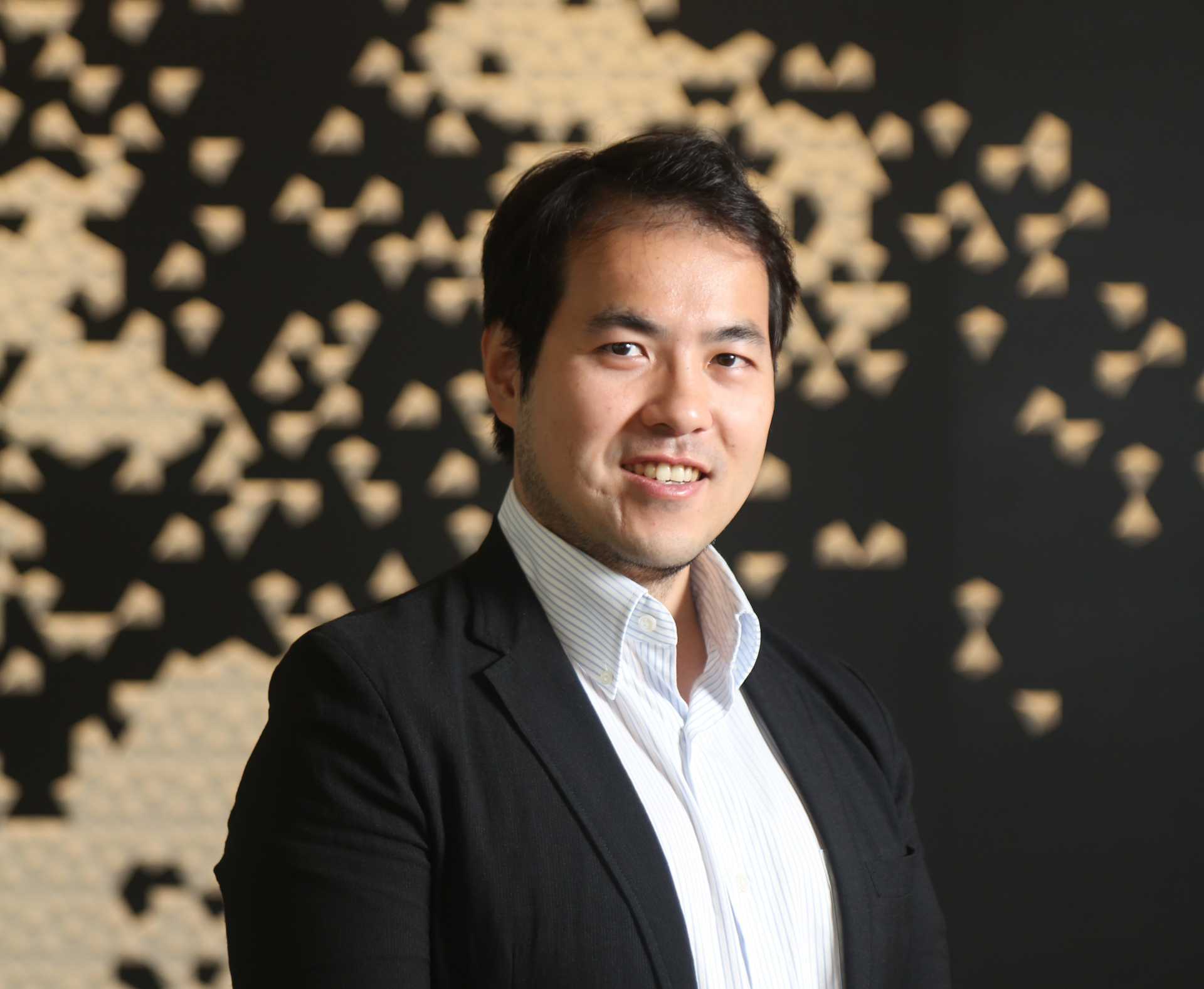 Since 2019, the Ocean Policy Research Institute (OPRI) has been developing the concept of Blue Finance: financing sustainable ocean development while preserving the marine environment and its resources. We interviewed Dr. Michael C. Huang, who is conducting research in this new area from an economist's perspective for OPRI.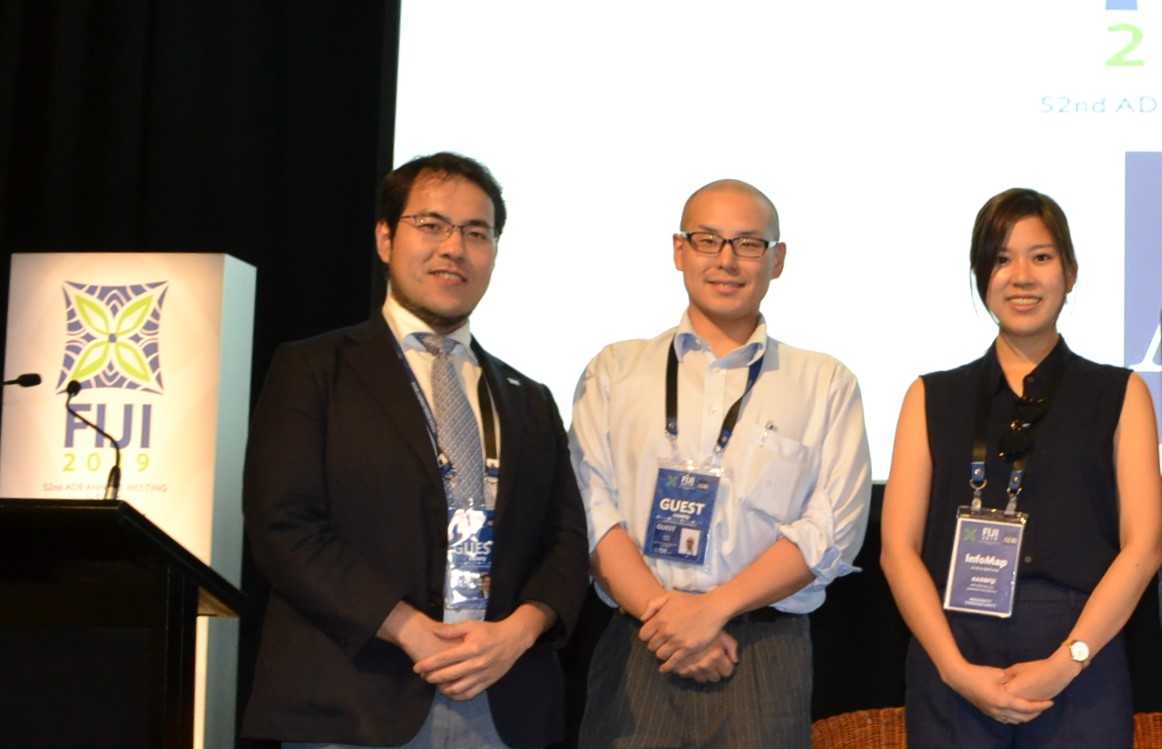 The Blue Finance research team at OPRI. (From left) Michael C. Huang, Hajime Tanaka, and Nagisa Yoshioka.
In what kinds of situations is Blue Finance necessary?
 
Dr. Huang: For example, overfishing and pollution of the ocean due to plastic and so on could reduce the amount of available fish. In order to continue fishing, it is important to protect the fish (and other ocean resources) and maintain a clean ocean environment.

Laws regulating fishing areas and seasons are a way to prevent overfishing. As for pollution, it may be necessary to regularly clean beaches or create sewage treatment facilities. In order to implement these policies, it would be necessary to buy ships and employ staff to patrol the areas where fishing is prohibited, as well as to build treatment facilities. This requires a large amount of capital.

The problem is how to find this capital. In developed countries, it may be difficult to cover all expenses with public funds, and in developing countries it would be almost impossible. Private investment is not viable either. There is no established investment culture for environmental protection and restoration, and the public is not expecting to make any returns from it. However, with the progression of time, more people have come to believe that protecting the environment helps the economy, and investors are also starting to show interest in environmental protection.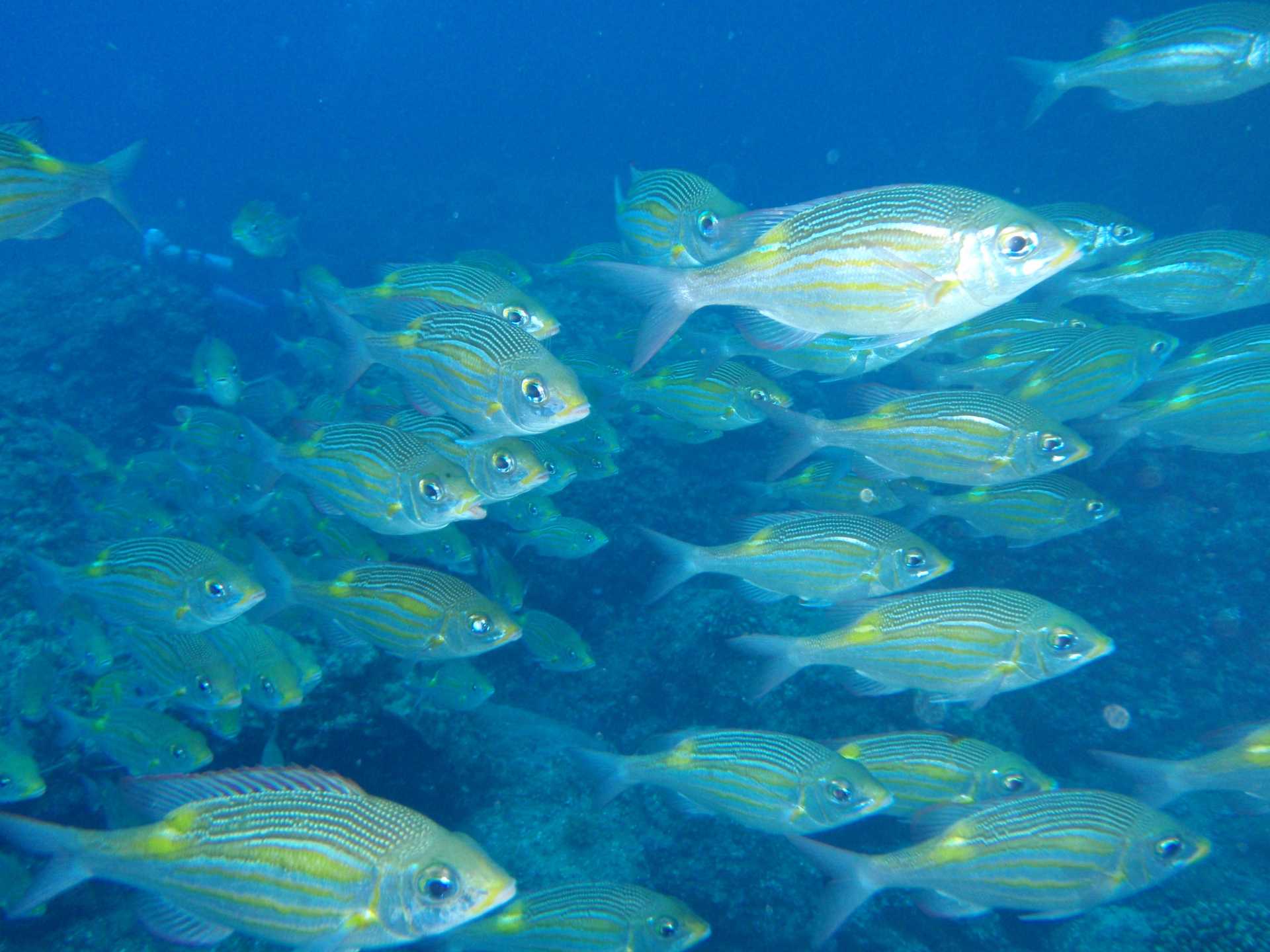 According to some theories, by 2050 the weight of plastic waste in the ocean will be equivalent to that of fish.
So this is why Blue Finance is necessary?
 
Dr. Huang: Yes. However, our research on Blue Finance includes not just environmental protection, but also disaster prevention and disaster risk mitigation. This includes giant typhoons and rising sea levels due to climate change, tsunamis, and other natural disasters related to the ocean. We cannot stop them from happening altogether, but disaster risk mitigation and reduction are possible. 

For example, according to 2012 data from the World Bank, one dollar (USD) invested in disaster prevention can prevent a loss of seven dollars if a disaster occurs. Thinking about it like this, we could say that disaster prevention could generate a return of seven times that of the original investment. We are also advancing studies while simulating investment effects like this in different case scenarios and turning the results into graphs and other easy-to-understand formats.

That is a very high return on investment. Is Blue Finance gaining popularity as a result?
 
Dr. Huang: In 2018, bonds specifically aimed at the ocean, called "Blue Bonds," were issued and drew public attention. It was a way to bring funds into the market.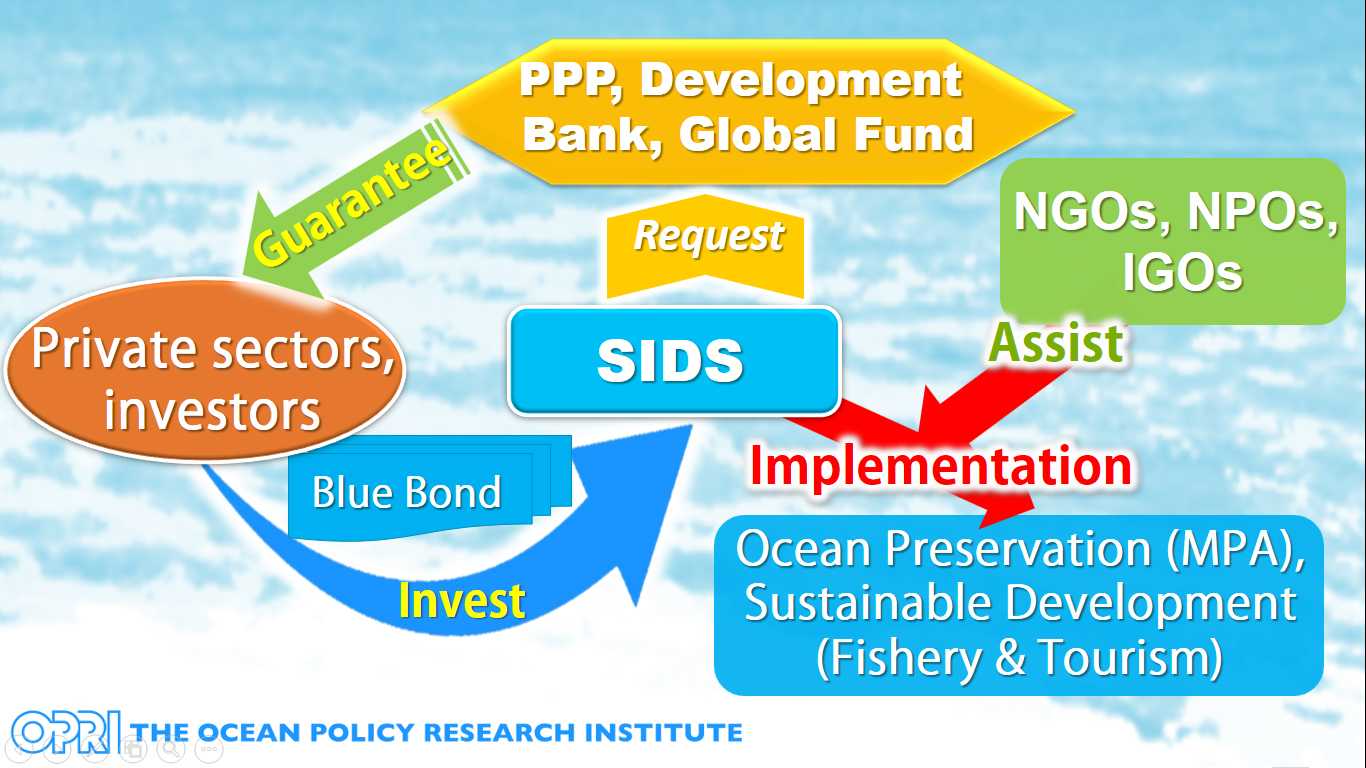 Schematic diagram of a case utilizing the Blue Bond mechanism
With bonds, the issuer must pay interest to the investor. Do they produce enough profits for this?

Dr. Huang: Let's take the Blue Bonds issued by the Seychelles as an example. Their government has issued bonds for 15 million USD at 6.5% interest. Of this, the World Bank guaranteed the principal amount of 5 million dollars, and the Global Environment Facility (GEF), an international fund, financed 5 million USD for interest, fees, and so on. As this greatly reduced their default risk, it became easier for investors to buy the bonds.

How will the 15 million USD be used?

Dr. Huang: The plan is to use it to increase protected ocean zones, to fight IUU (Illegal, Unreported, Unregulated) fishing*2, and to promote the Blue Economy. This is expected to have effects such as reinvigorating the tourism industry.
 
*2. IUU fishing refers to illegal fishing such as poaching, unreported fishing such as falsifying the reporting of catches, and unregulated fishing that does not comply with national regulations or the regulations of the operating sea area.

Many island countries and coastal areas are economically dependent on fishing and other resources from the ocean, making them vulnerable to climate change and natural disaster risks. Alongside protecting oceanic resources, it is also important to promote disaster prevention and disaster mitigation, but governments may not have sufficient funds to do so, especially in developing countries. The Seychelles are calling for a larger number of organizations and people to collaborate in order to efficiently attract funds. At OPRI, we are trying to expand the reach of these collaboration-based Blue Bonds to the world at large.

What efforts are you making to achieve these objectives?

Dr. Huang: In order to issue Blue Bonds that can attract investors, the issuing country or region must collaborate with international organizations and development banks. OPRI is building a network to allow for collaboration with the World Bank, the Asian Development Bank Institute (ADBI), and more. Even internationally, research institutes specializing in the ocean on a global scale are rare, and there have been more and more calls for OPRI's help.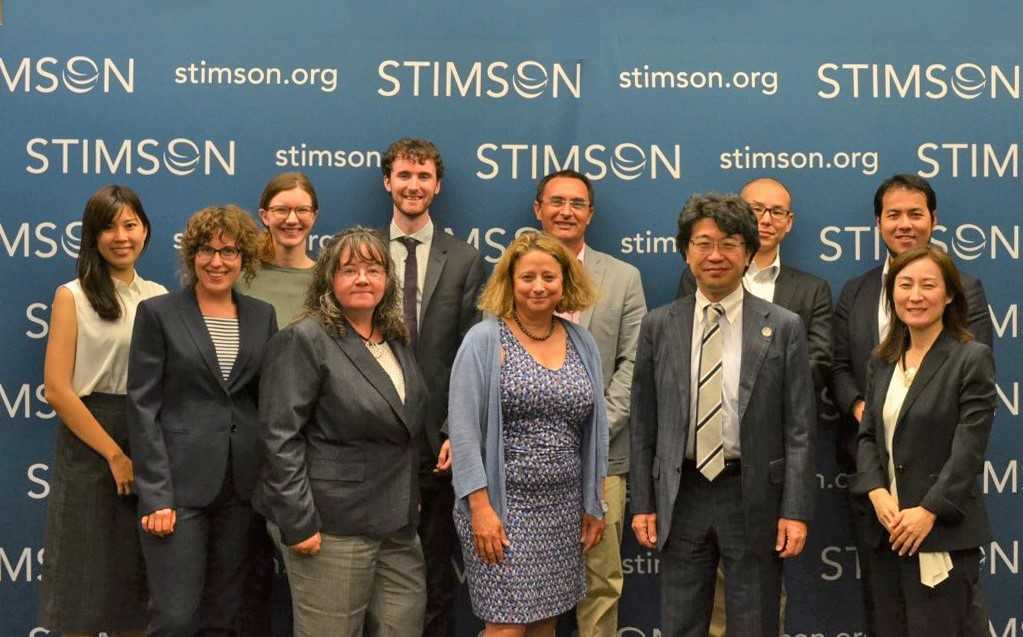 With collaborating researchers from the Stimson Center
What is OPRI's role in this context?

Dr. Huang: I believe its role is to provide information on the ocean based on our evidence-based research. Without researching the ocean, it is impossible to tell whether the business behind a Blue Bond is really sustainable, what risks it faces, and so on. We hope that OPRI will become a guide in such cases, like a compass.

Since 2019, we have been working together with the Stimson Center, a think tank in the United States, to develop a risk vulnerability index for the climate and oceans. This index will take into consideration environmental, political, and financial risks, and can be used to measure how much risk a certain country or region is facing.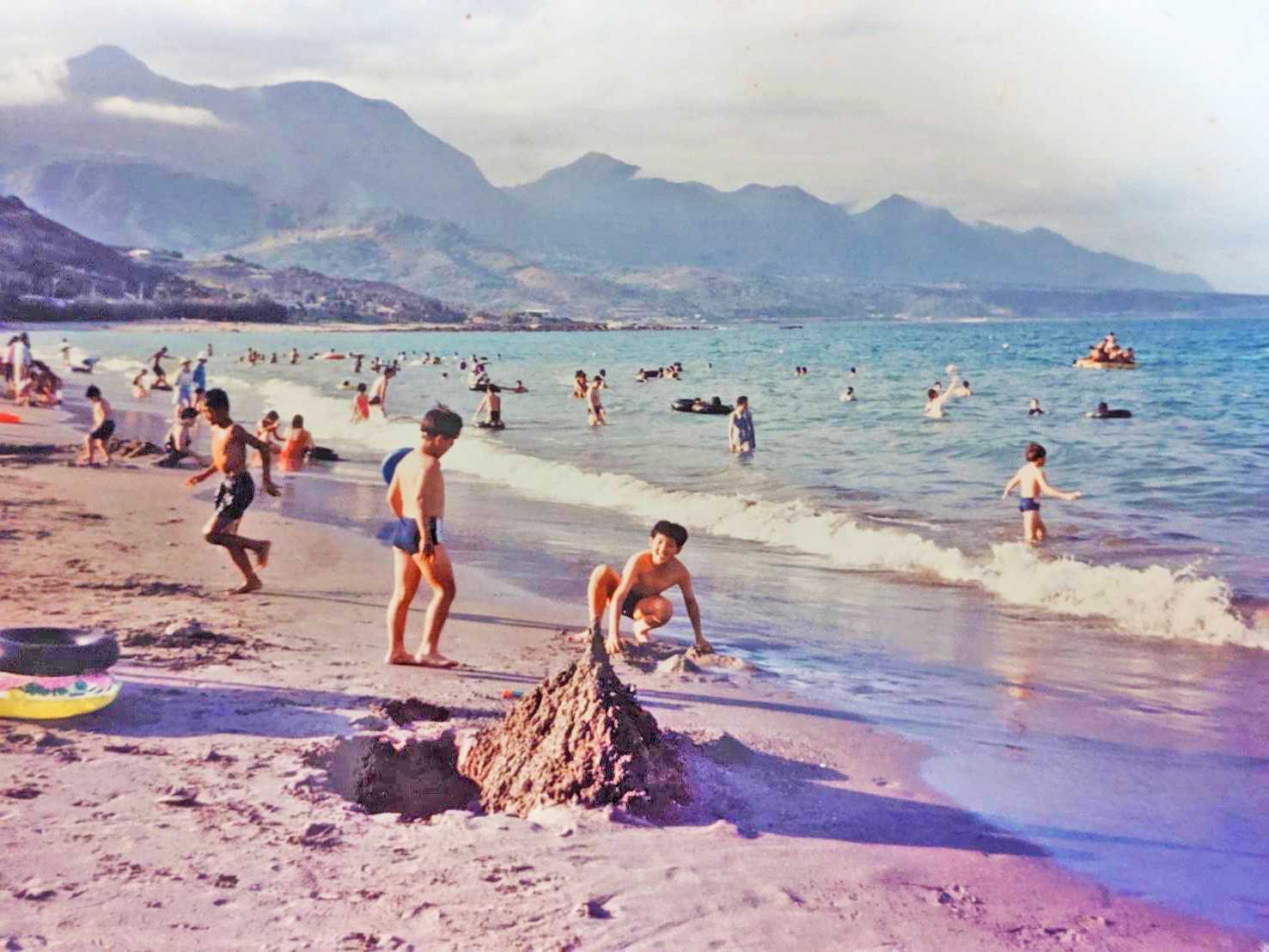 Dr. Huang was raised in Taitung, Taiwan, and grew up near the ocean.
Please tell us about your future plans.
 
Dr. Huang: We are making presentations at international conferences and contributing to academic journals so that understanding on Blue Finance will become more widespread. We are also making policy proposals based on our research data so that we can contribute to policy decision making. I specialize in economics, but I have wanted to do something to help the oceans, island countries, and coastal zones since I was in my teens. I am happy to be able to do this research.

(Translated from the original Japanese article)
About Dr. Michael C. Huang:

In 2015, Michael C. Huang was conferred a Ph.D. in Public Economics from the National Graduate Institute for Policy Studies (GRIPS). After serving as a researcher in Asian Development Bank Institute (ADBI) and GRIPS Science for RE-designing Science, Technology and Innovation Policy (SciREX) Center, Dr. Huang became affiliated with the Ocean Policy Research Institute (OPRI) as a Research Fellow from 2018. Dr. Huang is in charge of economic analysis for blue economy, blue bonds and risk assessment of water-related natural disasters. He is also an adjunct lecturer for special economic seminars in Faculty of Economics in Toyo University. Dr. Huang is a member of the Japan Society of Ocean Policy, Japan Economic Association, Applied Regional Science Conference, and Japan Castle Association.