China's Belt and Road Initiative in Context (2)
BRI and regional infrastructure investment
Abigail Grace: One thing that I will give China credit for is that they identified a legitimate need within Southeast Asia and the developing world. Infrastructure was one of the biggest stumbling blocks to helping countries unlock their economic potential, and China developed an initiative and a strategy around that premise.

I think that perhaps the criticism directed at the World Bank by many developing countries stems from difficulties with the environmental regulations and other loan process applications that are not as accessible for developing countries as they are for middle income countries. I think that this is an opportunity to look at existing international financial institutions – the World Bank, International Monetary Fund, Asian Development Bank, and others – and think about how we can optimize them for a 21st century society that even in 10 years will be more reliant on digital infrastructure than physical infrastructure.

Dr. Kei Koga: At the beginning of BRI we thought there would be proper competition where Japan and China would both compete with their project proposals, which would improve the proposals and outcomes. But what actually happened was there was corruption and murky contracts, which did not ensure proper competition. China wasn't able to follow through on its projects, which ended up as a lose-lose situation. That's the risk Southeast Asian countries realized by now.
 
What Southeast Asian countries need to do now is therefore to be a little more careful with Chinese projects. There have been cases of delayed progress and cancelled projects, and in some cases the terms and conditions of contracts were really unfavorable like Sri Lanka's Hambantota case. Also in some cases feasibility studies have not been conducted properly, so even if they have a good contract, then maybe the project is not going to be implemented properly.

On the other hand, if a country relies on Japanese projects, maybe even if they're smaller, they could create the new reliable infrastructure which can help generating more economic growth, skill-transfers, environmental protection, and employment from within. If this becomes the case, countries would shift the emphasis to more Japanese-oriented projects. China would want to compete with that, but to do so requires Chinese firms to adopt the international standards so they can increase their competitiveness.

This could be an opportunity for Japan to shape the Chinese BRI principles. I think Japan can have more leverage over these kinds of development than other countries because of its many experiences with development through ODA from the Cold War era. Through these experiences, Japan became confident in its ability to better promote infrastructure development.
Free and Open Indo-Pacific Policy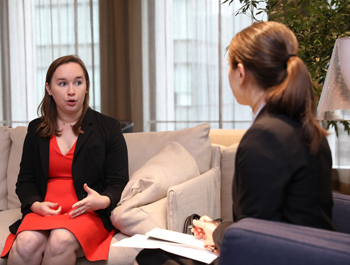 Abigail Grace: I personally think that one of the reasons that the Pivot to Asia was not fully executed was an unfortunate result of timing. The latter half of the Obama administration was incredibly focused on the Middle East and the Syria crisis, and I think that sucked up a lot of the oxygen and really inhibited the U.S. from resourcing the Pivot to Asia.

I'm more optimistic that the Free and Open Indo-Pacific Strategy, if the U.S. operationalizes it correctly, will have some tangible benefits. I think its biggest challenge will be sifting through the political noise versus what's actually happening on the ground. The U.S. government hasn't gone through a full budget cycle since the Free and Open Indo-Pacific Strategy was announced, so when they roll out the president's budget request at the beginning of 2019 for Fiscal Year 2020, I think that will be a big indicator of whether or not we're going to see the resources required to actually operationalize this strategy.

One of the things that we're looking for that was mentioned in the report include technical assistance for other countries. A key finding was that many developing and middle-income countries don't necessarily have the expertise required to fairly evaluate contracts from China when they're negotiating the terms of infrastructure projects. There's an office in the U.S. Department of the Treasury called the Office of Technical Assistance that dispatches lawyers, financial regulators, and other experts to these countries and trains local financial officials in the skills necessary to evaluate these contracts.

Something that has already happened is the passage of the BUILD Act, which was recently passed and signed into law. Soon, the Overseas Private Investment Corporation (OPIC) will be recreated as a broader Development Finance Corporation and have a lending and equity cap of $60 billion, which is double what it was before. I think we're slowly seeing some steps required to build out the Free and Open Indo-Pacific strategy, but I would also like for the State Department to more actively emphasize on public diplomacy. In the coming months, I think the Global Engagement Center at the State Department will be a great tool.
Dr. Kei Koga: For Southeast Asian countries, I think they are taking the position of "wait and see." In Asia, we didn't know exactly what the Pivot to Asia or the rebalance meant during the Obama administration, and the Free and Open Indo-Pacific policy is actually the same. The problem is how advocates are going to implement the strategy.

Japan is the country which coined the "Free and Open Indo-Pacific" strategy, but they're not sure if their concept is really congruent with the American version. Japan and the U.S. are talking with each other and principally they have similar views, but they're trying to work out the details. I think this will take time. But as long as its objectives are clearly shared, this may not be a big deal. Also this concept is to check China's potential challenge to the existing international order, and it is reactive to Chinese behavior in nature. So, if China shifts its policy to cooperate with the U.S. and Japan, maybe the Free and Open Indo-Pacific strategy will be a more cooperative strategy. If not, it will be competitive.