China's Belt and Road Initiative in Context
Interview with Abigail Grace, Research Associate at the Center for a New American Security (CNAS), and Dr. Kei Koga, Assistant Professor at Nanyang Technological University in Singapore
By Jackie Enzmann, Chief Editor
---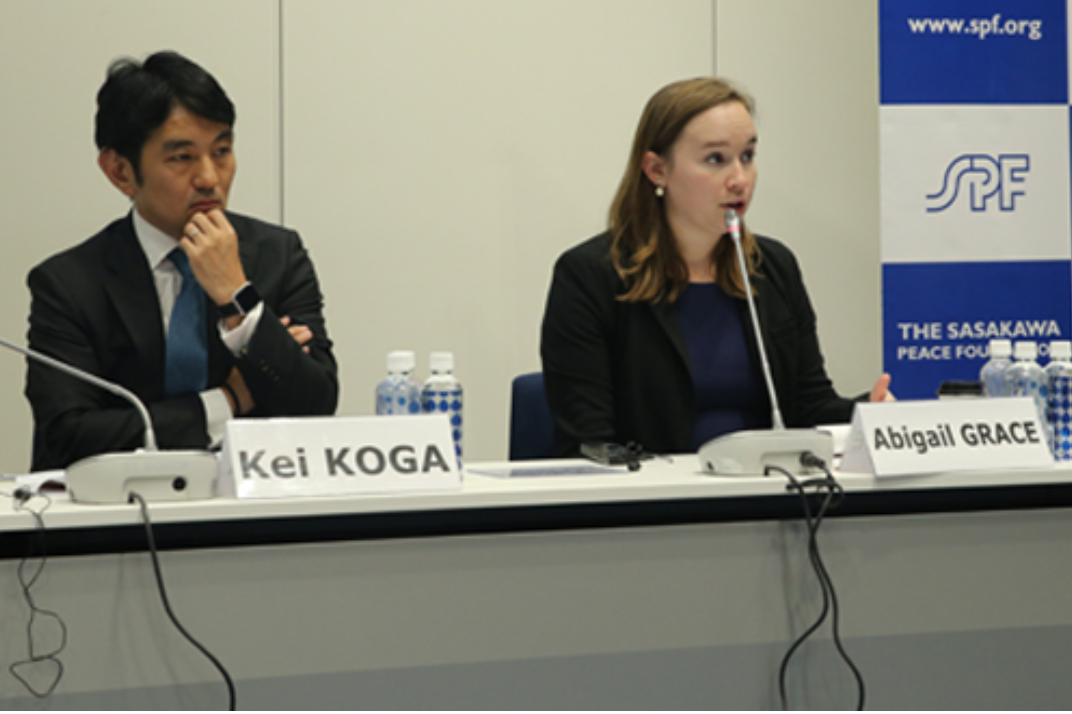 Following the expert seminar addressing China's Belt and Road Initiative (BRI) organized by the Sasakawa Peace Foundation's (SPF) Japan-US Program, SPF Now had the opportunity to meet with the featured experts to take a closer look at topics ranging from infrastructure investment to great power politics.

Abigail Grace, Research Associate at the Center for a New American Security (CNAS), discussed her expectations for the potential implementation of the policies presented in the report "Power Play," which she coauthored, and touched on broader geopolitical shifts in the Indo-Pacific region and around the world. Dr. Kei Koga, Assistant Professor at Nanyang Technological University in Singapore, elaborated on his research into the reception of BRI policies in Southeast Asia, the potential role of Japan in the region, and the impressions of the Trump administration and its policies.

Below are excerpts from those two interviews, which were conducted separately. Comments have been arranged according to topic and edited for length and clarity.
Multilateral policy approach presented in "Power Play"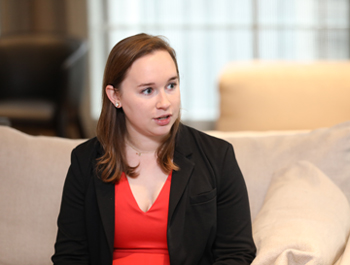 CNAS Research Associate Abigail Grace
Abigail Grace: It's important for the U.S. to remember that any endeavor that it pursues regionally is always better when it cooperates with allies and partners such as Japan and others in the region. If we truly want to stand up for the values and systems and institutions that have benefitted both the U.S. and Japan so much throughout the past decades, it's important that we collaborate, listen to one another, and build mutually reinforcing approaches.

Frequently when the United States is engaged in more direct competition with China, China likes to portray the U.S. as pursuing its own hegemonic ambitions when in fact that's not the case at all. Instead, it's in the collective interest of Japan, Australia, New Zealand, and a host of other regional partners who also ascribe to the same laws and norms that we uphold these systems and values together. If we're all working in tandem with one another, that cuts away at China's most credible or perhaps most potent criticism of U.S. actions in the region. I am also a big believer in the fact that people who live in the region and have perhaps a more immediate vested stake than many Americans will identify more creative solutions because they're on the ground facing the problems every day.
Dr. Kei Koga: From a Japanese perspective, what the report "Power Play" says is completely understandable, and Japan generally welcome this kind of multilateral initiative. At the same time, Japan takes a different approach to BRI than the United States. While the U.S. has a tougher stance toward BRI and tends to pursue a more competitive strategy, Japan actually takes a softer approach to shape China's behavior, utilizing its knowledge about the current state of projects in Southeast Asia.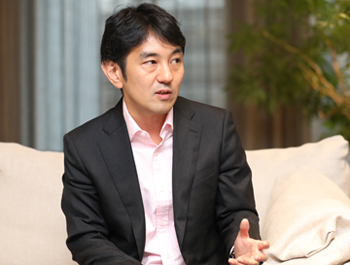 Dr. Kei Koga, Assistant Professor at Nanyang Technological University
I think BRI is basically a good thing for Southeast Asian countries' infrastructure development, so they want to cooperate with the Chinese government. But if the U.S. tried to take a competitive approach toward the Chinese BRI, that wouldn't be good for Southeast Asian countries because they are afraid of being in the middle of great power politics. This fear is derived from their experiences before and during the Cold War when great powers' intervention in Southeast Asia infringed on the regional political autonomy.

Also, there is a negative side to BRI itself. For example, Indonesia has the Jakarta-Bandung high speed railway project, which was conducted by the Chinese, but because the bankability and feasibility were very low, the project has been stalled for a long time. This type of implementation problem persists in the BRI projects and demonstrates a negative side of Chinese investment. Southeast Asian countries welcome the financial aid, but at the same time want to ensure that the projects are actually realized.

The report says that the United States is going to have a more coordinated policy toward BRI, which would be good for Southeast Asian countries as long as the U.S. cooperates with China and China adheres to the same principles and guidelines as the United States and Japan do. If properly executed, I think Southeast Asian countries are more assured that it's not going to end up as a completely competitive strategy, which is good for Southeast Asian countries.