China's Belt and Road Initiative in Context (3)
The Trump administration's influence in the Indo-Pacific region
Dr. Kei Koga: The confidence toward the Trump administration in Southeast Asia has been decreasing but I don't think Southeast Asia lost all the trust toward the United States. They think of this as just the Trump administration. So in the longer run, maybe the U.S. would go back to its traditional behavior emphasizing the rules-based order through multilateralism. But for the time being, I don't think Southeast Asian countries expect that the U.S. is going to engage in multilateralism.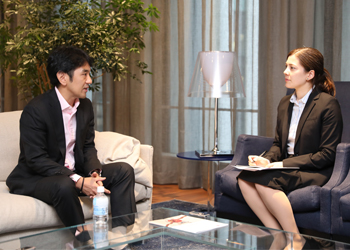 The biggest concern for Japan is that in the Trump administration, policy changes have been coming up out of the blue. Japan would not know what to expect because even if senior officials between the two negotiate about a particular agenda, it is always possible that President Trump will discuss a new agenda, which was not considered previously. Even though Prime Minister Abe frequently meets with President Trump, I think it is still hard to know what he will demand in the next couple of months. The good news is that U.S.-Japan relations are institutionally strong, so this does not trigger the deterioration of the bilateral relations. Now, the Japanese government has to be patient and try to cultivate a deeper relationship with President Trump.
Abigail Grace: Sometimes it's hard to sift past the onslaught of daily media reports from the U.S. about President Trump doing this or saying that, but when you look a bit more at the substance of policymaking, it is a bit more nuanced than the rhetoric at the top. I think a lot of people are making the best of the situation every day, still looking for creative policy solutions. Many of the announcements from the Indo-Pacific business forum in July were really good steps in the right direction. I'm hopeful that Vice President Pence will have some good deliverables for his November trip that he'll be taking shortly. But is that enough in totality to combat the political noise from the U.S.? Maybe not.
Japan in a leadership role
Abigail Grace: I have been so encouraged by a lot of the more forward-leaning roles Japan has been willing to take recently. The Comprehensive and Progressive Agreement for Trans-Pacific Partnership (CPTPP) is the best example where Japan sort of picked up the pieces and said that they still believed in high quality multilateral free trade agreements and that they were willing to push forward with it. The fact is that America will always be, to some extent, both paralyzed and enabled by its very global role, but countries like Japan have an opportunity to step in and really be unafraid to be leaders in their own right. I think that's a good thing for the U.S. when there are these countries that have shared values, shared goals, objectives, strategic alignment, and are willing to work together.
 
Dr. Kei Koga: Considering the size of Japan's economy and the size of the country, Japan is not big enough to match the United States and China, so Southeast Asian countries don't expect Japan to play the same role that the United States has played. But for now, because of the uncertainty of U.S. foreign policy under the Trump administration, I think Japan is increasingly seen as a reliable partner. Southeast Asian countries can rely on Japan for development projects, a free trade scheme, and political legitimacy of multilateralism in East Asia. Japan may fall short of so-called "real leadership" in terms of material capabilities, but I think Japan is the credible second best option for Southeast Asian countries.
Shifts in the relationship between Japan and China
Dr. Kei Koga: I think Japan wants to have a more amicable relationship with China because they want to talk about things like economics, development, and security issues. When Prime Minister Abe and Chinese Premier Li Keqiang met at a Japan/China summit in May, they promised to create a forum where the private sector and public sector could get together and talk about development cooperation in third countries. That was a good sign because previously China wanted to do all development projects by itself, but now they are beginning to look for areas of cooperation with other countries like Japan.

Because China's relationship with the U.S. has been worsening recently, China began to conduct a hedging policy by approaching other states, including Japan. If Japan aligned solely with the U.S. and took a tough stance, then China would be compelled to confront both the U.S. and Japan together. At the same time, because of the current U.S. administration, Japan is not too sure to what extent the U.S. can commit to Japan's economic security, because the United States withdrew from the Trans-Pacific Partnership (TPP) and now is returning to bilateral trade negotiations. In order to reduce the political risk, Japan also wants to cooperate with China. So, there's a sort of shifting maneuver in short-term tactical policy.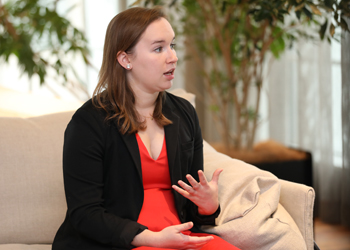 Abigail Grace: There's nothing wrong with countries having good relationships with China. I think Prime Minister Abe has the potential to be a good influence on President Xi and perhaps be in a position to deliver some of these common objectives and talking points that are shared between the U.S. and Japan, but it will come off in a lot less confrontational manner when Japan raises these concerns rather than the United States. I don't think that the U.S. wants to create a situation where countries have to choose between the U.S. and China. In the coming years, it will be a challenge for the U.S. to ensure that the Indo-Pacific doesn't descend into a bloc-esque framework where countries are either aligned with one power or the other. That model isn't in anyone's interests—and I don't think that's what we're likely to see either.
South China Sea and military aspects of Chinese policy
Dr. Kei Koga: The South China Sea is still important and the competition between the U.S. and China is getting more intense, as shown by a recent incident where a Chinese vessel was shadowing a U.S. ship and they came close to colliding. That was really unprofessional and if an accident happened it would significantly increase tensions.

In this context, what Southeast Asian countries usually say is that of course we have to be concerned about the South China Sea, but that is not the only issue that we're dealing with. There are other areas where we can work together like development projects, economic cooperation, and foreign direct investment. In this sense, Southeast Asia has tried to separate the South China Sea issues from other issues. But this does not mitigate the tension over the South China Sea, so ASEAN as a primary actor on this issue needs to come up with the idea of maintaining the status quo.

In addition, the potential expansion of China's military influence beyond the South China Sea needs to be carefully watched. In the Sri Lanka case, the port of Hambantota was leased to China for 99 years, which increases a possibility that Chinese submarines or naval ships could regularly port there. Currently, since Sri Lanka is actually not so close to Southeast Asia, that situation is less of a concern for Southeast Asian countries. However, if a similar case were to happen to a country in Southeast Asia, then it would become a major concern to not only Southeast Asia but also East Asia as a whole. To prevent this from happening, regional states need to carefully watch the development of Hambantota.

Abigail Grace: China is clearly positioning itself to have a more global navy. Their land reclamation strategy ensures that the People's Liberation Army Navy (PLAN) doesn't need to park aircraft carriers in the South China Sea because all strategic assets can be based off of these islands, which frees up the additional ships that they are building to operate past the second island chain in the Western Pacific and closer to the east coast of Africa. As China has greater commercial interests, state owned enterprises, and citizens living abroad, it creates additional pressure for the PLAN to have the ability to secure their sea lines of communications.

From a naval perspective, one of our recommendations is that the U.S. play both offense and defense on its military posture in the Indian Ocean region. This involves the U.S. working with host countries to strategically shape any locations China might pursue for commercial ports and ensure that these locations are not militarily advantageous, while simultaneously working in concert with allies and partners to identify possible locations for new bases to be opened collaboratively.

To the extent possible where we can communicate to China that our actions are in direct response to decisions that they have made, I've always found that to be a useful strategy. That doesn't mean that they're going to be happy about it or really change their behavior. Maybe in the long-term discussions similar to the Strategic Arms Limitation Talks (SALT) talks between the U.S. and the Soviet Union could be possible, but now it's not really in line with U.S. national interests to sit by quietly and accept the expansion and further militarization of outposts.
Role of the Sasakawa Peace Foundation and other groups outside of government
Abigail Grace: I think NGOs can really be helpful in identifying the needs and concerns of populations that are most immediately affected by infrastructure concerns. I think that when one sits in policy positions and is looking for the optimal place to build something on a map, they don't know the people that live there. It's time consuming to go out and do stakeholder interviews and engage with the population. I think NGOs can really be a value added, bridging that gap between communities and policy practitioners.

Regarding public diplomacy, I think that non-governmental organizations certainly have that additional credibility because they're not speaking on behalf of any government and I think they're more reliable to accurately convey unbiased information by providing fact sheets, literature, and public awareness campaigns. I think that would be something that would be better received by local populations than if it was just solely a government actor.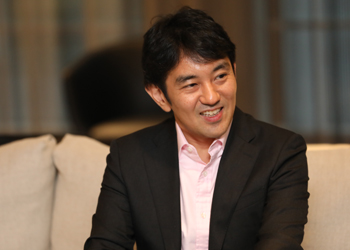 Dr. Kei Koga
: Since SPF has already organized some research projects including the "Power Play" report and also my research project, maybe it would be interesting to include a Chinese counterpart, for example researchers or businessmen. I think that if we talk about BRI, it would be really interesting to see how Chinese counterparts really want to implement the development projects through BRI. Particularly now, Japan and China are having a conversation about BRI, so it would be great to have institutionalized Track 2 forums among the three. SPF deals with a broad range of issues including Japan, China, the U.S., and Southeast Asia, so I think that SPF would be able to play a role. I really enjoyed this research supported by SPF and I expect to continue it over the next couple of months. Through these projects, I hope that Japan, China, and the United States could find a way to cooperate in building infrastructure in Asia and beyond.
<< (2)