Workshop on African security and the role of the African Union
Dr. Alhadji Sarjoh Bah, Director, Conflict Management Directorate, Department of Political Affairs, Peace and Security, African Union Commission (AUC)
By Jackie Enzmann, Chief Editor
---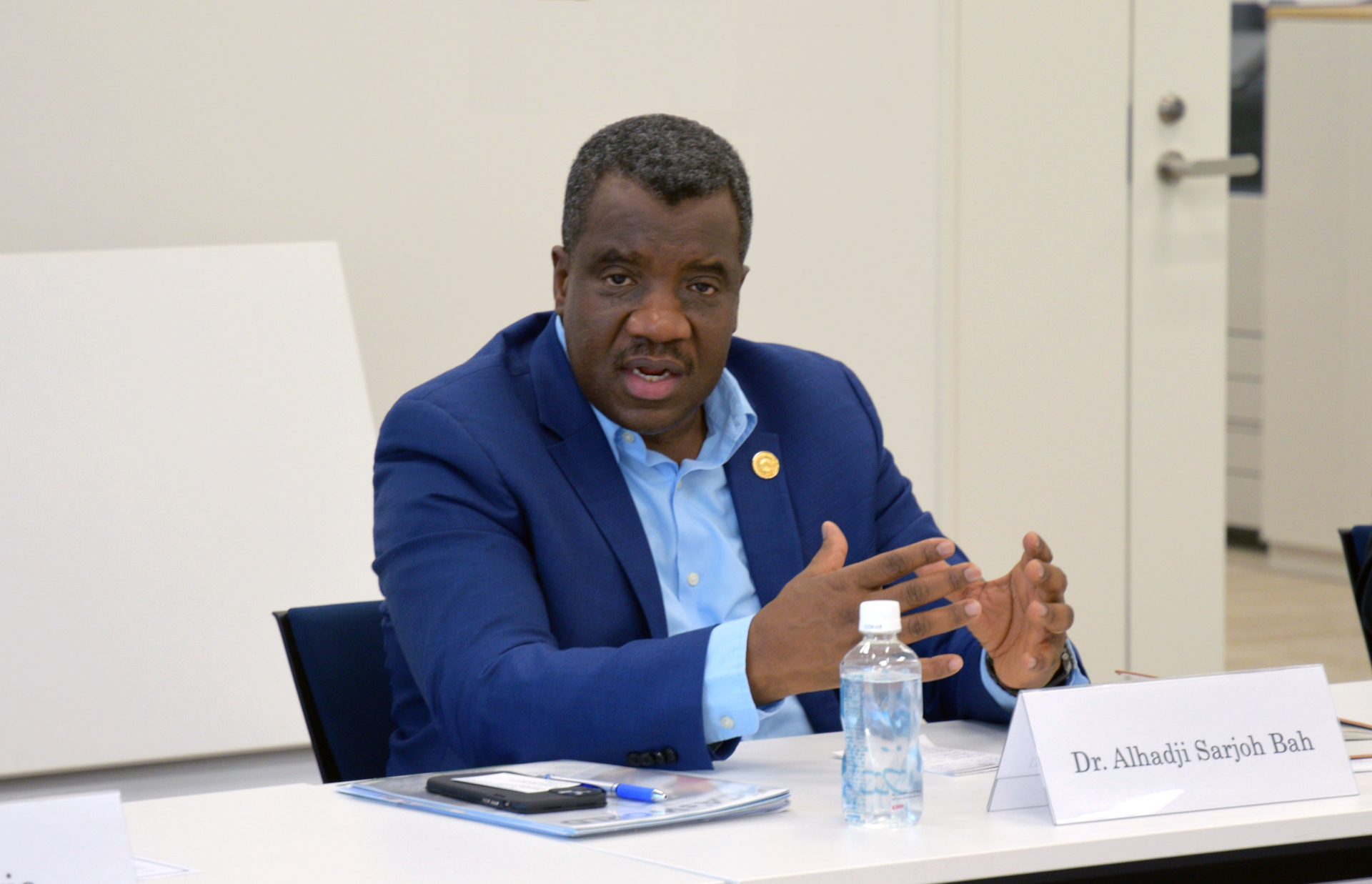 Dr. Alhadji Sarjoh Bah at a closed workshop held by SPF
On July 25, 2023, the Security Studies Program of the Sasakawa Peace Foundation (SPF) welcomed Dr. Alhadji Sarjoh Bah, Director, Conflict Management Directorate, Department of Political Affairs, Peace and Security, African Union Commission (AUC), to the foundation for a closed workshop as part of the
Future of International Peace Operations project.
 Mr. Toru Sugio, Counsellor and Deputy Chief of Mission for the Mission of Japan to the African Union, and Professor Mika Inoue-Hanzawa of the Faculty of Global Communications at Toyo Gakuen University, also joined as discussants.
The participants in the workshop, including members from Japanese government and academia, engaged in a wide-ranging discussion about the security challenges facing Africa and considered strategies for how the African Union (AU) can work with multilateral organizations and partners, including Japan, to confront these issues.
To begin the workshop, the participants discussed the complex and challenging security environment across the continent. In recent years, conflicts at the national level have increasingly had broader consequences that spread across borders, while domestic and international terrorism now pose an existential threat across the region. Further, some raised concerns about a resurgence in military coup d'états and increasing instances of unconstitutional changes of government. Climate change, which is having a catastrophic effect on Africa and impacting livelihoods and security across the continent, was also discussed.
To face these challenges, the participants considered the need for the AU to adopt a collective security approach as part of a new regional security architecture. To this end, participants argued that the AU must strengthen cooperation with multilateral organizations around the world including the UN, EU, and the League of Arab States, while deepening bilateral relations with Japan and other non-African partners. Participants also noted the need for the AU to increase its presence in international platforms and consider burden sharing arrangements between the AU and UN.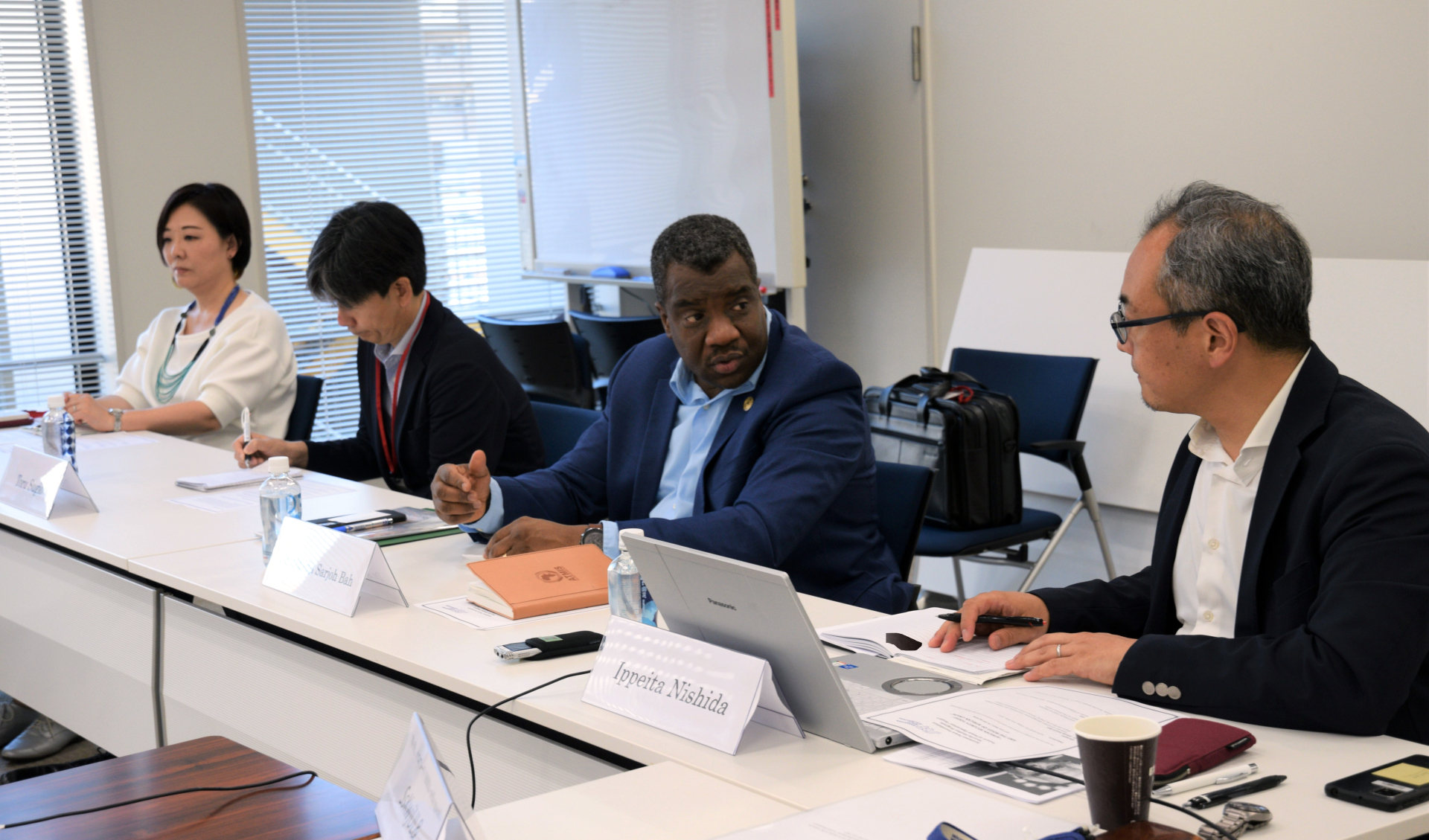 From left: Professor Inoue-Hanzawa, Mr. Sugio, Dr. Bah, and SPF Senior Research Fellow Ippeita Nishida
Discussions also touched on the implications of Russia's relationship with Africa in light of the ongoing conflict in Ukraine. Workshop participants also expressed concern that weapons being sent to Ukraine will eventually find their way to the African continent, similar to the movement of arms from eastern European countries following the end of the Cold War.

Another point raised from the floor was China's position as a partner for countries in Africa. China, which has a long history of engagement in Africa, has been providing necessary infrastructure to countries in the region. While such contribution is significant for Africa's development, some reports note that a number of countries are now having difficulty paying back loans, which would affect the development paths going forward.