From Tokyo to Tottori, 2019 Asian American Leadership Delegation builds ties between U.S. state-level representatives and community leaders across Japan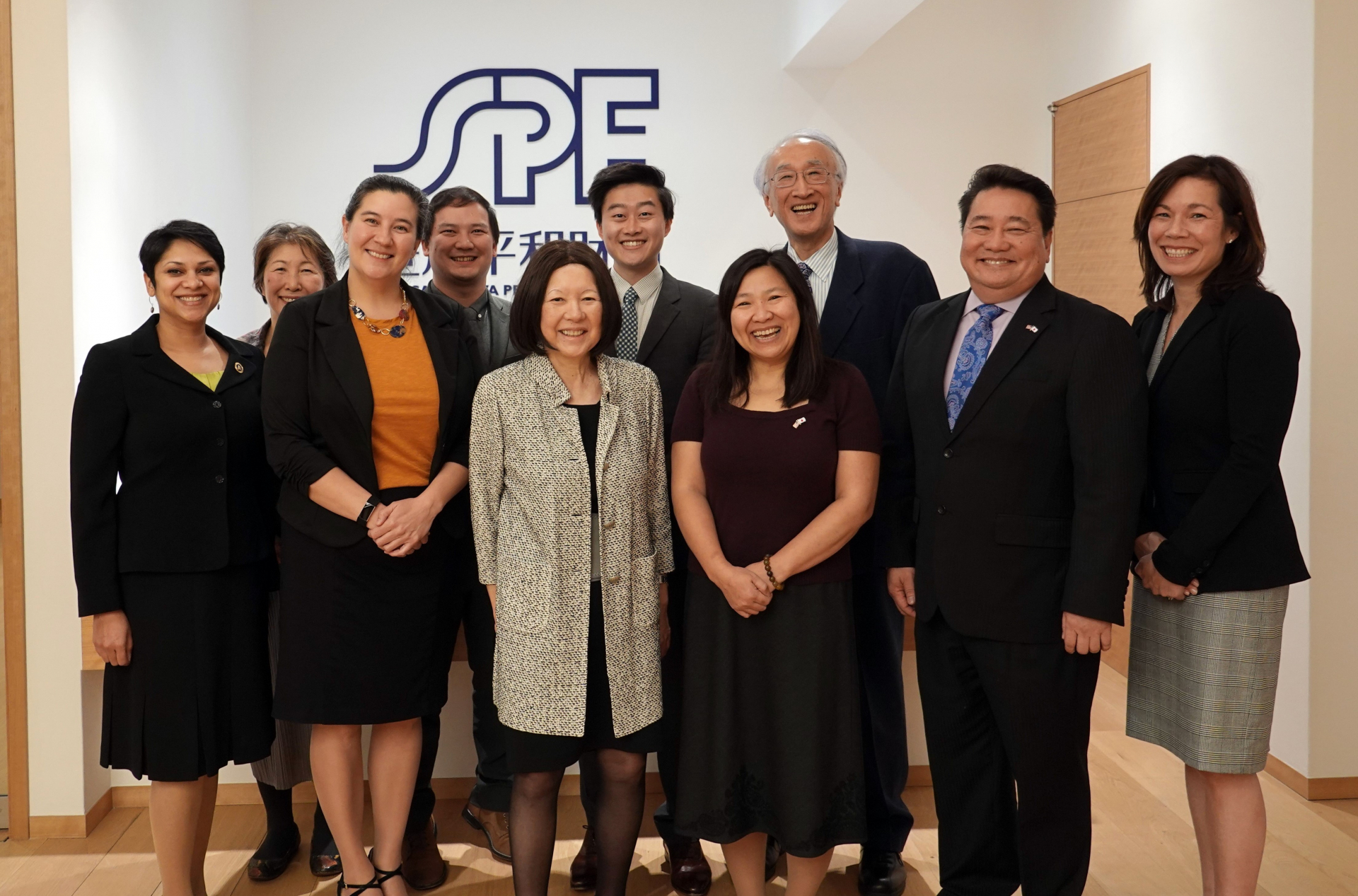 The 2019 Asian American Leadership Delegation (AALD) program, co-organized by the Sasakawa Peace Foundation (SPF) and the U.S.-Japan Council with support from the National Asian Pacific American Caucus of State Legislators, welcomed a delegation of six Asian American state legislators to Japan from December 7-14, 2019. The AALD program, now in its sixth year, strives to build people-to-people networks between Japan and the U.S. by connecting the growing number of Asian American elected officials with community leaders in Japan.
 
"I always felt that Japanese leaders didn't have many connections or relationships to a diverse America," said Irene Hirano Inouye, founder and president of the U.S.-Japan Council, when explaining the origins of the AALD program. "The communities that make up this diversity, including Asian Americans, are what make America unique, and I believe they will be significant leaders at the federal, state, and local levels in the future."
 
Asian Americans, a catchall term that encompasses the immigrants and descendants from more than 20 countries across Asia, have become the fastest growing major ethnic or racial group in the U.S. and are projected to overtake Latinos as the largest immigrant group by 2055. Given these demographic trends, it's little surprise that Asian American voices are becoming more prominent in politics, not only as constituents but increasingly as candidates.
 
To ensure that these Asian American political leaders are given the opportunity to broaden their understanding of Asia and Japan in particular, the 2019 AALD tour invited the delegation to spend a week travelling to Tokyo, Osaka, Kyoto, and Tottori Prefecture. The participants met with a number of local and national-level Japanese elected officials, members of the business community, and representatives from an array of private organizations pursuing local revitalization throughout the country.
The path to politics for six Asian American legislators
While in Tokyo, the delegation participated in a seminar organized by SPF entitled "Diversity in Leadership: The Journey of Asian American State Legislators in 2019." The public event served as an opportunity for the legislators to delve into their background and discuss the ways that their identity as an Asian American has informed their personal and political experience.
 
To open the seminar, SPF Executive Director Junko Chano underscored the importance of SPF's projects that seek to build multifaceted ties between the U.S. and Japan. She also described the increasing diversity of elected officials in the U.S., exemplified by the growing number of Asian American representatives in state and municipal legislatures, primarily in the Democratic party. However, while she noted that this diversity acts as a strength of the U.S., she also pointed to recent political movements that seek to push back against these trends.
 
For Indiana Representative Chris Chyung, some of the broader political changes caused by the election of President Donald Trump became a motivating factor behind running for political office. "After the result of that unexpected election, I started becoming more aware of politics. It was inescapable. It was like the new small talk. Instead of talking about the weather, you talk about politics after 2016."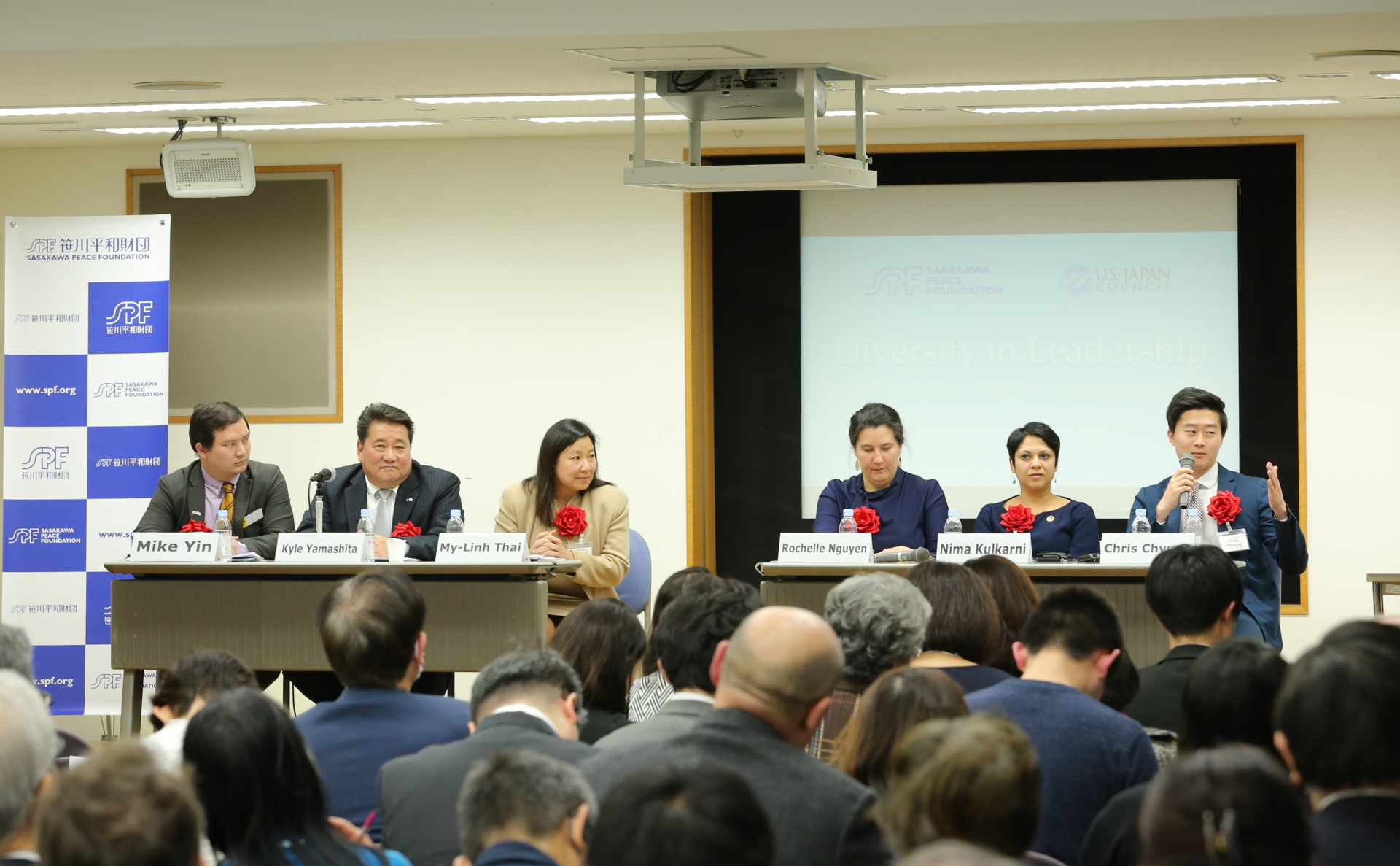 The delegation speaking about their journey to political office and experience as an elected official
Representative My-Lin Thai from Washington state, who came to the U.S. from Vietnam as a refugee in 1983, felt motivated to run for office in order to address systemic challenges in local policy after witnessing firsthand the ways that undocumented students in the public school system were getting left behind. "That was when I realized that the very system that made all decisions that impacted my life was never set up for people like me, so I decided to make change for the generations after me to not be subjected to the same system."
 
Other participants credited their identity as an Asian American with informing their work as legislators. Kentucky Representative Nima Kulkarni, who immigrated from India to the U.S. as a child, argued that her experience as a minority in terms of not only her heritage but also as a Democratic lawmaker in a firmly Republican state has encouraged her to fight against systemic inequality on behalf of underrepresented populations.
 
Assemblywoman Rochelle Nguyen of Nevada, a state that made history as the first in the U.S. to elect a female majority to both chambers of the legislature, discussed how she and her colleagues felt a responsibility to act as role models so that "young people can look up to the state legislature and politicians and know that that is an option for them." Representative Mike Yin from Wyoming also felt moved to inspire younger generations to consider political office in order to "promote a diversity of ideas that weren't very often seen in my state."

Representative Kyle Yamashita, a delegate from Hawaii and the only Japanese American representative on the trip, described his unique experience in Maui where Asian Americans were not necessarily the minority. "When it came to my generation, they barely spoke Japanese and barely talked about culture," he said, noting that often first-generation immigrant parents prioritized integration into so-called "American" society over preserving their heritage. "But, I think the bright side is that now my children are wanting to know about where they came from and their culture, so there's a revitalization of those efforts to understand that."
A closer view of local revitalization in Tottori
To give the program participants a taste of the challenges facing Japan beyond the major metropolitan centers, the delegation travelled to Tottori Prefecture in the western region of Japan. This rural prefecture, the least populated in the country, is facing increasing social and economic strain due to its shrinking and rapidly aging population, a phenomenon most pronounced outside of Japan's vast urban regions. To contend with these demographic challenges, businesses and other organizations throughout the prefecture have embraced new strategies to accommodate aging populations while taking steps to reenergize the local economy.
 
Work Corpo Tottori, a packaging and distribution facility that provides job opportunities for workers with disabilities in Tottori, stands as a prime example of a local initiative seeking to spur economic progress by supporting the full participation of all citizens. The AALD delegation received a tour of the facility, which processes and distributes more than 7000 packages every day containing goods ranging from snacks to driving recorders.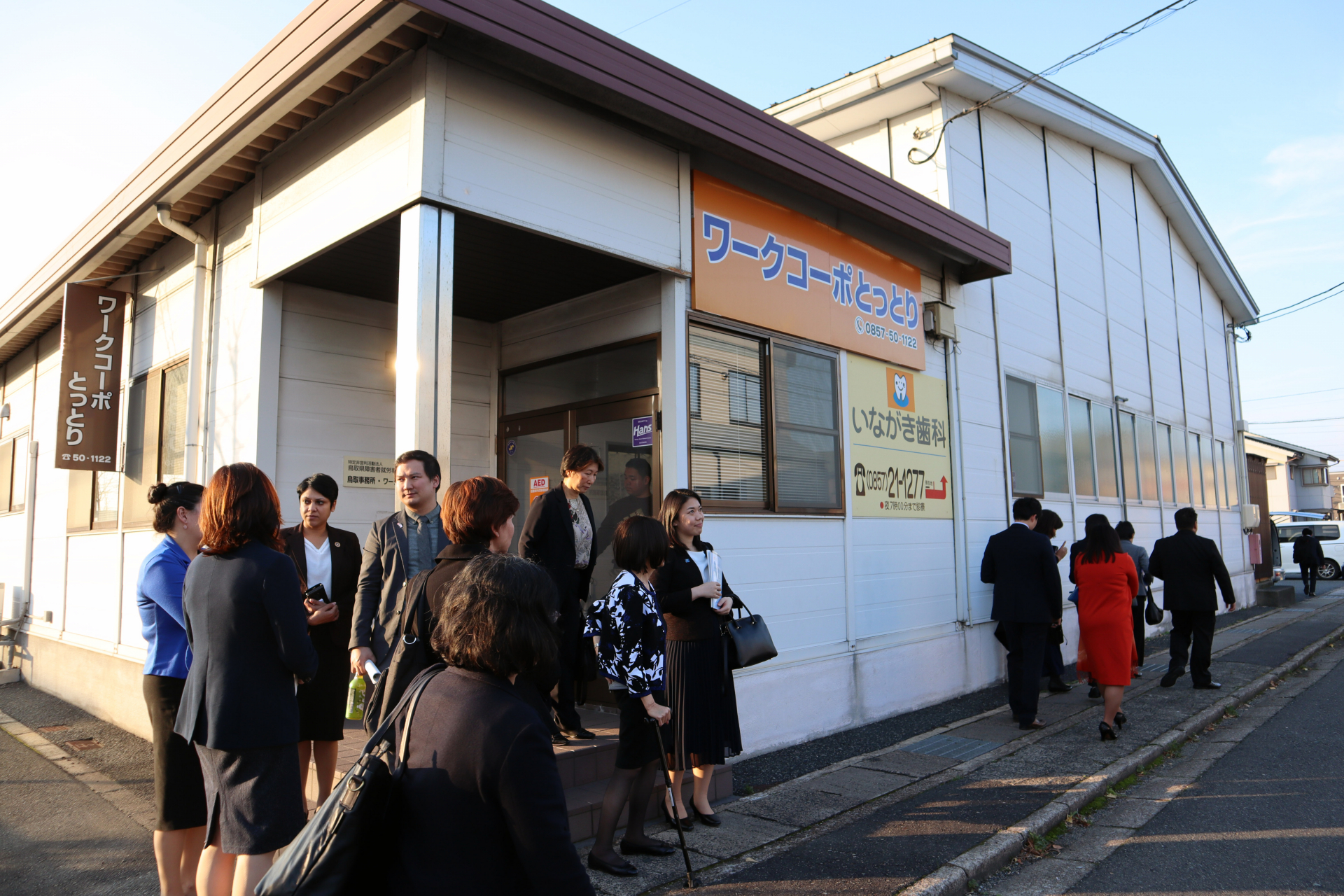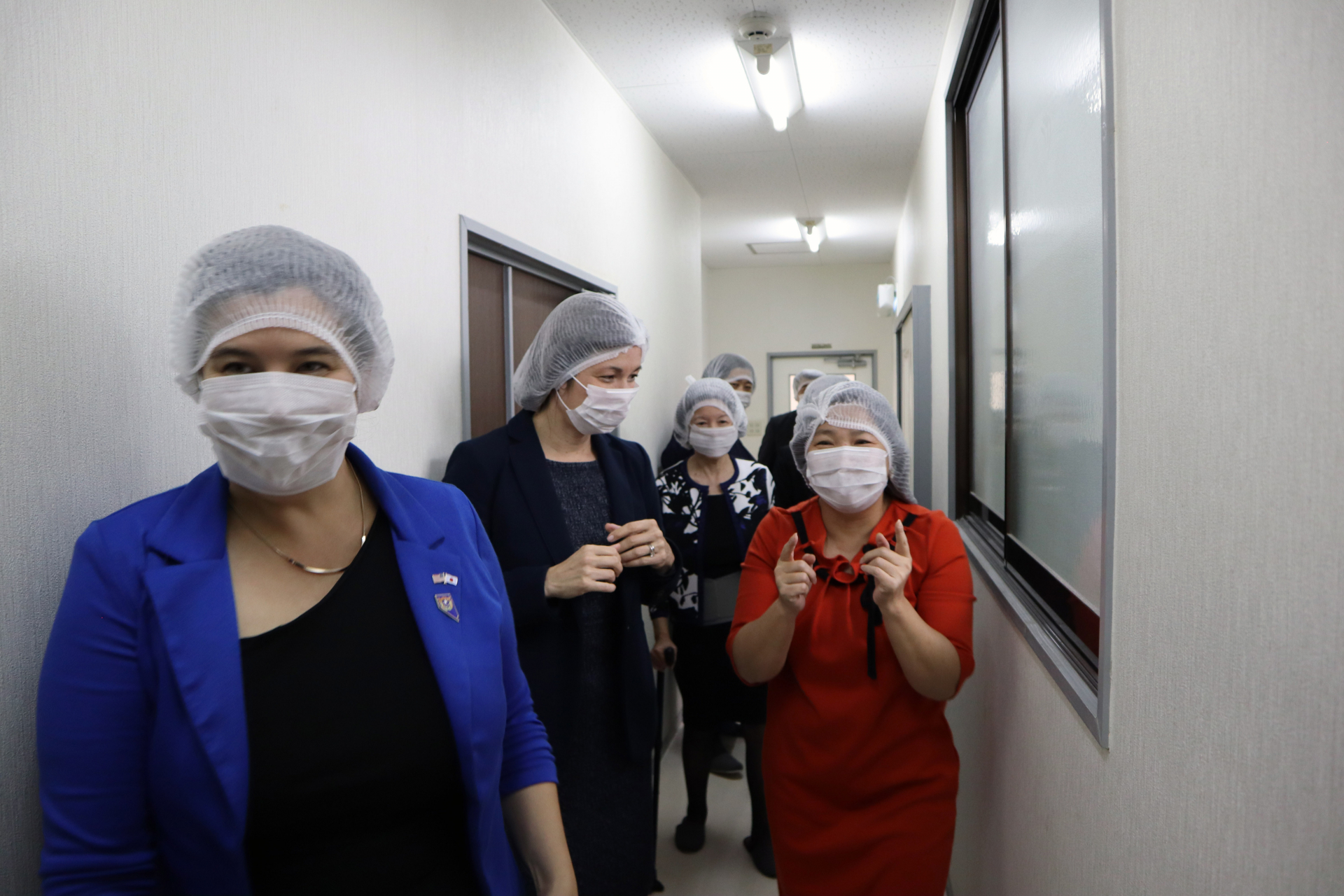 The delegation at Work Corpo Tottori, a packaging and distribution company providing work opportunities for people with disabilities
The Nippon Foundation has assisted Work Corpo Tottori in procuring hygiene equipment such as the air curtains and software systems as part of the foundation's larger local revitalization efforts through its
partnership with the prefecture
. "At the time that we opened, there was no equipment, no machinery. We were doing everything by hand," explained the representatives from Work Corpo Tottori during a presentation to the delegation. "Thanks to the Nippon Foundation, we were able to get the necessary equipment to be able to make different kinds of products."  
The AALD participants also visited Ooe Valley Stay, an elementary school that closed in 2016 but has been repurposed into a quirky hotel with the support of the local community. The hotel opened in July 2019 and is expected to attract new tourists to the region through its offerings of individual suites for overnight guests, dormitory-style bunk beds for low-budget travelers, and even an updated school gymnasium complete with trampolines and a rock-climbing wall.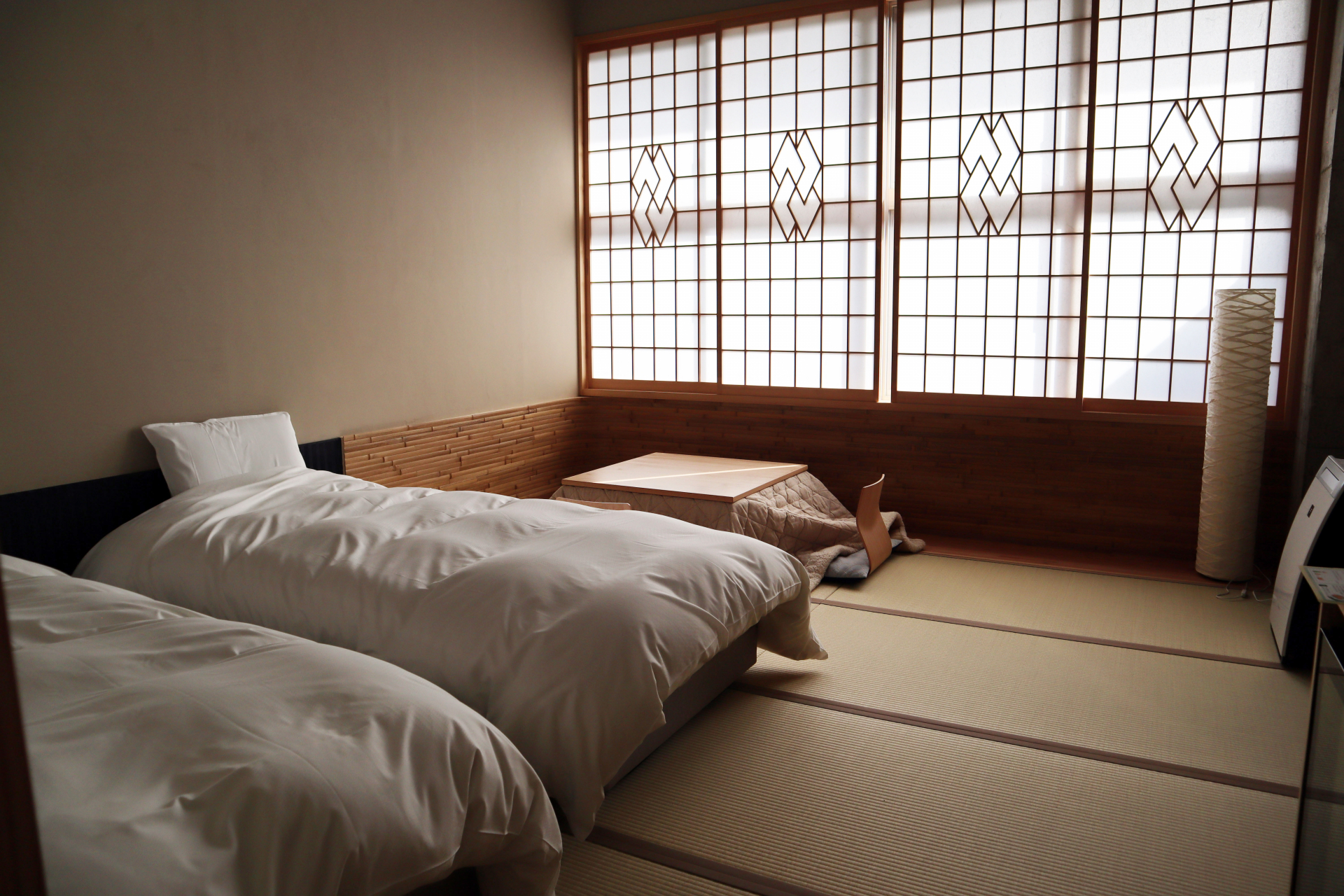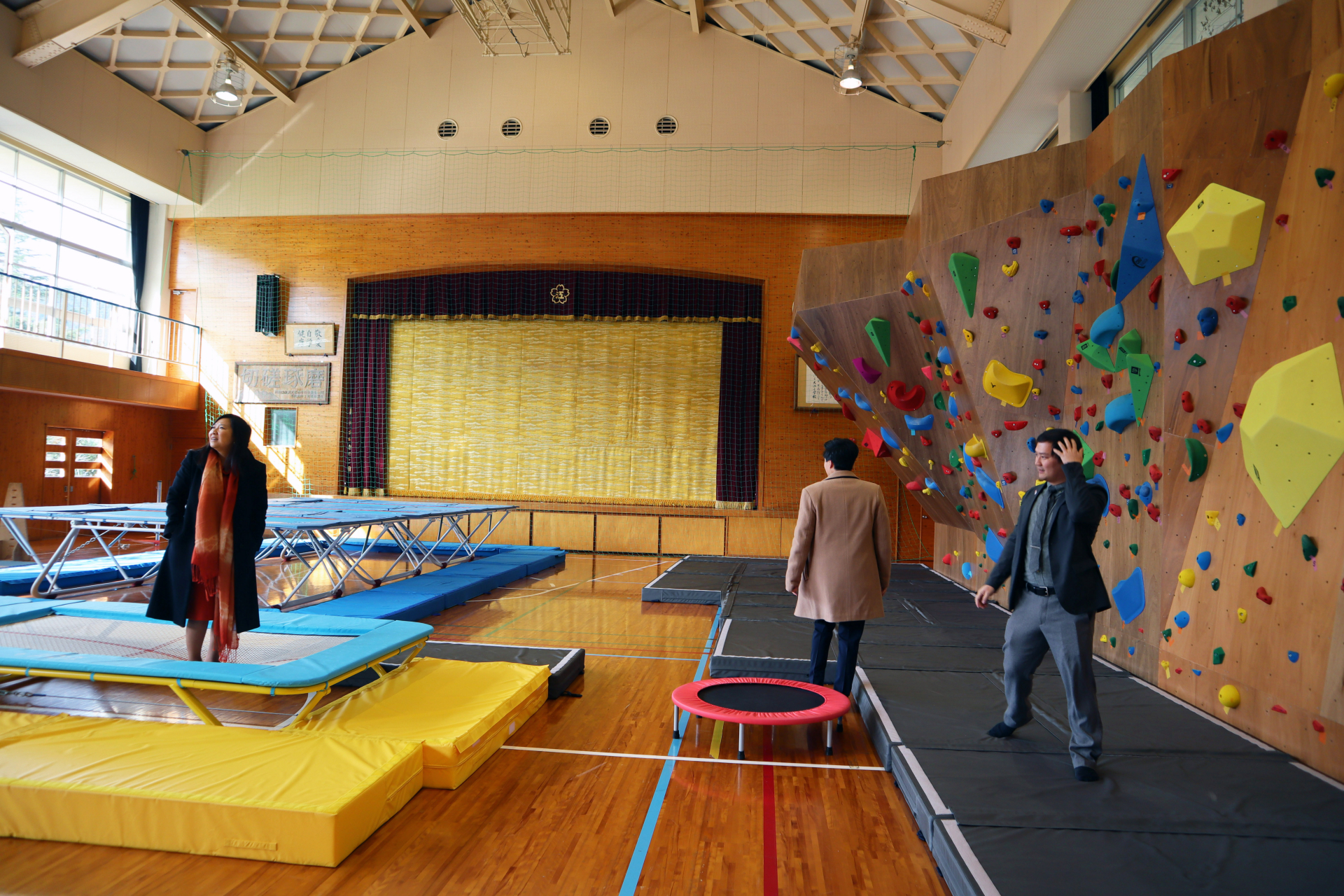 An elementary school that closed in 2016 has been repurposed into a quirky hotel with the support of the local community
The delegation later received a tour of the Tottori Prefectural Library, which has become a leader in addressing the evolving needs of Japan's rapidly aging population. In recent years, the library has revamped its customer service strategies in order to better support aging patrons who may not be able to control the volume of their voice or are prone to repeating questions. To bring these lessons to the U.S., which will likely be facing challenges associated with aging populations in the near future, staff from the library recently attended the American Library Association (ALA) 2019 Annual Conference and Exhibition in Washington D.C. to present the results of their new programs.
 
The delegation also paid a visit to Seisho Kaichi Junior and Senior High school, a private school that has established English education as a centerpiece of its curriculum, and met with Tottori Governor Shinji Hirai, who in his remarks emphasized the importance of people-to-people ties as a way bring together people of various backgrounds and strengthen relations between Japan and the U.S.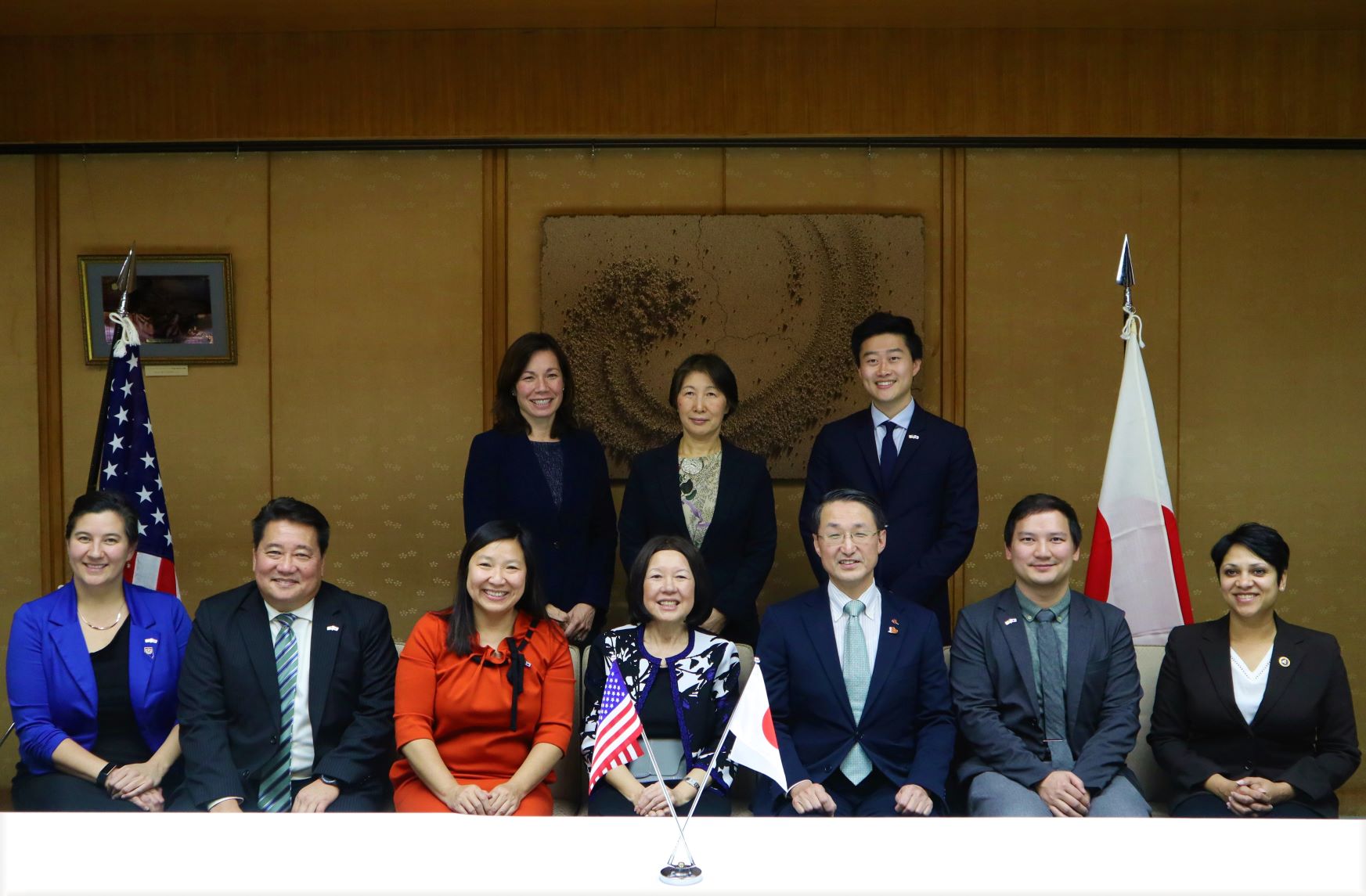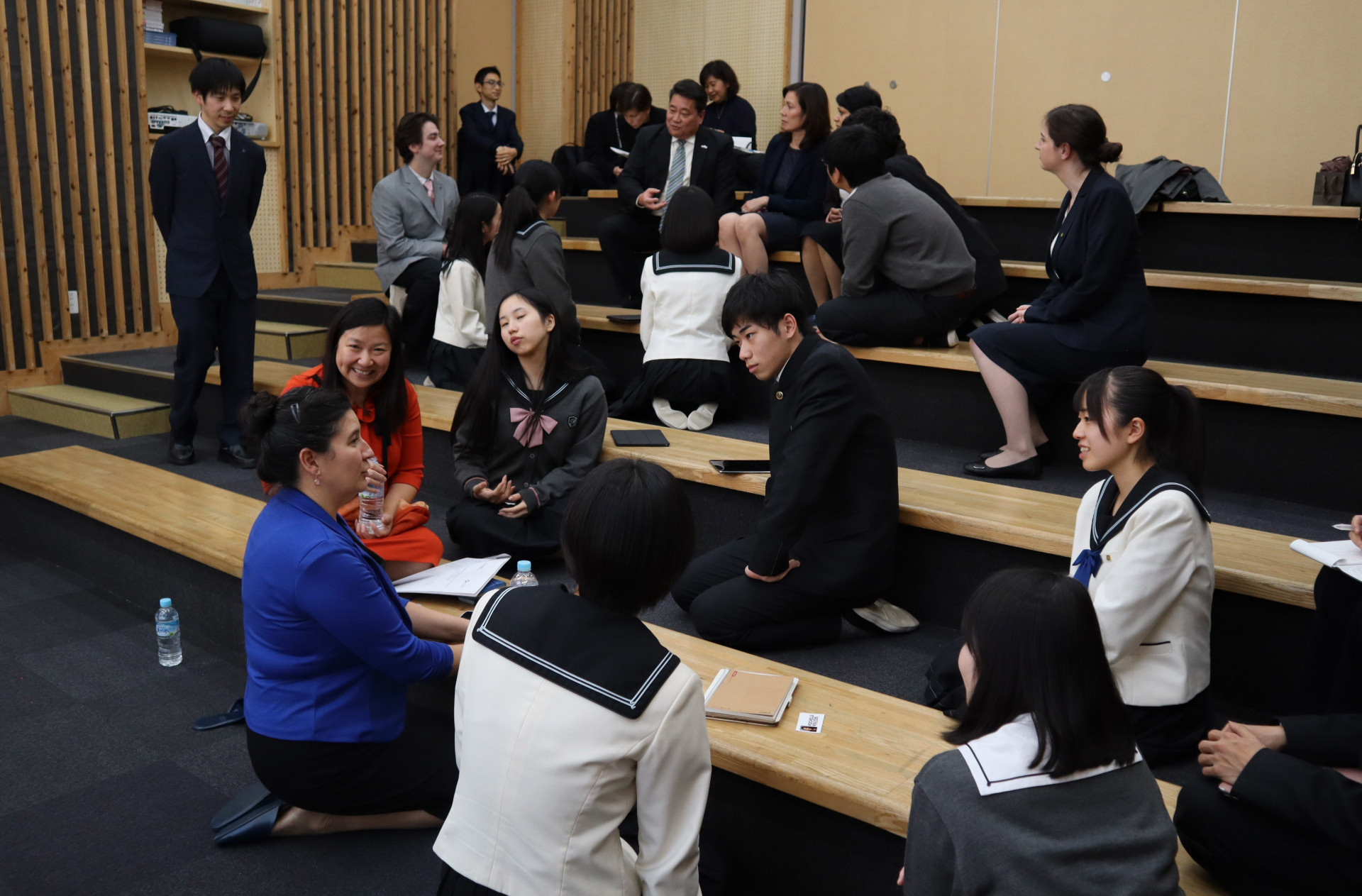 The delegation met with Tottori Governor Shinji Hirai and students from Seisho Kaichi Junior and Senior High School
Taking experiences from Japan back to the U.S.
For all of the participants, the trip served as an opportunity to not only broaden their understanding of modern Japanese politics and society, but also to examine the ways that innovative policies crafted by local governments and community organizations are contending with the complex issues facing the country.
 
The visit to Tottori had particular resonance for Representative Yin, whose own state of Wyoming is facing challenges associated with shrinking populations. "For me, the highlight of my time in Japan was going to Tottori and seeing the issues on the ground and how they affect the Japanese people and the country as a whole," he said. "These domestic issues relate very heavily to many of the problems in our states, and we can take some of the policy solutions, such as replacing the closed-down school with the hotel, back to the U.S."
 
Representative Kulkarni emphasized how this program provided valuable opportunities to build direct ties with local partners. "I have several different trade delegations already planned that I intend to discuss with the legislature, both for individuals that I've met in Japan to come to Kentucky and of course for me to come back to Japan," she said.
 
Several of the participants also noted that the trip gave them space to engage with international issues that are not often included in the agendas of state-level legislators. As a Korean American, Representative Chyung found the trip particularly timely in light of the current deterioration of relations between Japan and South Korea. "We need to think about solutions globally and think about the trilateral relationship between the U.S., Japan, and Korea for the long term, and not just for a political election," he said, emphasizing his hope to continue this conversation in his district as part of efforts to build an Asian community in the U.S.
 
Representative Thai agreed that the trip provided a rare opportunity to take a look at the larger challenges facing the international community. "Instead of being in congress where we don't have a lot of room to have discussions on global issues, to be able to be in that space and meet people who have these similar concerns has been wonderful," she said. "And I can sense that hunger for more."
 
Moving forward, the AALD delegation will be able to take the experiences gained through this visit to inform their work as legislators, further bolstering the deep connections between Japan and the U.S. and contributing to the growing network of program alumni.
Jackie Enzmann, Chief Editor
For more from the Japan-U.S. Program, please visit the program page.
Watch the full seminar on the SPF video page.