Expert Seminar Addressing China's Belt and Road Strategy
Perspectives from the United States, Japan, and Southeast Asia
By Jackie Enzmann, Chief Editor
---
The Sasakawa Peace Foundation (SPF) Japan-US Program sponsored an expert seminar on October 25, 2018, to present the report "Power Play: Addressing China's Belt and Road Strategy," a joint project between SPF and the Center for a New American Security (CNAS). The event, which showcased new research into the impact of China's Belt and Road Initiative (BRI) in Asia and beyond, featured presentations by CNAS Research Associate Abigail Grace, one of the authors of the report, and Dr. Kei Koga, Assistant Professor at Nanyang Technological University in Singapore.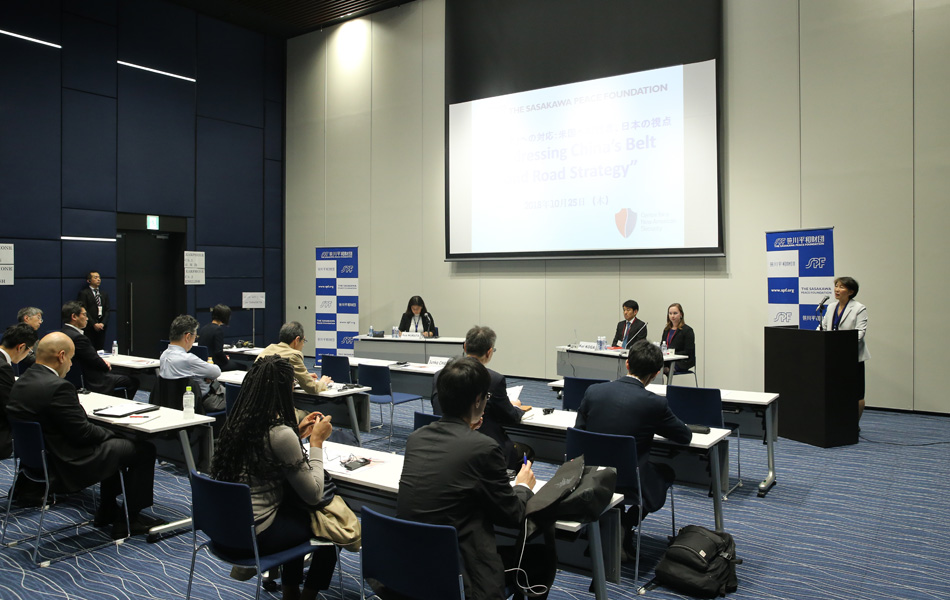 SPF's expert seminar showcased new research into the impact of China's Belt and Road Initiative
The Belt and Road, China's multibillion dollar proposal to link Asia, Africa, the Middle East and Europe through massive investments in physical and digital infrastructure, has become a closely watched aspect of China's foreign policy. Between 2014 and 2017, Chinese investment in BRI development projects reached $340 billion according to independent estimates and 92 countries have formally endorsed the initiative. However, on the heels of stalled projects and other incidents, including a forced debt for equity swap in Sri Lanka that allowed China to seize control of a strategically-located port on a 99-year lease, many host countries have begun to reassess BRI investments.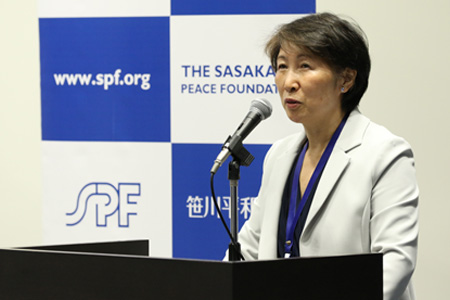 SPF Executive Director Junko Chano
Junko Chano, executive director of SPF, underscored this complex situation during her opening remarks, mentioning the potential freezing of many BRI projects and recent shifts in the international environment. The fallout from the escalating trade war between the U.S. and China along with the implementation of the Free and Open Indo-Pacific strategies have complicated responses to BRI policy, making the analysis and recommendations by the panelists a valuable contribution to the international discussion.
The report "Power Play," as presented by Ms. Grace, establishes China's BRI policy as an attempt to build up the country's military posture, obtain diplomatic leverage over developing countries through predatory loans, and establish control over global supply chains and information infrastructure. "We see the Belt and Road as the cornerstone of China's approach that is already reshaping the world to its own advantage," said Grace during her opening remarks. "China, through the Belt and Road, is placing the global economy at risk while simultaneously strengthening its own ability to compete."

However, uneven implementation of BRI has presented a strategic window of opportunity for the U.S., allies and partners to shape and compete with BRI while offering alternatives to Chinese investment. "Countries that once enthusiastically welcomed Chinese investment under the strategy are increasingly voicing their concerns and understanding the political and strategic strings attached to what was initially received as solely economic development," said Grace.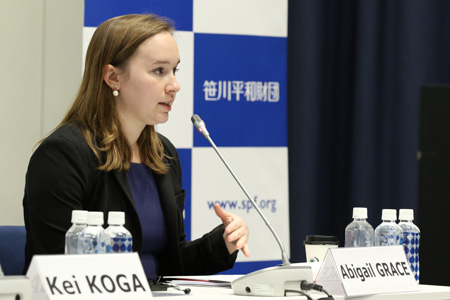 CNAS Research Associate Abigail Grace
Key recommendations outlined in the report include resourcing a multilateral effort to align infrastructure investments in developing countries, promoting a positive economic vision to third-party countries through investment and capacity building, counteracting Chinese publicity by highlighting failures in BRI implementation, and working with partners in the Indian Ocean region to limit the military influence of Chinese commercial port developments.
Following the presentation of the report, Dr. Kei Koga offered a response from both a Japanese and Southeast Asian perspective, highlighting the more nuanced reception of BRI throughout Asia. "In the context of the rising economic presence of China, BRI is viewed as an economic and business opportunity for Southeast Asia," said Koga. "Southeast Asian countries are more interested in funding for development rather than the geopolitical implications."
Regarding cases such as the Sri Lankan port, Koga found that many Southeast Asian countries blamed the adverse outcome on a lack of technical skills and negotiation knowhow by countries receiving Chinese funding rather than on predatory behavior by China. "Had Sri Lanka been more careful, they wouldn't have signed such a contract, according to some Southeast Asian countries," said Koga. He also suggested that hot-button issues including disputes in the South China Sea tend to be set aside when considering business interests in Southeast Asia.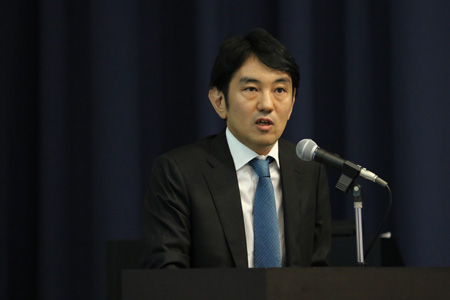 Dr. Kei Koga, Assistant Professor at Nanyang Technological University
Koga's presentation also highlighted a potential role for Japan to play in elevating China's infrastructure quality and project feasibility. "China needs to turn to countries with more expertise, which is why China has been active in approaching Japan recently," said Koga. He suggested that in addition to working with China to raise standards on infrastructure projects, Japan could support developing countries by providing contract negotiation workshops and consulting services.
Following the initial presentations, the discussion turned to broader international issues, including a perceived divergence in strategy between the U.S. and Japan in their approaches toward China and BRI. In spite of the difference in tactics, Koga pointed to the goals of raising standards for the environment, workers' rights, and transparency as areas where Japan and the U.S. remain in agreement. He advised that "Japan should cooperate with China so that the country's rules can be brought closer to the vision of the U.S. and Japan," while reserving the option of reverting to a more competitive policy if the gap between China's words and actions becomes too large.
On the U.S. side, Grace suggested that escalating tensions between the U.S. and China may preclude a more conciliatory approach. "If the U.S. were to try to engage with BRI at this moment, I don't think China would be able to view it from any other perspective than seeing the U.S. as a strategic rival," said Grace. "This is the area where Japan has more leeway to shape BRI than the U.S. does." However, she remained confident that Japan and the United States can navigate a divergence in approaches to China as long as "honest conversation between the two allies continues and as long as the U.S. and Japan behind closed doors are able to have frank discussions."