Public Discussion and Book Launch
Repression and Resilience: COVID-19 Response Measures and Migrant Workers' Rights in Major East and Southeast Asian Destinations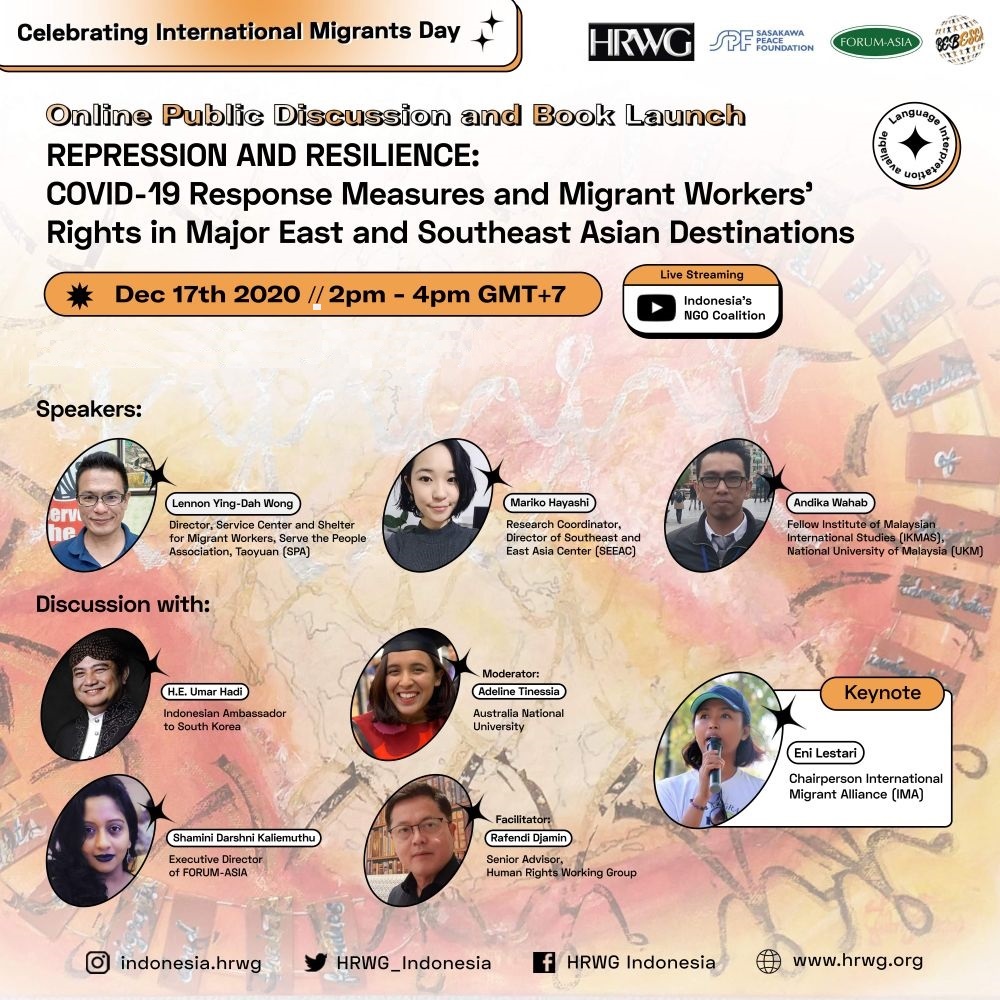 Can the COVID-19 pandemic bring about a transformation towards more inclusive governance of migrant workers regardless of their status?

To examine this question, Human Rights Working Group, Forum Asia, and the Sasakawa Peace Foundation will co-host a webinar to share the research findings about Covid-19 response measures and challenges faced by migrant workers in East and Southeast Asian countries

Migrant workers globally have become one of the most vulnerable and disproportionately affected groups from the socio-economic consequences of the COVID-19 pandemic, and also continue to face the greatest risk of infection. Further, the discrimination that migrant workers face has been exacerbated by the pandemic. Migrant workers are also suffering the economic ramifications due to the pandemic's impact on the global economy.

This new research, joined by scholars and experts of civil society organisations working on the frontlines, aims to 1) assess the impact of pre-existing migration policies and COVID-19 public health measures, often based on strong national interests, on migrant workers, 2) explore how vulnerabilities translate to real-life experiences of migrant workers, and 3) examine how state and non-state actors, including businesses and civil society, are dealing with challenges faced by migrant workers. 

This research is also aimed at amplifying voices of those who are affected and bringing their perspectives to policy discussions at the national and regional levels.
Thursday, December 17, 2020, 16:00~18:00 (JST)
Sasakawa Peace Foundation, Human Rights Working Group (HRWG), Forum-ASIA

Repression and Resilience:
COVID-19 Response Measures and Migrant Workers' Rights in Major East and Southeast Asian Destinations
 
16:00-16:25
Opening Remarks
Mr. Daniel Awigra, Deputy Director of Human Rights Working Group
Mr. Itsu Adachi, Executive Director, Sasakawa Peace Foundation (SPF)

Keynote
Ms. Eni Lestari, Chairperson, International Migrant Alliance (IMA)
16:25-17:10
Panelist Presentations
"Policies Towards Migrant Workers and Their Experiences during COVID-19 in East and Southeast Asia"
Ms. Mariko Hayashi, Research Coordinator, Director of Southeast and East Asia Center (SEEAC)
Mr. Lennon Ying-Dah Wong, Director, Service Center and Shelter for Migrant Workers, Serve the People Association, Taoyuan (SPA)
Dr. Andika Wahab, National University of Malaysia

Moderator: Ms. Adeline Tinessia, Australia National University
17:10-17:50
Commentaries and Open Discussion
H.E. Umar Hadi, Indonesian Ambassador to South Korea
Ms. Shamini Darshni Kaliemuthu, Executive Director of Forum-ASIA

Facilitator: Mr. Rafendi Djamin, Senior Advisor, Human Rights Working Group
17:50-18:00
Closing Remarks
Mr. Muhammad Hafiz, Director of Human Rights Working Group
Japanese & English (simultaneous interpretation will be provided)
Please register from the following link.
Contact

Sasakawa Peace Foundation, Asia Peace Initiatives Department
Mr. Yuichi Yamashita
E-mail: y-yamashita@spf.or.jp
Tel: 080-3524-4475