Interview with Mr. Eisuke Kudo, Senior Advisor and Mr. Takeshi Mizunari, Research Fellow at Ocean Policy Research Institute
Interview with Mr. Eisuke Kudo, Senior Advisor and Mr. Takeshi Mizunari, Research Fellow at Ocean Policy
Research Institute
Fostering future leaders in maritime and ocean-related fields
Over 700 WMU Sasakawa Fellows from 81 countries
World Maritime University (WMU) Sasakawa Scholarship Program celebrates its 35th anniversary in 2022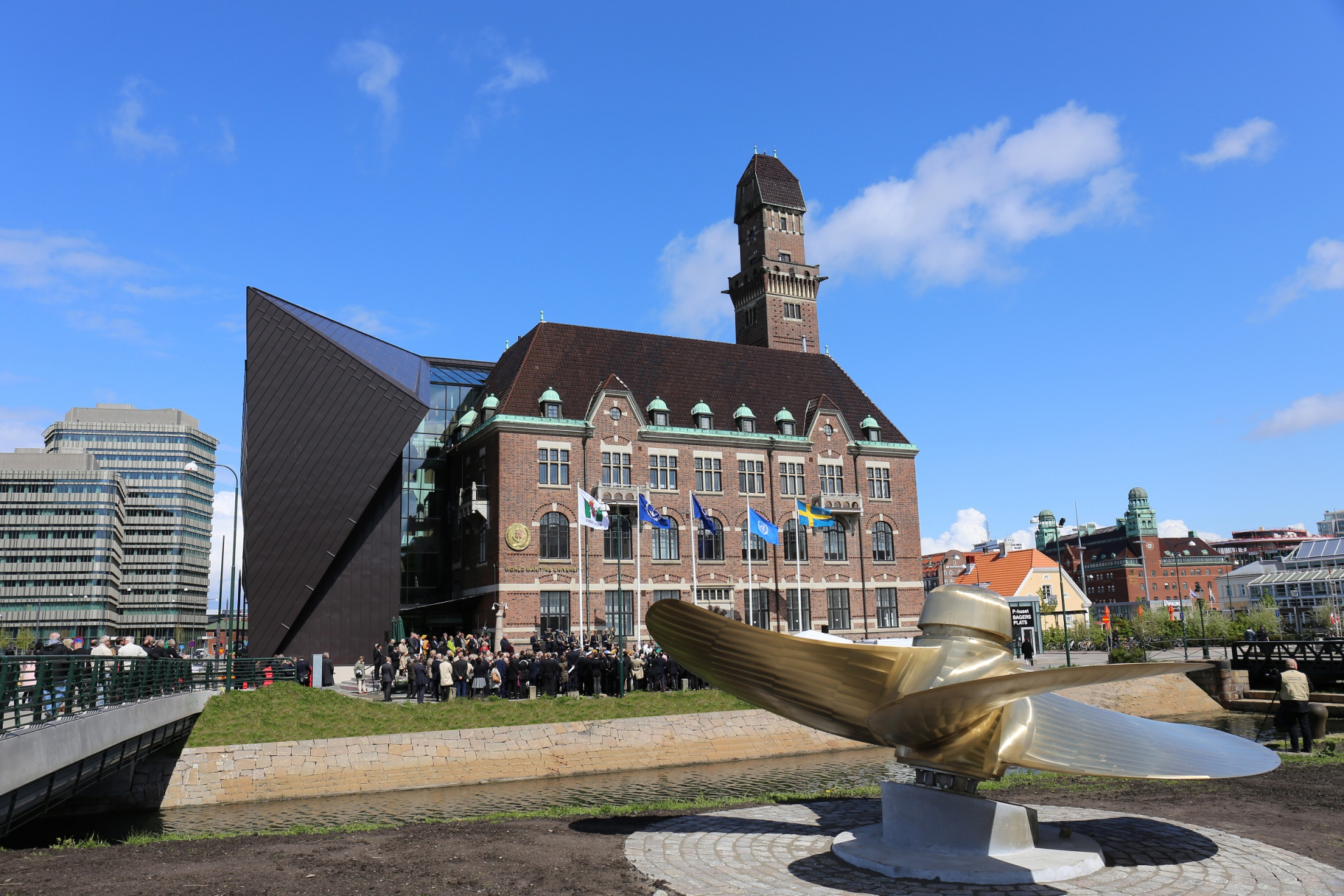 One of the projects managed by the Sasakawa Peace Foundation's Ocean Policy Research Institute (OPRI) is the World Maritime University (WMU) Sasakawa Fellowship Program. It contributes to the development of future leaders in the maritime and ocean fields by providing scholarship opportunities for civil servants from maritime and ocean-related organizations around the world to study in the WMU master's program in Sweden. The number of graduates from this project, which is supported by The Nippon Foundation, has reached 730 from 81 countries (2021) mostly in the Asia-Pacific, Africa, and Latin America, and many of them hold important positions at government and educational institutions in their home country. The scholarship project started in 1987 and will celebrate its 35th anniversary in 2022. As this project enters its 35th year, we interviewed Eisuke Kudo, a senior advisor for OPRI who has been involved since the start of the project, and Takeshi Mizunari, a research fellow at OPRI and former coast guard officer who has been in charge of the project since 2019, on the significance of this program and plans for future initiatives.
What kind of educational institution is WMU?

Mr. Kudo: WMU is a graduate university that was established in Malmö, Sweden in 1983 by the International Maritime Organization (IMO) of the United Nations. In the early 1980s, with the rapid development of the world's maritime industries and technology, new international agreements had to be enacted and frequently revised. At the same time, there were many countries, especially developing ones, that were unable to implement these international regulations. Ships around the world are not be able to navigate with mutual peace of mind unless the administrative capabilities of developing countries are raised to the level seen in developed countries. Accordingly, the university was established to address the need for human resource development. That philosophy remains the same today.

Mr. Mizunari: WMU offers master's and doctoral programs, but the OPRI project applies only to the master's programs. Personnel in maritime and ocean-related fields from mostly developing nations receive specialized training for 14 months. There are seven courses: Maritime Education and Training (MET), Maritime Energy Management (MEM), Maritime Law and Policy (MLP), Maritime Safety and Environmental Administration (MSEA), Ocean Sustainability, Governance and Management (OSGM), Port Management (PM), and Shipping Management and Logistics (SML). Upon returning home, students are expected to utilize the knowledge and experience they acquired at WMU for policymaking, deliberations at the IMO, and the development of national legislation to support the implementation of international agreements.

Please provide an overview of the Sasakawa Fellowship Program.

Mr. Mizunari: At the end of April every year, a selection committee meets to choose about 30 scholarship recipients. Students taking English supplementary courses enroll in WMU in June, while all other students enroll in September for the basic course. From January of the following year, the students are divided into specialized courses to conduct research and field studies (visiting sites around the world), write dissertations, and then graduate at the end of October.

In addition to these academic activities, the program features three independent annual events: a training session in Japan in May, an orientation in September that brings together former and new scholarship students, and the WMU Sasakawa Fellow Certification Ceremony held the day before the graduation ceremony at the end of October. While enrolled, students are called WMU Sasakawa Fellowship Students, but after the certification ceremony, the students who graduate become WMU Sasakawa Fellows.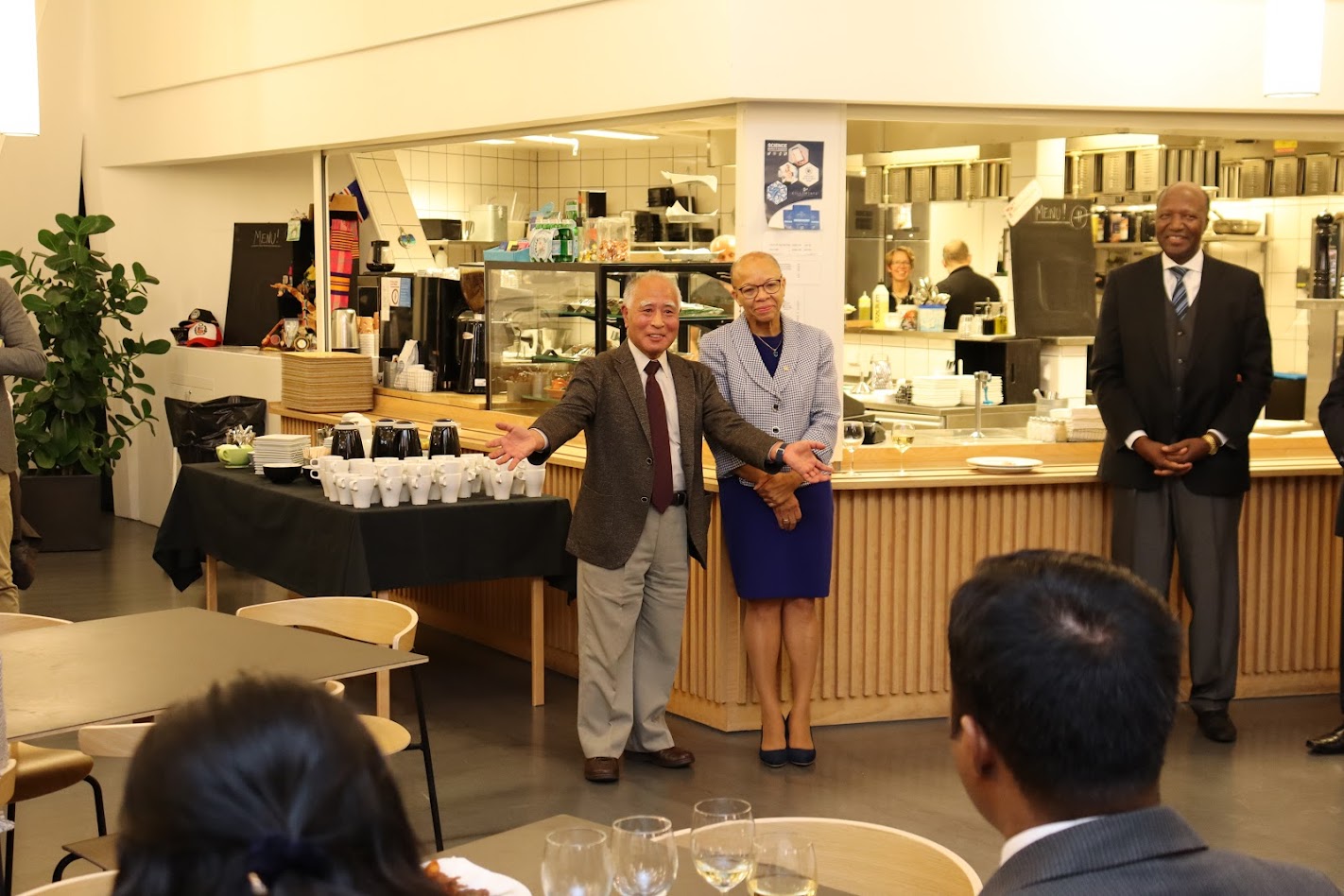 Senior Advisor Kudo (center) greets WMU Sasakawa Fellows at the Gathering Orientation reception held in the WMU Cafeteria in September 2019. Next to him is WMU President Dr. Cleopatra Doumbia-Henry.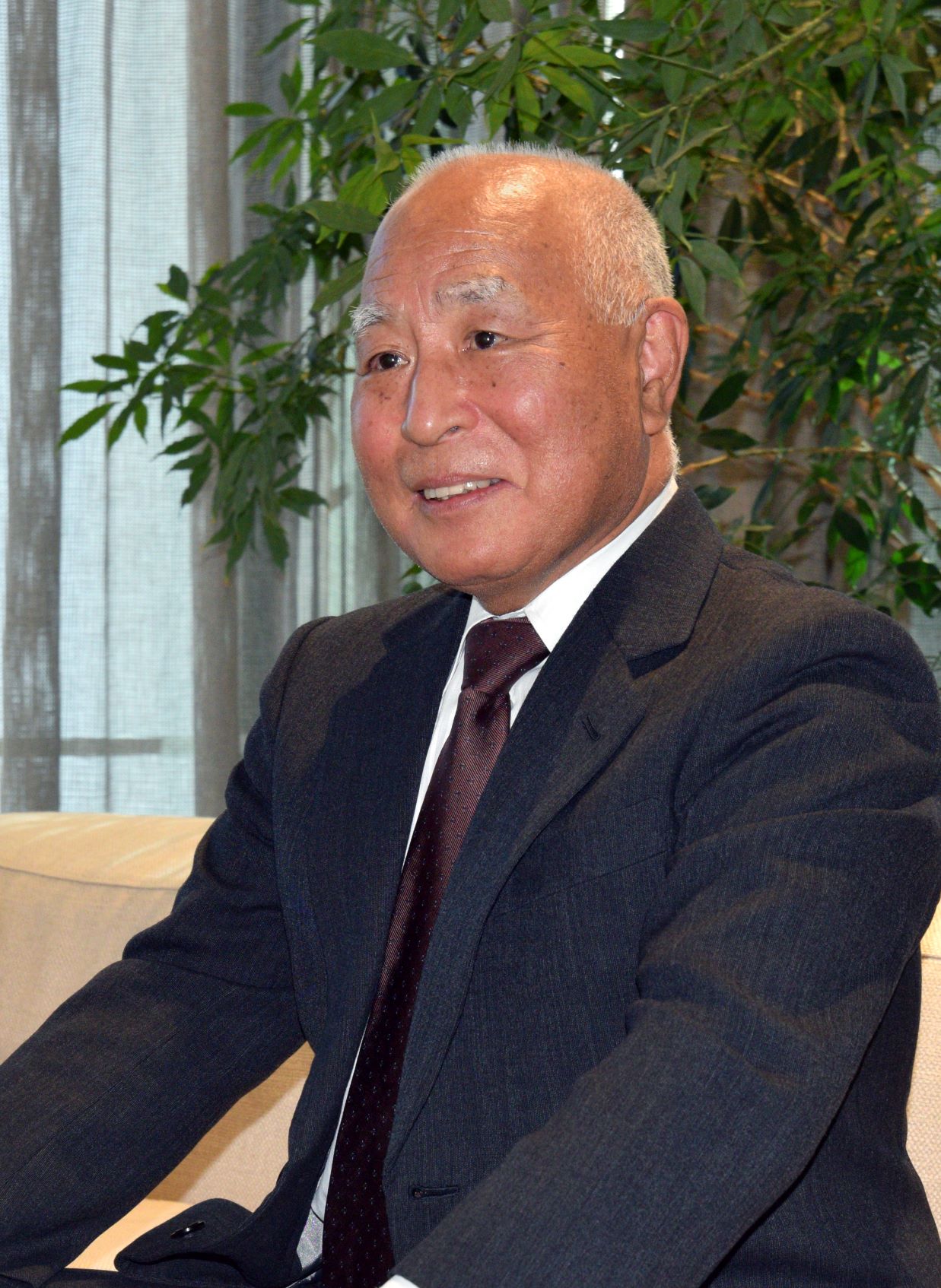 Mr. Eisuke Kudo, Senior Advisor
How did the Sasakawa Scholarship Program start in the first place?
 
Mr. Kudo: In 1982 when I was appointed as the First Secretary to the Embassy of Japan in the United Kingdom, I received a request from Chandrika Prasad Srivastava, the Secretary-General of the IMO at the time, for Japan to provide financial support for the stable operation of the university. When I brought up the matter to the Japanese government, the Ministry of Transport (currently the Ministry of Land, Infrastructure, Transport and Tourism, or MLIT), determined that it would be difficult to provide support by allocating national funds, and instead asked Ryoichi Sasakawa, the chairman (at the time) of the Japan Shipbuilding Industry Foundation (currently The Nippon Foundation), for support.

Chairman Sasakawa, who had already been focusing on various types of support for developing countries, promptly decided to provide at least five years of support to WMU given its reputation as an institution that supports professional development in developing countries. We began by first supporting scholarship students from other countries in the Asia-Pacific region, which has a good relationship with Japan and is geographically close. Subsequently, the number of scholarship students from Central America and Africa gradually increased to this day.
What kind of people become WMU Sasakawa Scholarship Students and Fellows, and what kind of positions do they pursue after graduation?
 
Mr. Mizunari: One of the conditions for applying for a scholarship is that the applicant must be a civil servant who is expected to contribute to the development of his or her own country after graduation. For example, many of those involved in maritime affairs come from organizations that control maritime traffic and harbors, similar to Japan's Maritime Bureau, and Ports and Harbours Bureau of MLIT. Other students belong to organizations that control maritime disaster relief and smuggling, similar to the Japan Coast Guard, organizations that educate seafarers, similar to the Japan Agency of Maritime Education and Training for Seafarers, and organizations that investigate the causes of marine accidents, similar to the ship department of the Japan Transport Safety Board. Today, there are people from not only maritime-related organizations, but also ocean- and environment-related organizations, similar to the National Ocean Policy Secretariat in the Cabinet Office, and Ministry of the Environment.

Almost all scholarship students remain active in the same sector after returning to their home countries as WMU Sasakawa Fellows. On the other hand, some graduates think about what they want to do based on what they have learned and embark on a new career path. In the past, some graduates decided to play an active role in international negotiations for the development of their own country and consider joining the Ministry of Foreign Affairs. In other cases, some fellows realized that there was a lack of lawyers in their country specializing in maritime affairs and subsequently decided to take the national bar exam.
■ Deepening knowledge of Japan through the Japan Field Study Trip
WMU seems to place a special emphasis on the Japan Field Study Trip. Why is that aspect so important?

Mr. Mizunari: We take students a one-week study trip during WMU's break from classes in May each year. In 2019 before the COVID-19 pandemic, 30 scholarship students and 2 faculty and staff members from WMU participated in this this trip. The places we visit every year are The Nippon Foundation, MLIT, and other destinations that highlight the Japanese maritime industry such as port facilities, shipbuilding or marine equipment factories, maritime colleges, and others. We select a variety of locations based on the hot topics of the day while ensuring that past visits and destinations do not overlap. Beyond maritime-related destinations, we sometimes also include automobile factories. It is our hope that by providing scholarship students with the opportunity to experience the basics of Japanese manufacturing and industry, they will be able to draw comparisons between Japan and their home country.
 
These visits in a sense act as a field trip for adults, providing opportunities for students to ask questions and engage in discussions at the destinations. For example, when we visited a company that manufactures equipment for making fresh water from seawater, everyone was curious and asked questions all at once. After the training, the students write a report about their experience. These essays are then compiled into a book that is given to each student as well as to the hosts from the study trip destinations.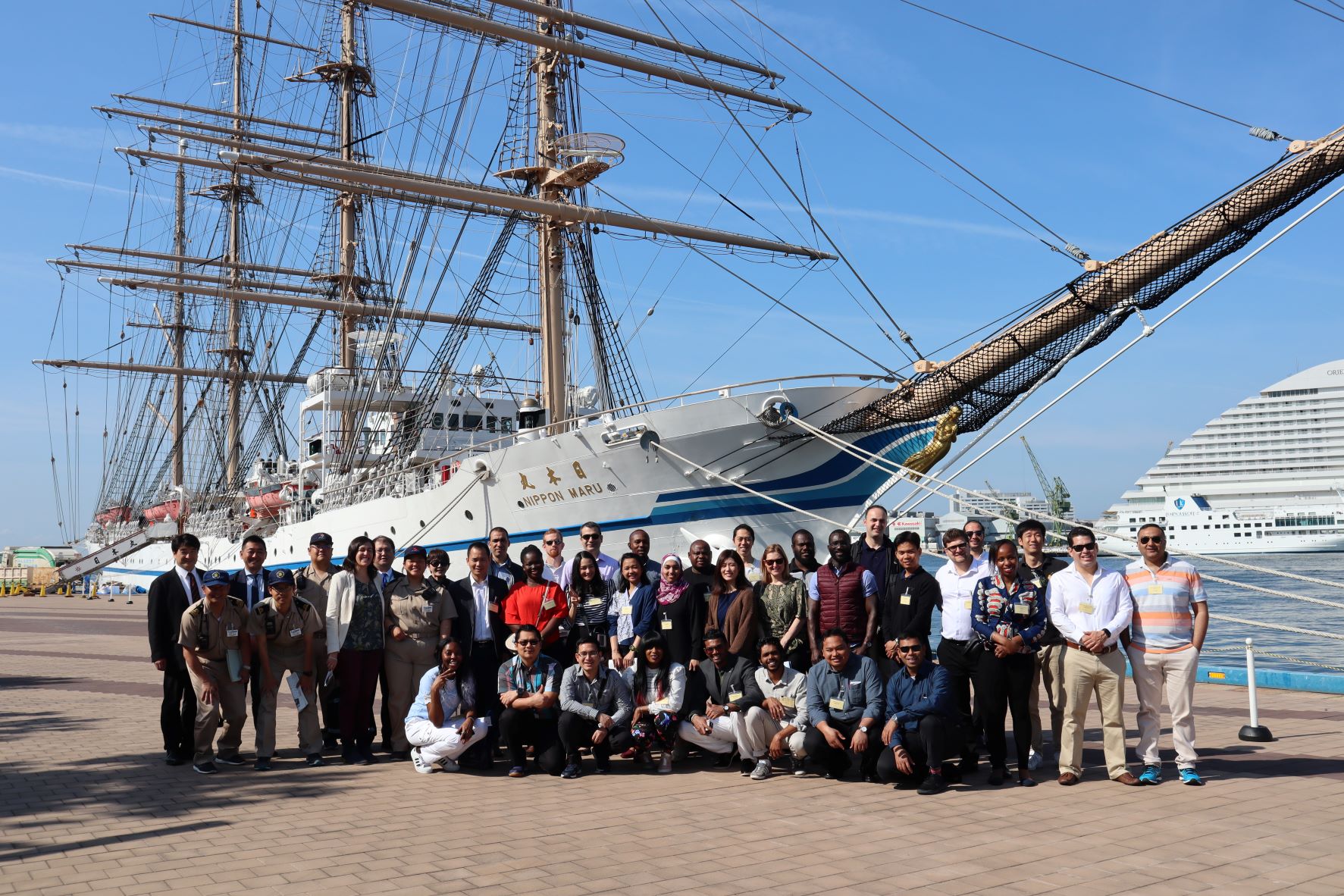 WMU Sasakawa Scholarship students pose for a commemorative photo in front of the Nippon Maru training ship at Kobe Port during the 2019 training in Japan
Mr. Mizunari: I think that it is rare to find training programs that provide an opportunity for scholarship students who have never once been to Japan to learn about the country. However, the purpose of our program is not just to have students discover Japan. We also are aware that students may not know Japan if they simply receive funding and graduate without understanding anything about the country. Sometimes scholarship students participate in discussions on international conventions such as those at the IMO when they take up important positions after graduation, and it wouldn't hurt if on such occasions they can say they have seen Japan and that it was interesting, or better yet, say they hold Japan close to their hearts.

How have the fellows reacted to these visits?

Mr. Mizunari: The students all very much look forward to the training in Japan even before getting here. Many of them researched Shibuya and other places in advance to plan how they would spend their free time. We have also received a variety of positive feedback following the trip in Japan, including statements like "It was nice getting to learn about the maritime society" and "It was hard to adjust to the Japanese rules regarding punctuality, but I got to know the Japanese way of thinking and how the country operates." The trip has been very well received, with students' knowledge of Japan deepening each year.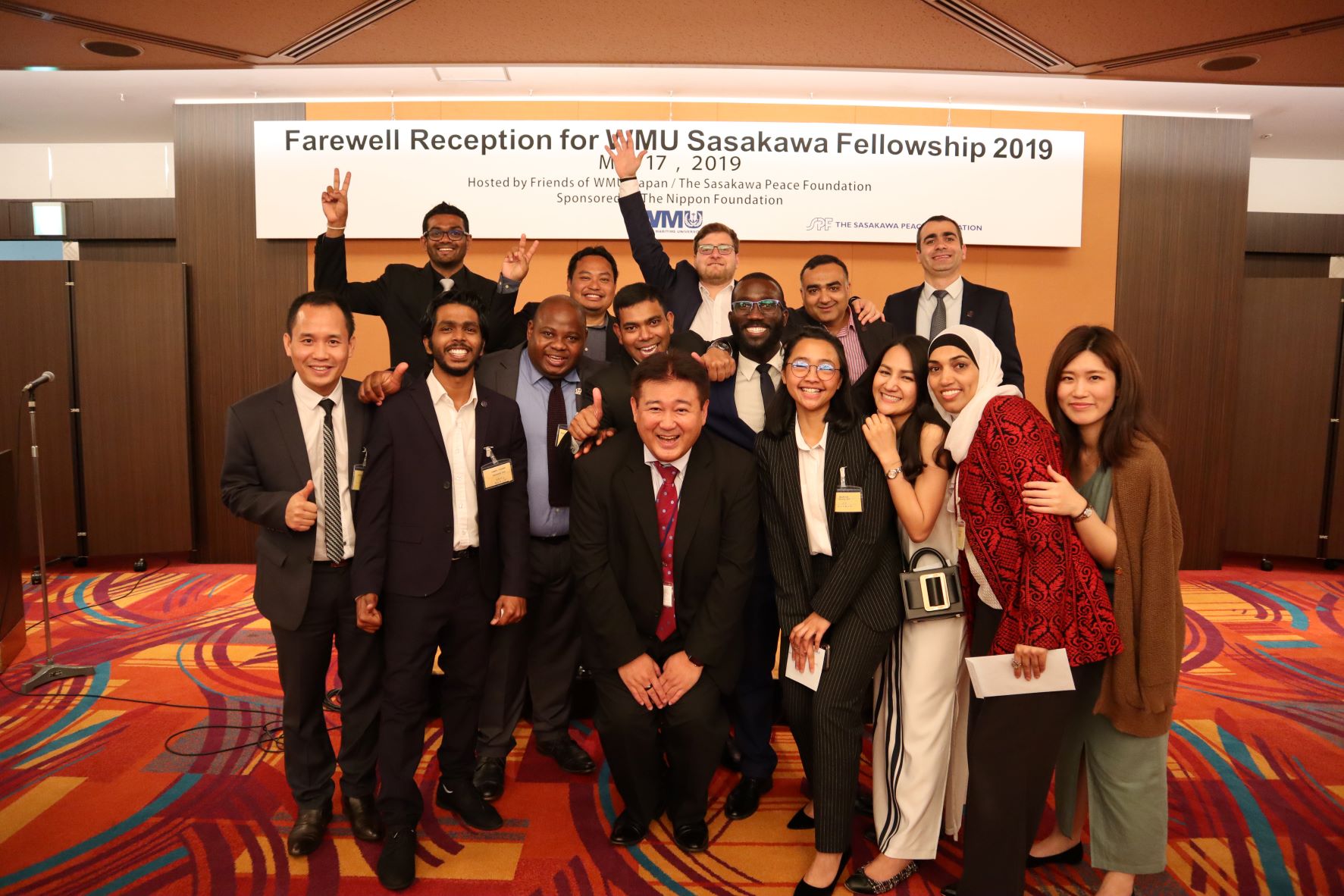 WMU Sasakawa Scholarship students and Mr. Mizunari (center) with big smiles at the farewell reception held on the last day of the 2019 training in Japan.
How was it to see the training in Japan get cancelled in 2020 and 2021 due to the COVID-19 pandemic?

Mr. Mizunari: Unfortunately, the training had to be canceled for two consecutive years. Even so, this year we managed to provide an opportunity for scholarship students to speak with SPF Honorary Chairman Yohei Sasakawa individually through an online meeting held in October, which connected participants in the WMU auditorium with The Nippon Foundation.

What were some difficulties and challenges you faced in running the WMU Sasakawa Fellowship Program during the pandemic?

Mr. Mizunari: I think that the WMU Sasakawa Scholarship Program is about making friends all over the world who you can talk to about ocean-related matters, in other words, network building. Face-to-face is the best way to build a relationship of trust, so we wondered what to do to follow up with the scholarship students since we couldn't meet in person because of the pandemic.

On the other hand, the pandemic also brought some good opportunities that otherwise would have been missed. As one example, a scholarship student who was scheduled to graduate in 2020 had to suddenly return home due to family reasons. Before the pandemic, it might have been difficult for that student to come back to school. However, during the COVID-19 pandemic, the online lectures offered by WMU since last year were available from the student's home country, and the student was able to graduate successfully in 2021.
■ The unwavering network of Sasakawa Fellows
What is the best part of being involved in this project?

Mr. Kudo: The part that brings the most joy to me is receiving letters from graduates providing updates on their lives. I receive dozens of these letters every year. Of course, it's nice to hear when someone becomes a director or receives a promotion after returning home, but these status updates don't necessarily need to be something grand. I love hearing feedback like, "Thanks to my education at WMU, I was able to speak out at a meeting," "I was able to accompany my boss to fulfill an important role at an international conference," or "I met up to have drinks with my classmates during an overseas business trip."

Now graduates can search for and contact each other through our website, but in the old days, people would often reach out to me to ask if I knew what certain graduates were up to. The reason I was able to connect graduates together is because I worked at OPRI, which is part of the same maritime field. The best part was that I, and more broadly SPF, could serve as a bridge to connect these graduates.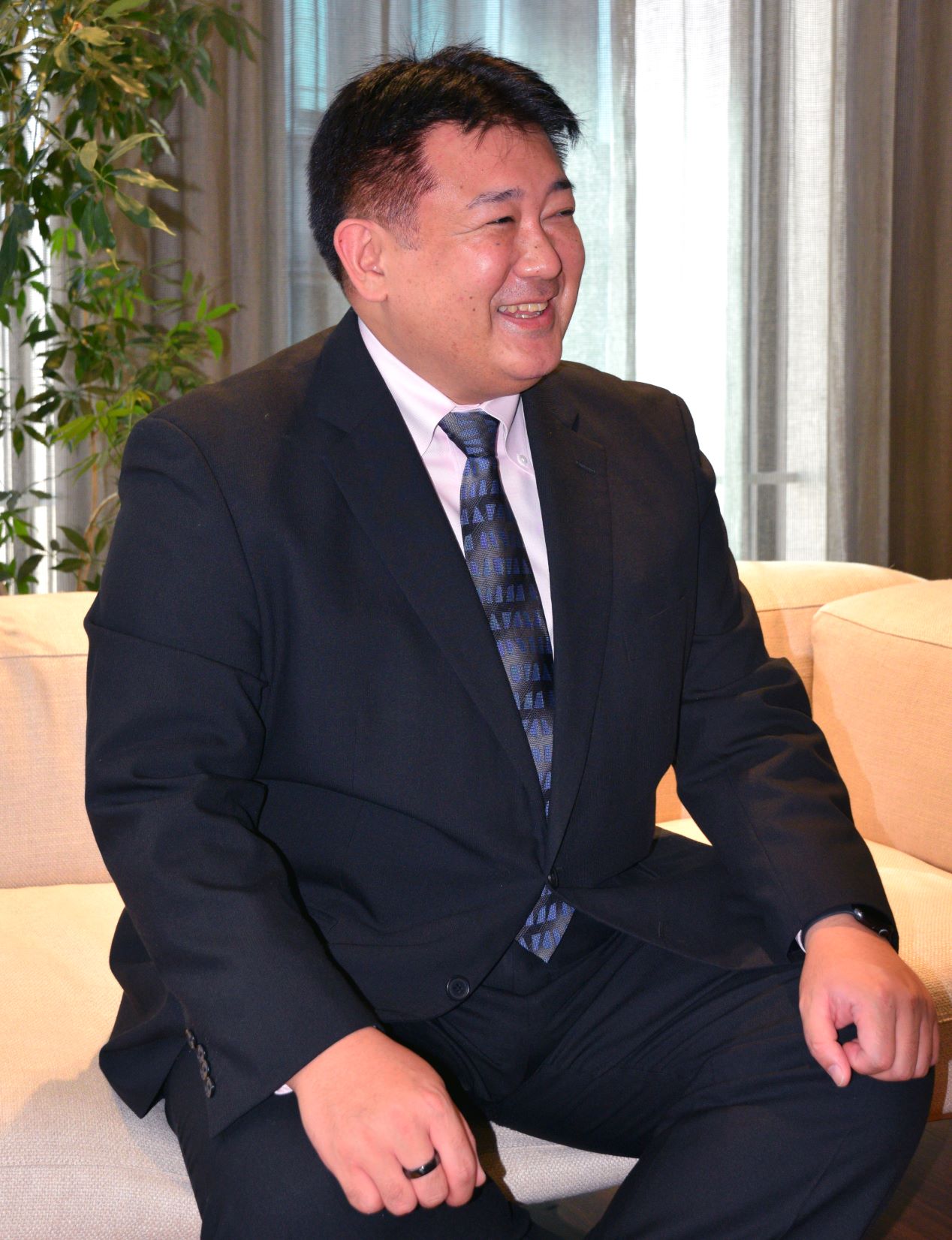 Takeshi Mizunari, Research Fellow
Mr. Mizunari: The highlight for me is being able to establish a connection with developing countries. Scholarship students originally came from countries in the Asia-Pacific region, but they now come from all over the world. This year, 3 more countries have joined us for a total of 81. It's very interesting to be entrusted with work that interacts with a wide network.
 
I myself am a former coast guard officer. Since I'm from the same field as the WMU Sasakawa Fellows, I can understand their feelings and make use of my background in this project. I can clearly see even from afar how the scholarship students get along with each other through their studies. Even if they come from different countries, a network formed by students who share similar experiences is strong. The secretariat also provides opportunities for them to interact with each other. Even after students graduate, I would like to see them build their network of WMU Sasakawa Fellows through local gatherings.

What initiatives are planned for the future?
 
Mr. Kudo: Even after they graduate, I would like to see students maintain close relationships with their colleagues who they lived with during their studies at WMU. At university, they likely learned the same values, such as conveying their opinions and listening to what other people have to say. After they return to their home country, the interests of each individual country may not always coincide with those of their fellow graduates. At international conferences, people may need to take one side. Even so, I believe they can come to a compromise with each other.
 
To accomplish this, it's necessary to maintain and expand the network among graduates. In a nutshell, I believe a network is all about knowing who is where. The secretariat regularly publishes a newsletter, but we would like to continue expanding the network so that graduates can easily post and contact us. As the number of graduates continues to increase, I think that managing this network will be a challenge in the future.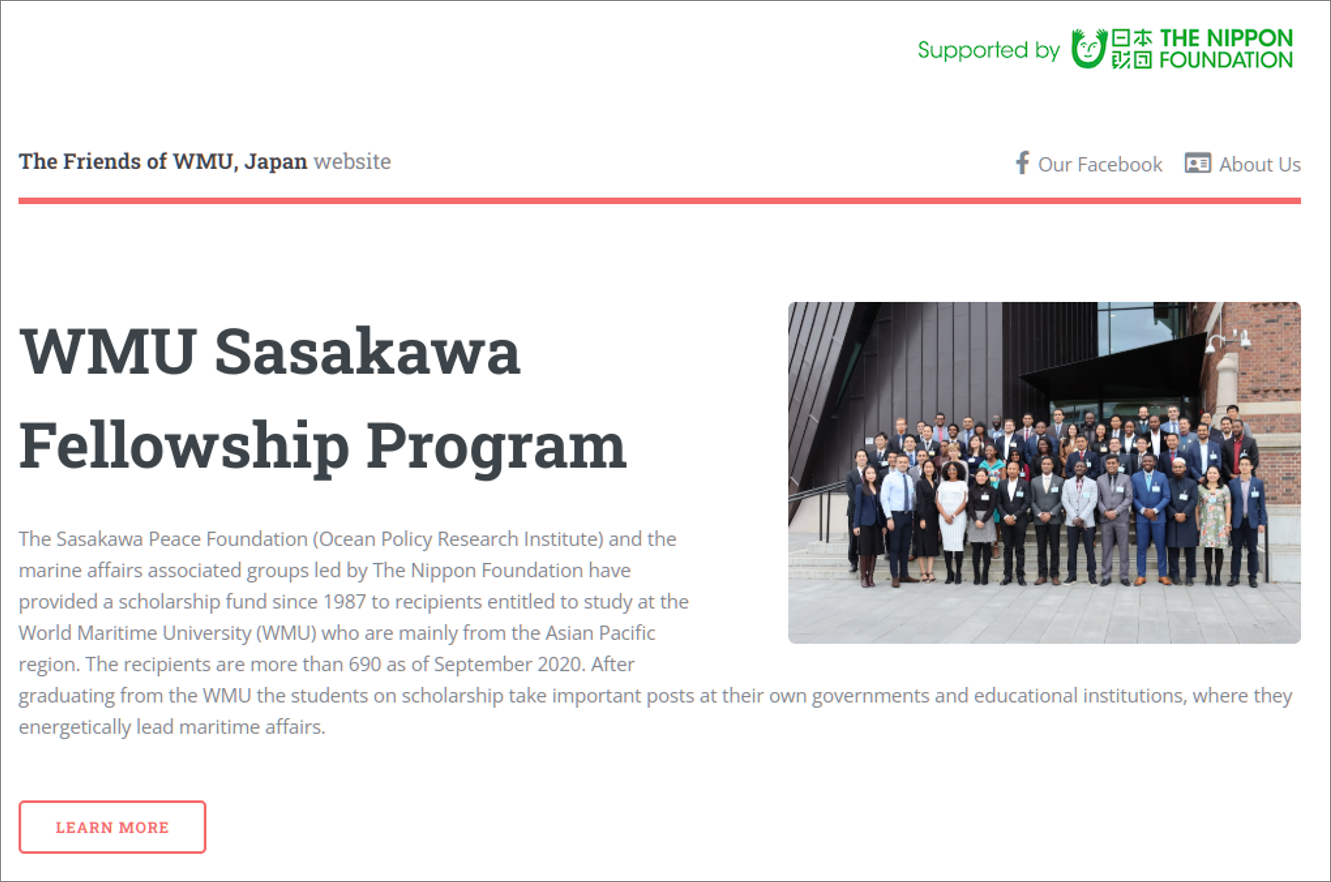 WMU Japan group website
Mr. Mizunari:
I would like to go and meet with all 730 WMU Sasakawa Fellows someday. I always want to keep in mind how they work. In fact, it's hard enough to just keep track of where they are. To that end, we are also working on updating our WMU Japan group website which has been around since 2010 (
http://www.wmujapan.net/
) and rebuilding the database for WMU Sasakawa Fellows. The operation of the secretariat involves a lot of tedious and repetitive work, but it is very fun to think about ways we can make these systems even just a little more efficient. I would like to make use of the time saved through improved efficiency to dive into the stories of each of our graduates, which is something that I have not been able to do thus far.
In closing, please provide a message to WMU Sasakawa Scholarship Students and Fellows.
 
Mr. Kudo: Please rely on our network to receive strength from other fellows and share that strength with your close friends and coworkers. In addition to WMU, WMU Sasakawa Fellows are connected to graduates of the International Maritime Law Institute (IMLI) through The Nippon Foundation. Furthermore, I hope that they will go on to serve the world beyond the boundaries of WMU Sasakawa Fellows.
 
Mr. Mizunari: I see our activities as grassroots activities. We are planting seeds that may grow up in the future. They may not all become large trees, but I'm looking forward to hearing success stories of WMU Sasakawa Fellows being the ones that become those large trees.
 
(Translated from the original Japanese article)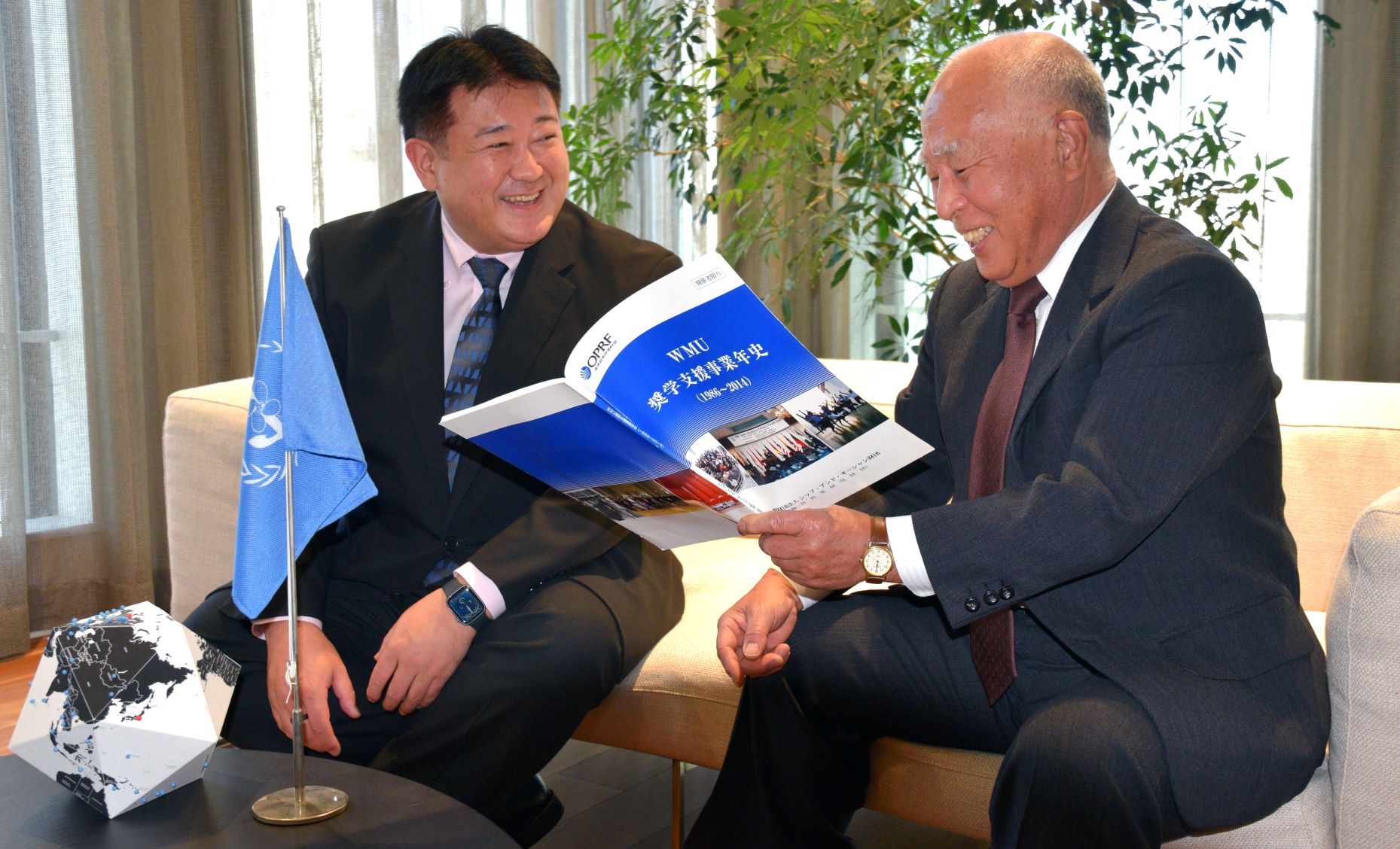 Eisuke Kudo
Senior Advisor, Ocean Policy Research Institute, Sasakawa Peace Foundation

Born in Nemuro in 1945. After graduating from Osaka University Graduate School in 1970, joined the Ministry of Transport. Mainly engaged in maritime industry/technology and maritime safety administration. Studied abroad at Delft University of Technology. Dispatched to work for the Science and Technology Agency, Atomic Energy Research Institute, and Ministry of Foreign Affairs (Embassy of Japan in the UK). Retired after working for the Japan Coast Guard (Commander of 8th Regional Coast Guard Headquarters, and Director General of Equipment Technology Department at headquarters).

Served as Managing Director of the Ship and Ocean Foundation from April 1999 until 2009. During his tenure, he was involved in the launch and operation of ocean policy research organizations. Senior Advisor of the Sasakawa Peace Foundation since 2015.
Takeshi Mizunari
Research Fellow, Ocean Policy Research Institute, Sasakawa Peace Foundation

Born in Niigata in 1977. After graduating from the Japan Coast Guard Academy in 1999, worked for the Japan Coast Guard until 2013 as a patrol vessel officer and chief officer, and as a staff member of the Info-communication Division of the Administration Department at headquarters. Involved in international business such as with the IMO while working at the Info-communication Division. Since 2014, compiles ESI (Environmental Sensitivity Index) maps for grasping coastal terrain in case of oil spills, and conducts survey research on international trends in maritime affairs such as surveys at the IMO as a senior researcher at the Marine Pollution Prevention Research Department of the Japan Association of Marine Safety. Since April 2019, engages in maritime research such as on the Mauritius oil pollution incident as a research fellow at the Sasakawa Peace Foundation's Ocean Policy Research Institute and project leader of the WMU Sasakawa Fellowship Program.