Interview with Ms. Irene Hirano Inouye, founding president of the U.S.-Japan Council
By Jackie Enzmann, Chief Editor
---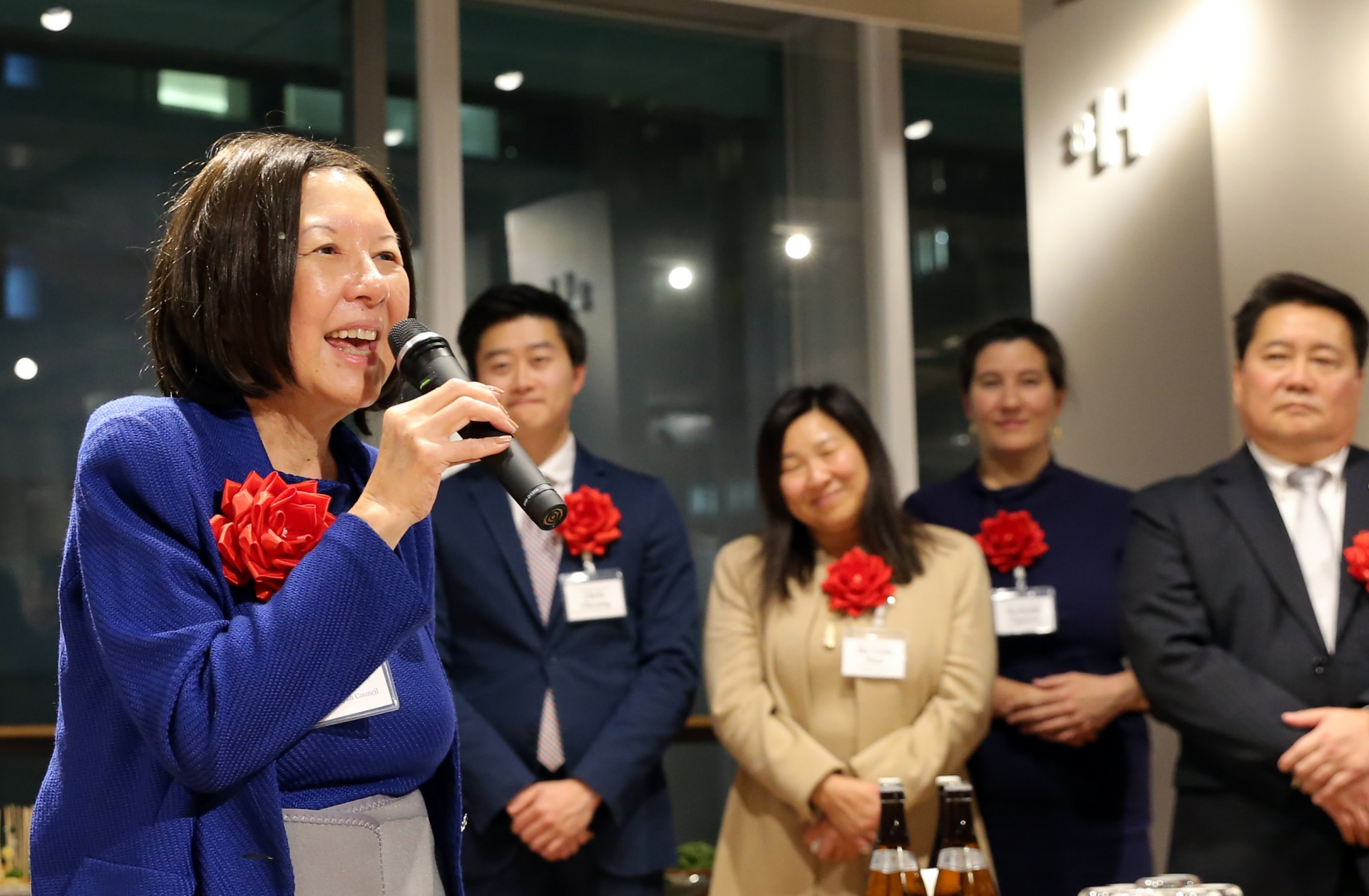 The 2019 Asian American Leadership Delegation (AALD) program, co-organized by the Sasakawa Peace Foundation (SPF) and the U.S.-Japan Council with support from the National Asian Pacific American Caucus of State Legislators, recently welcomed a delegation of 
six Asian American state legislators
 to Japan as part of efforts to build relationships with community leaders in Japan. During the delegation's visit, SPF spoke with Ms. Irene Hirano Inouye, the founding president of the U.S.-Japan Council, about the crucial role of people-to-people ties between the U.S. and Japan as well as the growing influence of Asian Americans in the political process.
The Asian American Leadership Delegation (AALD) program is now in its sixth year. Could you talk about the origins of this program and how it fits into the broader Japan-U.S. relationship?

Ms. Hirano Inouye: The mission of the U.S.-Japan Council is to build and maintain strong people-to-people relationships between the U.S. and Japan. Due to the large amount of mutual dependency and the great potential for mutual benefit, it's important that the U.S. and Japan preserve this robust relationship, certainly in the areas of security and the economy. At the same time, we are also aware that there are going to be times when the relationship may be challenging. However, we believe that these avenues of communication at various levels should be maintained despite whatever happens on the political level, which is one of the reasons that the U.S.-Japan Council was established over ten years ago.
The AALD program was created because we felt that leaders in Japan did not have many opportunities to meet with leaders of other ethnic communities from the U.S. As a result, I always felt that Japanese leaders didn't have many connections or relationships to a diverse America. The communities that make up this diversity, including Asian Americans, are what make America unique, and I believe they will be significant leaders at the federal, state, and local levels in the future.  
We also felt that focusing on legislators at the state level would be beneficial because many Japanese companies have made investments throughout the U.S., particularly in the Midwest, the South, and other parts of the country. This economic relationship benefits states in particular by bringing jobs and investment to the region, so through the AALD program we are able to tap into this area of common interest regarding developing local markets, building on existing business relationships, and creating opportunities to invest in Japan.
The 2019 visit includes a stop in Tottori Prefecture, which is the least populated prefecture in Japan and is off the beaten path for many U.S. visitors. What are you hoping the delegation will get out of this unique visit?
Ms. Hirano Inouye: 
We saw the trip to Tottori as a valuable learning opportunity for the state legislators. Some of the members of our delegation come from small states and they're quite interested in learning how Japan has begun to address some challenges associated with aging and access to services, which are becoming pressing issues in some areas of the U.S.
Also, I think that if you just go to the major metropolitan centers like Tokyo, Osaka, or Kyoto, you don't get a full picture of the diversity of Japan. Visiting a place like Tottori gives people a sense of the richness of Japan and traveling to a more rural area affords one the chance to meet people that have had very different experiences than people who grew up in Tokyo or another major city. I hope that the delegation will have the opportunity to meet people to talk about common issues and common solutions, and that they will gain a better appreciation of what Japan has to offer.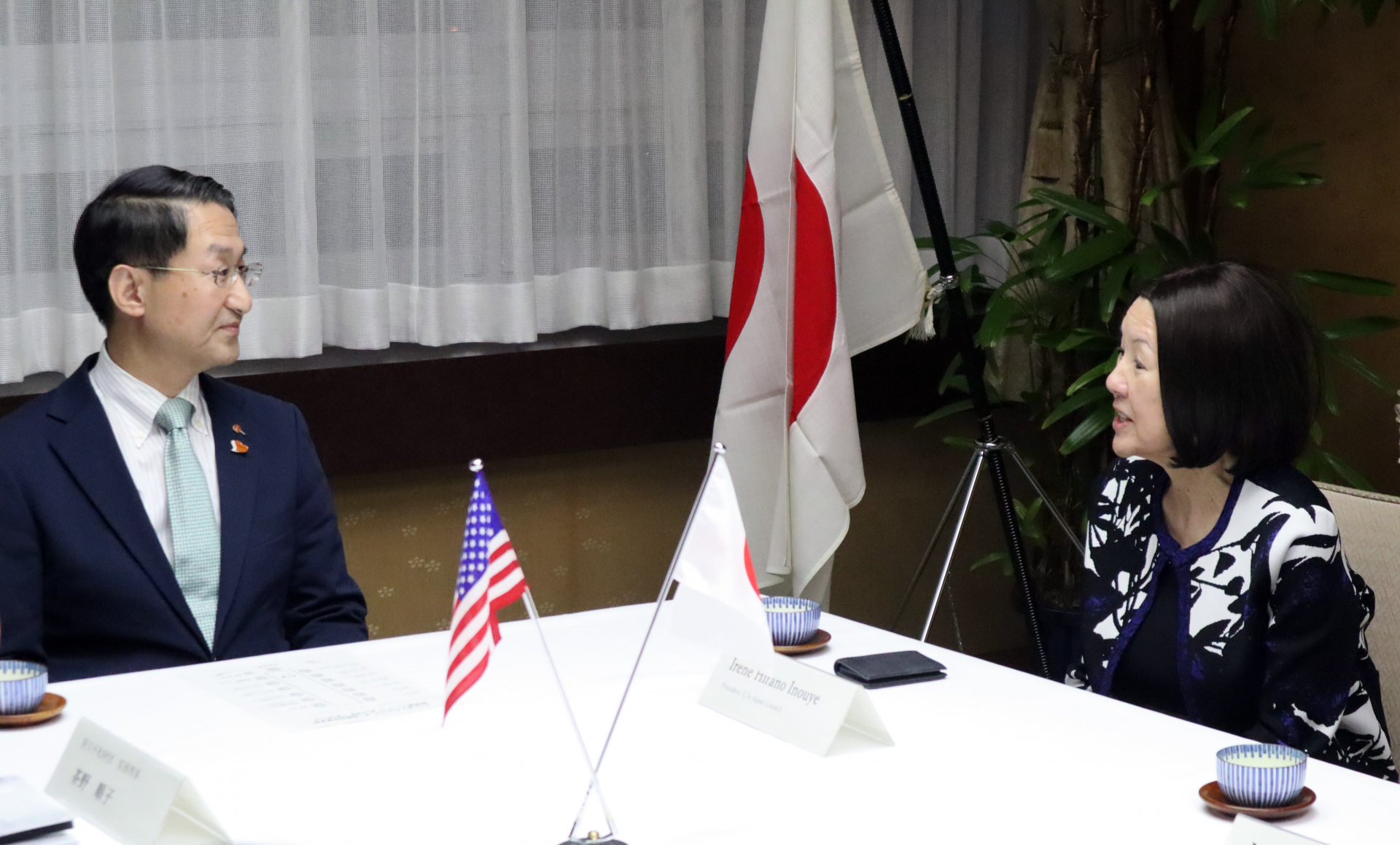 Ms. Hirano Inouye speaking with Tottori Governor Shinji Hirai during a meeting with the AALD delegation
Currently in the U.S., the Asian American population has become the fastest growing major ethnic or racial group in the country, and in the next couple decades it's projected to surpass Latinos as the largest immigrant group. Based on these demographic shifts, do you see any potential for changes in the ways that Asian Americans participate in politics, either as a candidate or as a voting group?
 
Ms. Hirano Inouye: The backgrounds of people of Asian descent are very different depending on where our ancestors came from. However, over many years there have been efforts to encourage the various Asian American communities to work together. Each ethnic group by itself is small, but increasing cooperation among the larger Asian American community creates leverage and brings strength in the political process.
 
I think that for those of us who are interested in or involved in politics, we hope to see more Asian Americans running for office at local, state, and federal levels. I think as a totality in terms of Asian Americans, in recent years there have been more people interested in politics. From what I've seen, certain Asian American groups have become more involved in the political arena than others, such as Indian Americans as well as an increasing number of Chinese Americans and young Korean Americans.
 
Although there are historically many politicians from the Japanese American community that have been very visible in government, it seems that the younger generations are not as interested in politics. We're trying to change that and encourage more young people to get involved. They don't necessarily have to be the one that runs for office, but they can still be civically active by participating in campaigns or supporting people that are running.
 
How do you see this playing out in the next presidential election?
 
Ms. Hirano Inouye: On the Democratic side, there are still many candidates running in the primary election. There's one Chinese American candidate that's running for president, Andrew Yang, and many of the campaigns of the Democratic candidates have been hiring Asian Americans as campaign staff. However, the Republican side is a different story. Currently at the state level there are 150 Asian Pacific Islanders that hold state legislative office. Of that 150, only 10 are Republicans, and the numbers are declining. That's a concern because I think we need to have representation in both parties, so I hope that those numbers will change.
 
Overall, I do think that we're seeing more Asian Americans getting involved in the upcoming 2020 elections. Even with this AALD delegation, some of the members have been talking about wanting to become a delegate to the Democratic National Convention or become active in other ways, so I think that's very positive. Many national candidates may not be as familiar with the Asian American community, but I do believe that Asian Americans can have an impact in certain states and that they will continue to have an influence as more people continue to run for office and participate in the political process.

Learn more about the delegation's 2019 tour from Tokyo to Tottori with our rundown article, and visit the Japan-U.S. Program page for information about related projects.