2011
Project
Toward Public Health Sector Recovery: Lessons from the Japan Earthquake and Tsunami
Project Outline
To examine the role of public health activities and restoration of public health systems after a large disaster, this project will conduct interviews with local government personnel and victims of the Great East Japan Earthquake, take video footage of the disaster-affected areas, engage in joint research with overseas experts, and articulate experiences and lessons to Japanese and international audiences through international workshops, etc.
Implementation Plan
The following activities will be implemented during the initial year of this two-year project.
Video filming in recording disaster areas (October 2011 to March 2012)
Under the direction of the grant recipient, work will be subcontracted to a video production company specializing in video recording in the medical and health fields. In order to take video footage relating to the disaster, it will conduct interviews of residents and public health workers in disaster areas, to record video scenes (about twice per month) of public health work in places such as medical clinics and recovery headquarters. More specifically, using Miyagi Prefecture and Ishinomaki City as examples we will focus on the activities of public health workers for recovery at the prefectural, municipal, and individual level. The video footage will be used to document initiatives for public health and hygiene issues in the process of moving toward recovery and reconstruction after the occurrence of a large disaster ? issues such as the control of infectious diseases, maternal and child health care, elder care, and mental health care. Based on the above topics, the project will analyze the recovery of the public health system overall in the disaster-affected area, and will articulate lessons to be learned. The grant-recipient scholars will visit the disaster-affected area about two times, oversee the video filming, and analyze various issues through frequent discussion with the key personnel in the area.
Two experts will be invited (twice) to the disaster-affected area from Thammasat University, including Dr. Rodger Doran, who has for many years been engaged in assessing disaster conditions, directing emergency medical assistance, and managing public health system recovery, etc., after large-scale disasters in the Asia-Pacific region. They will inspect the disaster-affected areas, exchange information with public health organization personnel and disaster victims, provide advice and suggestions on recovery in the field of public health area. Dr. Doran and his colleague will also conduct a review of recovery processes in the public health field and prepare an English report (draft).
Project Results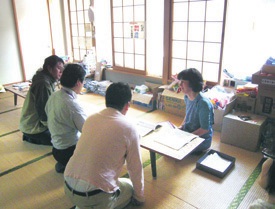 Information session about contagious diseases and hygiene in disaster-hit areas
This fiscal year, they recorded health preservation activities in the coastal regions of Ishinomaki City and conducted interviews, invited Dr. Rodger Doran (Thammasat university) to Japan twice, and collected various data in the
health preservation and medical fields.
Despite numerous large-scale disasters occurring in Japan and around the world, information sharing from Japan, especially in the disaster healthcare field, had been limited. There are high expectations for utilization of the out put from this project throughout Japan and abroad.