2011
Project
Japan-US Opinion Leaders' Dialogue II
Implementing Agency
The Sasakawa Peace Foundation
Year
1/3
Project classification

Self-Operated

Grant

Commissioned

Others

Year project budget implementation
47,283,611yen
Project Outline
This project has the aim of promoting exchanges among Japanese and American opinion leaders, based on a recognition that strong cooperative relations between Japan and the United States will promote regional stability and prosperity. Phase II of the Japan-US Opinion Leaders' Dialogue will continue to build on the foundations established in Phase I (2008 to 2010) and undertake a variety of intellectual exchanges.
Implementation Plan
The following activities will be implemented during the initial year of this three-year project.
Exchanges with senior opinion leaders invited to Japan (throughout the year)
About three individuals with previous experience in a senior government position at the cabinet level (or similarly qualified persons) will be invited to spend about ten days in Japan with their spouses.
Exchanges with invited mid-career opinion leaders (throughout the year)
Three or four promising individuals with a record of achievement in the policymaking community will be invited to spend about one week in Japan.
Training of young persons (throughout the year)
Promising young specialists expected to be active in the future (1) will be invited from the United States to Japan, (2) will be provided with research assistance, (3) will be provided with internship Japan trip support (for American university students), and (4) will participate in exchange seminars.
Symposium and seminars
(1) The Japan-US Joint Public Policy Forum will be held in conjunction with the Woodrow Wilson International Center for Scholars (autumn 2011, in Tokyo), on a theme of global relevance.
(2) Conferences and seminars will be organized to discuss the policy recommendations arising from the SPF project (2009 to 2010) entitled "Expansion of the Strategic Horizon for Japan's National Security and the Future of Japan-US Relations."
Advisory committee
(1) A total of about ten specialists from the United States and Japan will be invited to meetings of special committee meeting to obtain advice about the principles and orientation of US-Japan exchanges.
(2) With Fumiaki Kubo (Ph.D. and Professor, Faculty of Law, The University of Tokyo) as the committee chair, the US-Japan Exchange Committee (including five to eight Japanese specialists) will meet two or three times during the year in order to provide advice about the implementation and direction of future development of this project.
Activities of the Secretariat (throughout the year))
(1) Information dissemination (creation of a website for the US-Japan exchange program, provision of lecture presentations, etc.)
(2) Overseas travel (to United States and Asian countries to arrange project activities)
(3) Travel within Japan (to accompany invitees, etc.)
(4) Collection of relevant information
Project Details
SPF invited Mr. Christopher Nelson, journalist and the senior vice president of Samuels International Associates, Inc., to Japan between January 21 and 27, 2012.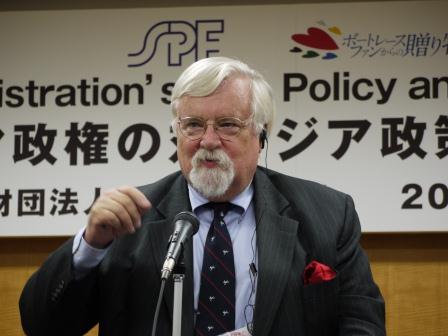 On January 23, Mr. Christopher Nelson gave a public lecture at the Sasakawa Peace Foundation on the theme of the Obama Administration's Asia policy.
He began his speech with remarks regarding the closure of the Washington offices of the Japan Economic Institute (JEI) and the Keidanren, as well as on the suspension of the publication of the "Japan Digest." Mr. Nelson warned that there is a "dangerous void created by years of Japan's Self-Marginalization in Washington," and stressed the importance of the exchange programs conducted by the Sasakawa Peace Foundation.
On the other hand, Mr. Nelson contrasted the efforts of the South Korean government in Washington D.C. The South Koreans opened an economic institute similar to JEI through which they are vigorously giving out information on Korea, and argued that South Korea is establishing a very firm position in Washington. While Mr. Nelson pointed out that the Americans are very well aware of the importance of Japan, he expressed concern over Japan's lack of effort to send out information which could result in Americans losing faith in Japan.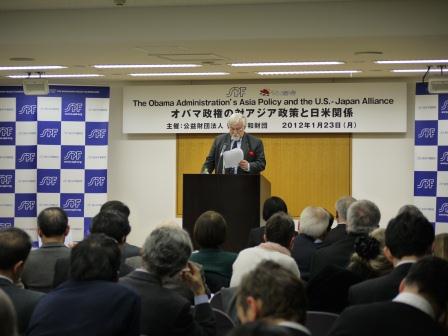 Mr. Nelson also addressed the problems of North Korea as well as Okinawa (i.e. the Futenma issue), explaining the frustration of the U.S. over the apparent lack of ability on the part of the Japanese leaders to deliver on its promises and to provide consistent policies
Mr. Nelson spent the final portion of his speech to comment on the Trans-Pacific Partnership (TPP); he hinted at the slow progress in Japanese economic reforms, stating that, "it is not true the U.S. does not want Japan to join TPP, the basic take seems to be that TPP is a chance to get Japan to do all the things we (U.S.) have been squabbling since I started my daily report, back in 1985!"
As a distinguished and outspoken journalist, Mr. Nelson has given us his very candid observation and opinion. Mr. Nelson's comments regarding the problem of Japan's self- marginalization should be taken seriously? the Japanese people might take heed of Mr. Nelson's warning to become an international and open player.
Lecture Video
Project Results
In this first year of the project, five people participated in the program, such as Kara Bue (Partner, Armitage International, l.C.) and James A. Lewis (Director and Senior Fellow, Technology and Public Policy Program, Center for Strategic & International Studies (CSIS)) were invited for opinion leader exchange activities, where SPF hosted open lecture events and meetings with Japanese experts in diverse fields.
Additionally, other seminars and a symposium were held under the program, of which one highlight was a Japan-U.S. Joint Public Policy Forum held in conjunction with the Woodrow Wilson International Center for Scholars, entitled "Japan-U.S. Relationship after the Great East Japan Earthquake." Active efforts were also made to nurture young professionals through organizing seminars and networking opportunities.
Additionally, a seminar was held with the objective of disseminating the results of our "Japan's Strategic Horizon and U.S.-Japan Relations," self-operated project, which was implemented during fiscal years 2009 and 2010.
Regular Projects Exchange Program between Japan and The United States