2010
Project
Japan Matters for America/ America Matters for Japan
Implementing Agency
East-West Center (USA)
Year
2/2
Project classification

Self-Operated

Grant

Commissioned

Others

Year project budget implementation
8,235,709yen
Project Contents
In this project, the East-West Center will, by focusing on Japan-US relations, support efforts to strengthen ties between Japan and the US and contribute to mutual understanding through dissemination of information from both countries. Data in various fields will be collected on a state-by-state or congressional district basis for the US, and on a prefectural basis for Japan. Subsequently, analysis will be carried out of the closely interlocking connections that exist between the two countries. Results will be disseminated on the project's web site and via pamphlets, providing an opportunity to re-evaluate the mutually-dependent relationship that exists between Japan and the United States.
Implementation Plan
In the final year of the project, the following activities will be carried out.
Meetings in Japan:
The director and researchers from the East-West Center will attend meetings in Japan to confirm the status of data collection and analysis.
Renovation of the Web site (April 2010):
The website will be redesigned for the Japan Matters for America/America Matters for Japan project, based on the original website format. New content will be added, and necessary programming carried out.
Drafting of the pamphlets (June-October 2010):
A pamphlet containing full color maps, graphs and charts will be drafted and later revised to produce a final version in both Japanese and English.
Outreach Program (November 2010-February 2011):
To publicize the pamphlet and web site a panel discussion and seminar will be held for invited experts, with the agenda be set on the basis of results obtained in the survey analysis.
Meetings with Japanese counterparts:
The data gathered in various fields by the East-West Center and its Japanese counterpart the Japan Center for International Exchange (JCIE) will be analyzed by experts. Based on the results of the analysis, a meeting will then be held to discuss the best means of presenting the data.
Research:
To ensure rapid progress, assistants will be hired as necessary in the US.
Project Results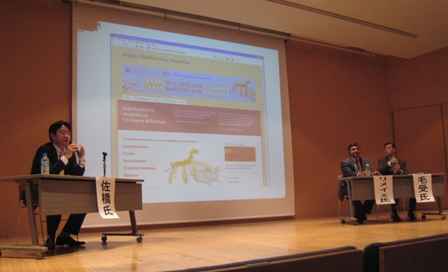 The goal of this project is to promote mutual understanding and stronger relations between Japan and the U.S. by researching and analyzing the close involvement of the two countries and how they impact each other. In the project's
initial year, a counterpart group in Japan was formed to collect and analyze information, and through the joint efforts of Japan and the U.S., activities were conducted that centered on intensive data collection in areas such as economy, tourism and peopleto-people exchanges. Information was collected at the state level in the U.S. and at the prefectural level in Japan.
This year, the final year of the project, the data was analyzed and presentation tools were finalized. The website
"Japan Matters for America / America Matters for Japan (JMA)"
* was completed, along with a pamphlet that describes the mutual dependence of Japan and the U.S.
*
http://www.japanmattersforamerica.org/
Regular Projects Exchange Program between Japan and The United States