2010
Project
Expansion of the Strategic Horizon for Japan's National Security and the Future of Japan-US Relations
Implementing Agency
The Sasakawa Peace Foundation
Year
2/2
Project classification

Self-Operated

Grant

Commissioned

Others

Year project budget implementation
9,734,205yen
Project Contents
In this project, up and coming young Japanese researchers will forecast the international situation over the next twenty years and analyze US Asia policy in conjunction with American experts. The young researchers and US experts will carry out collaborative research with a view to crafting proposals for guidelines on Japanese national security policy. Specifically, Japan's national secutiry policy, rather than following America's definition of a "threat" will be redefined in terms of a 'benefit' for Japan. On the basis of this understanding, an investigation will be carried out into Japan's foreign relations, examining a geographical area not confined to the Asia-Pacific region, but incorporating the entire region between the West Pacific and Indian Ocean - a new 'Strategic Horizon'. Research results will be published as a policy paper in an effort to reach out to the policymaking communities of Japan and the US.
Implementation Plan
In the second and final year of the project, the following activities will be carried out.
Regular research meetings:
A core team of 5-7 young Japanese researchers headed by Satoshi Mori, associate professor at Hosei University, will conduct collaborative research with US experts in strategy, geopolitics and other areas, as well as other specialists from Japan and overseas, with the aim of identifying guidelines for Japan's foreign policy that are not bound by the conventional security guarantee format. The base for collaborative research will be provided in the form of ten regular research meetings, held monthly in Tokyo.
Invitation of and hearings with experts from Japan and overseas:
Young American researchers and mid-career experts, as well as persons currently involved in Japanese domestic policymaking (diplomacy, trade, energy policy, other areas) will be invited to take part in hearings and discussions at the regular research meetings.
Experts' Seminars (July, December 2010):
Two of the US experts who were invited to the research meetings will act as lecturers at two experts' seminars for Japanese policy researchers and persons active in the field. The seminars will also serve as means to give mid-term reports on research carried out to date.
Field studies (April-December 2010):
Field studies will be conducted to gather information on US strategic bases in the Asia-Pacific region and other topics. Team members will visit strategic bases of importance to either Japan or the US identified in the first year of the project, principally in Korea, Thailand, Australia, South East Asia and the Asia-Pacific region. Regions will be divided up between the team members, who will each conduct a region-specific survey.
Presentation of Results (February 2011):
The results of the research conducted in the project will be presented in the form of policy proposals. Team members will author draft policy papers in their respective fields of specialty, which will be publicized in a mid-term presentation in September 2010. The draft policy papers will be edited to create final versions, which will be published and distributed in February 2011 at a meeting of US specialists.
Activities of the Secretariat:
The Secretariat will conduct (1)Overseas business trips, (2)Hearings to key actors, and (3)Information gathering.
Project Results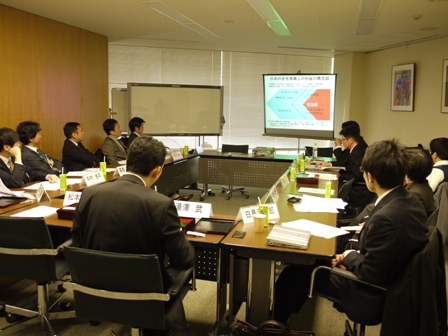 This project was conducted over two years with the goal of strengthening the foundation for a new generation of Japan-U.S. intellectual dialogue. The project gave leading young researchers in Japan the opportunity to interact with U.S. experts while researching long-term international developments, U.S. foreign policy and other related areas. In the initial year of the project, Japanese professionals and U.S. experts on U.S. grand strategy and geopolitics were invited as lecturers at research group meetings. Closed roundtable seminars were also held with specialists invited from across Japan.
This year, an interim project report was written to discuss research findings with Japanese professionals and researchers. Many other meetings were also held to exchange opinions. Through these activities, project team has identified Japanese national security interests and the potential threats to those interests while speculating about future challenges in the global security environment and gained a new level of depth to their research. One of the major project deliverables was unique research results from young researchers regarding the shape that Japan's national security policy should take. These activities have also helped form intellectual networks that will serve to strengthen future Japan-U.S. dialogue. In fiscal 2011, research findings will be compiled into a final report in both Japanese and English, which SPF intends to publish in
print form and online
.
Regular Projects Exchange Program between Japan and The United States