2010
Project
Youth Camp for Peace Communication
Implementing Agency
FASAI Center (Thai)
Year
2010
Project classification

Self-Operated

Grant

Commissioned

Others

Year project budget implementation
3,090,540yen
Project Contents
Southern Thailand borders Malaysia, where people continue to suffer from the ethnic conflict between local Muslims, known as the "Pattani Malay", and the Buddhists, who make up the majority of the population in Thailand. In this region, a high unemployment rate, economic difficulties, constraints on educational opportunities, and the lack of any clear prospects for a peace settlement give rise to a shared feeling of "being trapped" among the region's youth, who increasingly turn to drugs or become involved in violent incidents.

In this project, a youth camp will be organized for 150 persons aged 15-25, of Muslim, Buddhist, Christian and other faiths, with the aim of increasing their ability to communicate with each other and use media technology, thereby promoting constructive dialogue between different ethnic/religious groups and providing a route away from fundamentalism and violence. In addition to the camp itself, a curriculum on the importance of inter-ethnic/religious dialogue and media technology (radio, Web, print media) will be created as part of the project. After the camp has been held, support will be provided to participants to set up new media outlets.
Implementation Plan
In this one-year project, the following activities will be carried out.
Preparations for hosting the camp


April-June:

Creation of the curriculum: The curriculum created for the youth camp will cover the importance of peace, behavioral skills to promote peace, the importance of inter-ethnic/religious dialogue, and knowledge to establish new media.

June-July:

Training of volunteers: Twenty students will be trained to act as facilitators at the camp. T he curriculum will be put through a trial run at this time, with necessary revisions being made thereafter.

The Camp


August-September:

The youth camp will be held three times, each time for fifty youths aged 15-25. (Total number of participants: 150)

Post-camp activities


October-March:

Post-camp support for the participants' activities: Those who participated in the camp will be provided with technological and managerial advice when they move to set up their own media outlets. A portion of the relevant costs will be supported.

October-March:

Publication of the report: The stories and experiences of the youths at the camp who overcame the difficulties arising from the conflict will be published as a report.
Project Results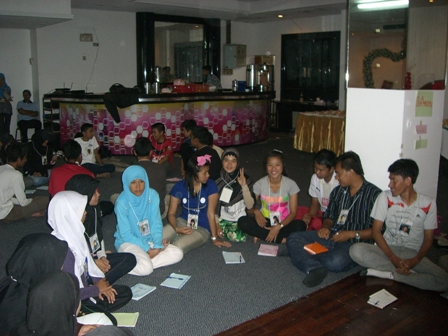 At a youth camp
This project seeks to foster communication skills for inter-ethnic dialogue by holding youth camps for young people of different religions in Southern Thailand, a region with ongoing conflict. This year, after 25 volunteers were trained to run the camps, two sets of four-day camps were held in Yala in Southern Thailand.
A total of 178 local young people participated, ranging in age from 15 to 25. Around 30% were Buddhist and 70% were Muslim, with several Christians also participating. The campers were selected with the help of 12 area high schools and youth councils.