2010
Project
Forging People to People Solidarity in Peace Building in Southern Thailand and Mindanao
Project Contents
Southern Thailand and Mindanao (Philippines) are conflict areas in South East Asia, and in both areas one of the most critical points of contest lies in the issue of autonomous governance of the Muslim population. There are many similarities in the nature of the challenges faced by the two regions, and in the peace building activities carried out in the regions by NGOs and other related organizations. Yet, there is little opportunity for experts and related organizations in the two regions to share their experiences. Cooperation between the two regions promises to be mutually beneficial; in particular, Mindanao, having rich experience of international advocacy with the help of strong civil society and widespread English proficiency among its citizens, is in a position to provide to Southern Thailand with good reference material. This project aims to support the development of resilient civil society in Southern Thailand, and strengthen collaboration among civil societies in South East Asia working for peace.
Implementation Plan
In the first phase of this three-year project, the following activities will be carried out.
Survey of civil society in Thailand and strengthening of cooperation between peace-building organizations


April-May:
Survey of and consultation with Thai organizations involved in peace building in South Thailand
May-June:
Summarization and announcement of survey results

Internship Program


April:
Selection of intern candidates, consultation with cooperating organizations
May-October:
Internship program begins
October-November:
Evaluation of Internship Program

Strengthening of the system of collaboration between civil societies in the South East Asian region


April-May:
Consultation and coordination with members of the Asia Pacific Solidarity Coalition (APSOC)
May:
Meeting of representatives of NGOs working in the field of peace building, mainly members of the Asia Pacific Solidarity Coalition (APSOC))
June-March 2011:
Implementation of Southern Thailand-targeted advocacy and campaign activities
Project Results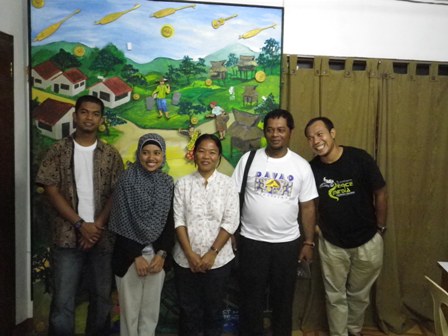 Interns from Southern Thailand
This project's goal is to deepen civil society alliances between Southern Thailand and Mindanao (the Philippines) and develop a cooperative framework for social development and peace-building. Both regions continue to face conflict over the issue of self governance of the Muslim population and have many common issues and activities, but there has been little opportunity for sharing experiences, which is what gave rise to the project.
This year, five interns from Southern Thailand went to Mindanao and two interns from Mindanao were sent to Southern Thailand in an effort to build a foundation for civil society alliances between the two regions. An international conference was also held in Davao City in Mindanao to strengthen cooperative frameworks in Southeast Asia in response to Southern Thailand's peace-building initiatives.