2014
Project
After the Disaster: Rebuilding Lives and Communities in Fukushima
Implementing Agency
Year
2014
Project classification

Self-Operated

Grant

Commissioned

Others

Year project budget implementation
7,212,706yen
Project Activity
What is it like to live in the aftermath of disaster? This was the central question that animated the Dilena Takeyama Center student initiative to document the continuing impact of the2011earthquake, tsunami and nuclear power plant disaster on residents of Fukushima, Japan.
Survivors told stories of the "great iron wave" that destroyed homes, schools and families. Evenas a massive clean-up and recovery operation continues, residents expressed anxieties aboutstorage sites filled with contaminated soil and about the uncertainty that shrouds their futures.
Others told stories of hope. Evacuees have opened cafes and small businesses; a farmerdecontaminated his orchard to make his prized peaches safe for eating; a physician decided to gointo public health to help the public cope; a former factory worker is building a thermal powerplant to rejuvenate tourism in a hot springs resort town.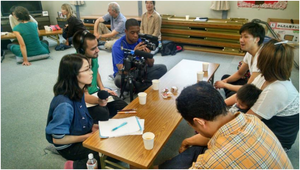 The SFSU group included six students representing the university's award-winning journalismand highly-ranked Japanese language programs, giving them a real world experience directlyrelated to their studies. Two journalism faculty members led the delegation, and a reporter fromKALW Public Radio also was invited to participate in order to spread stories to a wide audience. Students created a website to showcase their stories. The website, FacingFukushima: We Are Here, is available at here.
FACING FUKUSHIMA: WE ARE HERE
In addition, a public forum was held April 4, 2015, at the Japanese Cultural and Community Center ofNorthern California in the Japantown area of San Francisco, attracting a sold-out crowd of morethan 60 persons. Students discussed their experiences and two guest speakers from Fukushimaprovided updates and analysis about the situation.The KALW reporter's documentary, "Fear and Eating in Fukushima," was broadcast multipletimes and you can still listen to it from here.


Please check out the reality of Fukuhsima from the American perspectives.
Regular Projects Exchange Program between Japan and The United States