Before you apply
Applying program
Projects must promote international understanding, exchange, and cooperation, and must accord with program policy of SPF and program guidelines of SPF special funds.
Regular Projects
The Sasakawa Pacific Island Nations Fund
The Sasakawa Pan Asia Fund
The Sasakawa Middle East Islam Fund
The Sasakawa Japan-China Friendship Fund
General Conditions
Projects involving the following activities are ineligible for grants:
Purchase of real estate or other capital assets and construction of buildings
Subsidization of an organization's operating expenses
Purely theoretical research
Disaster relief and other relief activities
Events of a commercial nature
Personal requests by individuals
Applications for scholarships
Creation of an endowment or other fund
Purchase of equipment or other goods
Cultural or artistic activities (exhibitions, dance performances, etc.)
Eligibility
Nonprofit organizations and Voluntary organizations are eligible to apply for grants. Businesses and individuals are ineligible. Applications are accepted regardless of nationality.
Grant Period
From 1 to 3 years. SPF awards grants annually. The SPF budget year begins April 1, and ends the following March 31. Regardless of the start date of a project, it should end in March, at which time expenditure and narrative reports of the results should be submitted.
Selection Procedures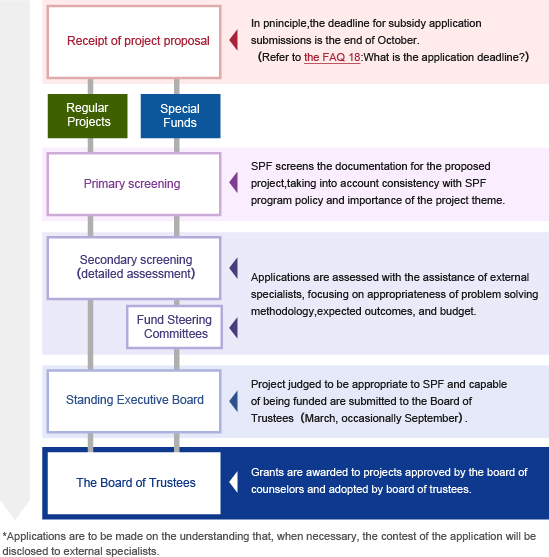 Points to Note
Submitted documents will not be returned.
Once an application has been submitted, it cannot be altered.
SPF cannot respond to inquiries about application results.
Applications cannot be submitted online or by e-mail.
Please do not deviate from the prescribed number of words or application format. Modified applications may not be accepted.
Privacy Policy
The personal information supplied by applicants will be used to screen and select projects, to produce statistics, and for administrative purposes such as contacting the person in question. Unless otherwise specified by law, SPF will not disclose personal information to third parties without the consent of the person(s) concerned.
⇒Privacy Policy