Asia and Middle East Program
Achieving Positive Peace using Sustainable Development Goals - An emphasis on student collaboration and natural resource management
SPF student delegation participates in "Hiroshima University Peace Study Tour 2023"
By Sofia Emina Takahashi, Communications Officer
---
The Asia and Middle East Program of the Sasakawa Peace Foundation (SPF) strives to help Japan and countries in Asia address common challenges through projects including 
"Dialogue and Resonance in Asia,"
 which encourages collaboration, dialogue, and exchange to deepen mutual understanding and strengthen relationships. This year, SPF partnered with Hiroshima University and Columbia University to invite students from around the world for the "Hiroshima University Peace Study Tour 2023," a joint summer program focusing on natural resource management and peacebuilding.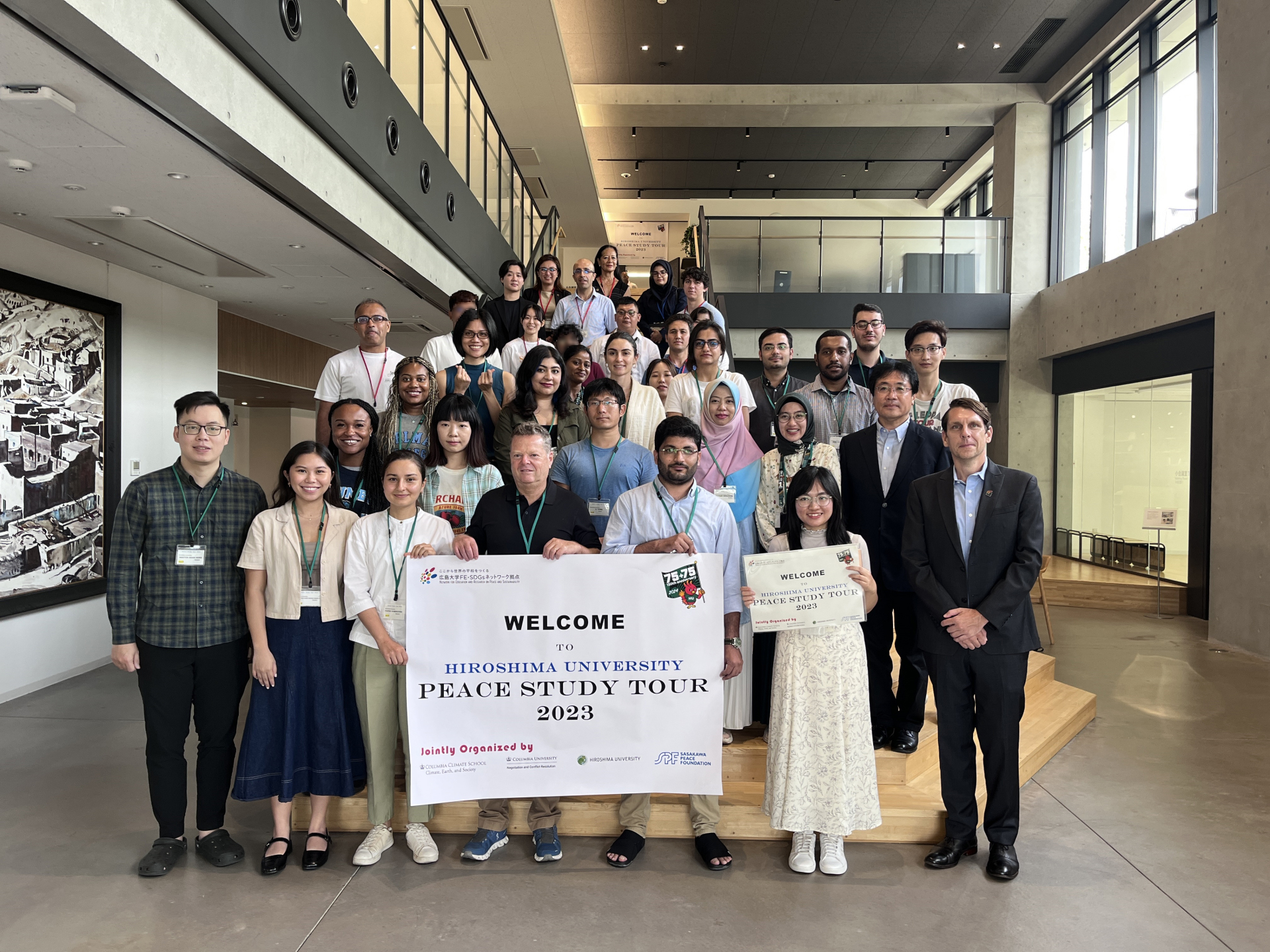 A group photo of students on their first day of the Hiroshima University Peace Study Tour.
This program, held for the first time in Hiroshima from July 31 to August 8, 2023, welcomed 28 students, including an SPF delegation of 8 students studying at institutions in Indonesia, Thailand, the Philippines, and Iran. The students participated in a range of activities including lectures, field visits across the prefecture, as well as group projects under the broader theme of "Collaboration in Natural Resource Management – Advancing Positive Peace and the SDGs." Collaboration was a key component of this program and students from various backgrounds worked together to share unique perspectives and exchange ideas.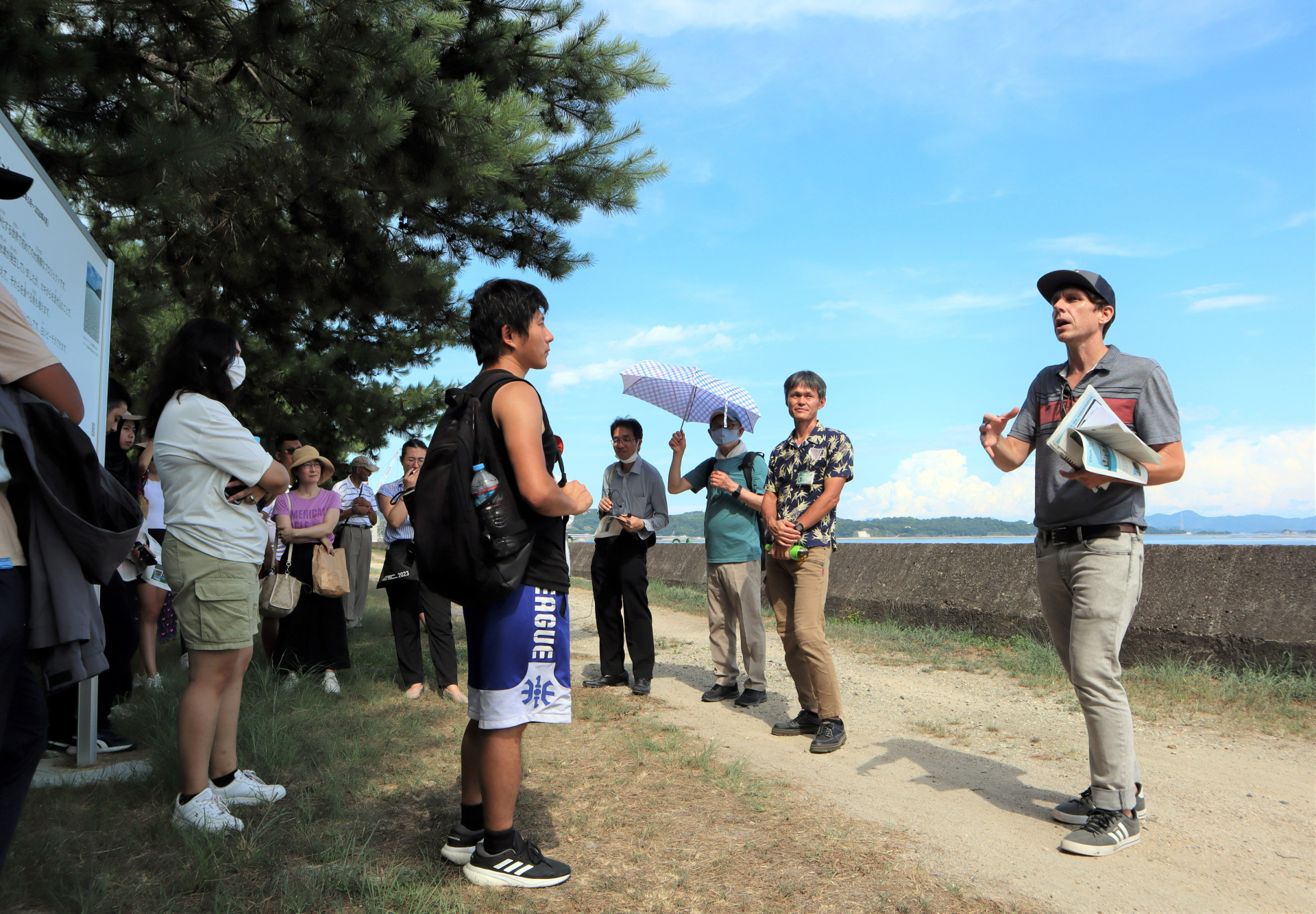 At Akitsu Bay, Dr. Fisher reflects with students about the relationship between ocean sustainability and oyster farming.
Dr. Joshua Fisher, director of the Advanced Consortium on Cooperation, Conflict and Complexity at Columbia University and the leader of this initiative, has run a similar program for eight years in the Middle East. When discussing the underlying principle of this course, he explained that "SDG achievement is only possible through peace and peacebuilding," arguing that peace itself can act as a "mechanism that enables the achievement of all the other SDGs." He also emphasized the Peace Study Tour's goal of impressing upon the students that progress is only achievable with collaboration, which explains the vigorous group work throughout the program.

The program kicked off with a series of lectures by a range of experts who provided a firm technical foundation of principles for collaborative resource management, including an overview of SDG 11 (Sustainable Cities and Communities), SDG 14 (Life Below Water), SDG 15 (Life on Land), and SDG 16 (Peace, Justice and Strong Institutions).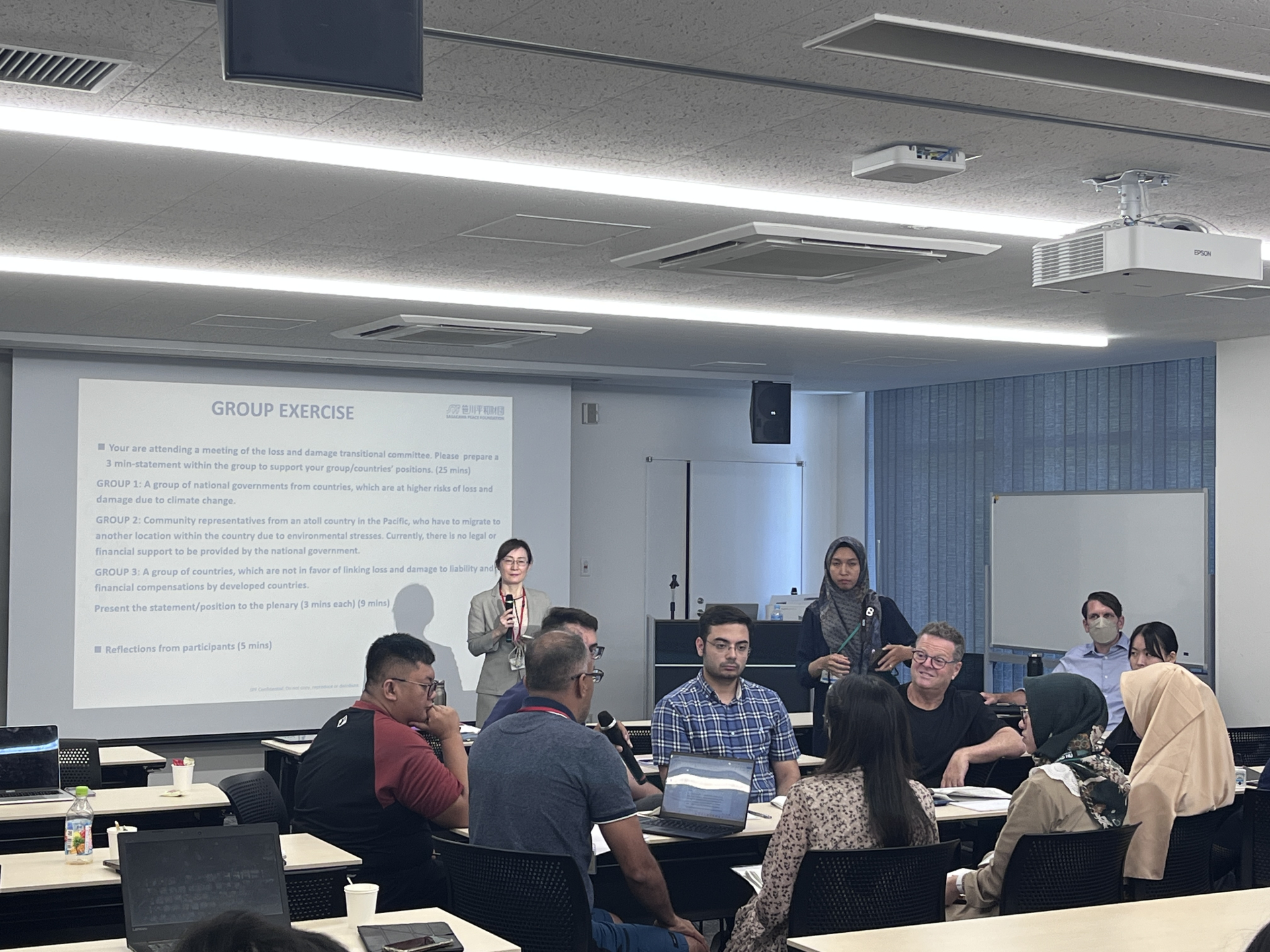 Ms. Maekawa conducts a group exercise during her lecture on migration issues caused by changes in the environment.
SPF Senior Research Fellow Miko Maekawa from the Asia and Middle East Program gave a lecture on the migration issues that are arising from changes in the natural environment, including the impacts of increasing sea levels on coastal regions and flooding, concluding with a roleplaying exercise. 
 
Students also participated in an interactive workshop focusing on the concept of Positive Peace, or the underlying structures and norms that support peaceful societies. This idea of Positive Peace is sustained by the Pillars of Peace, a related conceptual framework made up of eight separate but related elements: Well-functioning Government, Sound Business Environment, Equitable Distribution of Resources, Acceptance of the Rights of Others, Good Relations with Neighbors, Free Flow of Information, High Levels of Human Capital, and Low Levels of Corruption. To demonstrate the interconnected nature of these pillars, the students stood in the position of each pillar, identifying the important connections amongst the pillars and passing along a piece of string to provide a physical representation of the interconnectivity of each element.
Reflecting on this workshop, Ianna Simone Villarin, a master's student from Ateneo de Manila University studying political science, gave an example from her home country of the Philippines. "This exercise really struck me because, in my experience in the Philippines, you can see that although we've made progress in some areas, it's not enough to realize Positive Peace as a whole…For example, the pillar of less corruption is still very much entrenched in the system and that prevents other pillars from moving forward because of how interconnected they are." At the same time, she asserted that improvements in certain areas can positively impact others, including through better resource management. 
 
For other students, this activity was the first time they learned about the concept of Positive Peace, causing them to consider the challenges of sustaining it in their home countries. One Ph.D. student who is focusing on natural resource governance and sustainable development remarked that "the lectures and presentations made me reflect on my home country [Myanmar] and realize that making peace is not easy. We need to see peace as a process and think about short-term and long-term goals. We can start on a smaller scale and make positive changes within our families or communities."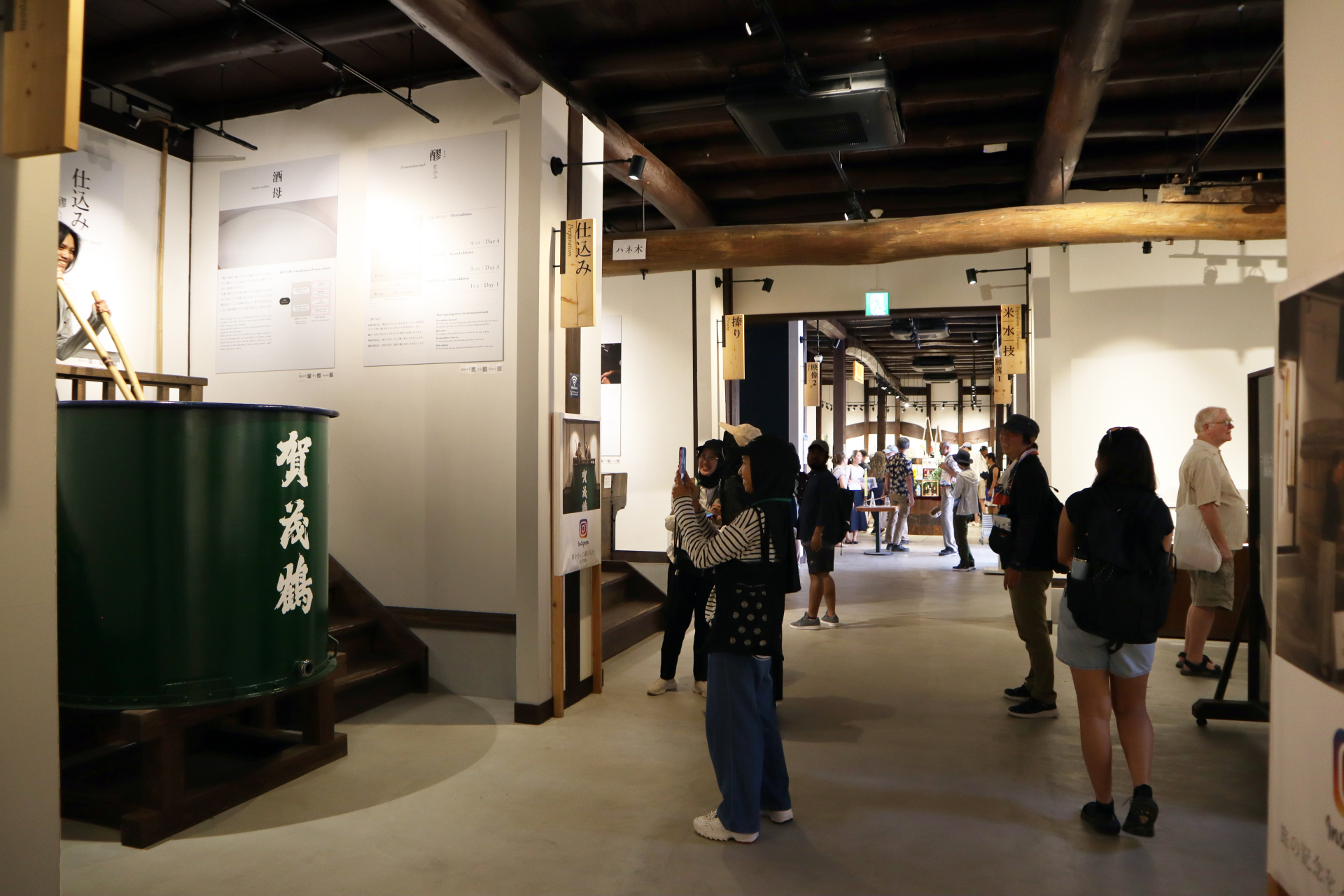 A field visit at the one of the sake brewery warehouses.
On the third day of the program, the students embarked on three field visits, including a mountain trek at the Setonaikai National Park and field visits to the Saijo Sake Brewery Street and Akitsu Bay. The field visits provided students with firsthand experience of how the SDGs are employed in different regions of Hiroshima and emphasized the interconnectivity among the sites. At the brewery, students observed how water quality is maintained for sake production, which begins with forestry management in the mountains and flows down to Akitsu Bay in the Seto Inland Sea, where many oyster farms are situated.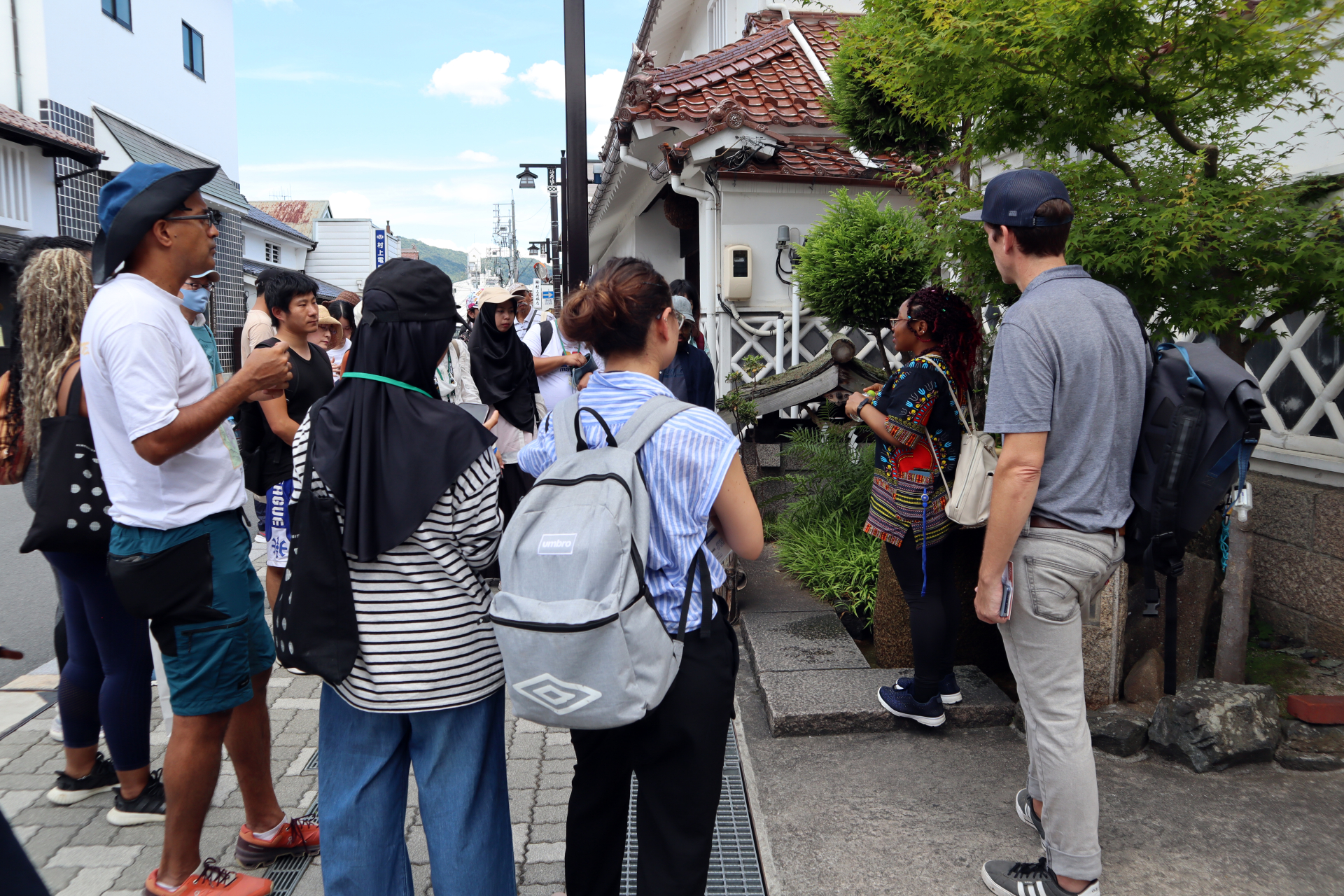 Students listen to an explanation about how water quality is maintained for sake production.
Reflecting on the field visits, Sajad Soleimanpour from the School of International Relations in Iran was able to make the connection between the peacebuilding workshop and the field visits, noting that a unique aspect of this program was having the opportunity to observe how the principles they studied in class are applied in the field. "The field site visits in and around Hiroshima City were one of the most significant aspects of the workshop. Field visits enabled us to observe the first-hand experience of peacebuilding based on UN sustainable development goals and principles of environmental sustainability," he explained.

Later in the program, the students attended a speech by atomic bomb survivor Ms. Keiko Ogura, who spoke about her childhood experience during the bombing and the horrors she faced. She ended her powerful speech by expressing hope that young people will consider future actions to prevent similar tragedies. The students also visited the Hiroshima Peace Memorial Museum, where they viewed artifacts that remain from the atomic bombing including photo galleries, lifelike models, and testimonials.
Ph.D. student from Ateneo de Manila University, Eileen Tupaz shared her thoughts on how these visits impacted her idea of peace. "Listening to Ogura-sensei's talk and visiting the Peace Museum deepened my conviction that discourses on peace should explicitly account for its intrapersonal dimensions and the implications of the latter on social justice." She explained that the vast majority of those who've suffered horrendously from wars and other conflicts often must tend to their own physical and psychological injuries in conditions of shame, silence, and stigma. In other words, their suffering continues after the conflict ends. "As a global community, we need to work collectively to create the 'outer' conditions needed so that the people who are suffering the most can be supported in doing the 'inner' work of healing," she argued.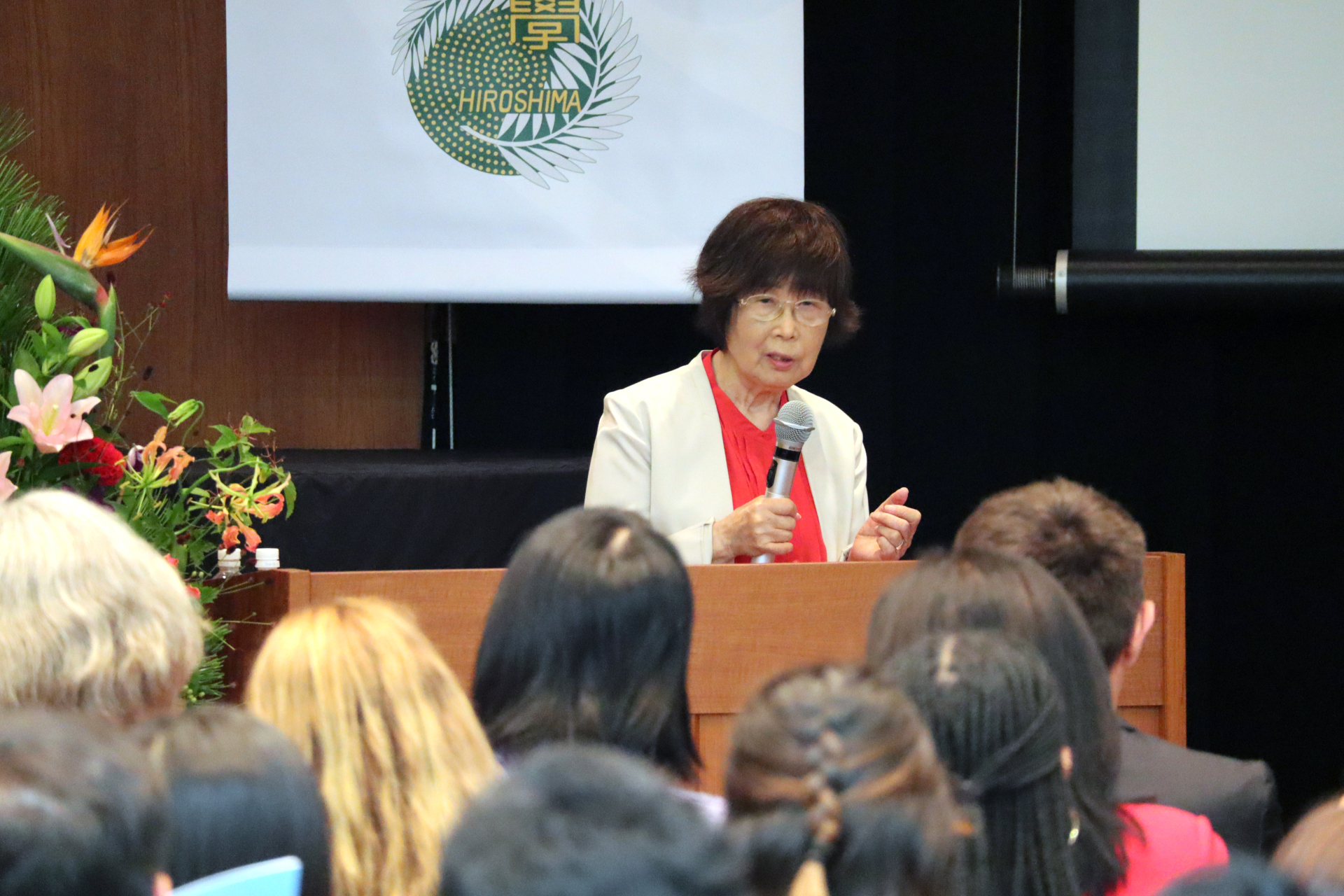 Ms. Keiko Ogura speaks about her experience during the atomic bombing in WWII.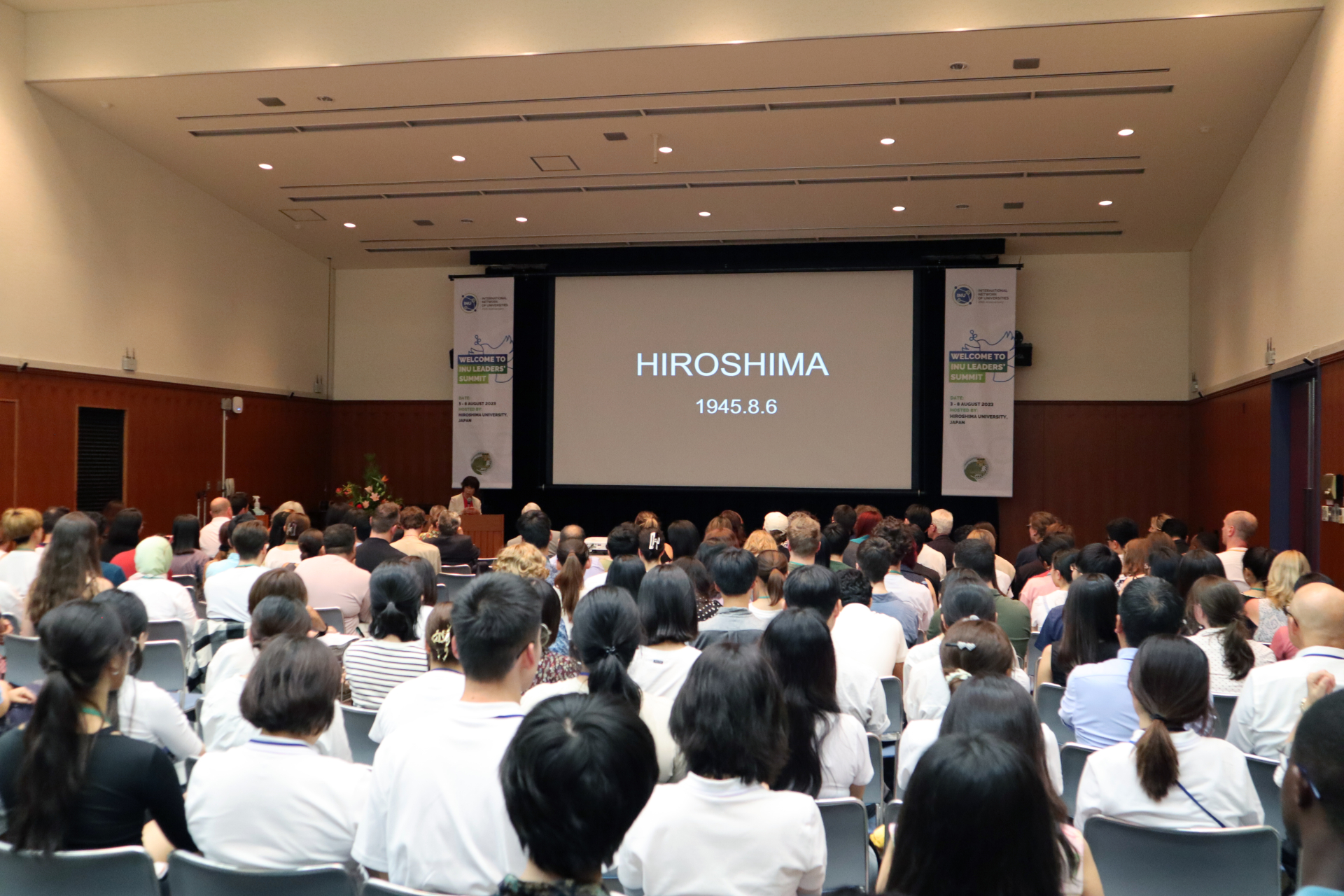 An engaging Q&A session was held for 30 minutes at the end of Ms. Ogura's speech.
After visiting the museum and Hiroshima City Naka Incineration Plant, a waste processing factory project promoted by an
initiative
to rethink city planning following the A-bomb devastation, master student Mohammad Mahdi Khazaei from the School of International Relations reflected on the reconstruction and resilience of Hiroshima City. "We can see the progress of the city after that year [1945]…and somehow it has a lot of emotional impact on us. The city is really beautiful, even after that disaster," he said.  
Amongst the lecturers and field visits, group work and collaboration were heavily emphasized throughout this program. Aida Nuraida and Wirianisa Syifai, both of whom are studying at Universitas Islam Negeri Syarif Hidayatullah Jakarta, agreed that a valuable lesson they have taken from this course is collaborating with a group of diverse participants and building relationships. They enjoyed hearing new perspectives about the SDGs-related problems that each country faces and are inspired to share this knowledge when they return to Indonesia. Ms. Nuraida plans to continue her studies on peace and social justice and conduct workshops and seminars to pass down the lessons they learned to their peers, friends, and families. "This type of program is not commonly available, so I am glad that I had the opportunity to study the SDGs," she said. Ms. Syifai added that "it was challenging to communicate in English, but I was left feeling inspired when meeting many experts in different fields."   
Another student who is finishing his master's degree in public policy also enjoyed having the opportunity to exchange ideas with students from diverse backgrounds. Reflecting on how to apply the theories presented in the lectures to his home country of Myanmar, he commented that "if we can reinforce positive peace not only to leaders but also to the public, I think we can reconcile people from different ethnicities and backgrounds." Moving forward, he hopes to use some of the tools and knowledge he obtained from this program to hold workshops and bring different stakeholders to share ideas and build trust.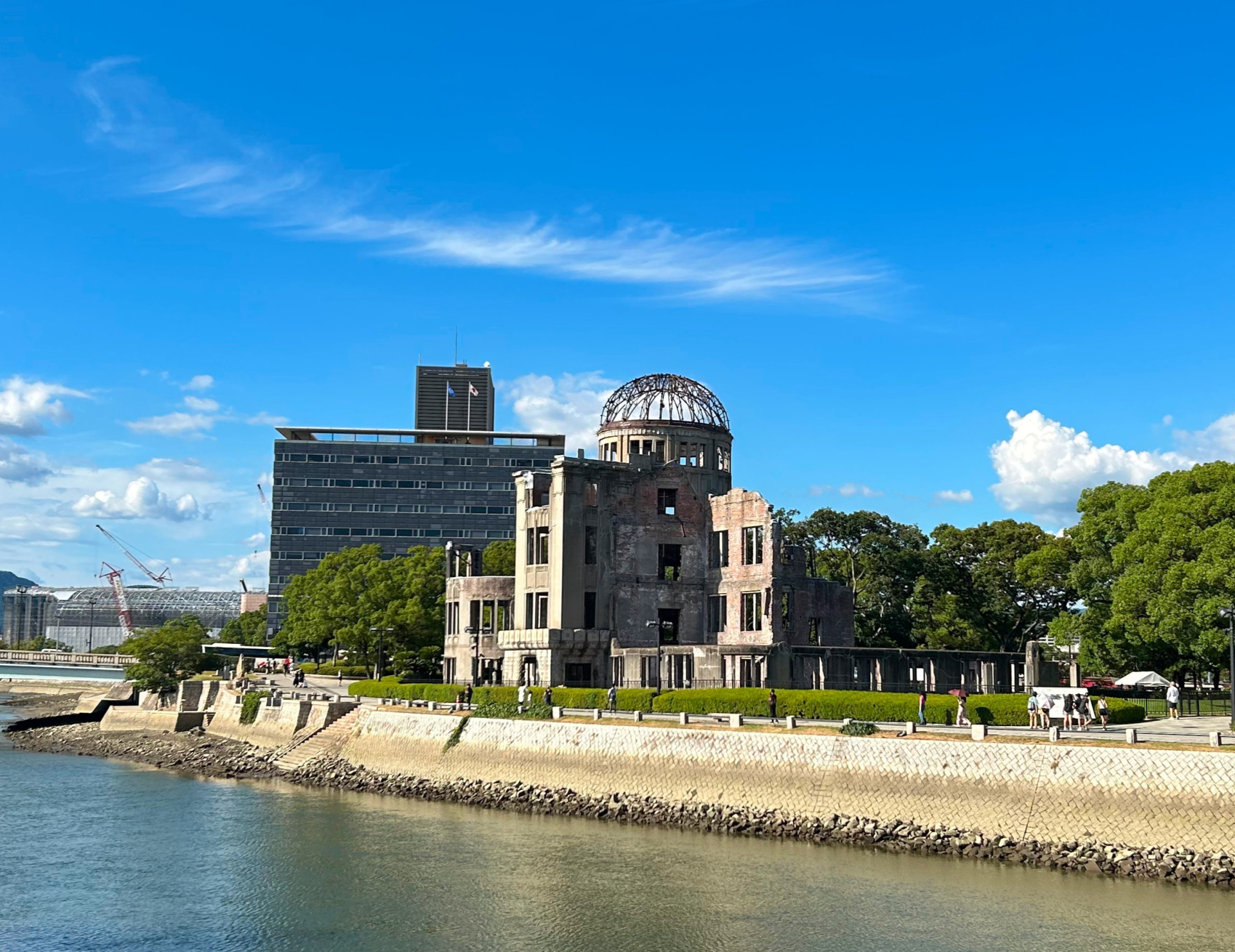 Looking to the future, Dr. Fisher is hopeful that the students will take back valuable lessons from participating in this course and continue their studies on SDGs and sustainable peace, conducting their own seminars and even returning to the Peace Study Tour as teachers themselves. "When we think about what's required for peacebuilding and sustainability, it's long-term engagement and sustained collaboration. Even when resources are scarce, even when diplomatic challenges are hard, that sustained engagement is critical. As a way of modeling this to the students as well for the partners that invite us in, I am committed to keeping that collaboration active."