In-person workshop aims to empower women to seek leadership roles across Asia
WOMEN2WIN: Global Asian Women Leaders Network (GAWLN) Cohort
By Emina Takahashi, Communications Officer
---
March 17, 2022
Photos courtesy of Wanita Berdaya Selangor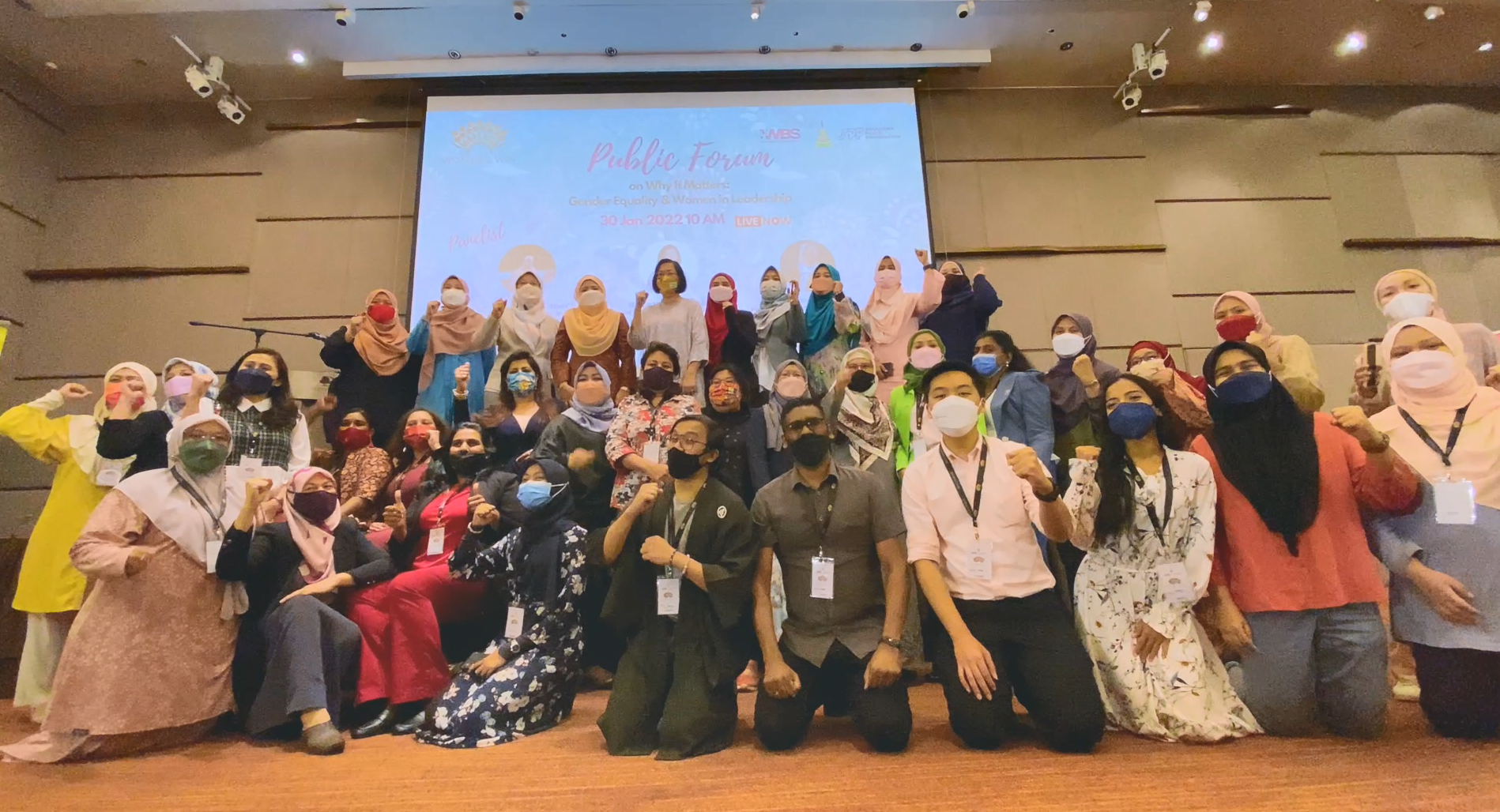 Women2Win participants pose with the Public Forum speakers for a commemorative photo with big smiles.
Starting on January 28, 2022, the Wanita Berdaya Selangor (WBS), an organization supporting women's empowerment in Malaysia, and the Peacebuilding Program of the Sasakawa Peace Foundation (SPF) co-organized an in-person workshop in Malaysia entitled "WOMEN2WIN: Global Asian Women Leaders Network (GAWLN) Cohort" that ran over the course of three days. This event aimed to strengthen women leadership across Asia and foster a more inclusive network where women can build their confidence while deepening their knowledge on political and economic affairs.
 
With the vision of enhancing women's capacity in leadership roles, the Women2Win program consists of a series of webinars and mentoring sessions along with in-person workshops. Throughout the program, the participants learned how to run for office, ways to prepare themselves for upcoming elections, and strategies to strengthen communication and leadership practices in the face of current issues.
Welcome remarks from Malaysia and Japan
During opening remarks, WBS CEO Siti Kamariah gave a warm welcome to the participants and expressed her hope that this program will not only prepare women to assume leadership roles, but will also result in more female representation in politics.
 
She noted that progress is being made for a more inclusive environment where women can play an active role in society even within conservative countries, and that increasing the decision making power and influence of women leaders is crucial especially now as the battle against COVID-19 continues.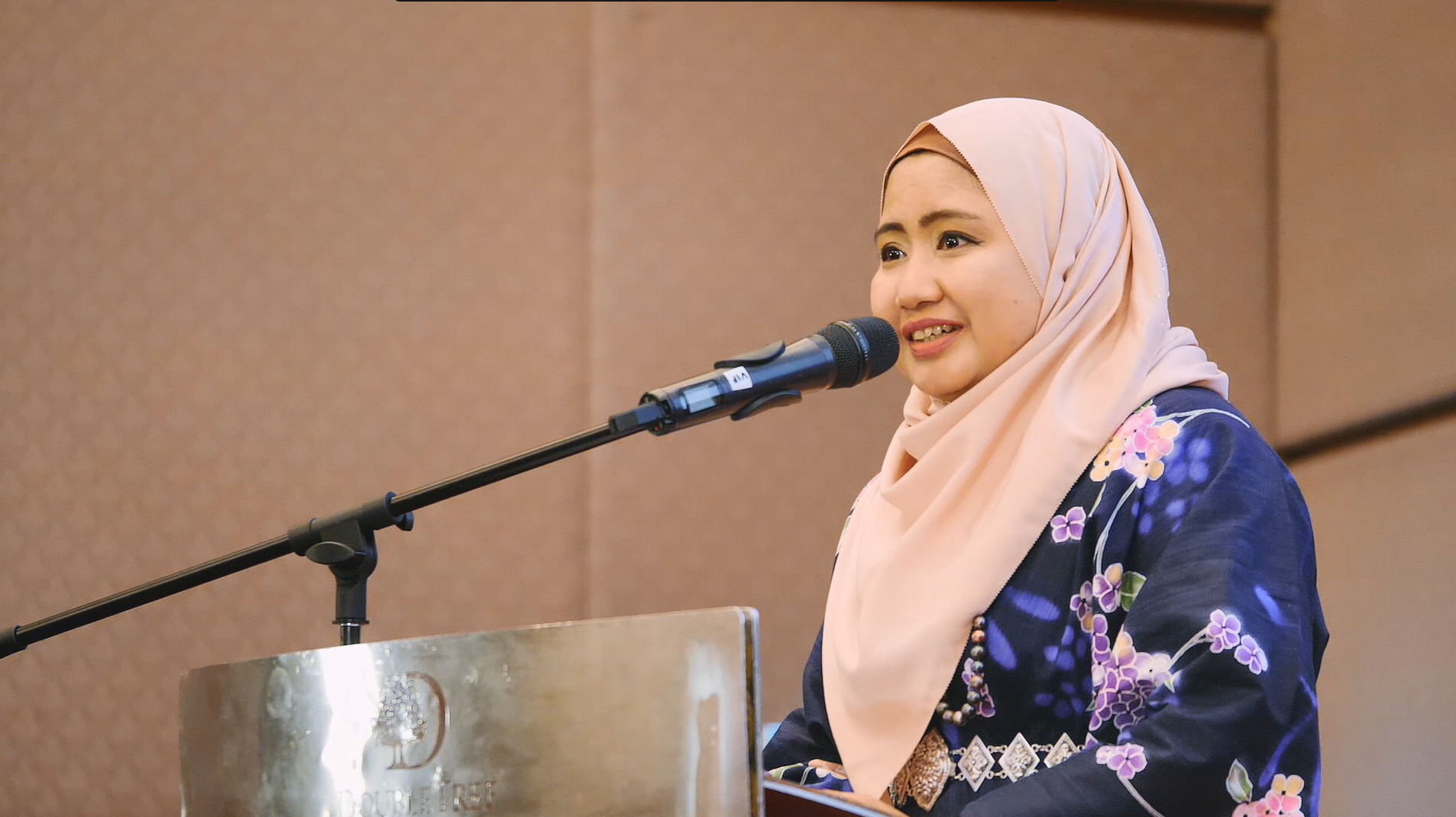 Wanita Berdaya Selangor CEO Siti Kamariah expressed her hope that the workshop will not only encourage women to take on leadership roles, but also increase female presentation within politics.
At the same time, Ms. Kamariah also explained that women still make up only 25.5% of national parliaments, according to data from UN Women and the Inter-Parliamentary Union as of January 2021. Furthermore, Ms. Kamariah clarified that there is a lack of female representation in Asian regions, with only 21% of women in national parliaments. The leading countries in Asia are Singapore and the Philippines, with Japan being the lowest with 9.7%.
 
Due to factors including discrimination, family responsibilities, and social norms, it can be difficult for women to secure elected positions in government. However, Ms. Kamariah argued that this presents a huge opportunity to address these issues through structural and social changes by implementing gender quotas, modeling female leadership, and offering political and leadership training programs. "Let us all play our part in making the 21st century a fierce battle and marathon for encouraging more women representation to achieve gender equality in alignment with the sustainable development goals," she said in closing.
 
SPF President Atsushi Sunami during his opening remarks agreed that countries in Asia share a common issue in lacking female political leaders. To contend with this issue, he pointed to the SPF's dedication to women's empowerment as a central goal of the foundation. "We believe that promoting more female representation in politics and policy-making can create momentum toward breakthroughs to tackle many socio-economic challenges facing society today," he said. He gave his best wishes to the participants, hoping that meaningful relations would be built throughout the course of this program and that many will feel inspired to participate actively in politics, supporting each other along the way.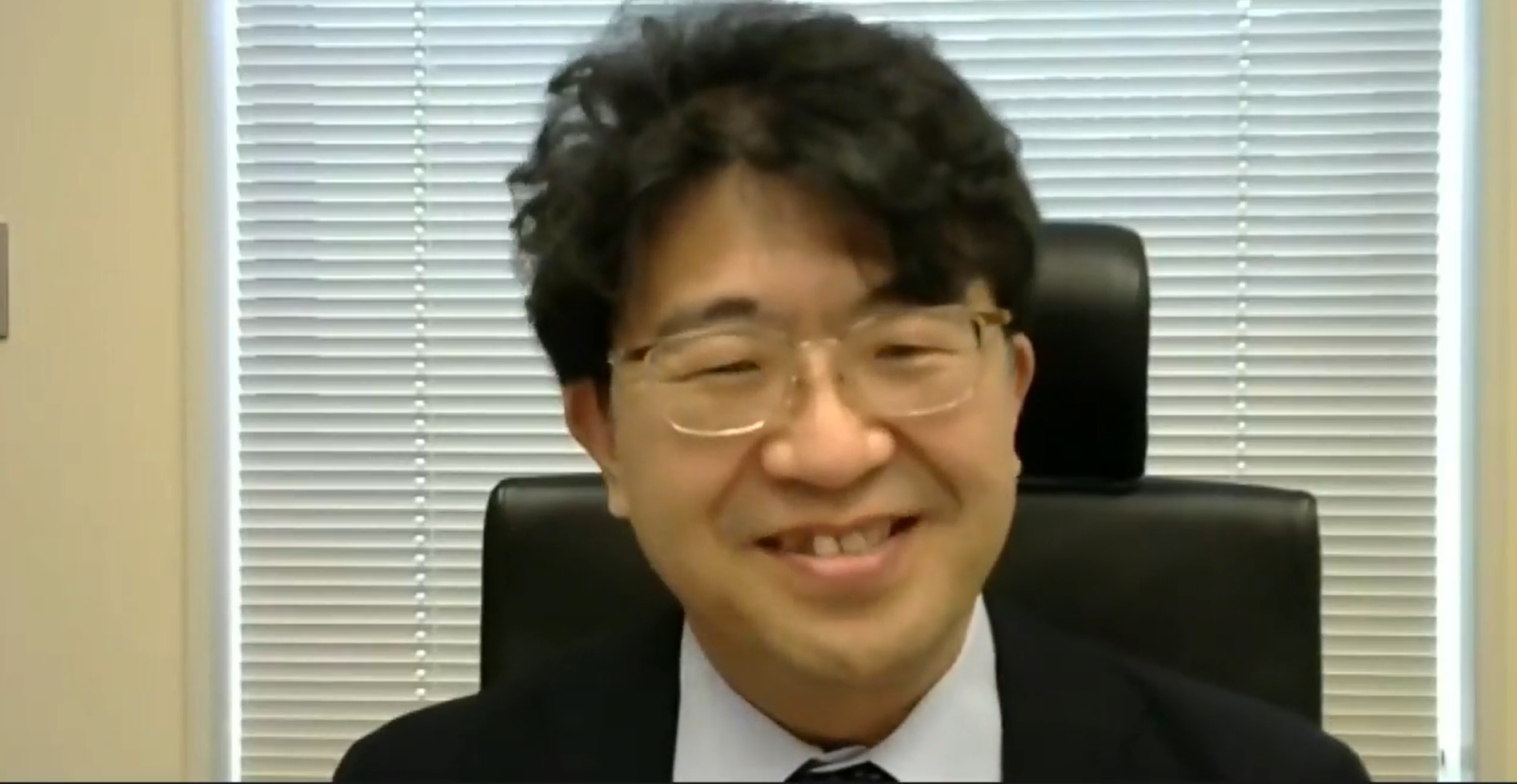 SPF President Atsushi Sunami, participating virtually, gave his best wishes to the participants.
SPF Senior Program Officer Akiko Horiba in her opening remarks emphasized the power of community building and support amongst female leaders. "Candidates alone don't win elections. You need friends and family to support you and be there for you," she said. Ms. Horiba also gave words of encouragement to the participants, saying that women should not give up their dreams despite the significant barriers to entering the political realm in a leadership position, and encouraging everyone to work together to overcome this challenge.
 
Finally, H.E. Takahashi Katsuhiko, the Ambassador of Japan to Malaysia, gave his opening remarks. He argued that the private sector along with government activities can contribute to women's engagement in politics. For example, SPF's invitation to Minister Zuraida Kamaruddin, the then Minister of Housing and Local Government, to give a lecture in 2019 helped to deepen the understanding of women's empowerment in Japan and Malaysia. He also noted that the Japan International Cooperation Agency (JICA) has provided the training course "Support for Employment of Elderly and Women" since 2018. This project uses Japan's employment and income practices as a model for Malaysia to help advance women's participation in society and increase employment mobility.
 
Regarding Japan's domestic policy, the ambassador highlighted the Law for the Promotion of Women's Activities, which was passed in 2016. This law encourages companies to actively recruit female employees. He also highlighted government efforts to expand childcare leave allowance and promote childcare leave for men.
 
Ambassador Takahashi ended his remarks by touching on the Look East Policy (LEP). This program, which is celebrating its 40th anniversary, aims to strengthen bilateral ties between Malaysia and Japan by inviting Malaysian youth to Japan for professional development and training. The ambassador expressed his hope that more LEP-related projects, including those that focus on women's empowerment, will be implemented in the future.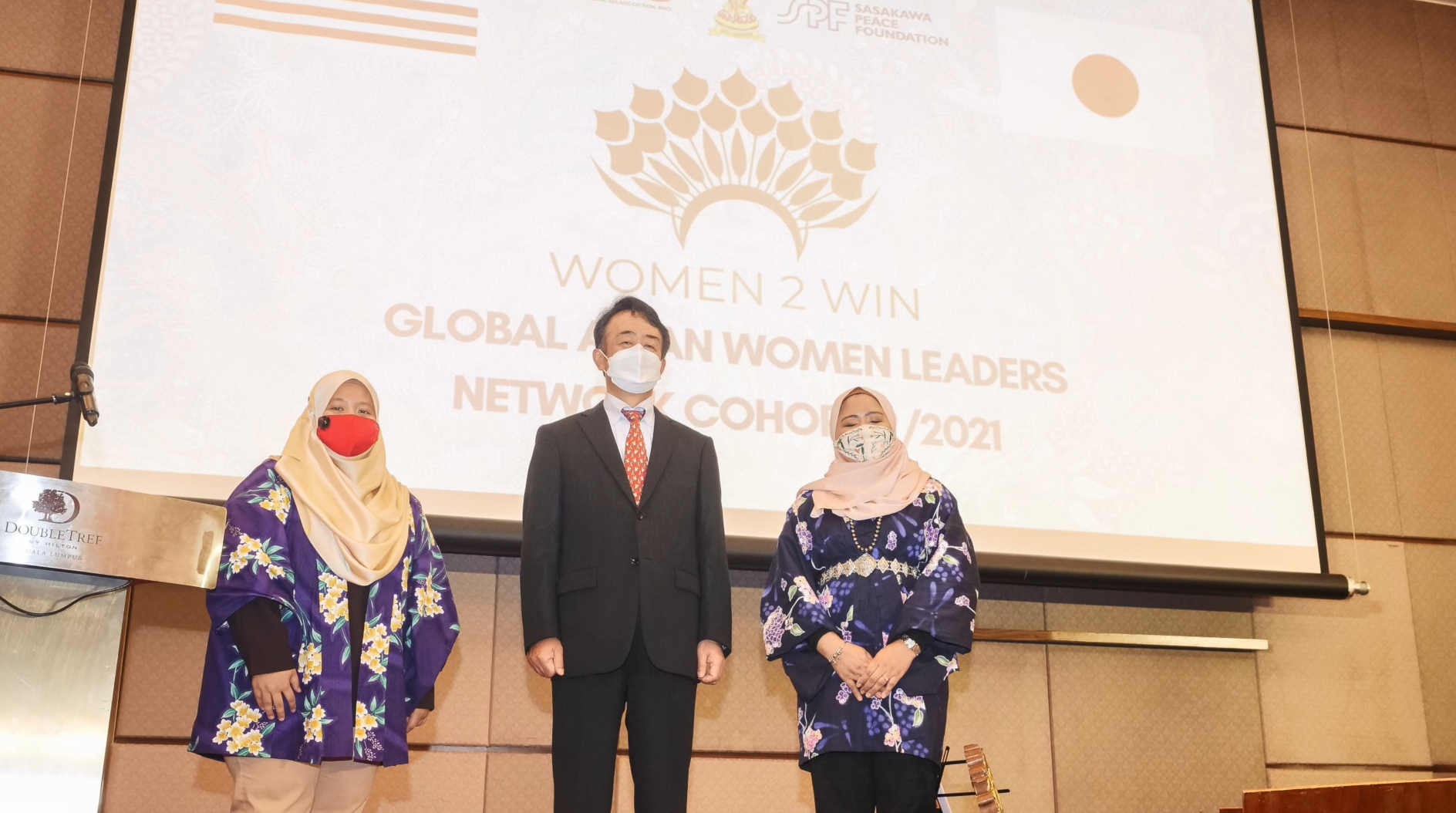 Ambassador Takahashi concluded his opening remarks by saying he hopes more LEP projects involving women's empowerment will be carried out in the future.
Practical workshops for the Women2Win participants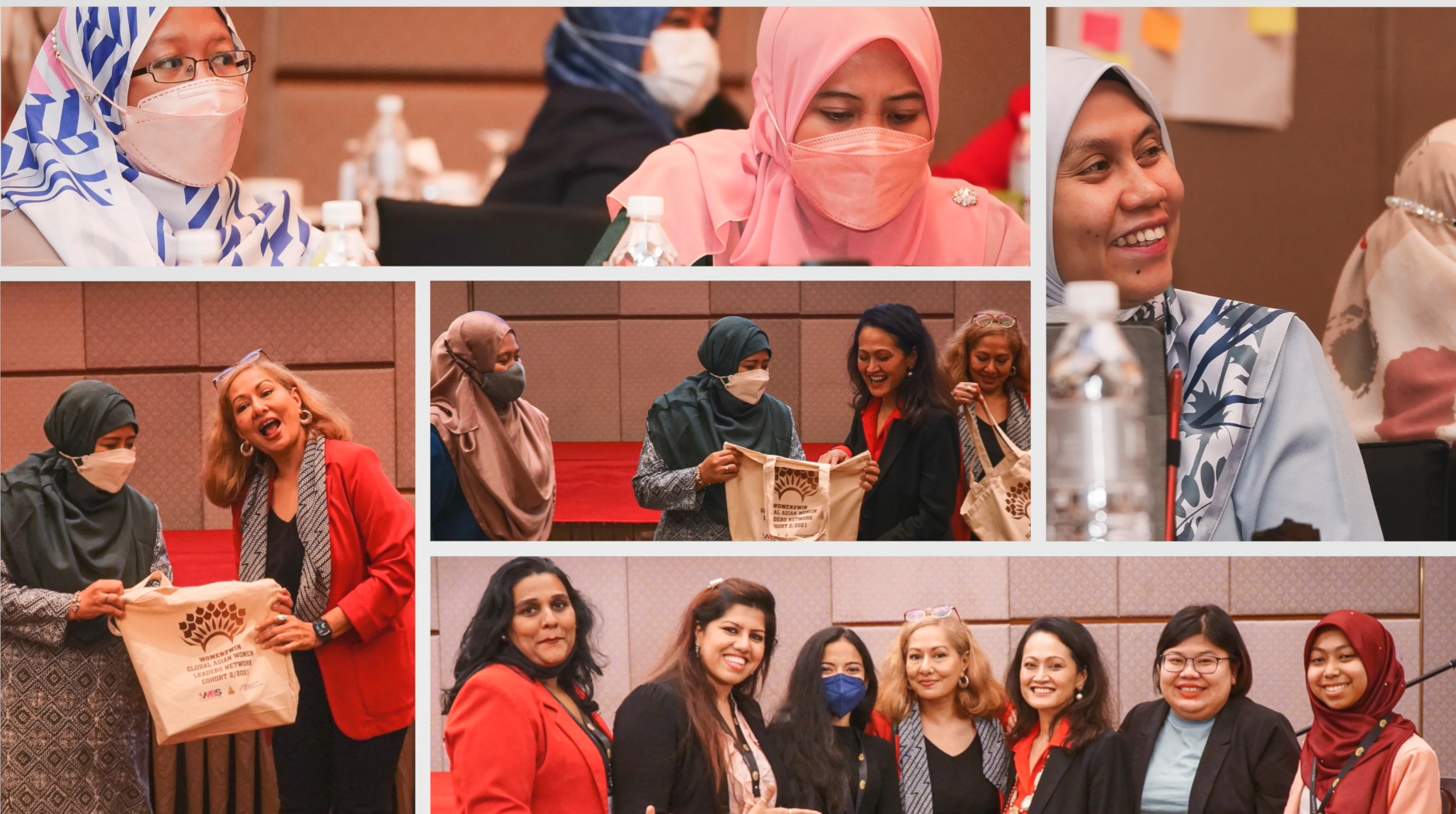 Photo collage of participants during the workshops
Workshops were held on the second day of the event covering a range of topics relevant to women seeking to enter politics in order to deepen the participants' knowledge of economic affairs and management roles.
 
The first workshop, "Money in Politics," was led by Aira Nur Ariana Azhari, Senior Manager of the Democracy and Governance Unit at the Institute for Democracy and Economic Affairs (IDEAS). IDEAS is a policy research organization dedicated to promoting solutions to public policy challenges.
 
The theme of the second workshop was "Campaigning in the 21st Century," and was led by Ibrahim Suffian, programme director and co-founder of the Merderka Center, an opinion research firm focusing on Malaysian national politics.
 
The last workshop entitled "Unlock the Brand in YOU" was followed by a special session, "60 Seconds Elevator Pitch: Introduce YOURSELF," led by Kudsia Kahar and Rozina Aziz, the founders of the consulting firm Metamorfosa.
 
On the final day of the event, a special session entitled "Public Forum on Why It Matters: Gender Equality & Women in Leadership" welcomed three esteemed female leaders, including two elected officials, to give inspirational speeches on political engagement. The panelists were YB Senator Puan Fadhlina Sidek, Member of the Malaysian Senate; YB Puan Maria Chin Abdullah, Malaysian Member of Parliament for Petaling Jaya; and Puan Fahda Nur Ahmad Kamar, Managing Partner at Fahda Nur & Yusmadi.
 
As the three-day program came to a close, SPF Senior Program Officer Akiko Horiba in her closing remarks discussed the urgent need for female politicians to work toward more inclusive policies, giving examples in Japan where mothers feel their voices are being heard regarding childcare systems or nursery school policies during the COVID-19 pandemic. She concluded on a positive note, saying, "I hope that in Malaysia you will take the lead and continue your activities to increase diversity in political leadership."
To learn more about Wanita Berdaya Selangor (WBS), visit their
official website.
Check out the event's live stream on Wanita Berdaya Selangor's (WBS)
Facebook page.
To view the video montage of the event, click
here
. 
*Please be aware that this link will take you to an external website.