Opportunities for female political leadership in a post-COVID-19 world
Lecture by Dr. Mari Miura during online training session for aspiring leaders in Southeast Asia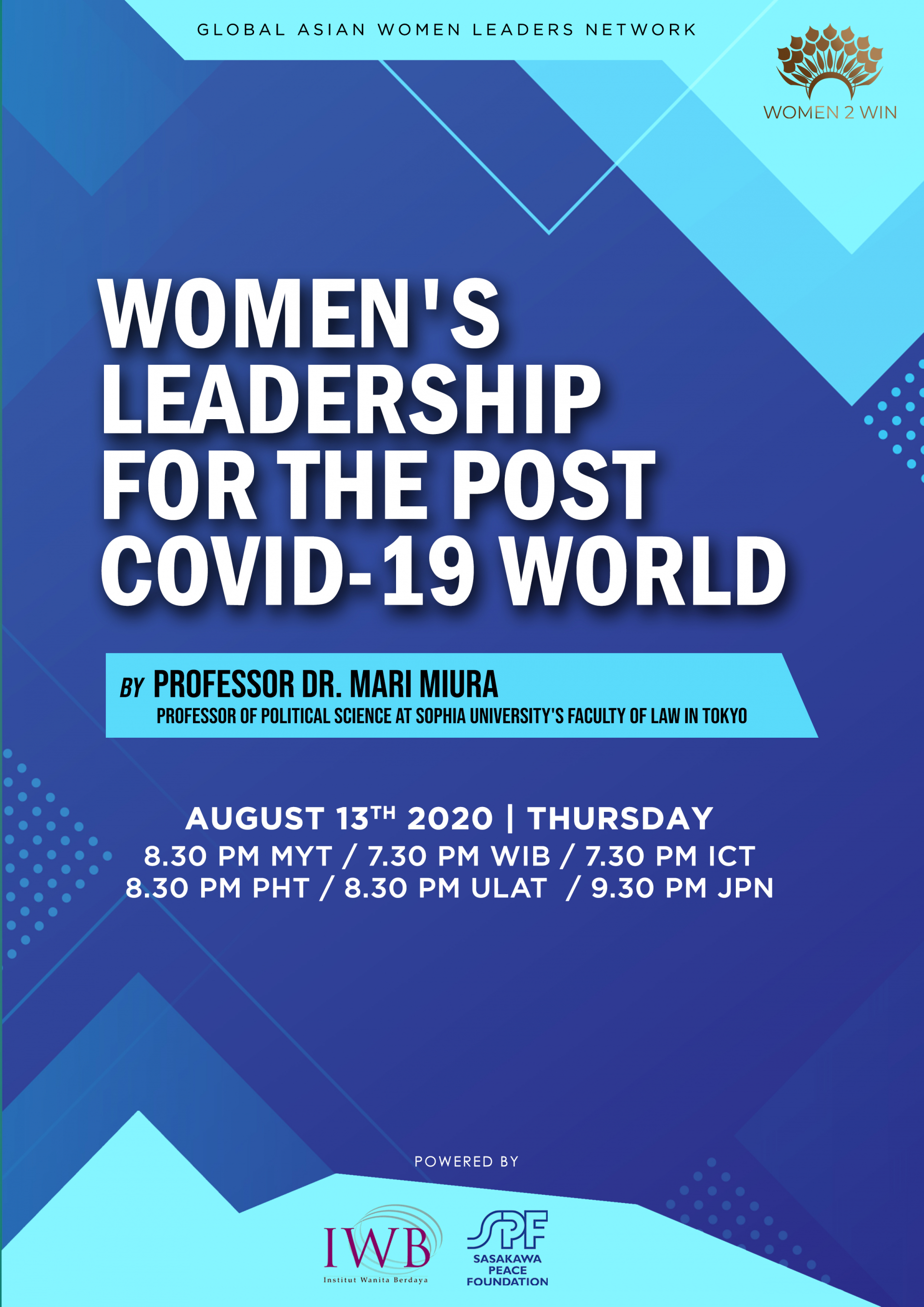 As the world continues to contend with the global COVID-19 pandemic, a certain kind of leader seems to be excelling: women. From Taiwan to New Zealand to Germany, female leaders and heads of state around the world have demonstrated the inherent value in what some call a more feminine style of leadership, which favors consultation and compassion over projections of strength and strongman tactics.
 
To take a closer look at how women stand to contribute to the fight against the global pandemic, Women2Win Global ASEAN Women Leaders Network Institute Wanita Berdaya (IWB) Selangor and the Asia Peace Initiatives Department of the Sasakawa Peace Foundation (SPF) held a professional development session welcoming 17 Women2Win fellows from Malaysia, Thailand, and Mongolia. 

The workshop, held virtually on August 13, 2020, featured a keynote lecture by Dr. Mari Miura, professor at Sophia University, entitled "Women's Leadership for the Post COVID-19 World." In addition to her academic background in politics, Dr. Miura is also the co-founder of the Academy for Gender Parity, an organization that trains aspiring women politicians in Japan. Dr. Miura used her lecture to make the case that the current crisis presents an opportunity for the world to reevaluate common stereotypes that tend to brand men as more effective leaders than women.

The fact that female politicians, and particularly those in leadership positions, must confront a barrage of conscious and unconscious biases associated with their gender is nothing new. This includes the so-called "double bind," which presents an impossible choice to female politicians: forgo projecting masculine leadership attributes like strength and confidence and be perceived as ineffective, or embrace a more masculine leadership style and risk being branded as unlikeable.
 
However, Dr. Miura maintained that the complexities posed by the COVID-19 public health crisis showcase the ways that stereotypically feminine leadership traits are in fact more suitable to dealing with this challenge.
 
"The pandemic requires a new style of leadership characterized by adaptability, resilience, empathy, compassion, decisiveness, and the ability to collaborate with scientific expertise. Those qualities are still typically regarded as feminine," explained Dr. Miura. "We have to leverage our experience as women and leverage femininity to construct a new definition of leadership, which fits much better to the post-COVID-19 world."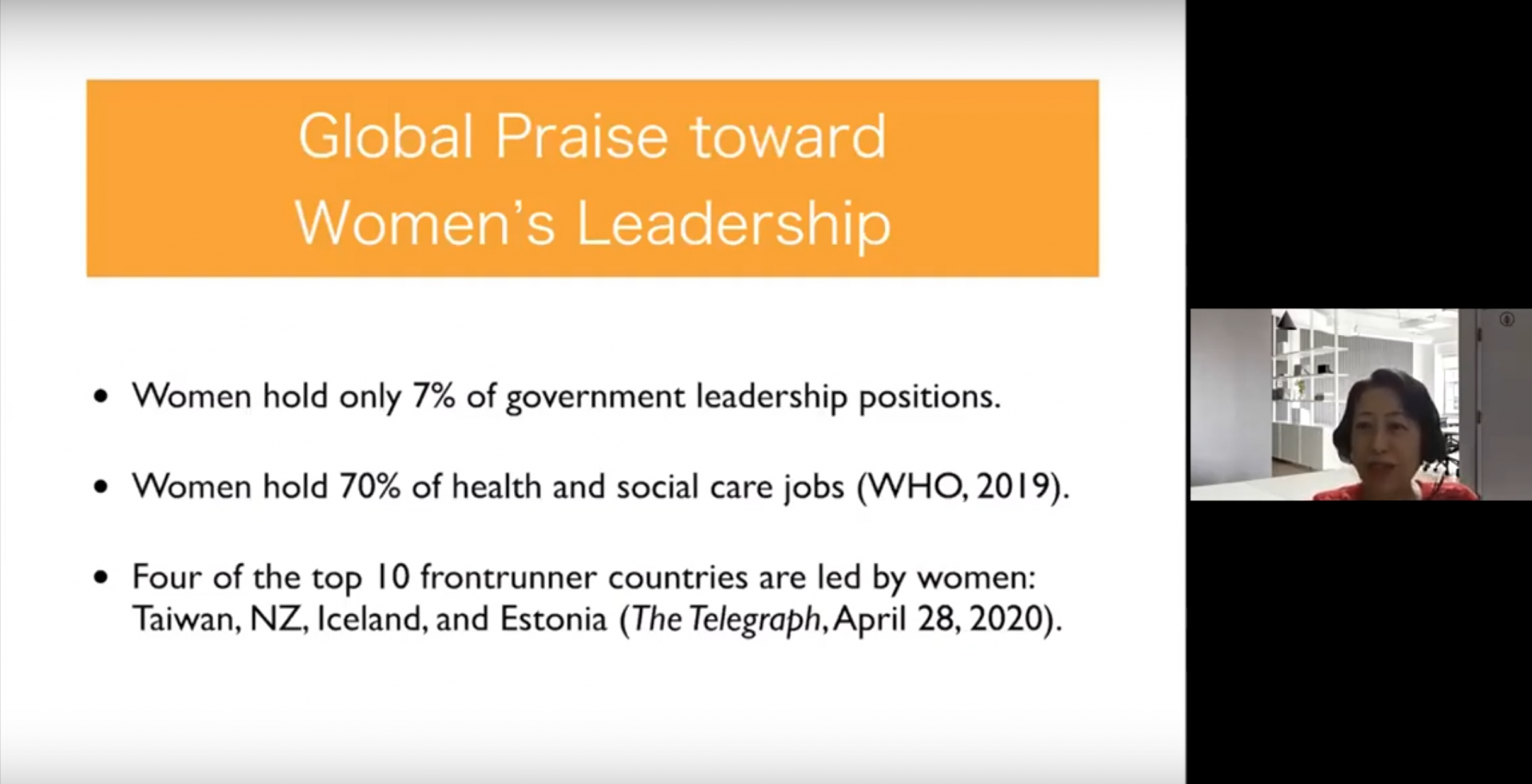 Dr. Miura argued that the COVID-19 pandemic provides a chance to reevaluate the traits of effective political leaders.
Contending with a pandemic calls on a vastly different skillset than traditional security challenges like armed conflict. Further, the fact that women are stereotypically linked with the home and the role of caregiver becomes a strength in the face of the pandemic. "The coronavirus crisis is about caring and healthcare crisis, and that's why the stereotypical role of women matches the crisis we are facing quite well."
 
This has borne out in cases around the world, with female leaders including Prime Minister Jacinda of New Zealand and President Tsai of Taiwan being hailed for consulting a range of stakeholders when making decisions and heeding scientific advice in their policymaking.
 
On the flip side, many male leaders have fallen back on stereotypically masculine responses, relying on projections of strength and overconfidence that has ultimately undermined the response to the virus and encouraged risk-taking behavior. In cases like U.S. President Trump and Brazilian President Bolsonaro, this toxic masculinity may be behind the rejection of face masks as a sign of weakness, which has hampered the response to the coronavirus and cost lives. "Now we can see that masculinity or male leadership may actually be problematic, so people have started to rethink what makes a good leader," said Dr. Miura.
 
At the same time, Dr. Miura noted that countries that have elected women to prominent positions in public office may be better positioned to deal with unexpected challenges for reasons beyond the individual leader herself. For example, a country with diverse elected leaders is more likely to embrace good governance as a whole, which ultimately boosts the state's capacity to deal with unforeseen crises.
 
Following Dr. Miura's lecture, the Women2Win fellows engaged in a lively discussion about their experiences and concerns regarding gender expectations in politics. Many noted that policy issues are often divided by gender, which inherently limits female politicians' development and upward mobility. For example, women politicians are often associated with welfare, childcare, and education policy, while men are associated with military and financial policy, which traditionally command more political power.
 
Other participants argued that cultural expectations and societal context exert a strong influence over whether women enter politics, with some women being reluctant to venture beyond the home to run for political office or preferring to prioritize family over a political career.
 
In response, Dr. Miura emphasized the direct connections between women running their households and politics. "Motherhood means caring for other members of the family or the community. This is a very essential component of the government, too. The government has to take care of its members. We need politics to take care of each other. So, if you switch the image of politics from building bridges or constructing industry to taking care of people's lives and health – which is more critical during the pandemic situation, but even after the pandemic – then mothers and motherhood is a very good quality to engage with politics. Women's active participation is thus crucial to make a more caring and gender equal society in the post-COVID-19 era."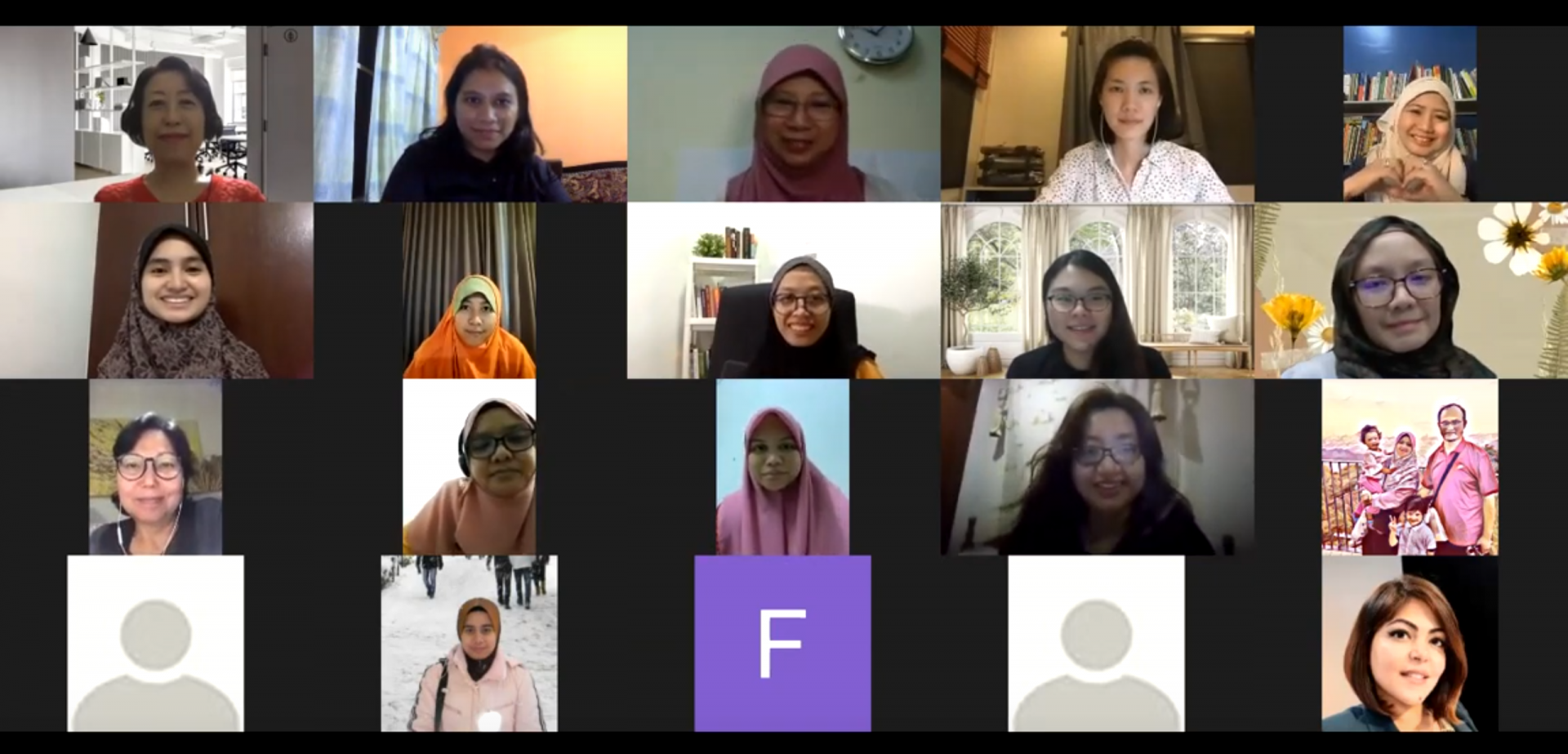 Seventeen Women2Win fellows from Malaysia, Thailand, and Mongolia joined the virtual training session.
This training module was originally scheduled to take place as part of a week-long training session in Kuala Lumpur in March 2020, but was postponed and moved online due to the COVID-19 pandemic.
Jackie Enzmann, Chief Editor