Tales of Northeast India as told through the silver screen
Groundbreaking special program at the Yamagata International Documentary Film Festival based on the "Preserving and Sharing Histories and Memories of Northeast India" project of SPF's Asia Peace Initiatives Department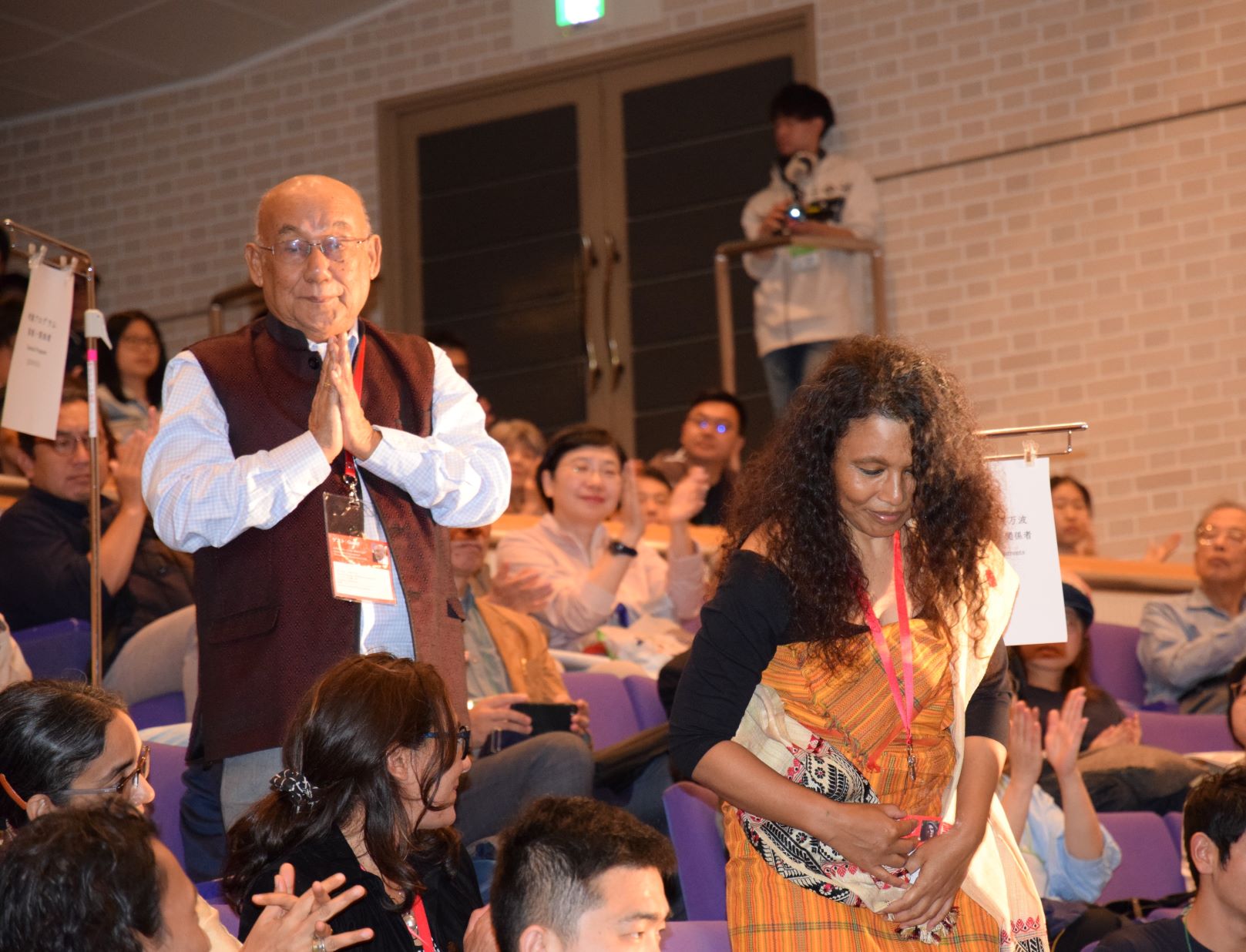 For the first time in its history, the Yamagata International Documentary Film Festival (YIDFF), held this year from October 10–17, showcased a selection of films from Northeast India and hosted events welcoming five of the directors of these documentary films. The special program, "Rustle of Spring, Whiff of Gunpowder: Documentaries from Northeast India," organized in collaboration with the Sasakawa Peace Foundation (SPF), ran for four days beginning on October 11 and featured 16 documentary films focused on this theme. Documentary fans who braved powerful Typhoon Hagibis to attend the festival were rewarded with fresh insights into the diverse cultural landscape and complexity of this region, which seem to have left a deep impression.

The Yamagata International Documentary Film Festival (YIDFF) began in 1989 as the first international documentary film festival in Asia and has been held biennially ever since, garnering international attention and acclaim over its 30 year history. This year's festival featured screenings of 107 documentaries and the international film competitions received 2,371 entries from 130 countries and regions. 
 
The region of Northeast India, including the border and surrounding areas, has for many years held an extremely important geopolitical role. It also has an incredibly diverse population in terms of ethnic groups, languages, and religions, as well as a complex history. SPF's Asia Peace Initiatives Department provides support to this region through two main programs: "Looking into the Past for a Future: Shared History of North East India and Its Neighbors" and "Preserving and Sharing Histories and Memories of Northeast India." The latter aims to promote harmony and mutual trust in this diverse region by funding activities that allow local communities to preserve and share their common history and pass these experiences on to future generations.
 
As part of the "Preserving and Sharing Histories and Memories" program, the Northeast India Audio Visual Archive (NEIAV) was established at St. Anthony's College in the state of Meghalaya on October 10, 2019. This archive houses a collection of documentary films, newsreels, and other video and sound recordings related to the eight states of Northeast India. It is from this archive that the sixteen documentaries on Northeast India shown at the YIDFF this year were selected.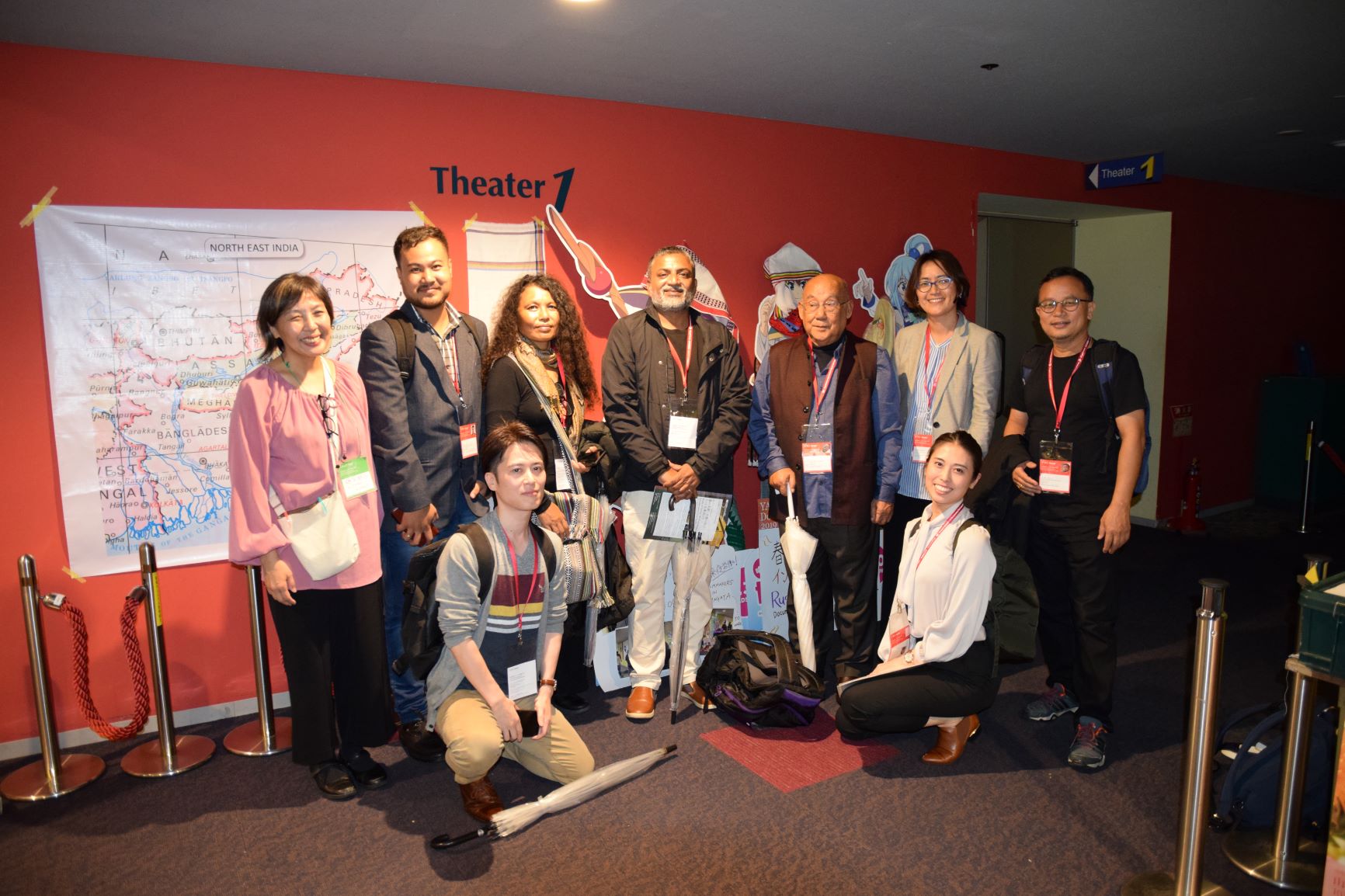 In front of the theater where the documentaries from Northeast India were screened

As the pamphlet introducing the "Rustle of Spring, Whiff of Gunpowder" program explains, "The northeast region of India connects to the mainland via a slender stretch of land of just 22 kilometers in width, euphemistically called the 'chicken neck.' From the time of Independence, the Indian state has obsessively worried about the map of this area getting severed from this slender chicken neck...But political turbulence is not the only story. As a geographical and civilizational bridge, the region has been at the crossroads of much older histories of community cultures. With more than 200 languages and scores of tribes, from hill societies to valley dwelling cultures, Northeast India could be celebrated as a microcosm of diversity." 
 
A selection of multi-faceted and profound films 
 
The curtain opened on the film festival on the evening of October 10 at the height of autumn in Yamagata City. The festivities began with introductions of the directors who had traveled to Japan from abroad to attend YIDFF. Among them were four of the five leading directors from this special program, Pinky Brahma Choudhury, Aribam Syam Sharma, Haobam Paban Kumar, and Tarun Bhartiya. The sixteen films of the "Rustle of Spring, Whiff of Gunpowder" program, produced by thirteen directors, were shown at two venues: the Solaris Theater and the Yamagata Museum of Art. The directors were also invited to participate in panel discussions and symposiums about their work.
 
The special program featured films such as Ms. Choudhury's "An Autumn Fable," made in 1997 and set in Bodoland in the state of Assam. It portrays the struggles of the Bodo people, an ethnolinguistic group in this state who have taken up arms in their fight for independence. The fear and anxiety inflicted upon the community as a result of the violent conflict have pushed them to the brink of collapse. Despite their desperate situation, the Bodo villagers gather every year in the fall to reenact stories drawn from their legends and myths, breathing life into the traditional dramas under the night sky. 
 
The special program also included three works by Aribam Syam Sharma, a renowned filmmaker and representative of Northeast India who has directed 14 motion pictures and 31 short films and documentaries. In his "Orchids of Manipur" and "Yelhou Jagoi: The Dances of Lai Haraoba," Mr. Sharma focuses the spotlight on the flowers and natural beauty of Manipur, as well as the traditional music and dances of the area. In "The Monpas of Arunachal," he captures an invaluable record of the daily lives and ways of the Monpas people who practice Tibetan Buddhism deep in the mountainous region of Arunachal state near the border of Bhutan. 
 
"Floating Life," directed by Mr. Kumar, depicts the confrontation between the fishing communities that lived on floating islands dotting the freshwater Loktak Lake in Northeast India and the government of Manipur State, which blamed the locals for contaminating the lake with their domestic wastewater and set fire to their houses, destroying them with heavy machinery. 
 
Throughout both "When the Hens Crow" and "Not Allowed," Mr. Bhartiya delves deep into the matrilineal society of the Khasi people.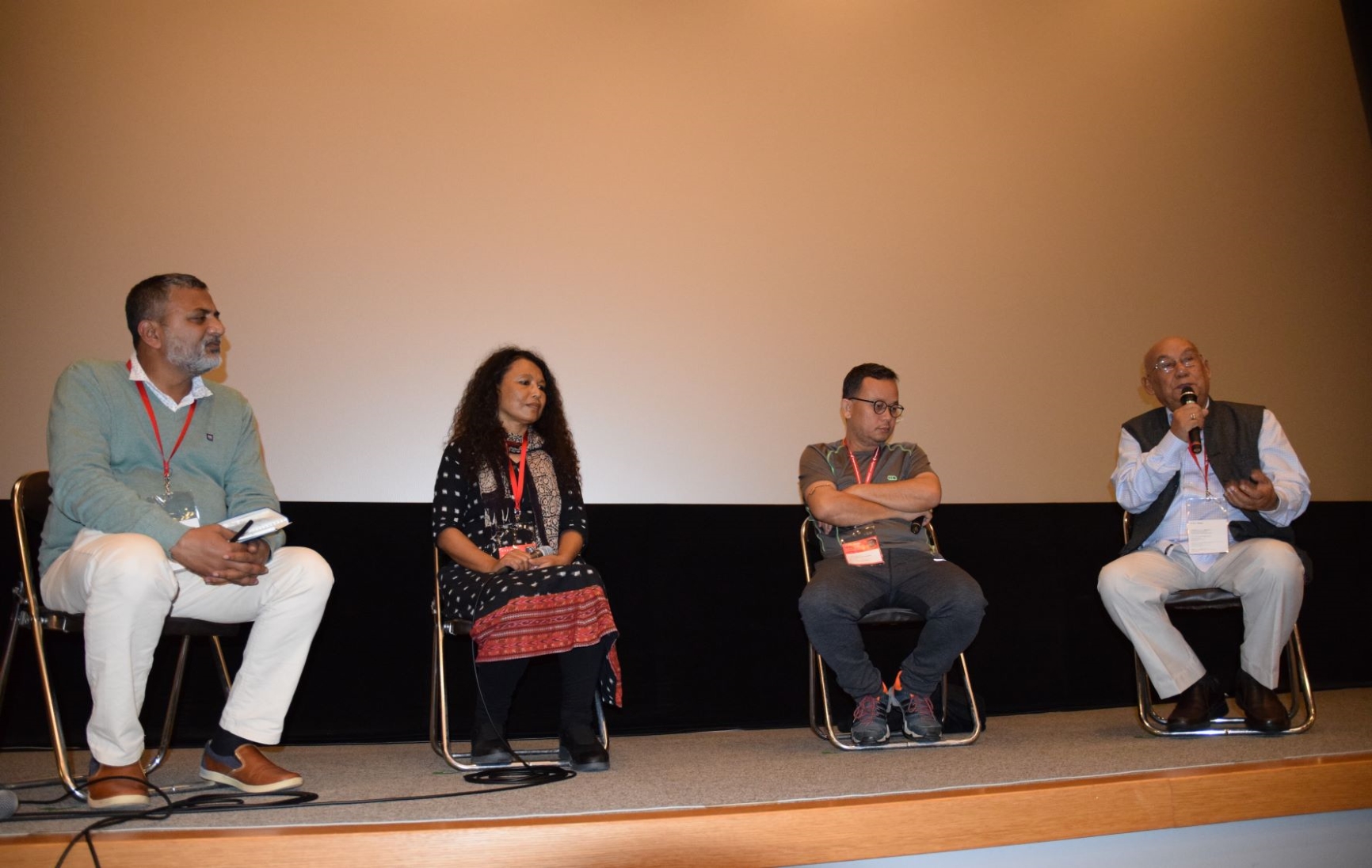 From left: Mr. Bhartiya, Ms. Choudhury, Mr. Kumar, and Mr. Sharma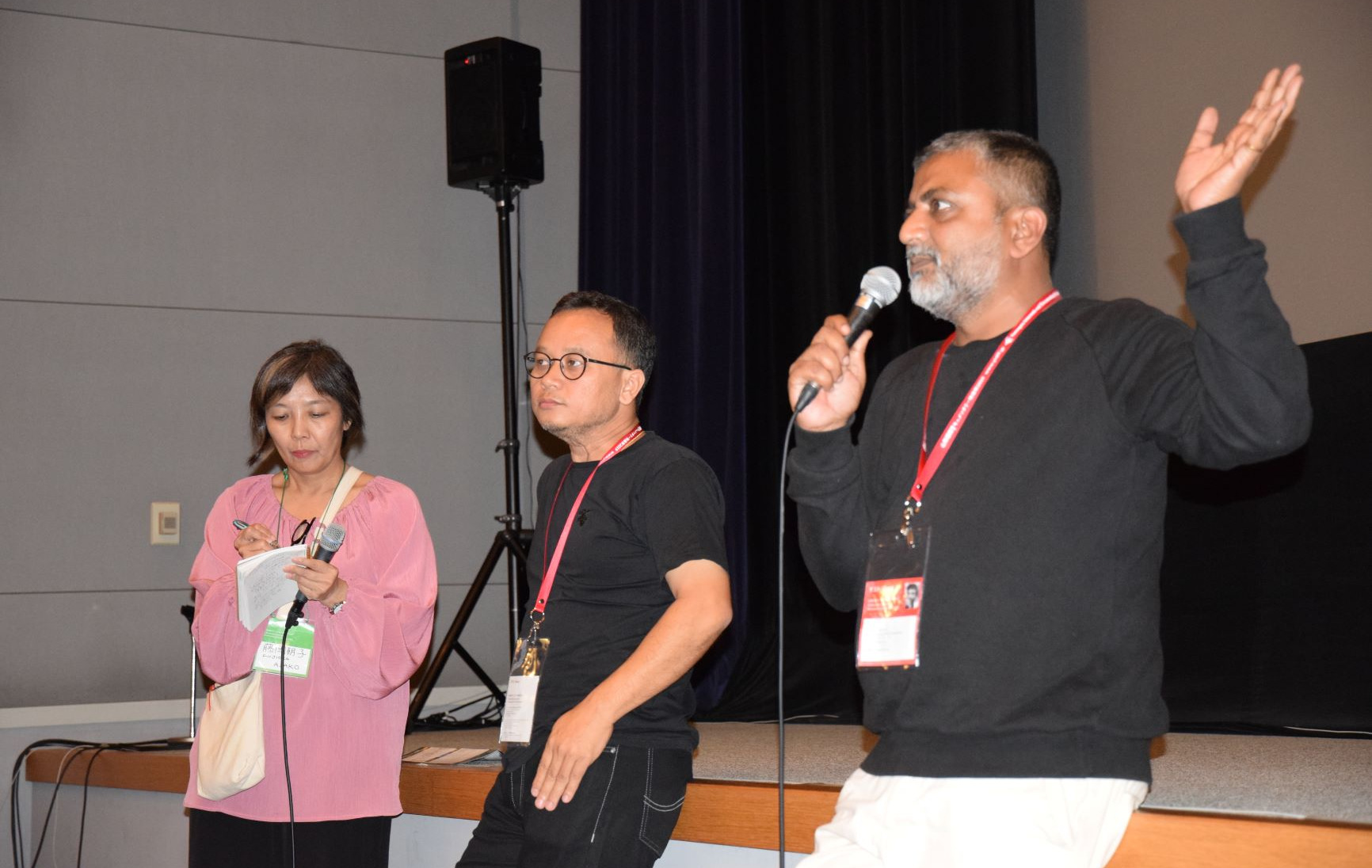 The directors engaged in conversation with the audience
At the symposium held on October 13 featuring a discussion with four of the directors, Mr. Sharma noted that "even just within Manipur state, one of the eight states of Northeast India, there are over 40 different languages and peoples who are all proud of their individual cultures and strongly value their identities. This is something I wanted to express through film as a native of Manipur myself." 
 
Mr. Bhartiya, who served as the moderator for the event, continued on this theme, saying, "the concept of identity is evolving, just as we can see with the increasing importance being placed on the issue of gender, for example. We're starting to see this movement reflected in documentaries as well." 
 
"The people of Northeast India have started to talk with one another about a variety of issues, and I think this is a result of the documentaries that have tackled many problems in the area," said Ms. Choudhury, calling attention to the role documentaries have played in this shift. "Many kinds of documentaries are coming out, and things are changing." 
 
Mr. Kumar added, "In every Northeastern state of India, people are getting trained as filmmakers and are starting to produce a lot of films. If you look back over the last five years, you can really see this progression." 
 
Mr. Bhartiya also underlined the importance of the Northeast India Audio Visual Archive, saying, "this is a place where we can preserve documentaries as well as everything from photos to newsreels and the like. It's an open archive that you can also access online. All of this has been made possible thanks to the efforts of the Sasakawa Peace Foundation, which gave us the ability to store this collection and get this movement started. I hope the archive will only continue to grow and that documentaries will come to play an even more important role." 

Audience members were clearly impressed by the new discoveries they made during the festival. "I used to think all Indian movies were like Bollywood films, and I never knew anything about the Northeast or the documentaries from there. It was my first time watching anything like that," said one office worker from Tokyo. "The one that left the biggest impression on me was "An Autumn Fable." It was a nonfiction story but the director wove techniques used in fiction films into it as well. I felt like I got to understand a little bit better just how diverse and complicated Northeast India is." A woman from Hong Kong mentioned, "I was struck by the traditional rituals, dances, and festivals and everything. They're all so different from the mainland. I also got a glimpse of some of the problems that the people in this region have to bear."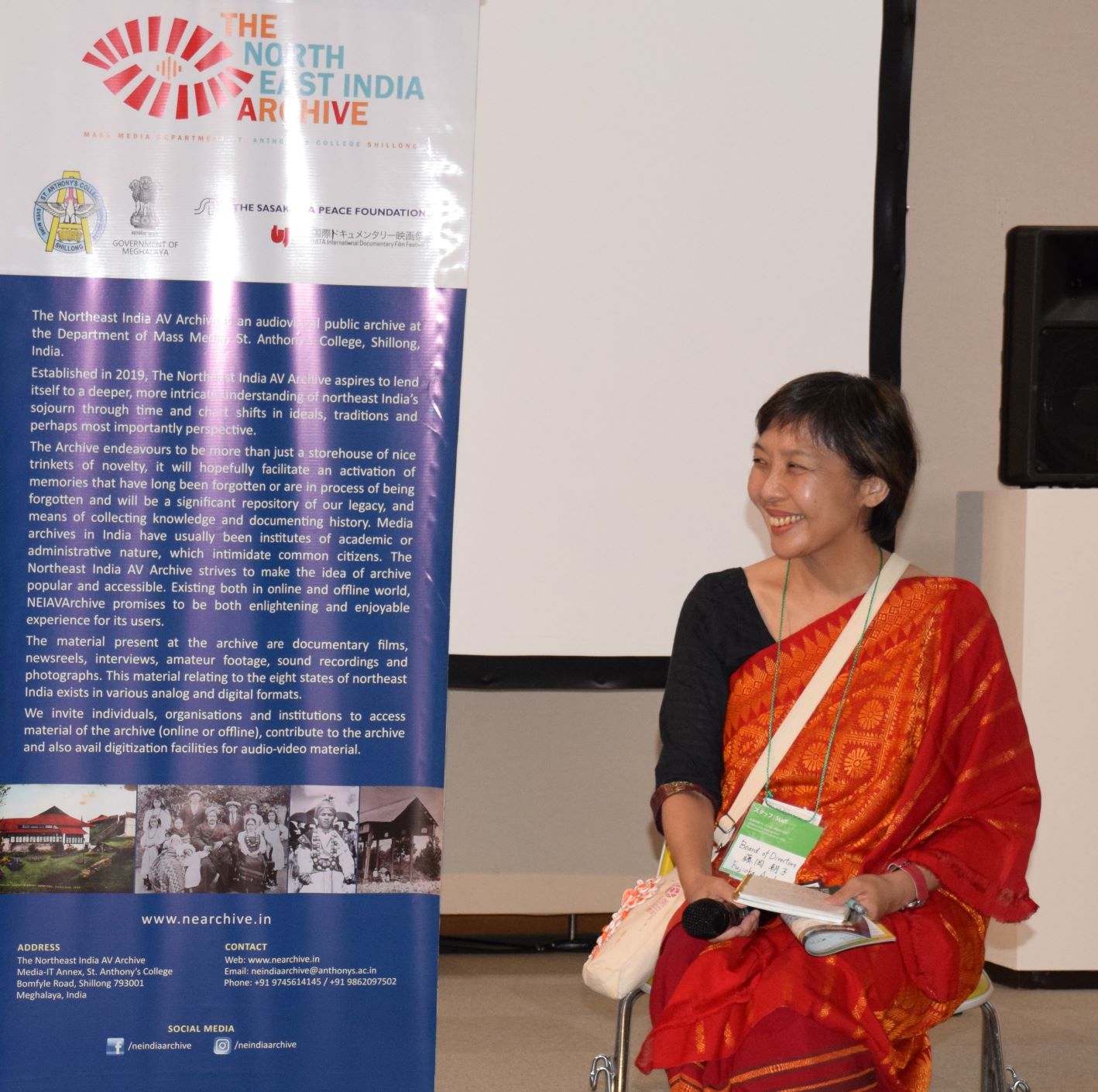 Asako Fujioka, Board Member of YIDFF, said: "There is an astonishing amount of detail in every one of these pieces. I think the information presented in these films is just priceless; so much meaning is captured within the nuances of the ceremonies and cultures depicted. One of the missions of YIDFF is to help spread awareness of cultures from regions that are not well known and express the diversity of cultures all over the world. Over the years, we've shown a relatively large number of films featuring themes surrounding societal changes or fights for individual rights. We also focused on Asia right from the start, so I believe the films from Northeast India are a perfect fit for this festival."
 
"The directors we invited this time had a chance to reexamine their own communities from different perspectives here in Japan," she added, "which seems to have kindled new creative fires within them. I expect this festival will be a catalyst for their next cultural projects."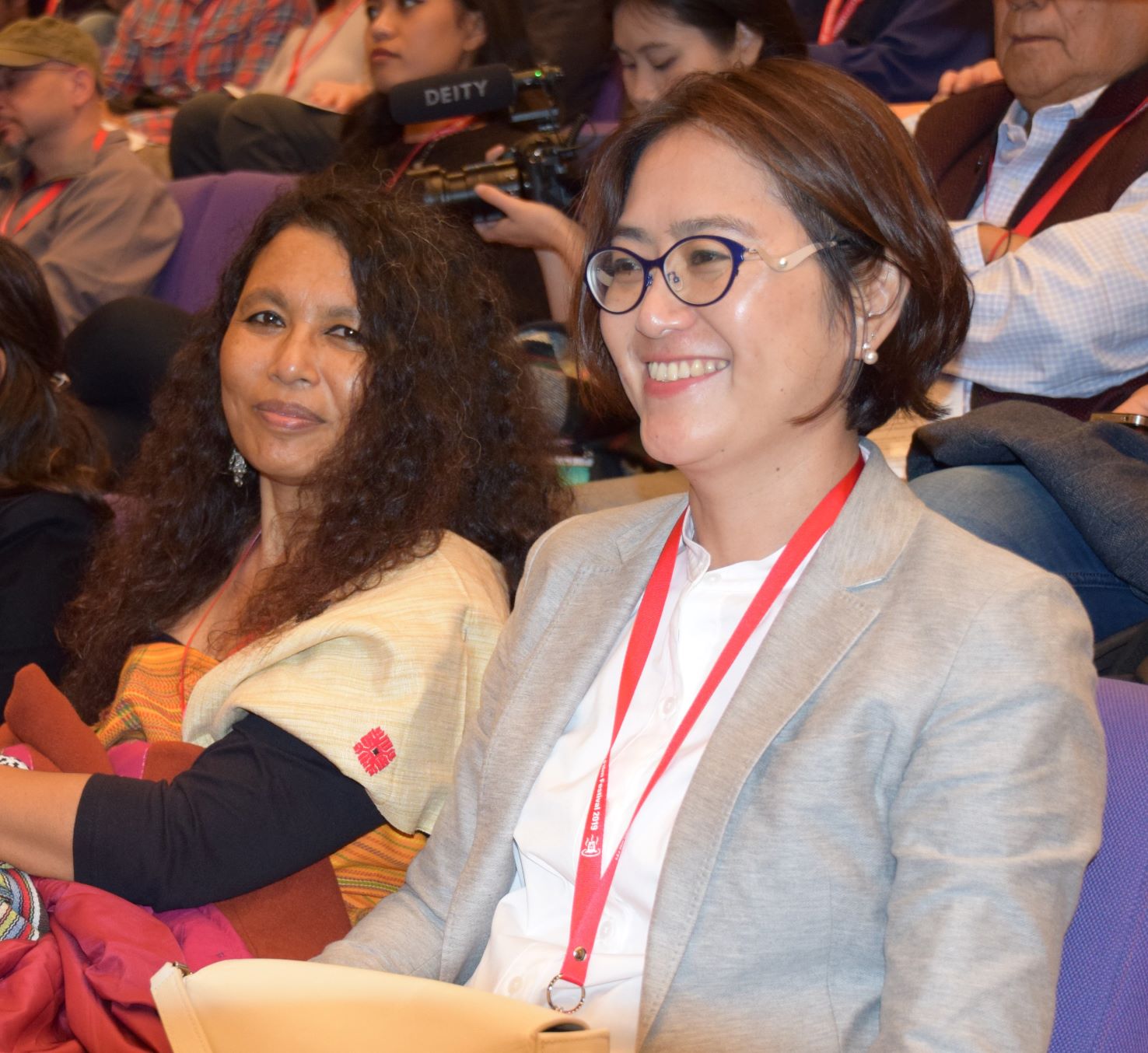 Yui Nakamura, Senior Program Officer of the Asia Peace Initiatives Department at SPF, said: "I've been focused on this field ever since I came to realize that documentary film is the most powerful media to use when you want to explain and help people understand just how diverse and complex regions like Northeast India are. I also soon came to truly understand just how special YIDFF is for documentary filmmakers, including those from Northeast India. We've been fortunate enough to have the director of the festival, Ms. Fujioka, visit the area starting two years ago and help us conduct documentary film workshops and other kinds of cultural exchange programs. I think it was through all these efforts that we were able to beautifully craft together the films and their respective contexts
and create this special program that is full of piercing insights into Northeast India. I really feel that the reason this special program was able to be much more than just a simple introduction to the area, but a profound, unique collection of films was thanks to YIDFF."
 
"The messages in these films from Northeast India pose questions about how we should coexist with 'others' who are different from us, and how we should reconcile our own identities with the growing trends toward nationalism and globalization," she continued. "These are all questions that I think are universally relevant for Japanese people today as well." 
 
"This program has already drawn a huge response within Northeast India and has received lots of attention in the local media. We've heard the directors who attended the festival say they would like to see their films shown in India as well, and some have also said they hope to use the YIDFF as a model and put together a high quality documentary film festival in the Northeast, too. I hope after this festival we'll be able to create more opportunities for films from Northeast India to be shown both in Japan and around the world." 
Nobuyuki Aoki, Senior Advisor
Translated by Alexandra McCullough-Garcia
Read SPF's interview with Aribam Syam Sharma, Haobam Paban Kumar, and Pinky Brahma Choudhury
here
.
For more from the Asia Peace Initiatives Department, please visit the
program page
.