Interview with three leading documentary filmmakers from Northeast India: Aribam Syam Sharma, Haobam Paban Kumar, and Pinky Brahma Choudhury
Interview with three leading documentary filmmakers from Northeast India: Aribam Syam Sharma, Haobam Paban Kumar, and Pinky Brahma Choudhury
By Jackie Enzmann, Chief Editor
---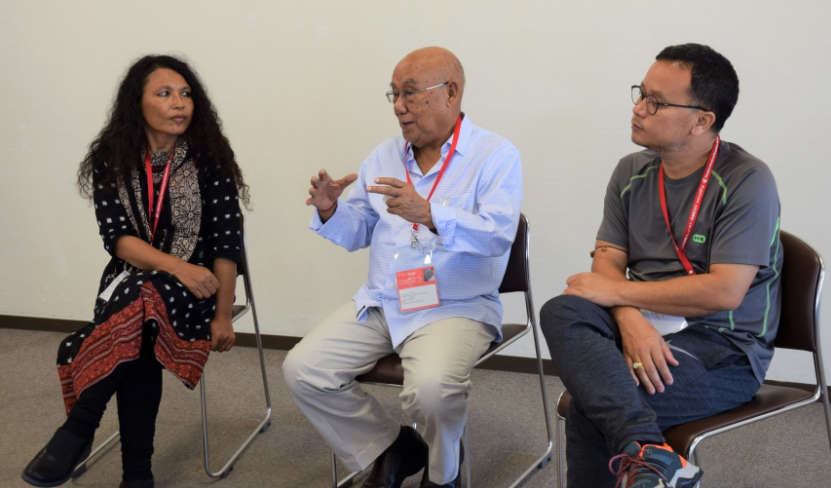 Since 1989, the Yamagata International Documentary Film Festival (YIDFF) has established itself as a premiere destination for documentary filmmakers from around the world. For the 2019 festival, YIDFF in collaboration with the Sasakawa Peace Foundation (SPF) presented a Special Program entitled "Rustle of Spring, Whiff of Gunpowder: Documentaries from Northeast India," which ran from October 11-14, 2019, and showcased 16 documentaries from across the region. As part of the program, SPF's Asia Peace Initiatives Department invited five of the directors to Yamagata City to screen their films and engage in discussions with fellow filmmakers and audiences. Three of those directors — Aribam Syam Sharma, Haobam Paban Kumar, and Pinky Brahma Choudhury — spoke with SPF about their experience at YIDFF, the role of documentaries as a part of historical archives, and their expectations for the future of documentary filmmaking in Northeast India.
― How would you introduce Northeast India to people who may be unfamiliar with the region?
Pinky Brahma Choudhury: 
India is made up of many regions and they're all different in many ways. In the Northeast of India, there are eight states: Sikkim, Assam, Meghalaya, Mizoram, Arunachal, Manipur, Nagaland, and Tripura. It is different from rest of India in terms of the ethnic origin of the people who reside there, who are of Mongolian origin largely. Each of the eight states have different cultures, and within the states there are many more subgroups that each have different cultures.  
Aribam Syam Sharma: 
In Manipur, there are more than 40 different dialects, and now everyone wants to have their own identity, their own language, and their own education. I think this is important because once a language is lost, it is lost forever. It is also important to have these cultures and identities that are distinct, or in one way exclusive, but at the same time inclusive. This is the way we have to live now in the world. Culturally we may have differences, but we must respect each other and each culture so that society can be inclusive.
― This concept of identity and understanding oneself within the context of a region, the world, or any larger community has been central to many discussions at this film festival. What is the relationship between this idea of identity and documentary filmmaking?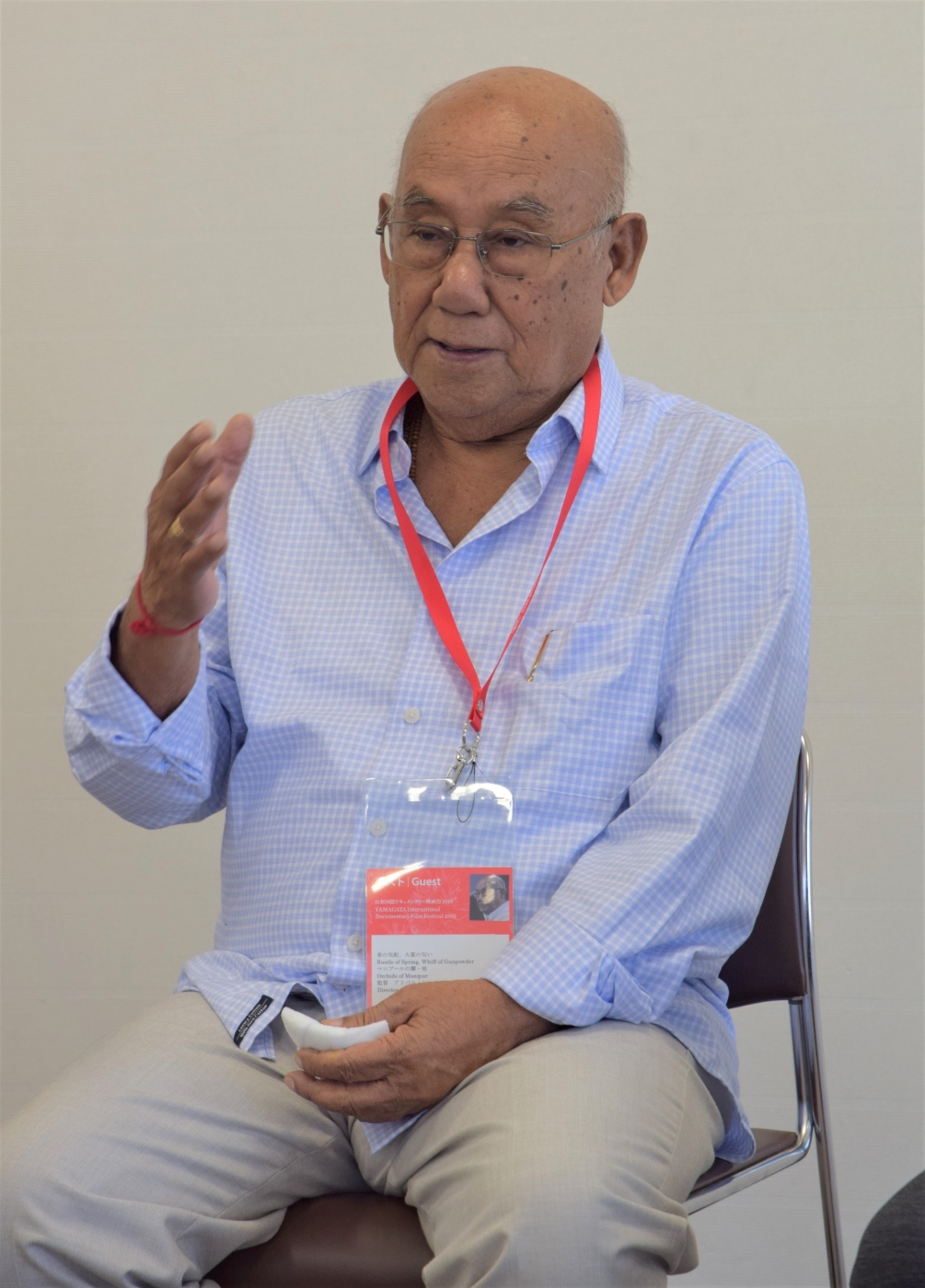 Aribam Syam Sharma
Aribam Syam Sharma: That is one of the fundamentals of documentary filmmaking. If you try to find out about yourself, then you can find out about everything. What is important is to find the root of something. In my case, I tried to know myself and my culture through filmmaking, which taught me not only to respect my own culture but also to respect and try to understand others. A misunderstanding can be a very dangerous thing. In the Northeast, there are so many local dialects and though there are many political and historical reasons causing divisions, we have to learn how to live together.
 
Haobam Paban Kumar: We need to first understand ourselves to understand others. Even if I make a film set in Manipur, it doesn't tell an isolated story that is Manipuri-centric, but instead is relatable to everyone. These stories are universal and can connect not just with people in Northeast India, but with you, me, and everyone. When I began making films about Manipur, I wanted to tell our stories and try to connect with people by telling them that we do exist. At first it was more about telling the rest of India, but now I want more and more audiences to see these films.
 
Pinky Brahma Choudhury: Conflicts often arise out of not knowing about the other, and I think films can be a very good tool for bringing people together and sharing ideas. If people can understand these universal messages, I think many internal and external conflicts can be resolved, and many layers of conflict resolution can take place. That's one small contribution that documentary films can make. Filmmaking is a process of discovering many things, including the subject itself. As a filmmaker, you begin with an idea, but it continues to grow as you shoot, and even as you're editing you can discover something new.
 
Aribam Syam Sharma: In feature films you can create these ideas through the story and dialogue, which are under your control, but you don't have this kind of control in documentaries. I happened to make both features and documentaries, and I can say that documentaries are more important and more difficult. Any moment that you film will never return again.
 
Haobam Paban Kumar: These documentary films also act as an archive. When I was watching sir's films the other day, the things that he showed like the market and the places in Manipur, it's like a visual archive. You can't see those things anymore because they only remain on film. So, you can imagine how important the kind of work that the Sasakawa Peace Foundation is doing, archiving the documentaries and other materials in Shillong. I think a lot of this kind of documentation needs to be done.
 
However, I want to separate documentary filmmaking from documentation. This new archive should include documentary films while also giving emphasis to documentation. I think that we as filmmakers are a little bit selfish because we are very selective about what we film. We only make one or two films in five or six years, so we can't really do justice to documentation in that way.
 
Aribam Syam Sharma: I also think documentation and documentary should be separate. Documentary means you are creating something, which is your own personal thing, and documentation must be more objective. In documentation, you're trying to say something about the object, while in documentary you're trying to say something about what you feel. This interpretation is the most important aspect of documentaries.

― This is the first time for YIDFF to hold a Special Program showcasing films from Northeast India. What are your impressions of the festival?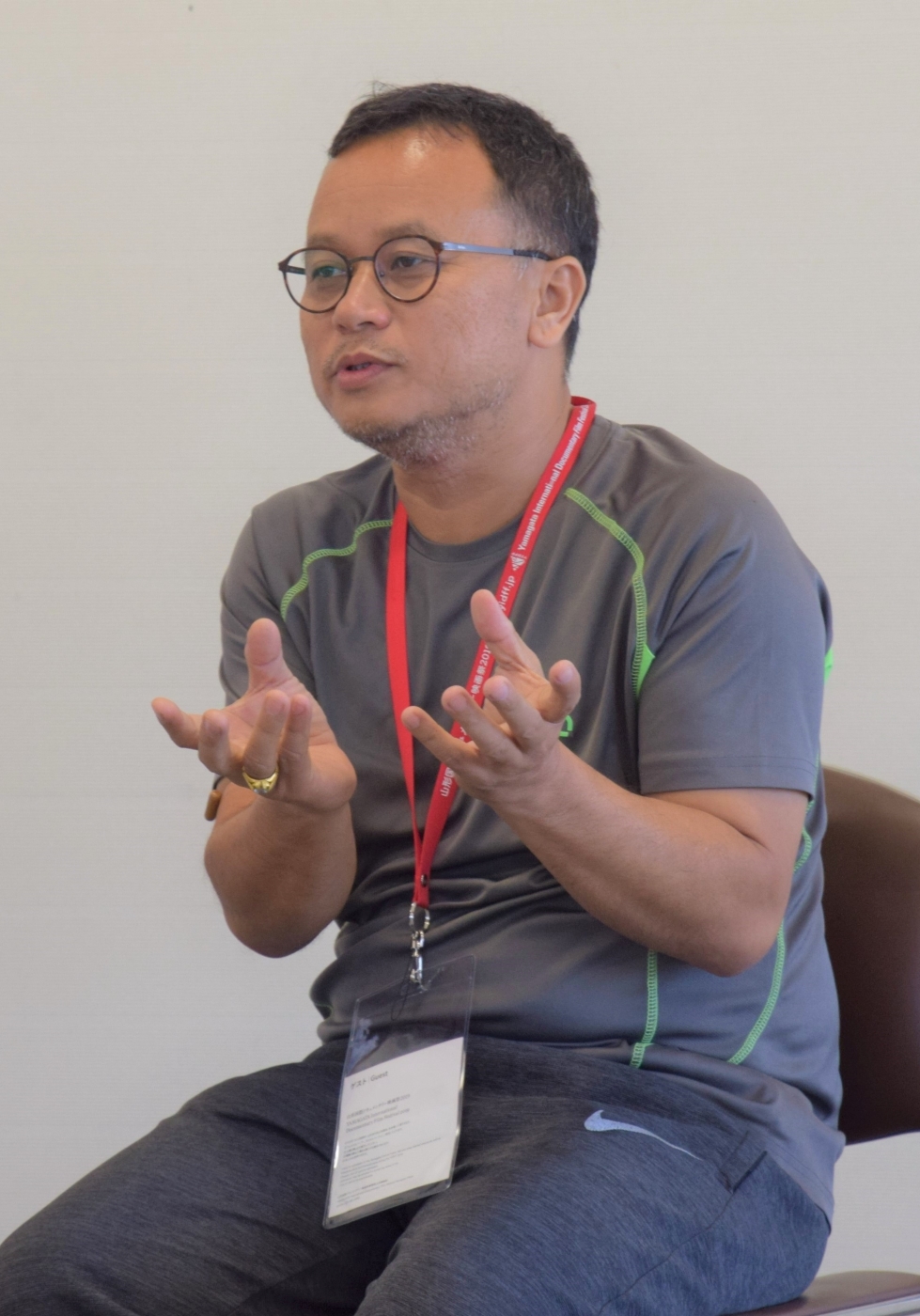 Haobam Paban Kumar
Haobam Paban Kumar: This is an important film festival for documentary filmmakers and I've always wanted to come here. I think that this is a very closely curated program, and it is unlike other festivals because I don't see a market section for pitching, funding, or distribution. I think the crowd is less focused on commercial interests, so that makes it very unique in this time.
 
Aribam Syam Sharma: Earlier in my career I used to go to so many international film festivals, but now I don't travel much. This type of festival is very personal and connects the directors and organizers in a close community. This is wonderful. This festival also only shows documentary films, and this is one of the best festivals, I think. This time I got the chance to screen my films in 35 millimeter projection. This has been wonderful, and this might be the last time this will ever happen. As filmmakers, our highest joy comes at the moment when the cinema house goes dark, that instant when everything is silent and then the projector starts. That happened on the day when they showed my films here. I will never forget this film festival and the foundation for giving me the chance to see my films this way.
 
For the three films that I showed at Yamagata, these are the only copies. The ministry that stores them didn't want to send them to Japan, but I got permission because I wanted to see my own films and hear that sound again. Perhaps now the archive is coming up in Shillong and perhaps these films may be digitized and seen by more people. These kinds of celluloid films are almost impossible to screen now, and only Yamagata has done that. Personally I'm very happy to be here, and I think the future is very bright for this festival.
 
Pinky Brahma Choudhury: It is very prestigious for filmmakers to have their films selected at YIDFF because these films are all carefully handpicked. The festival atmosphere is also very close knit, and this coming together of filmmakers, audience, and of course documentary film is a huge thing. I think there are very few places in the world where the citizens will travel kilometers across cities just to pay to buy a ticket and watch documentary films. That's quite commendable, and the fact that this is the 16th edition is quite amazing.
 
There's also a very special understanding of the context of filmmakers from around the world. There's an understanding of world politics and an understanding of the context of filmmakers and where the films come from. Documentary filmmaking is not being presented as one homogeneous group. When you bring films from Northeast India all together, it's not because we don't have opportunity or are less or we need that kind of exposure. It's because there's an attempt to understand the context.
 
Also, at most festivals, you almost feel like people are making films to market their films. There's a focus on who's going to win the award and there's a constant competition, even among the filmmakers, but I feel that YIDFF is different. I'm very happy that we could connect as filmmakers and that SPF could do something like this.
 
― What do you hope that the audience that came to the festival will take away from your screenings?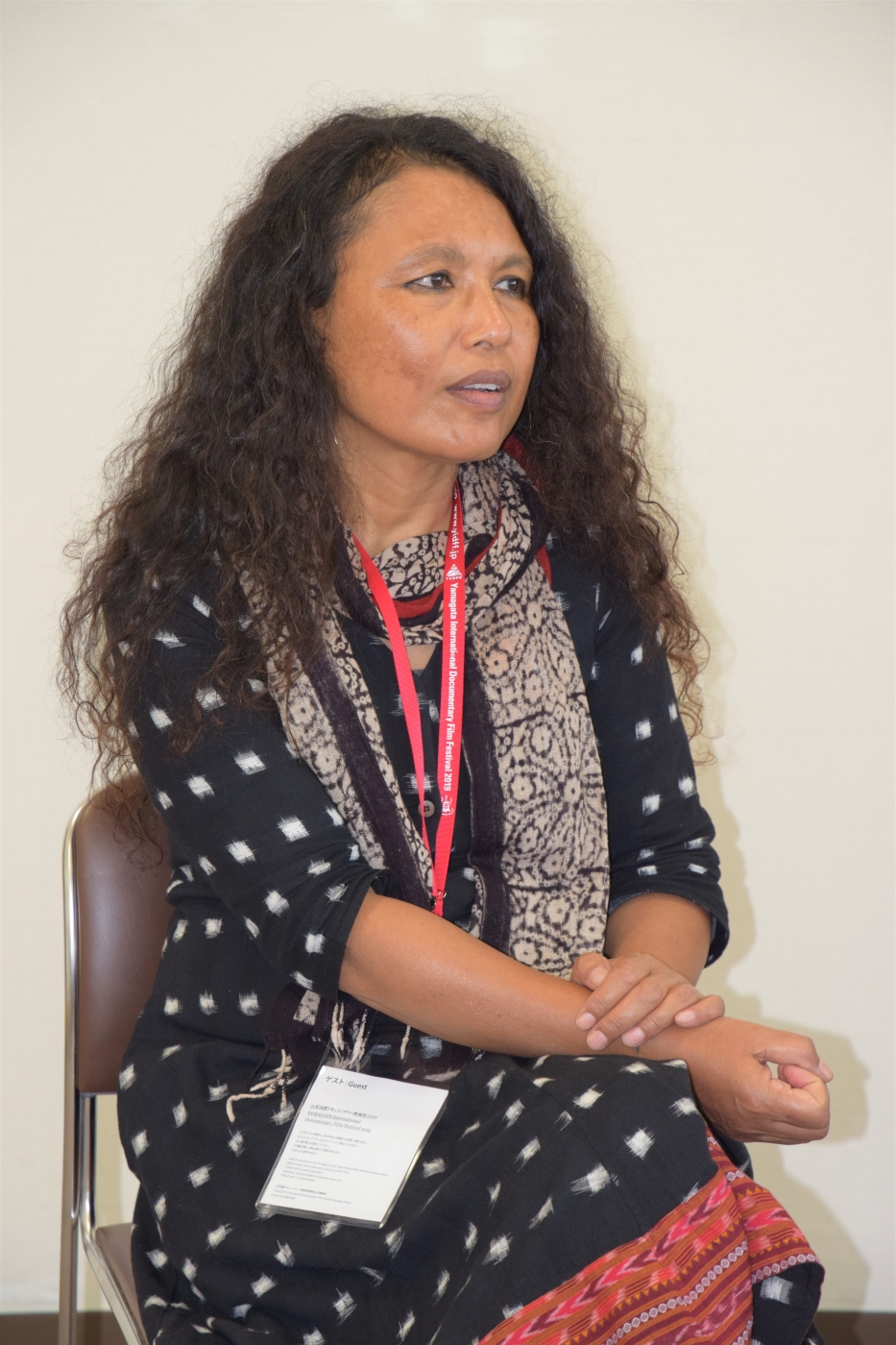 Pinky Brahma Choudhury
Pinky Brahma Choudhury: 
I think the films from this program will give the Japanese audience a better context to understand India as a country, even just to know that there is a place in the Northeast of India where eight states are a little different than the rest of the country, and there are issues there that may not be well-known to the outside world. I hope that viewers can understand that there are different kind of people live in the Northeast, and that they can learn more about the problems, the aspirations, and the experiences of the people there. It's also important to give a special focus on a certain area or a certain issue. That's what I was expecting from this festival, and I think it's happening. Audience members have told me that they didn't know that something like this existed in India, so I think this is a very big step forward.  
Haobam Paban Kumar: 
Even for us, this is an opportunity to increase understanding amongst the directors and people in Northeast India. Yui Nakamura with SPF's Asia Peace Initiatives Department also said that she is planning to take this package of films to the rest of the eight states in Northeast India, which will be really wonderful. This is not just about Japan, but it is important for us as filmmakers to also understand each other. Especially with documentarians, we don't get the chance to watch documentaries except at these kinds of special programs or festivals.  
― What do you see as the future of documentary filmmaking in Northeast India?
Pinky Brahma Choudhury: 
I feel it will only grow with digital media, which has made it easier to share films, especially online. Recently, I got an invitation to participate in a workshop in my village, so I was going through the blogs to see what the people like these days. There are a lot of songs and films shared online and a lot of blogging is happening. As time has gone by, people have begun talking more about their surroundings and have started commenting on social issues. I think people will continue to take this on, but I feel that there should be more help through workshops and festivals so they can get to know the potential of documentary films. We can help direct new filmmakers, not just people who are going to film school, but also general people who are making films  
I also think that people are exploring new forms of storytelling so that they can talk about their own experience through their own eyes. Earlier maybe they were not so brave to speak out what they felt, but I think the trend is changing and a lot of people are able to express themselves very openly. I was really taken by one of the films at this festival, the one with the director who wanted to talk about his childhood memories. That makes me very hopeful.  
Haobam Paban Kumar: 
I agree that it's hopeful, but at the same time there's no funding for documentary filmmaking, frankly speaking. A lot of new media is happening, so even if we are doing documentaries they will probably be smaller, maybe five to ten minutes long, which can be easily watched on the go. I think that people don't have the time to watch a one-hour or two-hour long documentary. Also, I think the style is shifting toward what you might call a more "artistic" type of film. Definitely the Northeast is a place where a lot of things are happening, and with all of the new media and equipment, I think we will see more of these smaller films.  
Also, I think that people are more open to talk about their realities, but I feel there are a lot of restrictions now. Maybe people will try to speak out against that, or maybe they won't be able to do that, but definitely it's not going to get easy. If you look the number of films being made in the entire region in the last four or five years, I can count it as maybe only four or five documentaries. Also I've noticed that many independent filmmakers are shifting into fiction because there's more recognition and money. It's difficult because we don't have any documentary distribution systems in India. There are thousands of channels for feature films and news, but not a single channel for documentaries. Even if you look at online platforms, you see very few documentaries.  
Aribam Syam Sharma:
 In the past, making documentary films was expensive, so you had to be very careful. To take one short, I would have to think 100 times how to take it, where to take it, how to set the camera, the angle, the lens, and what should be the action. Now you can just take it 100 times. Filmmaking started from documentary films, so I believe documentary films will always exist. In many ways, we filmmakers are trying to express ourselves through filmmaking the same way poets are trying through poems and musicians are trying through music. It may be appreciated or it may not be appreciated, but there's always an idea, which is very important. At the end of the day, human beings want to create, and I believe that this will continue.    
For more about the Asia Peace Initiatives Department, please visit the
 program page
.
To learn more about the Yamagata International Documentary Film Festival, please visit the 
official website
.