Setting the stage for greater gender parity in politics
SPF and the Academy for Gender Parity team up to train aspiring women politicians
By Jackie Enzmann, Chief Editor
---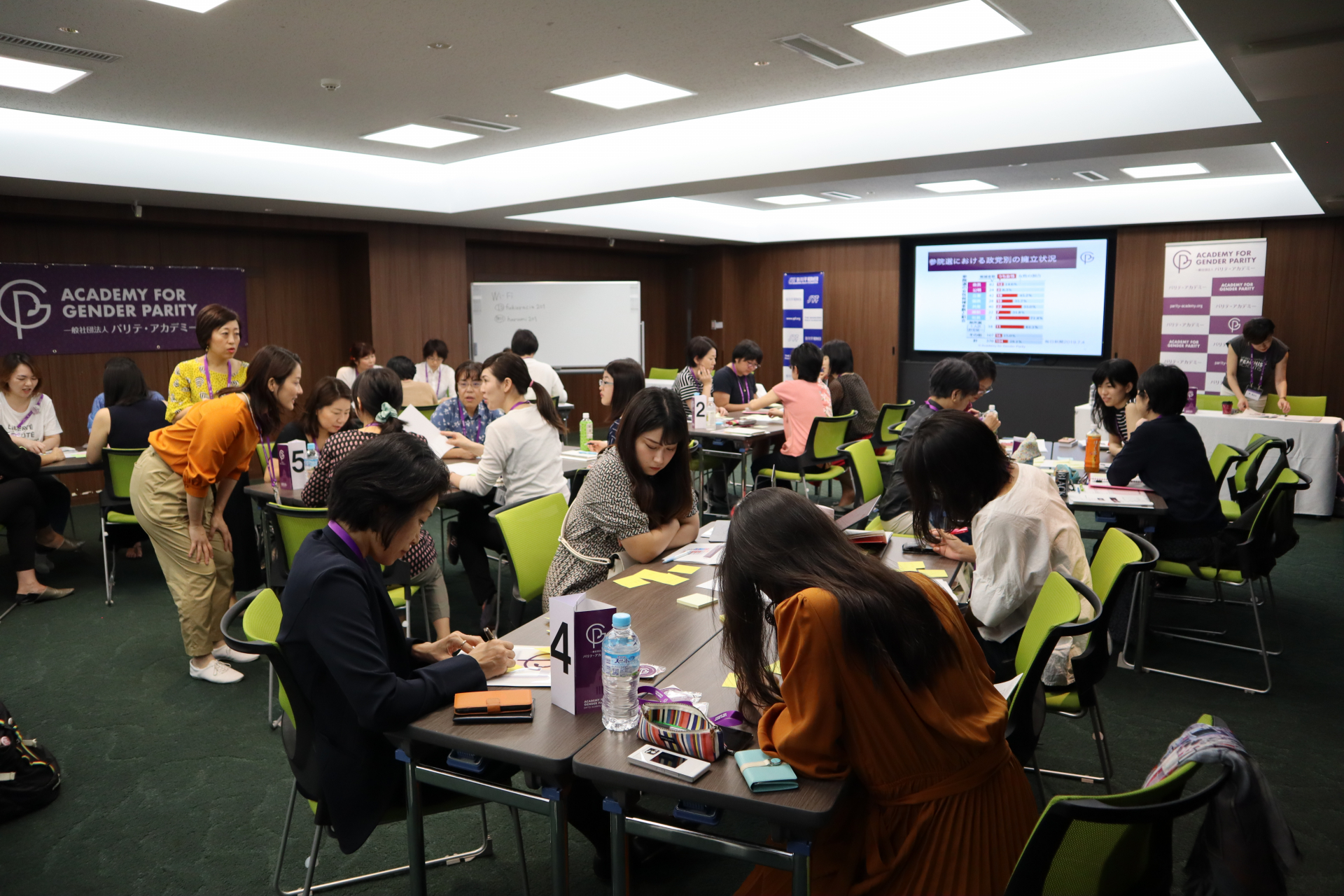 A hands-on training sessions for aspiring women politicians in Japan
From the halls of government to boardrooms around the world, a persistent lack of female representation in leadership positions continues to pose an enduring challenge. When considering political representation specifically, Asia as a region lags behind the international average for the number of women in parliament according to the latest report by the Inter-Parliamentary Union, and Japan in particular ranks 165th out of 193 countries, the lowest position of any G20 country.
 
To take a closer look at the persistent gender gap in politics throughout the region while also supporting strategies to promote greater female representation in government, the Asia Peace Initiatives Department of the Sasakawa Peace Foundation (SPF) in collaboration with the Academy for Gender Parity arranged a series of events focusing on the future of women's political participation across Asia in order to inspire and equip the next generation of female leaders with the skills necessary to succeed in politics.
 
The event series began on September 6, 2019, with an expert seminar at SPF featuring a keynote address by Malaysian Minister of Housing and Local Government Zuraida Kamaruddin, who stands as an example of a women who successfully rose through the ranks to a powerful position in the central government. The event continued with a discussion about the state of female political representation in South Korea and Japan, led by Dr. Ki-young Shin, professor at Ochanomizu University, and Dr. Mari Miura, professor at Sophia University. Following the seminar, the Academy for Gender Parity, an organization co-founded by Dr. Shin and Dr. Miura, held the second ever leadership training for aspiring women politicians in Japan.
From the women's wing to the power position
To begin the panel discussion at SPF, Minister Zuraida outlined her own journey from a fresh face in a new political party to her current position as a major player in the Malaysian national government. Her political career began in 1999 as a researcher for the then newly formed People's Justice Party (PKR). She continued to move up within the party, positioning herself as one of the earliest division heads – a prestigious position in the party structure – and later becoming the PKR's Women's Chief.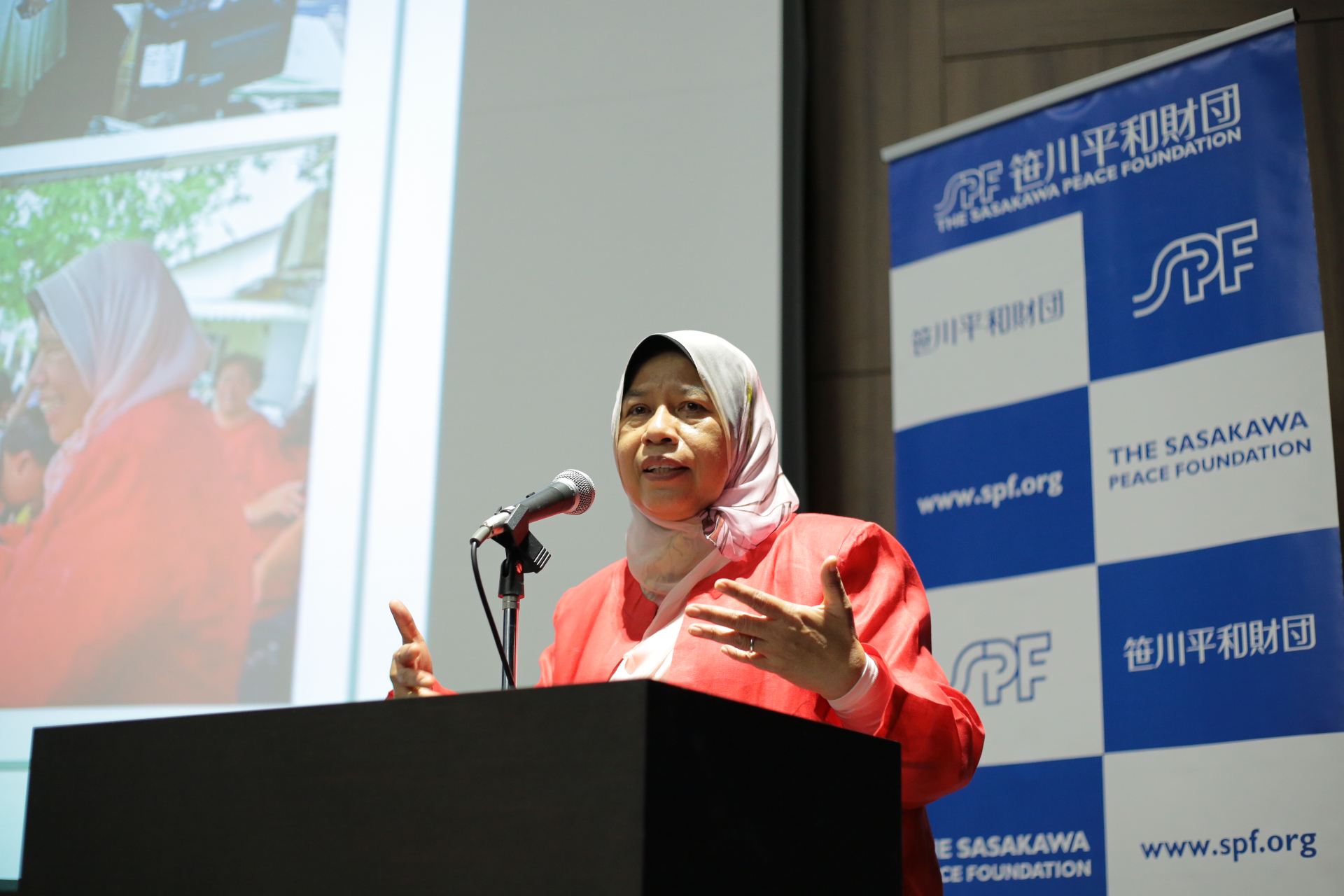 Malaysian Minister of Housing and Local Government Zuraida Kamaruddin discussing her political career
However, Minister Zuraida quickly set her sights on breaking into mainstream politics. "I realized it's not enough to be in the women's wing. I have to strategize myself to get a decision-making position," she explained. By 2008, she successfully made the jump to political office by running for and winning a seat in parliament representing Ampang, a suburb of Kuala Lumpur.

Throughout her career, Minister Zuraida has championed women at all levels of government and prioritized mentoring future generations of women leaders. As the head of the Ministry of Housing and Local Government, a position she's held since May 2018, Minister Zuraida has directed her recruitment team to seek out qualified women candidates for all job vacancies within the ministry. "I told them that even though you need to find women just like finding a needle in a haystack, please do it." In addition, she established a 30% minimum for the number of women councilors appointed in each of the 155 municipal and local governments under her management.

By pursuing greater female representation in government, she maintains that society as a whole, and not just women, stand to benefit. "It's not about competition with men. It's not about wanting to be proud to hold the top position. It's about giving the best to the country and tapping the full potential of women so that we will have more holistic development of the country," she explained.
Assessing the persistent challenge of political gender gaps across Asia
While Minister Zuraida serves as an example of a high-powered advocate for women in government taking proactive steps to promote the inclusion of women, it is often the case that policies made to promote greater gender parity run into roadblocks, such as a failure of follow through at leadership levels or noncompliance by participating organizations.

In South Korea, the participation rate of women in the national parliament still hovers around 17% in 2019 in spite of a quota system designed to increase the participation ratio of women in national and local elections. Dr. Shin during her opening remarks explained that this is largely due to a lack of penalties for noncompliance, which has allowed organizations to skirt regulations. "Even though it's law, it's just an encouragement law, so political parties don't feel the need to try hard," said Dr. Shin, pointing out that only one party has ever exceeded the minimum ratio of female candidates. "If the quota were fully complied with, we would probably have 40% or 50% women parliamentarians in the national legislature."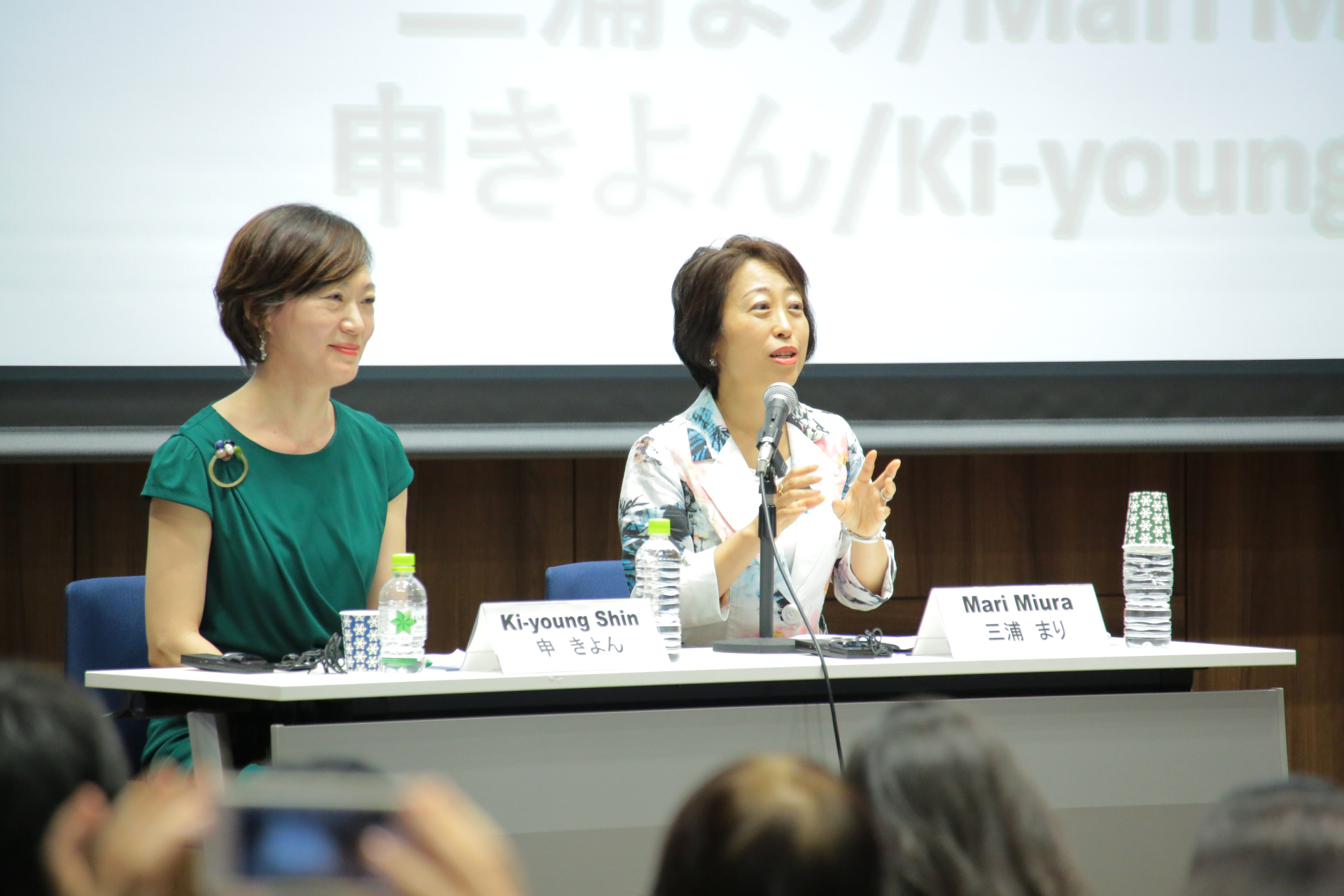 Dr. Ki-young Shin (left) and Dr. Mari Miura
Looking to Japan, Dr. Miura also emphasized the gaps in political participation, especially in rural areas. While there are some examples of local assemblies in larger cities with more than 30% female members, about a quarter of the local assemblies in remote areas have zero women members, and another quarter have only one. To deal with the issue, the Japanese government has pursued a range of initiatives including the 2018 passage of the Gender Parity Law, a nonbinding measure urging political parties to provide equal opportunity for male and female candidates. However, the results in the most recent upper house parliamentary election in July 2019, which was the first major election to take place since the regulation came into effect, fell well short of the threshold set by law. Women made up 15% of the candidates offered by the ruling Liberal Democratic Party (LDP) and only 8% of the candidates offered by their coalition partner Komeito.
 
While challenges remain, Dr. Miura was optimistic, maintaining that "numerical targets do matter, and quotas do matter," and arguing that "now there may be a race amongst the political parties to try harder to comply with the Gender Parity Law." In addition, broader cultural movements continue to shift the public's attention in Japan, South Korea, and other countries toward issues relating to gender inequality, buoyed by a growing number of women running for political office, the increasing visibility of gender issues within political parties, and wider coverage of women's stories in the media.
Inspiring and training the next generation of political leaders
In addition to top-down intervention by governments, an equally critical component to address gender representation in politics is expanding the pool of potential candidates by equipping the next generation of political leaders with the skills they need to run for office.
 
To provide training and capacity building for women seeking to enter politics in Japan, Dr. Miura and Dr. Shin established the Academy for Gender Parity, which held the second ever training workshop over a recent weekend in Tokyo in collaboration with SPF. The two-day session welcomed 24 participants from across Japan as well as 5 observers from Malaysia who are members of the Girl2Leader program, an initiative that seeks to empower young women to enter politics, and 1 additional observer based out of Cambodia.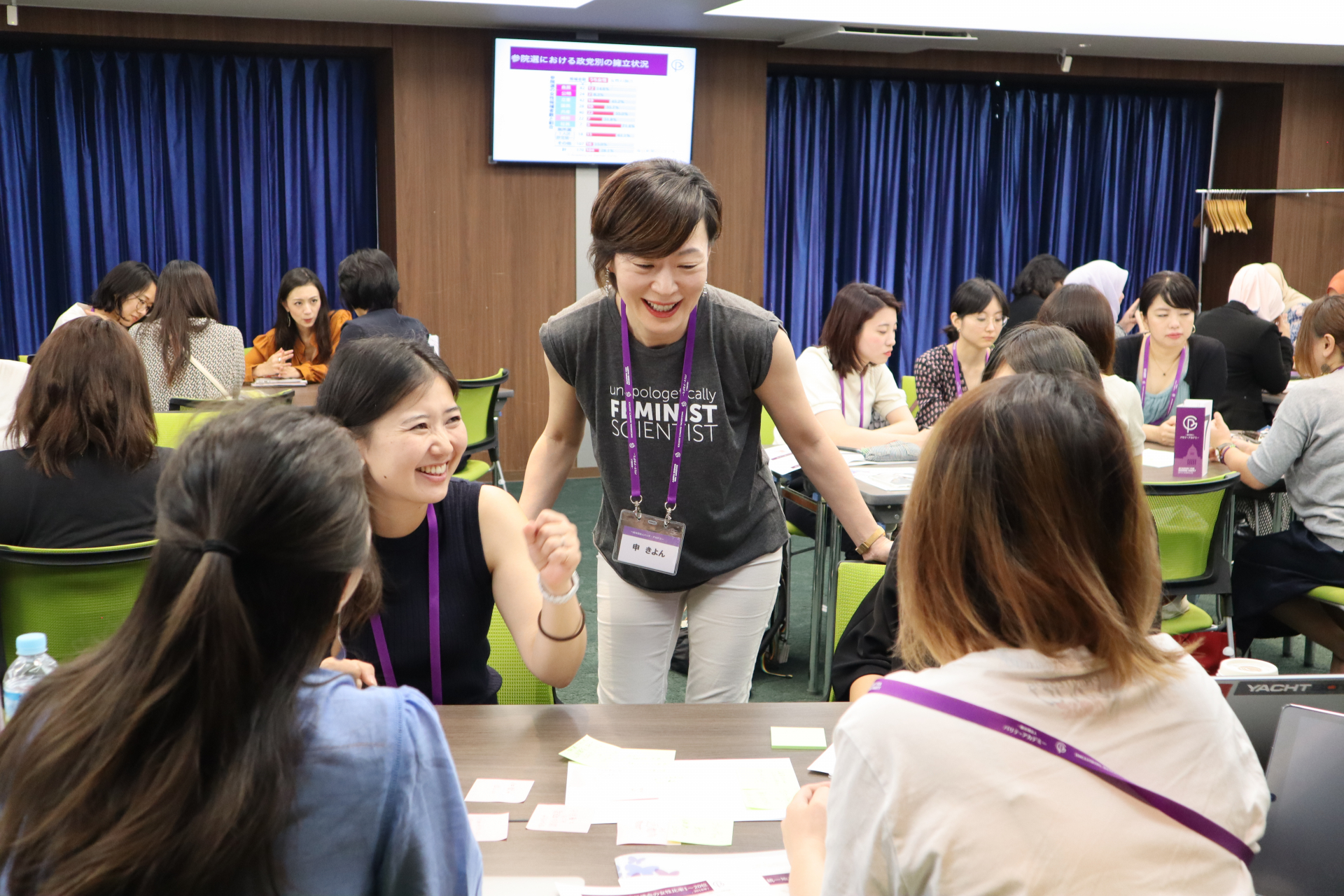 A brainstorming session during the training provided by the Academy for Gender Parity
The Academy for Gender Parity's training has been modeled after Ready to Run, a U.S. program launched by Rutgers University that now operates in more than 20 states across the country. The curriculum of Ready to Run served as a jumping off point for the Academy's course, which seeks to sharpen participants' skills through a hands-on approach featuring activities such as condensing a political platform into a catchy one-minute "elevator pitch" to running a full-fledged mock campaign. Additional sessions this year included social media tutorials, vocal and posture instruction, and a crash course in the complex world of Japanese election regulations provided by SPF Senior Program Officer Akiko Horiba. While only in its second year, the training program has already made an impact in Japan. Of the 28 participants from the first session in 2018, 7 went on to run for public office and 4 ultimately won their elections.

The program also strives to provide positive role models to inspire women to take the leap into politics. This year, in addition to showing a video compilation of interviews with current Diet members and other prominent women politicians, the training session featured a panel discussion with three elected officials: Tokyo Metropolitan Assembly member Reiko Ueda; Akishima City Councilmember Yuka Shinohara; and Karen Yoda, Assembly member for Shinjuku Ward and alumnus of the first Academy for Gender Parity training in 2018. The three speakers walked through their personal experience from running for office to the challenges and rewards of serving in government, providing guidance spanning from the practical to the inspirational and concluding with a live demonstration of their stump speeches.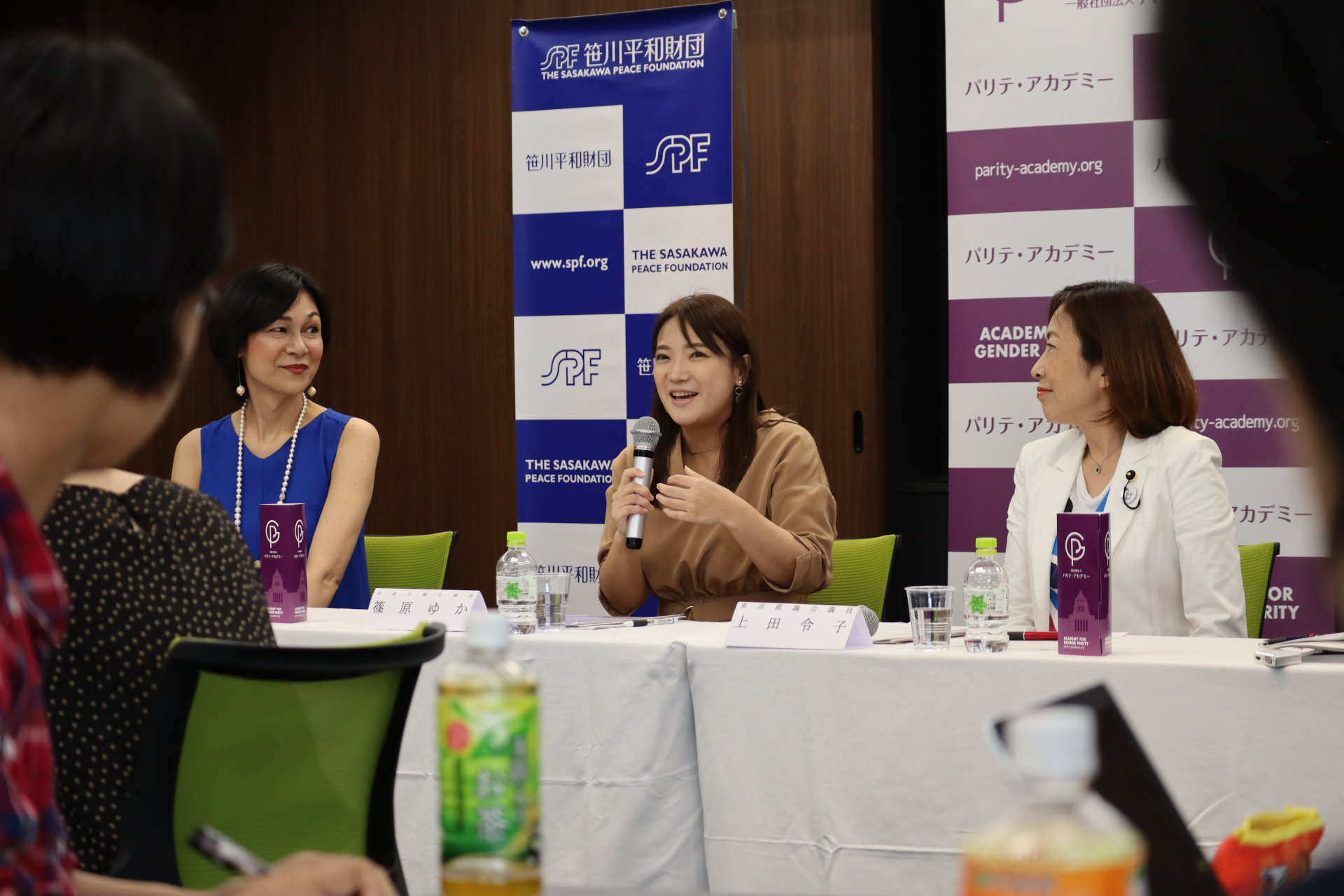 From left to right: Assembly member for Shinjuku Ward Karen Yoda, Akishima City Councilmember Yuka Shinohara, and Tokyo Metropolitan Assembly member Reiko Ueda
Many of the participants found the advice from the three politicians to be a highlight of the training. Saori Hiramoto was impressed by the power behind their speaking style and found their emphasis on creating individual connections particularly poignant. Rena Yamada was also struck by how the three speakers made the goal of entering the political realm seem attainable rather than daunting.

Taking a broader perspective regarding the impact of the training, Nurainie Haziqah Shafi'i, a member of the delegation from Malaysia and the president of Girl2Leader Malaysia, found universal messages throughout the sessions. In particular, she noted that a lack of inspiration and political training is a "problem for young women all over, not just in Japan but in Malaysia, where young women need a platform and an opportunity." Moving forward, plans are in motion to bring a similar training session to Malaysia.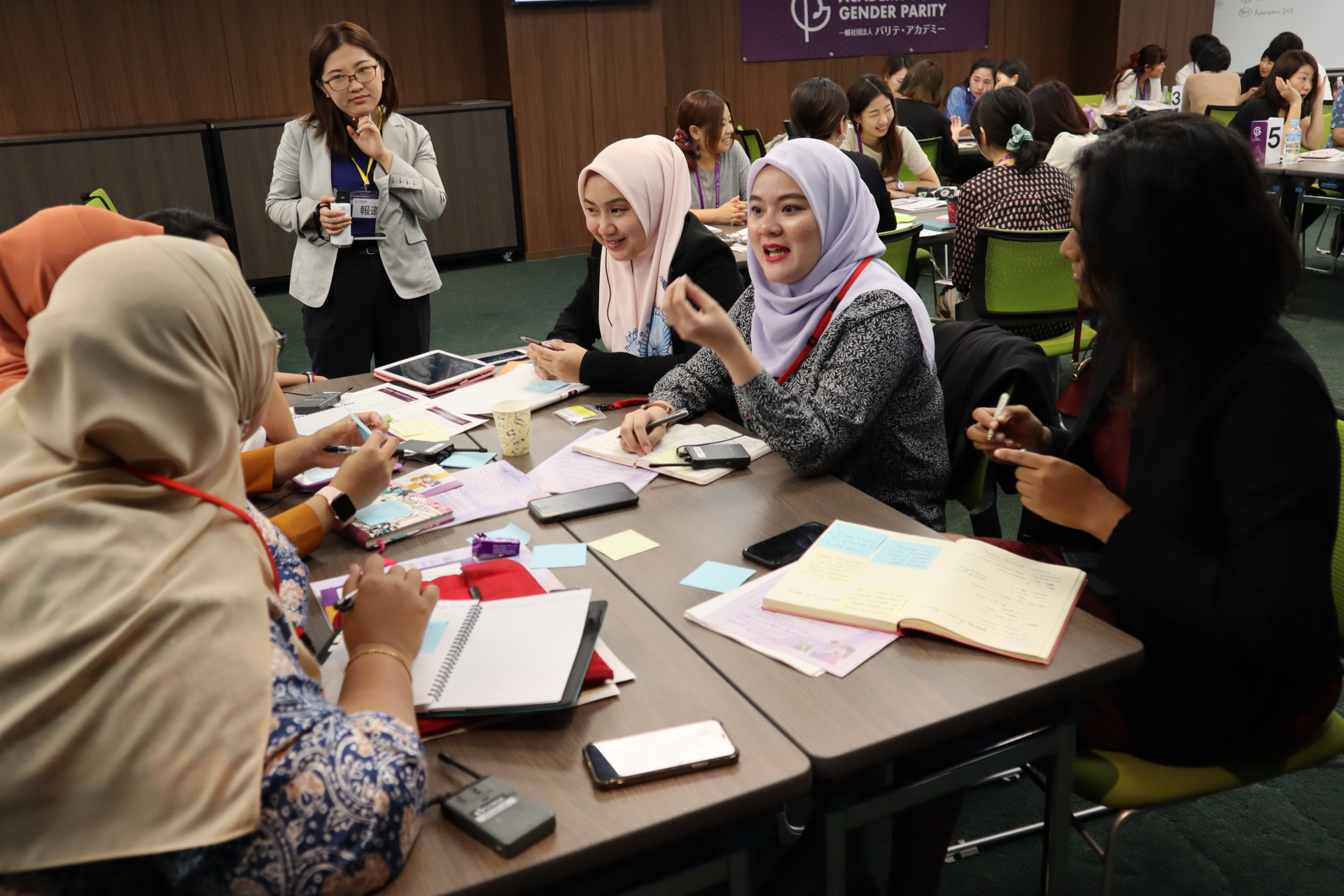 Nurainie Haziqah Shafi'i (center right) and the delegation of observers in discussion
Another participant, Yuki Kobayashi, took away the importance of maintaining a strong sense of self and also noted that the training made the possibility of pursuing political office while also raising a family in the future feel attainable. "I've received a lot of role models in that area today, and if one day I do get the opportunity to run for office, I look forward to giving it a try."

In preparation for the second day of training, the participants were split into groups and tasked with creating a fully formed mock campaign for a municipal assembly election. To give the participants an opportunity to utilize their training in a real-world situation, each participant was assigned the role of either campaign manager, communication manager, financial manager, or candidate. Most of the groups dove into discussions late into the night and the next morning, crafting original campaign slogans, vote-gathering strategies, fundraising tactics, and more.

Following the presentations on the second day, the instructors commended the participants for their exemplary use of the knowledge obtained throughout the training. In particular, the instructors highlighted the participants' ability to analyze and grasp the needs of their assigned constituencies, while also successfully creating unique slogans accompanied by concrete policy visions.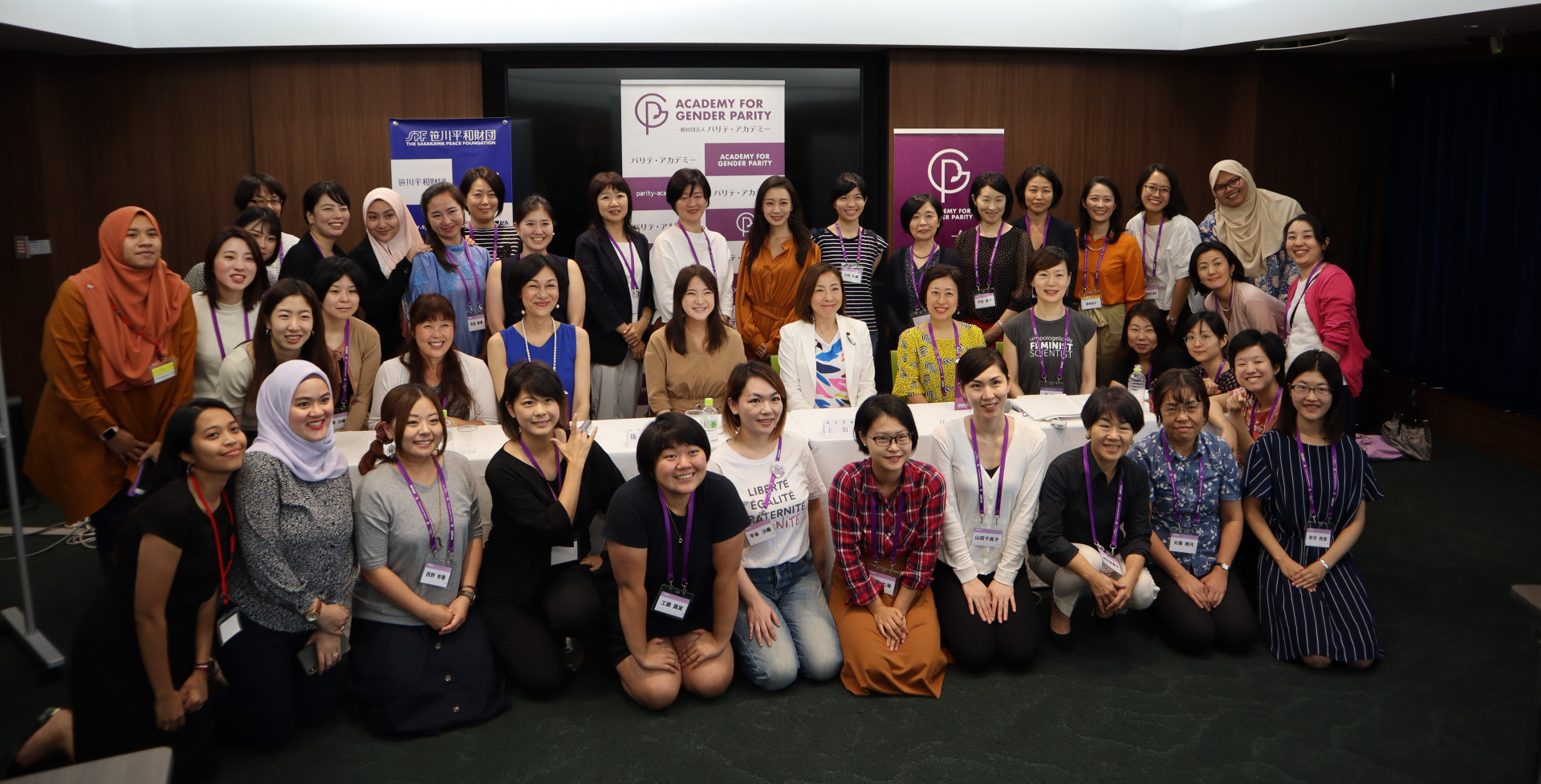 To learn more about the Academy for Gender Parity, please visit their
official website
(Japanese only).