Proposals to the Japanese Government Concerning the Denuclearization of North Korea
Proposals to the Japanese Government Concerning the Denuclearization of North Korea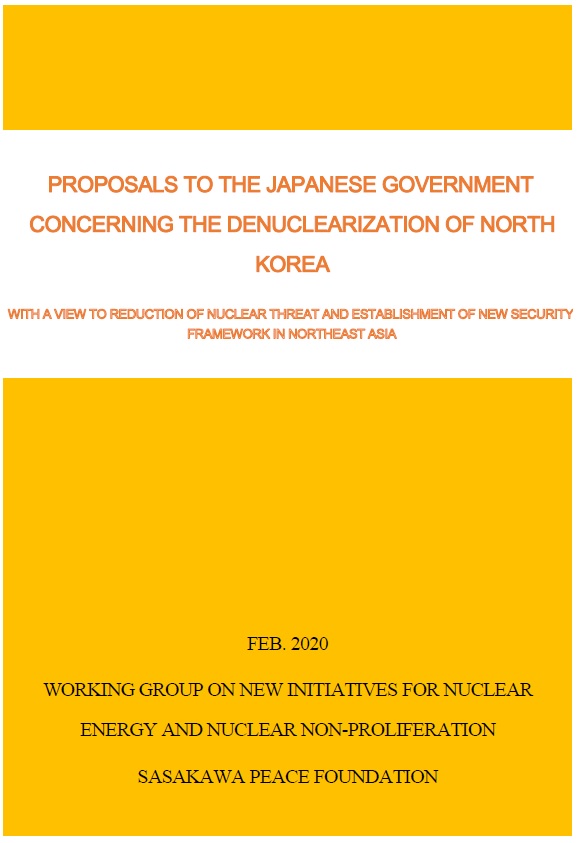 In September 2018, SPF established the Working Group on New Initiatives for Nuclear Energy and Nuclear Non-Proliferation. The aim of this Working Group is to explore the contributions that Japan can make in the field of global nuclear disarmament and non-proliferation, as a leading nation in the civilian use of nuclear energy and the only country to have been subjected to nuclear bombings.

The Working Group started discussions about Japan's role and the ways in which Japan can contribute internationally. To date, it has conducted research on a wide range of topics, including international management of nuclear fuel, denuclearization of North Korea, and global nuclear disarmament, and it has compiled the results into a sequence of policy recommendations. The first set of recommendations was published as "Proposals to the Japanese Government Concerning International Management of Plutonium – Aiming for reduction in plutonium stocks and adoption of new international norms" in June 2019. 
This report presents new policy recommendations on the role of the Japanese government concerning denuclearization of North Korea (Democratic People's Republic of Korea). 
Click here for the full report
Members of the Working Group
Chair:   
Tatsujiro SUZUKI
,    
Vice Director/Professor, Research Center for Nuclear Weapons Abolition at Nagasaki University (RECNA)
Members:  
Tomonori IWAMOTO
,
Secretary General, Institute of Nuclear Materials Management (INMM) Japan Chapter
Tetsuya ENDO
,
Former Vice Chairman, Japan Atomic Energy Commission; Former Ambassador
Masakatsu OTA
,
Senior Feature Writer, Kyodo News
Mie OBA
,
Professor, Tokyo University of Science; Former member, Japan Atomic Energy Commission
Toichi SAKATA
,
President, Japan Space Forum; Former Ambassador, Japan to Ukraine and the Republic of Moldova
Yutaka SAGAYAMA
,
Senior Assistant to the President, Japan Atomic Energy Agency
Tsuneo NISHIDA
,
Honorary Director, The Center for Peace at Hiroshima University; Former U.N. ambassador
Nobuo TANAKA
,
Chairman, The Sasakawa Peace Foundation
Observer:  
Chieko NAGAYAMA
,
Former high school teacher in Fukushima
In December 2019, Former Ambassador Tetsuya Endo, one of the committee members, passed away. Ambassador Endo participated in the Working Group since its establishment and provided valuable input for the proposals. We hereby offer our sincerest condolences and extend our heartfelt gratitude to him.
The content of this report does not indicate the views of the respective nations or specific organizations to which the authors belong.