Interview with Dr. Alison Weston, Head of the Division for Partnerships and Task Force NATO in the European External Action Service (EEAS)
Interview with Dr. Alison Weston
Head of the Division for Partnerships and Task Force NATO in the European External Action Service (EEAS)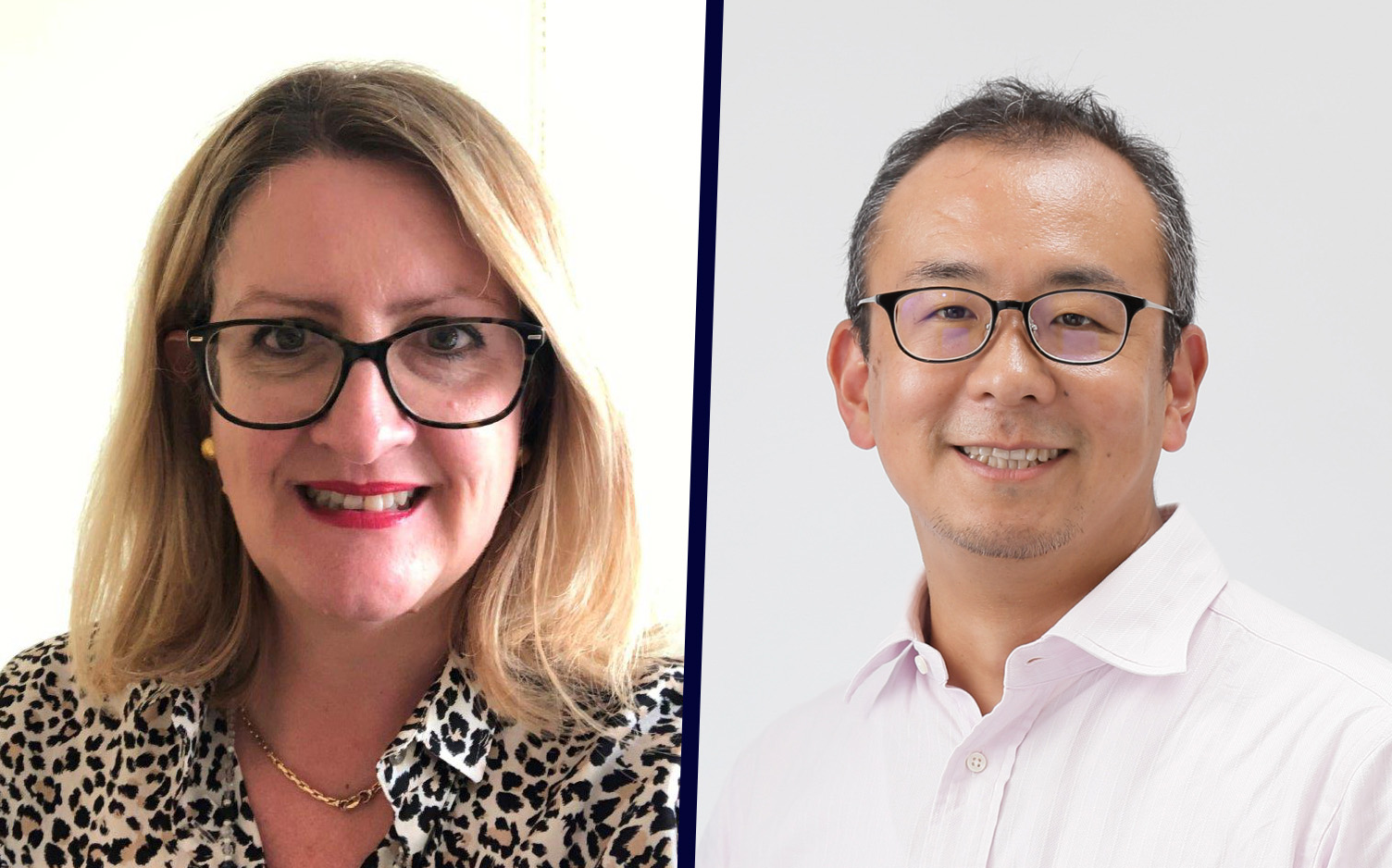 The Indo-Pacific region has become a new and important area of interest for the EU spanning the economic, political, and security realms. Recent policy documents, including the Council conclusions on an EU Strategy for cooperation in the Indo-Pacific published in April 2021, and the Joint Communication to be released in September 2021 on this topic, underscore the EU's commitment to taking an active role in the region alongside likeminded partners in the face of rising tensions and complex global challenges. To explore these topics and more, SPF Senior Research Fellow Ippeita Nishida recently spoke with Dr. Alison Weston, Head of the Division for Partnerships and Task Force NATO in the European External Action Service (EEAS). During their online conversation, Dr. Weston previewed the upcoming EU Indo-Pacific Strategy, discussed the EU's role as a security partner in the Indo-Pacific region, and proposed areas for future Japan-EU collaboration
Mr. Nishida:
 It is our honor to interview such a distinguished guest to introduce the EU's engagement with Japan in the Indo-Pacific. To start, let me ask you about the EU's presence in Asia. As an EU official in charge of global partnerships, what is the current role of the EU as a security partner in Asia, and what kind of partnership do you envision for the EU and Asia?  
Dr. Weston:
 I'm extremely happy to have this chance to speak to our friends more widely in Japan. It is important to start off this discussion with an understanding of what kind of actor the EU is. A fundamental aspect of the EU, as written in our treaties, is that the Union at its heart seeks to support international peace and security. Multilateralism and the rules-based global international order are fundamental to how we understand ourselves and how we act in the world.  
The security and prosperity of the EU is closely linked to the Indo-Pacific region. The portion of the population in the Indo-Pacific region is extremely significant and accounts for approximately 60% of the world's GDP as well as over a third of the EU's external trade. What happens there matters to us and has consequences for our security, prosperity, and the overall stability of the global system.  
We can see there are political tensions, that military expenditure is increasing, and there are concerns about the lack of an overarching regional security architecture. For the EU, the Indo-Pacific is an area of strategic interest that has a direct effect on our own prosperity and security, and I think this explains why it is much more prominent on the European agenda than in the past.  
The EU has a very wide range of tools across the security, defense, diplomatic, and economic dimensions. We also bring together the interests and capabilities of our 27 member states, many of which are very active and present in the Indo-Pacific.  
We want to develop our partnerships in the region based on common values and interests. Partners such as Japan share the views of the EU and member states about the importance of the global rules-based international order, preserving open sea lines of communication, and free trade. At the same time, we also seek to work with partners where we may not be entirely likeminded but share common interests.  
We are also committed to developing cooperation with those partners who already have Indo-Pacific strategies. Japan was the very first to develop the political concept of 'Indo-Pacific' nearly 15 years ago, so you're a little bit ahead of us. As our leaders at the EU-Japan summit stated in May 2021, the importance of working together to face the challenges in the Indo-Pacific is only increasing, which demonstrates our very powerful commitment to working with likeminded countries in the region such as Japan.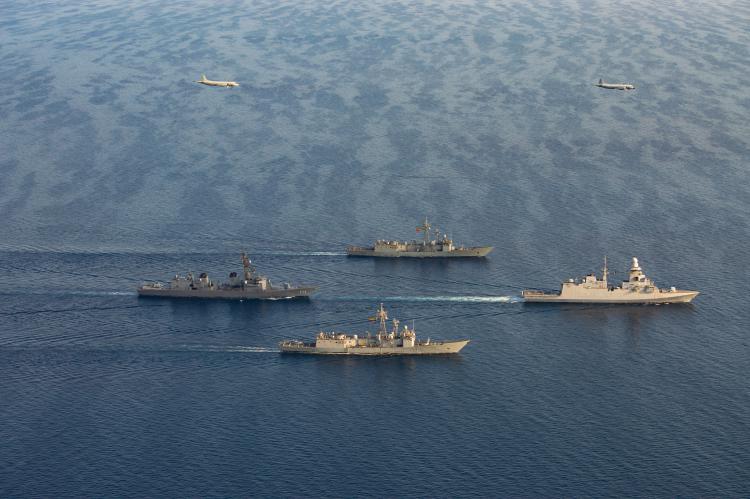 On October 15, 2021, warships and maritime patrol aircraft of EU Naval Force Somalia Operation Atalanta and a vessel of the Japan Maritime Self Defence Force paid a joint port call on Djibouti.
Mr. Nishida: Regarding this partnership, the EU has set up a program called Enhanced Security Cooperation in and with Asia (ESIWA). This program is relatively new and not yet widely known by the Japanese public. Can you explain the purpose of this program and its significance to Japan?
 
Dr. Weston:  ESIWA is a pilot project that includes our first attempt to use some of our policy instruments to provide more concrete and practical cooperation to build upon policy dialogues we already have with countries in the region. At the same time, the ESIWA project is important to help build knowledge about the EU as an international actor, the kinds of policies we have, the actions we undertake, and the kind of partner we can be to countries like Japan.

At the moment, ESIWA includes six partner countries – Japan, India, Indonesia, the Republic of Korea, Singapore and Vietnam – and covers four strands of activities including crisis management, cybersecurity, counterterrorism, and maritime security. These four strands allow for flexibility in the ways we engage with countries in the project, all of which are very diverse and have different interests and levels of engagement with the EU.
 
It's been difficult to keep up a project like this with all the restrictions due to the pandemic. Nevertheless, we still moved forward with a number of activities, including exchange of experiences and capacity building in the areas of counterterrorism and cybersecurity with Indonesia as well as discussions with Japan on issues such as strategic communication and disinformation, which are becoming more prominent in the security agenda.
 
One of our military experts is working in Hanoi to support the work that Vietnam is doing in the training of peacekeepers. Since Japan is heavily present in Vietnam, our expert is already working with your experts in Hanoi to identify areas for more effective and complementary collaboration. We also have a maritime naval expert located in Indonesia who is doing similar work there.
 
We are very interested in cooperating with Japan and other partners in the region on issues such as joint capacity building for maritime security in East Africa, Southeast Asia, and looking at other regional dimensions. We expect maritime security to become a much more important strand in the work that we do with Japan.

Mr. Nishida: One unique aspect of the EU is that it has access to political, economic, and military tools. As you explained, you're combining all of these elements in this project to have substantial impact on regional security and build partnerships with other countries. What is the relationship between ESIWA activities and the upcoming EU Indo-Pacific strategy? Is ESIWA a part of the strategy already, or is this a separate component of bilateral activities?
 
Dr. Weston: We can identify the main policy lines of the new EU Indo-Pacific strategy already from the document published in April. In the security and defence dimension, our strategic interest in engaging with the Indo-Pacific reflects the changing level of ambition for the EU more generally in the area of security and defense, which dates back to the EU Global Strategy published in 2016.
 
We've seen the EU move forward with its own defense identity and initiatives, which shows the EU has an appetite to become a more effective actor, to have more capabilities to act, and to be more present in the region. Given this level of ambition, we expect to see the Joint Communication setting out a roadmap for the coming years.
 
The ESIWA project is a tool to help us advance this broad agenda. We need to invest in building more knowledge and understanding between the EU and our partners while also identifying new potential projects, activities, and concrete areas for cooperation. ESIWA is a good step to start having these exchanges and build up these experiences with a view to having much more substantive engagements in the future.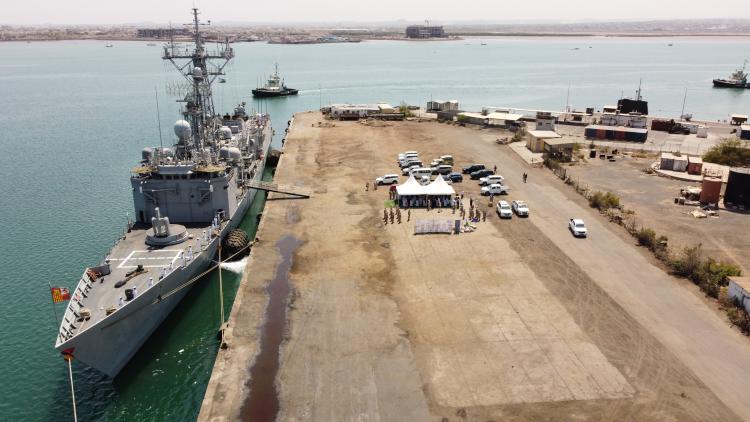 The EU-Japan joint port call on Djibouti is part of the EU's broader efforts to collaborate with partners across the Indo-Pacific region.
Regarding potential future activities, we have quite a lot of work going on in the maritime security environment, and I think this is something in which we will see much more investment in the future. This is also something which is an area for close cooperation with Japan in terms of capacity building and maritime awareness in the broader Indo-Pacific region.
 
On our side, we recently established a new concept called Coordinated Maritime Presences, which is coordinated patrolling by EU states' naval assets and the sharing of information through a central EU cell. The first pilot implementation has started in the Gulf of Guinea. There is some interest amongst some of our member states to establish a new maritime area of interest, perhaps in the Indo-Pacific region. No decisions have been announced, but perhaps this may be under discussion in the coming months.
 
Mr. Nishida: Japan and the EU signed a special political agreement that has allowed us to conduct a wide range of activities together covering more than 40 target agendas. Among these agendas, one major issue is crisis management, which is your area of expertise given your work as chief of staff in the international civilian office in Kosovo. What are the EU's expectations regarding cooperation with Japan, and what are some of the common agendas or issues to focus on moving forward?
 
Dr. Weston:  The Common Security and Defence Policy (CSDP) and our crisis management missions and operations have been open to partner countries since the beginning. In 2004 when I was working on the civilian crisis management missions in the Western Balkans, we had a significant number of partner countries contributing personnel to those missions. It is important for us to bring together partners in support of the peace and security agenda and work together to have an impact on these sorts of crisis situations.
 
Of course, the first partner is the UN. The vast majority of our missions deploy alongside UN peacekeeping or special political mission, or where we have executive operations under a UN mandate. This partnership with the UN is very important for audiences in the Indo-Pacific and for Japan to understand.
 
The EU has 19 Framework Participation Agreements in force. These are rather technical agreements that provide the legal basis for addressing the financial issues, chain of command, classified information provision, and other areas that would be necessary for a third country to send personnel to our missions. If Japan would decide in the future that it would be interested in this sort of agreement, whether it be military or civilian operations, I think this is something we would very much welcome.

However, knowing that Japan has some constraints in its overseas deployments, there are many ways we can pursue concrete cooperation on the ground, for example in places where Japan has deployed support to international peacekeeping efforts through training or capacity-building initiatives. One interesting area to explore in the future could be if Japan would be interested in sending police experts, judicial experts, monitors or others as part of our civilian non-military missions.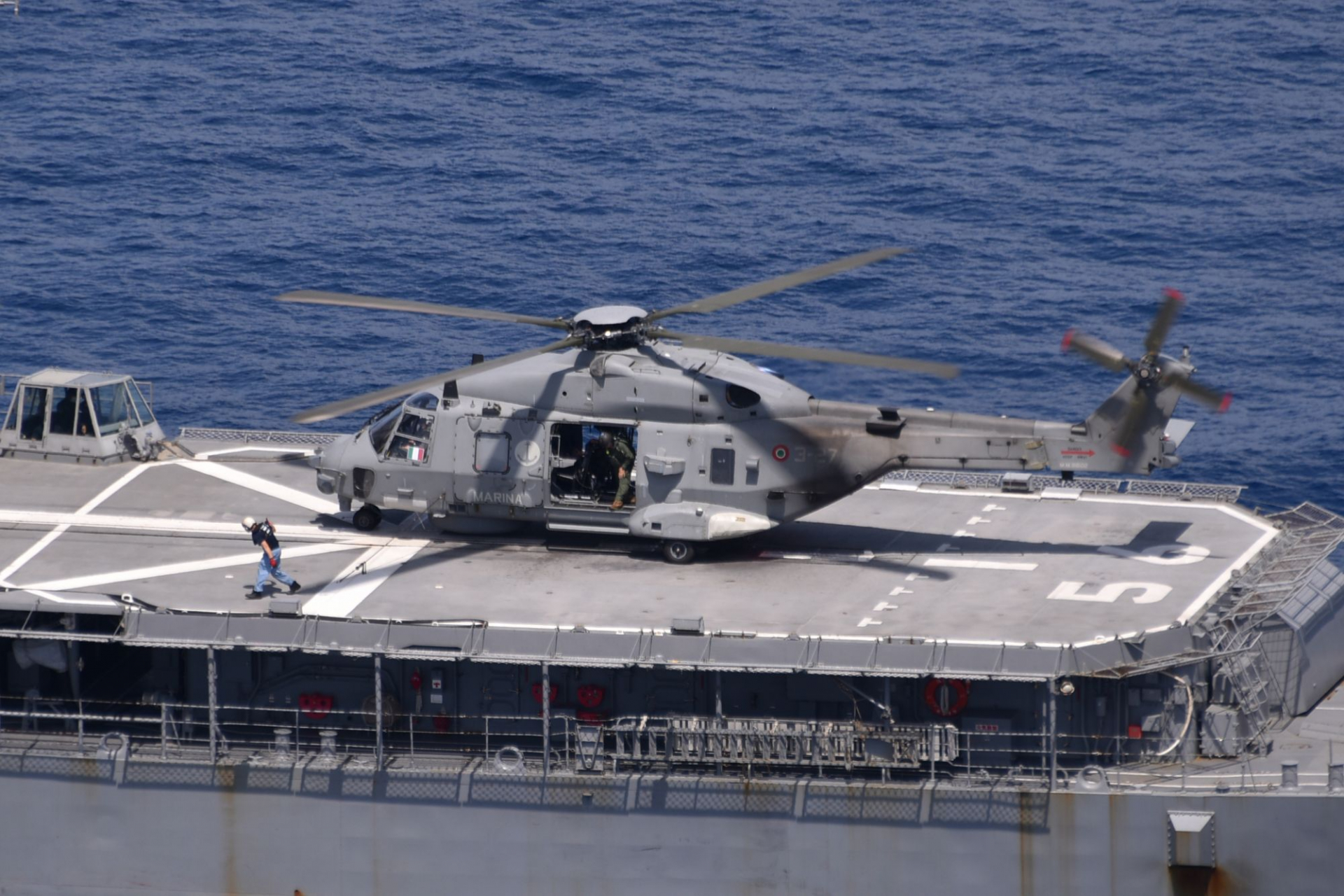 The EU, Japan, and Djibouti carried out a joint naval exercise in the Gulf of Aden on May 11, 2021.
Regarding naval cooperation between the EU and Japan, we have already seen practical efforts as part of Operation Atalanta, which is the EU's flagship contribution to the fight against piracy and keeping shipping lanes open. The EU and Japan had a joint naval exercise and port call in Djibouti in October of last year, which was very successful, and a trilateral EU-Japan-Djibouti anti-piracy exercise in May this year. It's extremely encouraging that we have these initiatives and I hope very much that we can continue to work together on these types of practical cooperation.
 
We are also looking at some of the regional activities that can be done in support of ASEAN, which could allow us to use our instruments and projects to work together with Japan in a more enhanced way.
 
In addition, we have regular consultations on security and defence with Japan, which I think function extremely well. While it was almost two years since I was able to come to Japan last time, those consultations have continued throughout the pandemic. We have excellent levels of exchange, and this opens the doors for more specialized exchanges between experts.
 
A Framework Participation Agreement would always be on offer to Japan in addition to the option to contribute on an ad hoc or one-off basis. We have a wide menu of things we can work on with Japan, and we hope that this project will be the beginning of opening many doors for what might come afterwards.
Profile of Dr. Alison Weston
Head of the Division for Partnerships and Task Force NATO in the European External Action Service (EEAS)

Dr. Weston is Head of Division for Partnerships and Task Force NATO, in the Security and Defence Policy Directorate of the European External Action Service, overseeing partnerships with international organisations such as the UN, NATO and African Union and third states in the area of security and defence. With significant experience in EU civilian and military crisis management structures, she has been involved in the evolution of the EU's Common Security and Defence Policy from its early stages, including in the planning and conduct of many of the EU's civilian crisis management missions.

In 2008-2010, she served as Chief of Staff in the International Civilian Office/ Office of the EU Special Representative in Kosovo, led by Pieter Feith. In 2018-19, she was seconded to the European Commission in the framework of the Security Union Task Force, under the authority of Commissioner King. Dr. Weston holds a doctorate in Political and Social Science from the European University Institute in Florence and is a Visiting Professor at the College of Europe.
Profile of Ippeita Nishida
Senior Research Fellow, International Peace and Security Department, Sasakawa Peace Foundation

Received a master's degree in development studies at the London School of Economics and Political Science. Worked for in the private sector before joining the international NGO Médecins Sans Frontières to work in areas of conflict including South Sudan and Liberia. Returned to Japan and worked as a researcher at the Secretariat of the International Peace Cooperation Headquarters and a researcher of the Tokyo Foundation (2011–2016) before joining the Sasakawa Peace Foundation in October 2016.

Assumed his current position in June 2018, engaging in policy research in relation to external assistance, security cooperation, and assistance for vulnerable countries.