Increasing complexity of conflicts and peacekeeping operations: United Nations' organizational reforms and challenges
Takakazu Ito, Senior Program Officer, Department for Operational Support, UN Headquarters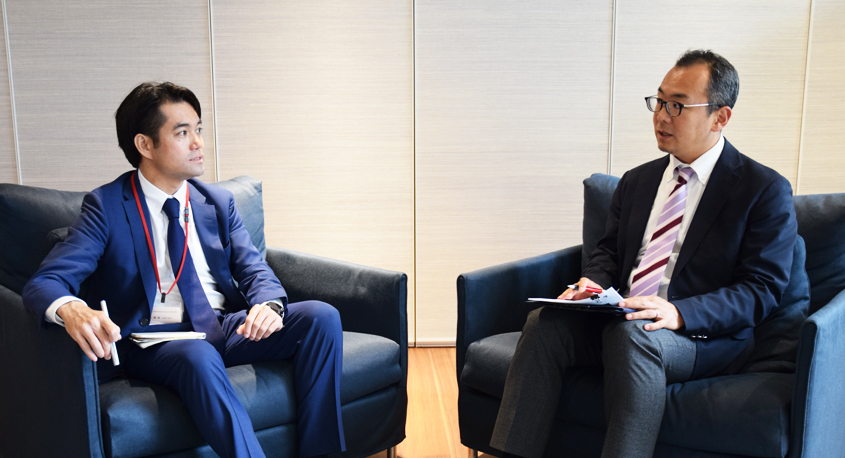 As conflicts around the world grow increasingly complex, the UN has undertaken a series of restructuring and organizational reforms to strengthen its peacekeeping functions. At the same time, as the countries that dispatch troops for UN peacekeeping operations shifts from industrialized nations to developing nations, there is increasing interest in the performance of UN peacekeepers. These structural changes bring several questions to the fore, such as what are the major issues to be addressed on the ground, and what is expected of Japan in response to those challenges? SPF Senior Research Fellow Ippeita Nishida put these questions to Mr. Takakazu Ito, who has been actively working on UN peacekeeping issues over the last 16 years and has also been at the forefront of this series of organizational reforms.
Mr. Nishida: The UN has reached a turning point. In January this year, the UN underwent restructuring as part of the broader reforms spearheaded by UN Secretary-General António Guterres, who assumed his position in January 2017. Under the peace and security architecture reform, the UN established the Department of Political and Peacebuilding Affairs (DPPA) and the Department of Peace Operations (DPO) replacing the Department of Political Affairs (DPA) and the Department of Peacekeeping Operations (DPKO). In terms of management of the UN, the former Department of Field Support (DFS) and the Department of Management (DM) were realigned into the new Department of Operational Support (DOS), to which you belong, and the Department of Management Strategy, Policy and Compliance (DMSPC). How will UN peacekeeping operations change as a result of these reforms?
Mr. Ito: 
The UN has undergone a number of organizational reforms to enhance the effectiveness and coherence of peace activities to deal with various conflicts, which are increasing in their complexity and degree of danger. The latest reforms were carried out in three areas, namely "peace and security," "management," and "development." Recognizing the "primacy of politics," the reforms for "peace and security" and "management" in particular have created departments that can take a more holistic approach toward sustaining peace while continuing efforts in conflict prevention. These departments were restructured and decision-making authority decentralized so that peace operations are swiftly provided with the support from headquarters when needed, but also delegated with greater authority to make decisions and initiate quick actions.  
Prior to these reforms, from personal experience of having worked in DPA and in peacekeeping mission undergoing transitions, I had felt the limitation of having vertically organized regional divisions. For example, DPA was essentially responsible for monitoring and analyzing political developments of countries and regions around the world. However, once a UN peacekeeping mission was established in a country, DPKO would become the "lead department" and take over that responsibility from DPA. In this transition, the insights and information sources held by DPA, which had been monitoring the political developments of that country up to that point, could not be easily transferred to DPKO in their entirety.  
One of the features of the peace and security architecture reform is the integration of regional divisions that had previously been run separately by DPA and DPKO. This elimination of redundancy means that each country or region has one director overseen by the region's Assistant Secretary-General regardless of whether there is a peacekeeping mission, special political mission, or a UN country team in place. This  allows for a whole-of-pillar approach and for information and analysis by both DPPA and DPO political officers to be comprehensively reported to senior management.  
With regard to management reform, it should be viewed as a continuation of reform efforts which began with the reorganization of the UN Department of Peacekeeping Operations in 2007. Department of Field Support (DFS), which in large part was the predecessor of DOS, was once part of DPKO providing operational support to peacekeeping missions. In 2007, operational support functions separated from DPKO and became DFS, a single entity responsible for provision of operational support not only to peacekeeping missions but also to special political missions (SPMs). The sudden increase in the number of missions to be supported by the same number of staff created the need to innovate and streamline support operations. Up until then, each individual mission had back-office functions such as human resources, budget and finance, administration, information and communication technology, logistics, etc. We centralized much of these functions to global and regional service centers, which provided standardized services to multiple missions in the respective regions.  
The positive effect of this integration and innovation was recognized by the Secretary-General and member states. Consequently, as a result of the latest reform, DOS was made in charge of providing operational support for the UN Secretariat's entire activities in addition to peacekeeping missions and SPMs.  
Mr. Nishida: 
I see. So, the focus has shifted from operational support in every frontline site to global and regional management of various support functions to streamline operations. Secretary-General Guterres is also pursuing an initiative called "Action for Peacekeeping (A4P)." This new agenda calls for strengthening UN peacekeeping operations, improving the capabilities of dispatched troops, ensuring the safety of peacekeepers, and revitalizing activities designed to encourage greater commitment from member nations. Why has he chosen this timing to propose reforms to peacekeeping operations?  
Mr. Ito: 
The direct trigger for this initiative was the increase in peacekeeper deaths from hostile acts. During the UN Security Council meeting on March 28, 2018, when the A4P initiative was unveiled, Secretary-General Guterres said it was "unacceptable" that 59 peacekeepers had been killed through malicious acts in 2017. He stressed the importance of ensuring the safety of peacekeeping operations; the necessity of realistic mandates and well-structured, well-equipped, and well-trained troops; and greater support for political solutions.
Another underlying factor for this reform was a major shift in the type of conflicts that required intervention, a change that has been underway since the end of the Cold War. Generally, conflicts being addressed by UN peacekeeping have evolved from conflicts between states to intrastate conflicts including civil wars and a mixture of civil war with regional conflicts. In addition, intervention by peacekeepers in non-permissive environments in countries and regions where peace processes were fragile or non-existent has highlighted the high security risks faced by the general population in peacekeeping host countries as well as by peacekeepers themselves. This may have contributed to the change in the composition of UN troops and police contributing countries. Developing countries deployed more troops and police to peacekeeping missions, eventually overtaking developed countries as major troops and police contributors (Figure 1).
As the scale of peacekeeping missions rose, the mandates given to them by the UN Security Council became more diverse and complex while also becoming more robust with the inclusion of protection of civilians responsibilities. Some of the peacekeeping missions were also growing more protracted, unable to accomplish many of the tasks assigned to them. Furthermore, there were even peacekeepers found to have sexually exploited or abused local women and children. Trust in the UN has been shaken in countries like the Central African Republic, where some troops became the perpetrators of sexual violence against the very people they were charged to protect.
Many of these issues could not be addressed by the UN Secretariat alone. It has become essential to renew collective commitment to strengthen peacekeeping by all UN peacekeeping partners including the member states, host countries, and regional organizations, which has resulted in the launch of the A4P initiative.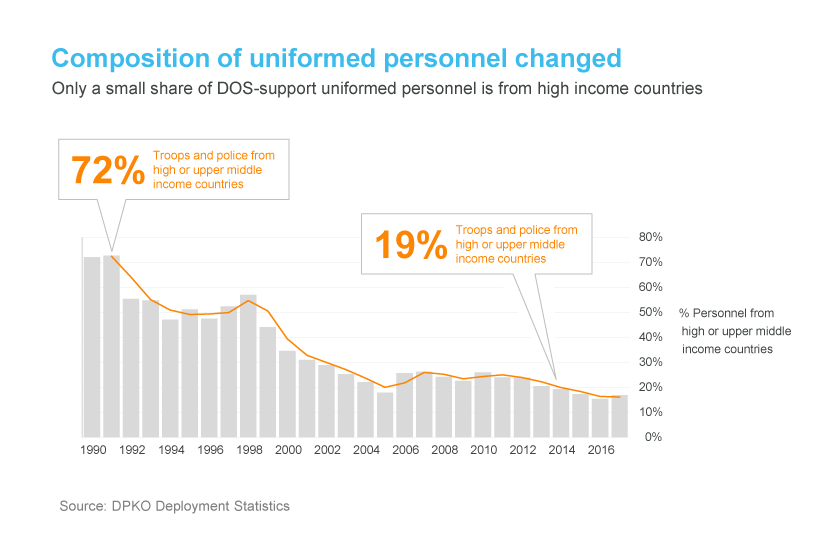 Figure 1: Shift of peacekeeping personnel providers from industrialized nations to developing countries

Mr. Nishida: What are the specific issues that have arisen from this shift toward more peacekeepers coming from developing countries?
 
Mr. Ito: When troops are deployed to a peacekeeping mission, a memorandum of understanding is signed between the UN Secretariat and the nations providing uniformed peacekeepers to establish the administrative, logistics, and financial terms and conditions to govern the contributions of personnel, equipment, and services.

As developing countries increasingly carried the heavy burden of deploying troops, some have struggled to deploy troops with the required equipment or personnel that are able to operate and maintain them. In general, the Secretariat provides training to civilian peacekeepers while troop and police contributing countries are responsible for the training of their troops and police . Unfortunately, some countries have not been able to fulfill this responsibility.

Mr. Nishida: As local expectations for the peacekeeping missions become increasingly complex, do you think that the quality of peacekeeping operations has dropped, highlighting issues in their ability to accomplish their assigned missions? We have started to hear more about an increase in the fatalities of peacekeepers while on duty.
 
Mr. Ito: The report "Improving Security of United Nations Peacekeepers" (commonly known as the Santos Cruz report), which was released in December 2017, focuses on the fatalities of peacekeepers through acts of violence. From 2013 to 2017, 195 peacekeepers died as a result of violent acts, making it the most dangerous five-year period on record since peacekeeping began in 1948.
 
We must remember, however, that many more peacekeepers actually die as a result of preventable accidents and illnesses than from malicious acts (Figure 2). One of the possible causes of this trend is a lack of training.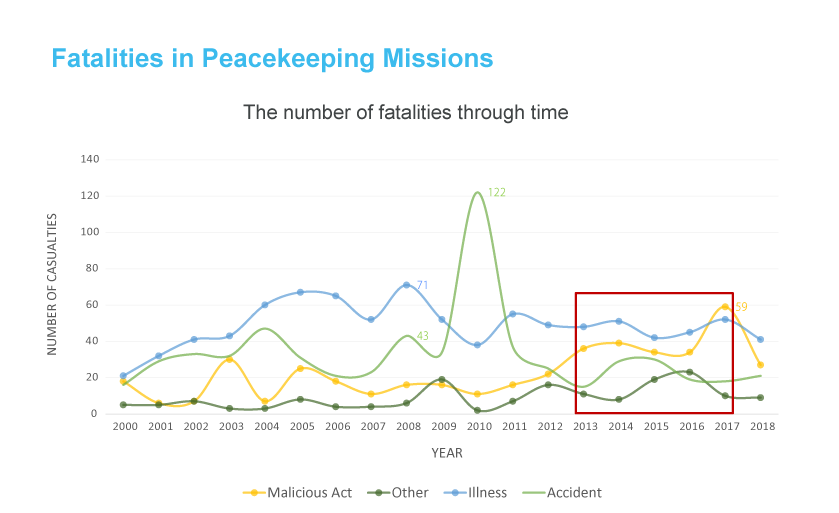 Figure 2: More peacekeeping troops die of accidents and illnesses rather than due to acts of violence
Mr. Nishida: The A4P initiative stresses the need to reinforce peacebuilding activities. What do you see as the main factors, or so-called "key enablers," necessary to succeed in these peacekeeping missions?
 
Mr. Ito: As the environment surrounding peacekeeping operations becomes increasingly dangerous, there is greater need for capabilities to enhance the safety and security of peacekeepers including peacekeeping-intelligence, signals, transportation (transport aircraft, helicopters, and armored vehicles), and medical care as well as adequately trained personnel capable of utilizing, maintaining, and managing related equipment.
 
Mr. Nishida: This means that peacekeeping missions require not only the equipment itself, but also people with adequate training to properly utilize that equipment?
 
Mr. Ito: There are many countries that can place boots on the ground, but not all countries can provide the necessary equipment and highly skilled personnel. We are increasingly recognizing the need to train peacekeepers so that they can operate, maintain, and manage equipment.
 
Mr. Nishida: Given the current situation, Prime Minister Shinzo Abe declared Japan's support for early deployment of peacekeeping operations at the UN High-Level Conference on Peacekeeping in September 2014 (the first Peacekeeping Summit), initiated by former U.S. President Barak Obama. Since 2015, the UN (through DFS and later DOS) has administered a training program on the use of heavy engineering machinery for troops from East African nations. This UN Project for Rapid Deployment of Enabling Capabilities (RDEC) has provided seven rounds of training so far, and a similar training project began in Southeast Asia in 2018. The initiative, referred to by the UN as the "Triangular Partnership Project," is attracting attention and has even been mentioned in UN policy documents. I understand that you have been deeply involved in the development of this project.
 
Mr. Ito: A large number of UN staff and other stakeholders were involved in the launch of this project. My role was to ensure that the project design reflected the view shared among senior UN officials in charge of peacekeeping operations at the time to have developed counties, with advanced capabilities and resources, return to peacekeeping by contributing to the training of peacekeeping troops from developing countries. The three parties forming the "Triangular Partnership Project" are "Troop and Police Contributing Countries," that provide uniformed personnel to peacekeeping operations after training; "Supporting Member States," that provide trainers, equipment, and funds required for such training; and the "United Nations," which coordinates and manages the program. These three parties collaborate to strengthen peacekeeping operations.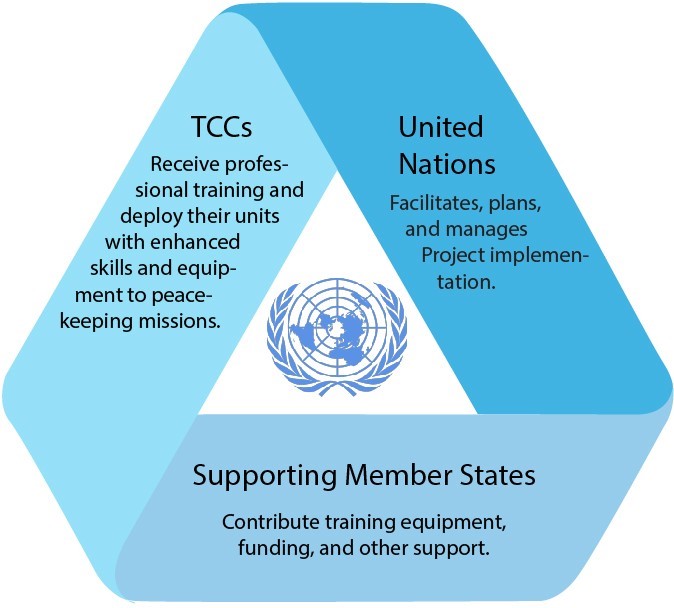 Figure 3: Triangular Partnership
Mr. Nishida: Japan is also directing its efforts toward this project, mainly using the Ground Self Defense Force (GSDF). The initial trial phase has been completed, and Japan is now broadening its training to target regions from Africa to Asia and focus on areas from heavy machinery operation to medical services.
 
Mr. Ito: It was thanks to the strong support of member states that the Triangular Partnership Project was able to deliver positive outcomes in engineering training programs in Africa relatively quickly and then move on to cover greater regions and capabilities. In particular, the Japanese government provided as much as USD $83 million in funding and provided GSDF trainers and Cabinet Office liaison officers for the project. Other major contributors to this project are Switzerland, Brazil, and Israel, which have provided instructors and funding.

As the nature of conflicts change, so too do the mandates for peacekeeping operations as well as the capabilities required for these operations. In this context, the Triangular Partnership Project's approach allows for flexibility to expand to new capabilities and new regions to provide training that is most needed in accordance with the changing needs of peacekeeping. This is the biggest strength of the project.
 
Mr. Nishida: At the same time, many countries provide support for building personnel capabilities through bilateral arrangements. What is the significance of extending such support through this triangular structure? Some say that the project should instead take a more rectangular structure to incorporate partnerships with regional organizations.
 
Mr. Ito: The A4P's "Declaration of Shared Commitments," endorsed by 152 UN member states, expressed their commitment to prepare, train, and equip peacekeepers by pursuing innovative approaches, including triangular partnerships and co-deployments. At the same time, the Declaration also pointed to the importance of enhancing collaboration and planning between the UN and relevant regional organizations, including the African Union (AU), in recognition of the increasing significance of collaboration with the AU in peace activities in Africa.
 
The main beneficiaries of the triangular training programs for heavy engineering machinery operation and communications are AU members, including Kenya and Uganda, and ASEAN member states, such as Vietnam. These triangular partnership programs contribute to enhancing the capabilities of peacekeepers from AU and ASEAN states, representing an indirect form of rectangular partnership. In the future, we can be more conscious in our pursuit of rectangular collaboration with regional organizations in addition to triangular partnerships.
 
Mr. Nishida: What do you see as the most pressing future challenges regarding this project?
 
Mr. Ito: There are two main challenges for the Triangular Partnership Project, which are shared with many other UN projects. First is the issue of the sustainability of the project. Today, amidst difficult economic conditions affecting many nations, some countries are reducing voluntary contributions to the UN while others are having difficulty paying their share of assessed contributions to the UN regular budget and UN peacekeeping budget in time and in full.
 
Given the circumstances, there is a risk that programs that rely on voluntary contributions, such as the Triangular Partnership Project, might not be able to sustain operations without constant funding from new donors. Expanding the donor base is also important not only to stabilize project operations but also to increase the legitimacy of these projects as key UN activities.
 
The other challenge is the difficulty in assessing the impact of the training. The UN expects the trained uniformed peacekeepers to deploy to missions after training. But, as no country has military dedicated only to serve in UN peacekeeping operations, the trained military personnel are likely working for national defense when not serving in peacekeeping missions. Thus, some of the governments are reluctant to provide the UN Secretariat with information about their duties following receipt of UN training.
 
One possible solution to this challenge is to prioritize training of engineering troops that have already been selected for deployment to peacekeeping missions. For example, later this year, training for the operation of heavy engineering machinery will be offered to engineering troops who have already been selected for deployment to a particular peacekeeping mission. Once they deploy, we will be able to ask the mission's force commander to assess the performance of the engineering troops who received training under the Triangular Partnership Project and compare with engineering troops that have not received the training to see to what extent the program has boosted their performance.
 
Mr. Nishida: Earlier, you referred to the issue of funding. The United States has reduced its funding for the UN since the beginning of the Trump administration, whereas China is trying to become more actively involved in peacekeeping operations. What role do you think Japan is expected to play in the current climate?
 
Mr. Ito: I served in the last UN peacekeeping mission in Timor-Leste, the United Nations Integrated Mission in Timor-Leste (UNMIT), for many years. At the start of my assignment there, I learned that local people refer to roads and bridges built by the SDF as "Japanese roads" and "Japanese bridges" in appreciation, even though the SDF itself had already withdrawn. Japan's engineering troops, serving under the UN flag, have also received high praise for their engineering work in Cambodia, Haiti, and South Sudan. Continuing engineering training under the framework of the Triangular Partnership Project will be a significant Japanese contribution to the UN.
 
The SDF troops have also received praise for their adherence to high moral standards. As explained earlier, sexual exploitation and abuse of local populations by some peacekeepers has recently come to light. Unfortunately, the number of developed countries that sent soldiers or police with disciplinary issues are by no means a small minority. However, out of over 10,000 Japanese SDF personnel deployed to peacekeeping operations, not a single one of them was involved in any misconduct case.
 
Sending infantry troops to peacekeeping is not the only way to contribute. Instead, we would like the Japanese government to consider providing personnel and equipment in fields where Japan excels such as of course engineering, but also air transportation and medical care.  
 
When it comes to contribution to UN peacekeeping, Japanese people tend to focus solely on the discussion of whether SDF troops should deploy or not. We must remember that civilians also serve in peacekeeping missions in various areas. For example, heads of most UN peacekeeping missions are civilians. Civilians are also contributing in a range of areas including political affairs, electoral support, human rights, development, and humanitarian assistance. For this reason, capable Japanese civilians working in various work streams of peacekeeping missions will also constitute a significant Japanese contribution.
Profile of Takakazu Ito
Senior Program Officer, UN Department for Operational Support

Graduated from Tokyo University of Foreign Studies and completed a master's degree course in sociology at Long Island University's Graduate Program. UN postings include: Special Assistant to the Under-Secretary-General for Field Support, Special Assistant to the Special Representative of the Secretary-General for Timor-Leste, Political Affairs Officer in the United Nations Integrated Mission in Timor-Leste, Political Affairs Officer in the Asia Pacific Division of the Department of Political Affairs, and Security Sector Programme Analyst in UNDP Kosovo. Prior to joining the UN, he worked in the Permanent Mission of Japan to the UN and at Fuji Bank.
Profile of Ippeita Nishida
Senior Research Fellow, International Peace and Security Department, Sasakawa Peace Foundation

Received a master's degree in development studies at the London School of Economics and Political Science. Worked for in the private sector before joining the international NGO Médecins Sans Frontières to work in areas of conflict including South Sudan and Liberia. Returned to Japan and worked as a researcher at the Secretariat of the International Peace Cooperation Headquarters and a researcher of the Tokyo Foundation (2011–2016) before joining the Sasakawa Peace Foundation in October 2016. Assumed his current position in June 2018, engaging in policy research in relation to external assistance, security cooperation, and assistance for vulnerable countries.