Interview with Dr. Masoumeh Ebtekar, Vice President for Women and Family Affairs of Iran
Interview with Dr. Masoumeh Ebtekar, Vice President for Women and Family Affairs of Iran
By Jackie Enzmann, Chief Editor
---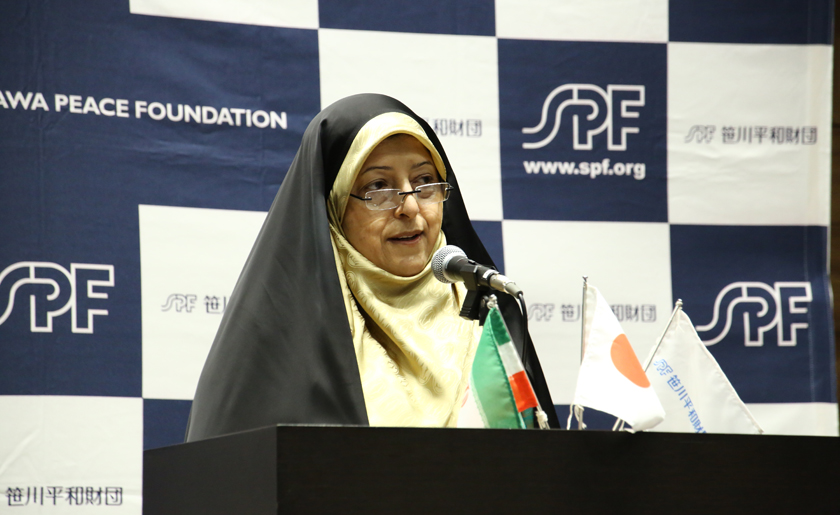 In June 2019, the Sasakawa Peace Foundation (SPF) and the Vice Presidency for Women and Family Affairs in Iran published the report "Women, Entrepreneurship, and Economic Empowerment ," the culmination of a two-year research collaboration between the foundation and Iran. Following the completion of the report, Dr. Masoumeh Ebtekar, Vice President for Women and Family Affairs of Iran, spoke with SPF NOW about the successes from the joint research project, the state of women's empowerment in Iran, as well as current international events and expectations for Japan and the international community. Below are excerpts from the interview, lightly edited for length and clarity.–––––SPF has a long history of working with Iran on a variety of projects including exchanges, collaborative research, and more. In your opinion, what has been the most notable achievement of that collaborative relationship?Dr. Ebtekar
: The example of the cooperation between Sasakawa Peace Foundation and the Vice Presidency for Women and Family Affairs in the Islamic Republic of Iran is a success story because we've actually achieved results. We've been able to not only convene joint sessions together in Iran and in Japan, but we've also been able to perform a joint research project, a comparative study between the conditions of women entrepreneurs in Iran and Japan. That is very important because this document can provide a guideline for entrepreneurs both in Iran and in Japan. This helps not only in terms of bringing about more understanding between the two nations, but also it helps in terms of the economic empowerment strategies and policies in both countries.
–––––What role do you see for SPF regarding women's empowerment and how do you see the collaboration between the foundation and Iran moving forward?Dr. Ebtekar
: I think one important area where foundations like the Sasakawa Peace Foundation have an important role to play is in promoting understanding. There are a lot of areas where nations need to understand each other better and need to be able to learn from each other. For example, if you have experience dealing with entrepreneurs and if you know how to actually set up a business strategy and how to deal with the different obstacles or hurdles that come up, then you'll be more successful. It is really important to consider and learn from not only the successes but also the failures. When we're drawing up a roadmap for a specific policy in entrepreneurship, we can build upon the experiences that we've gained in this joint research.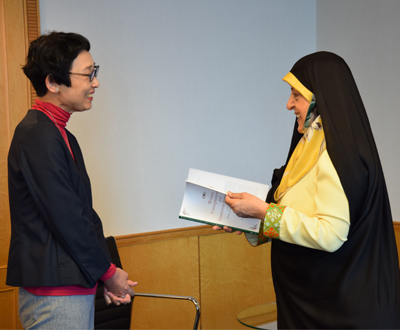 Dr. Ebtekar (right) and Dr. Kayoko Tatsumi, Director of the Middle East and Islam Program at SPF, discussing the joint report
Regarding the partnership between the foundation and Iran, I think there's much more ahead of us. This type of work brings about more understanding and it's conducive to peace. The essence of peace is being able to understand each other, to understand differences, and to build upon those differences for better relationships. I hope that this research will set a foundation for better economic cooperation between Iran and Japan and also open a new vista for economic cooperation with women, ultimately recognizing the role that women can play in promoting better relationships between two countries like Iran and Japan. This is particularly important at a time when Iran is under pressure from sanctions, so this makes it very important for us to be able to strengthen our economy and strengthen our ties with countries like Japan.

This research could also serve as a platform for other countries to get involved. Indonesia has already expressed a lot of interest, and I know other countries would be very interested if they were informed about this initiative. This could turn into a network of different countries performing this kind of research and surveys together on a constant basis. This shouldn't be just a one-time issue. In different societies we can learn from the different experiences of women, particularly the ways they approach problems and find solutions. This could enable the process to proceed at a quicker pace and with lower cost, using the experience of not only other sectors but other countries as well.

––––– Could you talk about some of your current efforts regarding women's entrepreneurship and empowerment in Iran?

Dr. Ebtekar: In Iran we have a lot of college-educated young women who are looking for jobs in the areas where they specialize, and we need to create those jobs to generate employment opportunities. In addition, we have 3.5 to 4 million women heads of households. According to the Islamic marital law, when a woman marries, the legal and economic responsibility of the family falls on the shoulders of the man. The woman can work if she likes, but if she doesn't like to work or if she would like to only attend to her family, her husband has to provide for her daily sustenance. However, in the case of women heads of households, they don't have that opportunity. These women heads of household need to be able to provide for their own sustenance, which means that they need a dignified job and an income that can provide for themselves and in many instances their children or their parents.

These women heads of household are an important target group for us. We now have specific strategies for this group of women, particularly for those who have not been able to find a job or who for any reason have difficulties finding the necessary income for their families. We have an entrepreneurship strategy underway now for 12,000 women heads of household who are in need of jobs, which includes general and specialized training for skills such as making handicrafts. By introducing local handicrafts in different parts of the country, people can promote their art, their local handicrafts, and create more jobs and employment opportunities. We're doing this project at the national level in every province.

Also, when discussing entrepreneurship, we have to consider the whole value chain, including marketing. If you have a beautiful product or service like ecotourism or tourism, you need to find the market and you need to connect with the necessary networks to sell your products and services. This is also an important part of our strategy. I think that it would be very interesting if we could continue working with the Sasakawa Peace Foundation and with Japan, again learning from each other and exchanging experiences, particularly in the networking and the marketing stage.

–––––This year is the 90th anniversary of diplomatic relations between Japan and Iran, and in the context of current international events, Prime Minister Abe became the first prime minister to travel to Iran since the Islamic Revolution. What was the impression by the government and by the public about this visit?
 
Dr. Ebtekar: As you mentioned, this is the 90th anniversary of Iran-Japan relations, which has been a longstanding friendship in spite of the difficult times we've had through all these years. This friendship has always existed and strengthened, and there have been times when Iran has assisted Japan and times when Japan has assisted Iran.
 
When I was head of the Department of the Environment, I travelled to Japan and met with Prime Minister Abe. Based on a verbal agreement he had at that time with President Rouhani, Japan started a project to support Lake Urmia, which is a beautiful lake in Iran that has been severely affected by drought and over-irrigation. We started a project in about 110 villages around Lake Urmia that provided training on proper agricultural and irrigation methods to conserve water. The popularity of Prime Minister Abe started at that point when he started supporting Lake Urmia.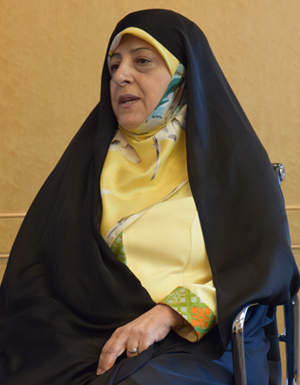 Dr. Ebtekar (right) and Dr. Kayoko Tatsumi, Director of the Middle East and Islam Program at SPF, discussing the joint report
In this recent trip, Prime Minister Abe came to extend first of all the friendship of the Japanese people and the Japanese government, which is very important during these difficult times. He also promoted bilateral relations, particularly economic relations, which are again very important for Iran. Japanese firms have longstanding investments in Iran. We're very well familiar with Japanese corporations like Sony, Panasonic, and Toyota. They've invested in Iran and they've also benefitted a lot from Iranian markets, and now is the time that they need to stand by their previous commitments in spite of the difficult times and stand by the Iranian nation.
The prime minister also met with the supreme leader and the president. The position of Iran was clear. The Iranian nation is very proud and resilient, and it's very natural that we wouldn't agree to negotiations under pressure. I know that Prime Minister Abe – and the leader and the president mentioned this – had very good intentions, but during the week between the prime minister's meeting with the American president and his visit to Iran, the Americans imposed a new series of sanctions on the Iranian government. That sent a clear message. They could have at least postponed those sanctions until after his visit to Iran, and that would've given Prime Minister Abe a stronger position, but that didn't happen.
It's very clear that the other side is illegally putting pressure on the Iranian people, and the Iranian people are facing difficult times. There's a lot of pressure on our government, our economy, the people, the women, and the families. Economic pressures tend to create a lot of difficulties for working mothers or women heads of household because they usually have dual responsibilities, and when economic conditions become more difficult and when there is inflation, that really puts a lot of pressure on women and families.
We hope that Japan will continue its efforts and we know that the prime minister will take this message of the Iranian people to the G20. I also hope he takes the message of the Iranian woman, that in spite of the difficulties and the pressures, the Iranian women are resilient and we hope these issues are resolved through a rational and legal basis, which was available initially through the Joint Comprehensive Plan of Action (JCPOA) nuclear deal, and we hope that the current course of sanctions against the Iranian people will change.
––––– Building off of that, could you talk about Japan's role in resolving these complex international issues in the Middle East and internationally?
Dr. Ebtekar: Japan can serve as a bridge, which means conveying a correct message. Sometimes when you're in a conflict or when you're negotiating, one party might not understand the position of the other party. I think that Japan plays an important role in conveying the correct message regarding what both sides understand and believe. Also, I think that escalation of tensions and entering our airspace, it was very natural that we would defend ourselves. This is an indication of Iran's very strong defense capabilities and this is important for an independent country like Iran living in a very volatile region with so many American bases around us. We look to countries that are members of the JCPOA or that are supporting the JCPOA to play their role in terms of compensating Iran.
––––– You mentioned that Prime Minister Abe would be conveying a message to the G20, which will be held in Japan later this week.* European leaders and the U.S. president will be there as well. What message do you have for those world leaders?Dr. Ebtekar:
 Every nation has the right to decide for its own future and its own destiny. The Iranian people have played a pivotal role in peace and security. Our message is that we have the right to peace, we have the right to advancement and development, and that these sanctions are illegal. It's a form of economic war or economic terrorism, as our president puts it, against our nation, and other nations have to stand up to these pressures and support Iran. I think the message to the American government is that they have to change course against the Iranian nation and the international community needs to support Iran in these difficult times.
*Note: This interview was conducted just prior to the G20 Summit held in Tokyo, Japan on June 28-29, 2019.
To view Dr. Ebtekar's full lecture at SPF, please visit our 
video page
.
For more from the Middle East and Islam Program Department, please visit the 
program page
.