Interview with U.S. Representative Diana DeGette and Representative Billy Long on strengthening international and bipartisan ties through congressional exchange trips
By Jackie Enzmann, Chief Editor
---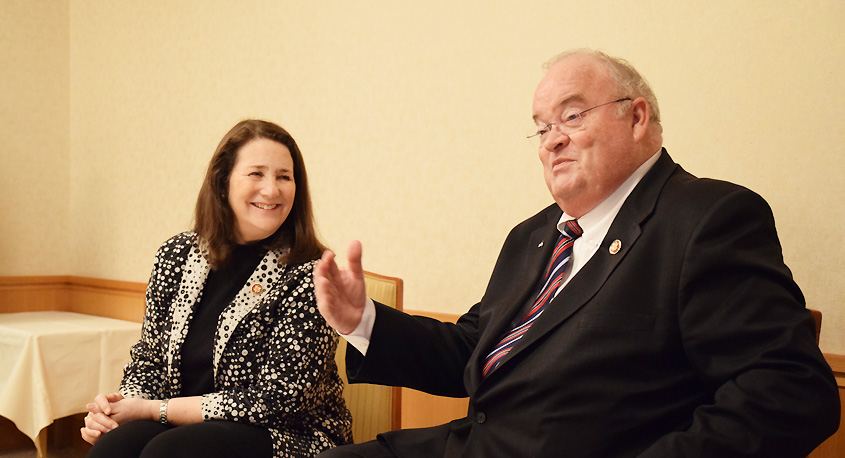 In February 2019, a bipartisan delegation of eight members from the U.S. House of Representatives travelled to Japan as part of an annual exchange trip organized by the Congressional Study Group on Japan in collaboration with the Sasakawa Peace Foundation (SPF) and Sasakawa USA. While in Tokyo, the two co-chairs of the delegation, Representative Diana DeGette (D-CO) and Representative Billy Long (R-MO), spoke with SPF Now about the importance of these congressional exchange trips to not only deepen relations between the Japanese Diet and U.S. Congress, but also to build bipartisan trust among the delegation members to encourage cooperation back on Capitol Hill. The discussion also covered a range of issues, including increasing partisanship in U.S. politics and expectations for the summit between Donald Trump and Kim Jong Un in Vietnam. Below are excerpts from that conversation, edited for length and clarity.
As co-chairs for the Congressional Study Group on Japan, what are your expectations for this trip?

Representative DeGette: We've been doing this trip for a number of years, and every year when we come we find familiar issues but also new issues or changes. It's really important to come every year at least to see how the U.S.-Japan relationship is changing and how international relations impact what we're doing. Also, since we're bringing a bipartisan delegation, we always have different personalities. Finally, one of the great goals of this trip is to introduce Japan to some of our colleagues who have never been here before.
 
Representative Long: I'm one of the most travelled members of Congress because I think it's important that if you're going to make decisions about things around the world, you need to go out and actually see the world. A lot of politicians don't want to travel because of the perception by people back home who don't understand the purpose of these trips. I've taken it upon myself, particularly with Japan, to tell members of Congress that they need to travel. I think that there's a chemistry between the Japanese people and Americans, and it's not something that happens overnight. I always say that I pivoted to Asia before President Obama did – President Obama made a famous "Pivot to Asia" a few years ago – and people asked me "why are you so interested in Japan?" I just know what an important part of the world this is and what an important ally Japan is.

What are the key lessons that you're hoping that members of the delegation who are visiting Japan for the first time will take from this trip?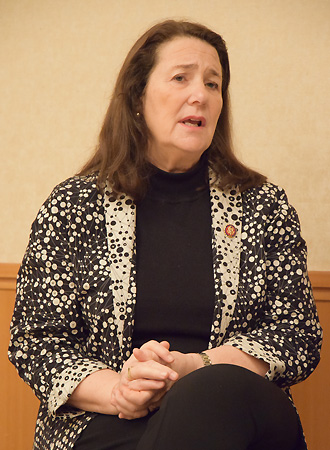 Representative Diana DeGette (D-CO)
Representative DeGette: One of the unique aspects of this trip is that it's a deep-dive into Japanese politics and society, so members get a deeper understanding of Japan itself as well as the issues between the U.S. and Japan and in the region. The other thing coming to a country like Japan does is create bipartisan bonds among the members that last for years. Billy actually sponsored a bill with somebody after one of these trips.
Representative Long: I think that part of this trip is educating people on the Sasakawa Peace Foundation and the Nippon Foundation as far as what they are and what they do. I think that many people don't know about the Nippon Foundation's work with leprosy. Experiences like this are really important to give to our members so they can take that back and say "hey, do you know about the Sasakawa Peace Foundation and the Nippon Foundation and their work with leprosy?" I don't see any bad that can come out of a trip like this and I think there's a lot of good that can come out of it.
You mentioned that Representative Long sponsored a bill as an outcome of this trip. What other outcomes have you experienced from these exchange trips?
Representative DeGette: I think that the members of Congress when we're in Washington have very few opportunities to get to know their colleagues on the other side of the aisle. Trips like this inspire friendships and they inspire trust, and I think that helps. Billy and I are both on the Energy and Commerce Committee together, but we really didn't know each other before we started coming to Japan. Now, we might not agree on everything, but we certainly trust each other and we can work on key issues.
Representative Long: I think one of the reasons that I became a co-chair was my reputation for travelling and for doing things in a bipartisan fashion and for being friendly and gregarious to everybody regardless of politics. I think that at the end of the day, we're all just people and we need to get along. Like they say, you catch more flies with honey than you do vinegar, so if you're going to work on a bill two years down the road or six years down the road, if you've travelled together to Japan or anywhere else it's beneficial. Your colleagues feel like they really know you as a person because you're with each other 24/7 for a week on a trip like this.
What do you think is the most misunderstood or overlooked aspect of the Japan-U.S. relationship?
Representative Long: That it's not important. Some people at home think "why do we need a relationship with Japan? What's the big deal with Japan?" I think that's one of the most misunderstood things is how vital this part of the world is and how important it is to our security interests and to Japan's security interests.
Representative DeGette: I agree, but I also think it's important to the Japanese to know that there's a delegation that comes every year and that we really immerse ourselves in the issues, because the relationship goes both ways.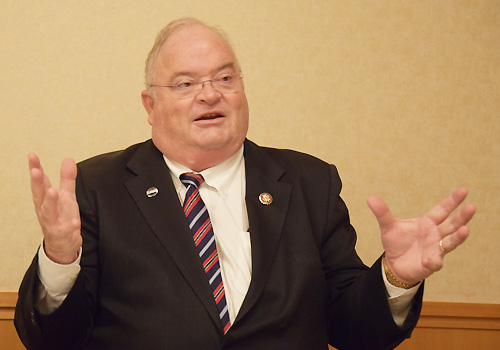 Representative Billy Long (R-MO)
Representative Long: The Diet members are really appreciative of this trip, and then they come to see us in Washington. Also, former Ambassador Sasae and his wife came to my district in Missouri for two whole days and had a delightful time. I took them to Missouri Southern State University, which is a fairly small college in Joplin, Missouri. We arranged a lunch meeting with students, and when we walked in there were 26 kids from Japan. When the students got an email saying the ambassador from Japan was going to be visiting their campus and they had the opportunity to have lunch with him, the kids all thought it was a joke. But these are the types of relationships that you build over the years.
While this delegation is incredibly bipartisan, if you look at recent history in the U.S. there hasn't been much bipartisanship in government, considering the country just endured the longest government shutdown in history. How do you reassure international partners like Japan that the U.S. will be a reliable ally in spite of the unstable domestic situation?

Representative DeGette: First of all, I think that we have had some real partisan disagreements around domestic policies, but I think just the very fact that we have a bipartisan delegation here despite the turmoil speaks volumes to our international partners. We frequently say – and I think almost everybody in Congress really believes – that partisan politics stop at the border and that when we go abroad, we represent U.S. interests. I think you can see that the U.S. ambassador to Japan has been a very steady influence, whether it was Ambassador Kennedy or now with Ambassador Haggerty.

Representative Long: I think how you reassure partners is to make sure that they understand that our relationship with their country, in this case Japan, is as vital and important to us as it is to Japan, even though you may see squabbles in Washington D.C. amongst parties and inter-party squabbles. I think that countries we visit understand that when we go outside of the U.S., we're going to do what we can for each other.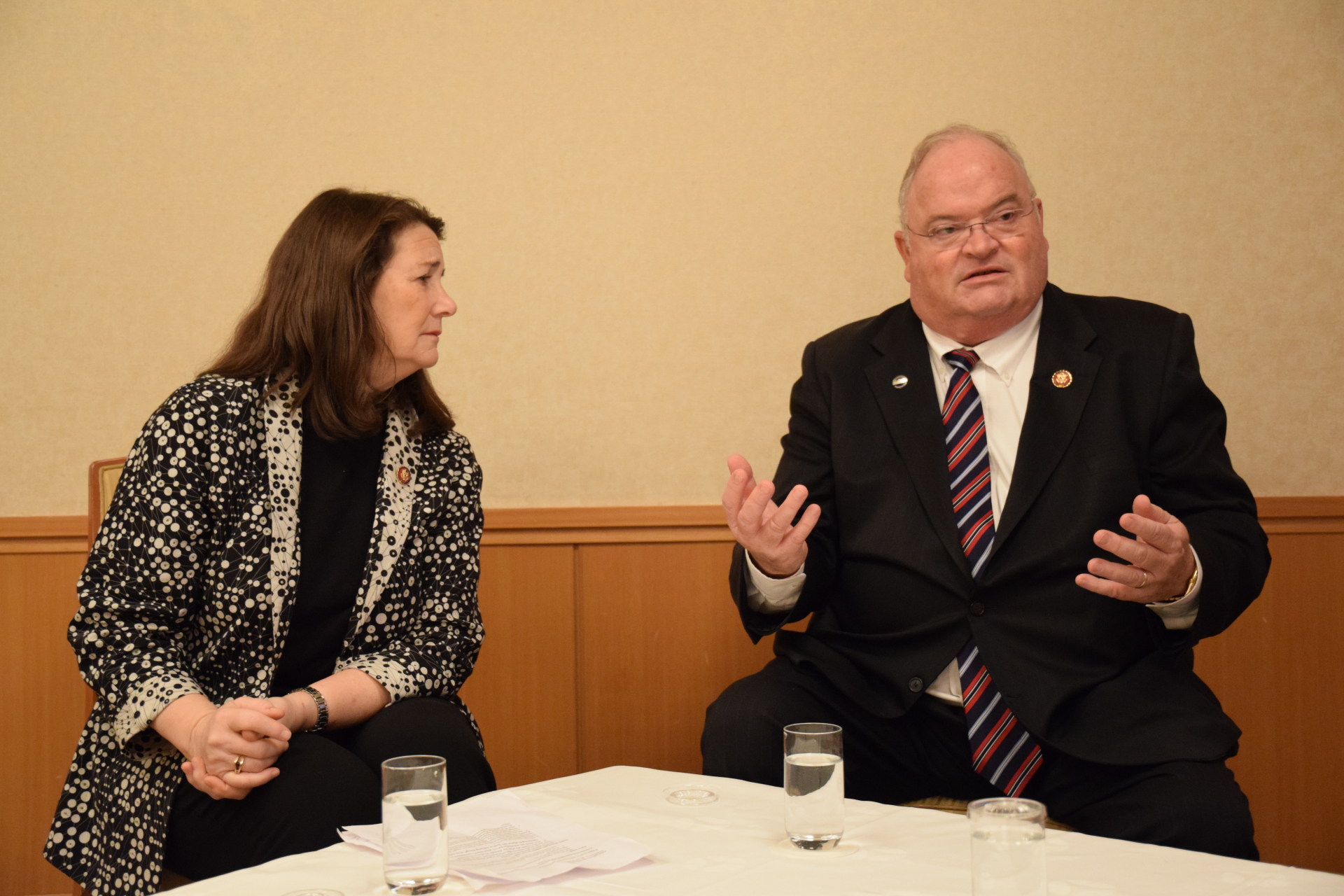 There are many pressing security concerns in the region as well, including issues with North Korea and China. What do you see as the primary challenges that need to be focused on by the U.S.?*
 
Representative Long: From my perspective, when we were here two years ago when Ambassador Haggerty had just been sworn in, at the time North Korea was firing rockets overhead across Japan. Everyone's goal – the Japanese and the Americans – is to denuclearize North Korea. But guess what, that's not Kim Jong Un's goal, that wasn't his father's goal, and that wasn't his grandfather's goal. We tried to work with Kim Jong Il, Kim Jong Un, all three of them to virtually no success. At the end of the day, North Korea ended up with nukes and they ended up with ballistic missiles, and they were testing their missiles. President Trump has taken the approach of talking to the guy, and they're meeting again in Hanoi coming up pretty soon. I think that if you keep doing the same thing over and over again and it doesn't work, then maybe you want to think about doing something else. I think that's what this president has done, and there hasn't been a missile fired in over a year now.
 
Representative DeGette: Unfortunately, this is a place where we will disagree. There was recently a report that came out that said that even though President Trump had talked to North Korea and Kim Jong Un had made all of these assurances of actions he was going to take, he's now developing another site. The results are unclear aside from the fact that we don't have missiles sailing over Japan. One issue that we learned today that I hadn't focused on before is the concern of the Japanese that if we enter into some kind of an agreement with North Korea on ICBMs, what will that do to short and mid-range missiles? I think that's an important piece of information and something we should be concerned about in the administration. Because Billy is the Republican co-chair, I'm tasking him with taking that information back to the administration.
*Note: This interview was conducted in February 2019, just prior to the U.S.-North Korea summit meeting in Vietnam and before North Korea resumed missile tests in May 2019.

Related link:
"The importance of strong relationship with Japan" by Representative Long