Interview with Dr. Seyed Sajjadpour, Deputy Foreign Minister for Research and Education for the Islamic Republic of Iran
By Jackie Enzmann, Chief Editor
---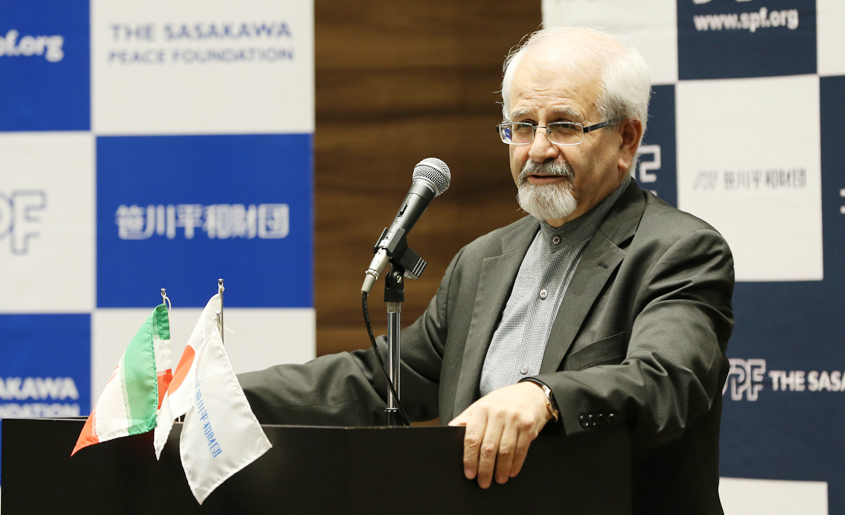 During a recent visit to Japan, Dr. Seyed Sajjadpour, Iran's Deputy Foreign Minister for Research and Education, accepted an invitation by the Middle East and Islam Program Department of the Sasakawa Peace Foundation (SPF) to give a speech regarding the current state of diplomacy in Iran. Dr. Sajjadpour has decades of experience in foreign policy, diplomacy, and academia as a former Ambassador to the United Nations and a professor for the School of International Relations in Tehran. In addition to his current post as Deputy Foreign Minister, he also serves as the President of the Institute for Political and International Studies (IPIS), a foreign policy think tank affiliated with Iran's Ministry of Foreign Affairs. Following his speech at SPF, Dr. Sajjadpour spoke with SPF Now about the relationship between Japan and Iran as well as his expectations moving forward. Below are excerpts from that conversation.
As you mentioned in your speech, 2019 is going to be the 90th anniversary of Iran-Japan diplomatic relations. Could you tell us about the history of this relationship?
 
Dr. Sajjadpour: This relationship has been a very friendly relationship, a continuous relationship, an uninterrupted relationship, as well as an evolving relationship. Overall, I think what's interesting is that this relationship for almost a century had no significant or even insignificant period of interruption. I think that's very fantastic. Second, I think the relationship has always been cordial and friendly regardless of other factors that may be occurring globally or regionally. I think this type of autonomous space for bilateral relations is an interesting component of the relationship. Finally, I think the relationship has had a friendly atmosphere. Overall, there is a very positive image of Japan in our country and as I witnessed here, Japanese people also have a relatively positive image of Iran. I think this type of mutual positivity is an asset for both countries, and I think it can be used in international and regional settings.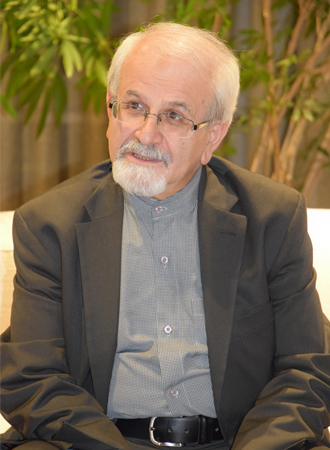 What are your expectations for this relationship going forward?
Dr. Sajjadpour: First, I would like the relationship to be more multidimensionalized. We have an economic relationship, but we also have political consultation. Now we have a good number of Iranian graduate students studying in Japan. I think this has been phenomenal over the last couple of decades, and it has created a very interesting dimension of connectivity between academic institutions. Now some graduates of Japanese universities in Iran hold key positions and they really contribute to the diversification of knowledge in Iran coming from different sources. On the cultural side, there are some activities going on, but I think the relationship should also go to other social dimensions, for example tourism. In addition, each aspect of the relationship can by themselves be multidimensionalized. For example, on the economic side you can have investment, you can have trade, finance, and the list goes on. I think this kind of multidimensionalization is an important concept.
Second, I think this relationship should be free from third-factor variables. There are some forces working against this relationship or seeking to have some degree of impact. Especially when you look at the American sanctions, of course Japan has tried to be exempted and tried to negotiate intensely with the Americans, but you see this third-factor variable coming to negatively impact this relationship. What I would like to see is that this relationship be deepened so much and further dimensionalized to a more multi-layered level so that it would be immune from these third-factor variables.
Could you talk about what role Japan could play in the Middle East or potentially in the broader international realm?
Dr. Sajjadpour: In our region, West Asia or as they call it the Middle East, there is no paucity of external players. The issue is that some of these players, including the United States and the UK, have a negative history, especially when it comes to military and strategic interventions. Sometimes significance is placed on erroneous assumptions, a negative worldview, and so on, and there is so much sensitivity to some of these external factors. On the individual level, you can see the way people feel especially about imperialist and expansionist policies. But in our region, a player like Japan has a different perception. People look at Japan as an industrial country, but there is an Asian identity and an Asian point of connectivity. We're from the same continent. We share the same continental games. We know Japanese teams and they know us. I think this image is an asset for both the region and for Japan, which can be used for deepening the relationship on the educational level and even on the political level. I know that there is so much caution on the Japanese side, but still I think this potentiality of having a much weightier political impact can be suggested.
Now I would like to turn to some of the work of the Sasakawa Peace Foundation. The Middle East and Islam Program Department has done a lot of work with Iran. Could you talk about how you see SPF contributing to the resolution of various international issues?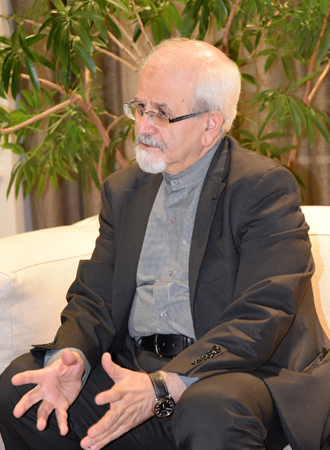 Dr. Sajjadpour: I think the fundamental concept that is fascinating for me is peace. When I look at the Japanese perspective of international relations, peace is very central, but not just as a slogan or rhetoric. I think peace is a real component of the Japanese psyche, Japanese culture, and Japanese foreign policy. Peace is also not just a one-dimensional concept, but it has different layers, different components, and many actors. I think what the Sasakawa Peace Foundation is doing is contributing to peace by connectivity, by taking out this sense of strangeness. Our students come here, they share the Japanese experience, and I have to say that most of them if not all of them are impressed by this peaceful mindset. I think that the more we contribute bilaterally and multilaterally to the idea of peace being a necessary component of life, the more beneficial it would be for all. This is where I think education is a very essential part of peace promotion, peace studies, peace setting, and so on. I think that the role that this foundation is playing in educating people is very important.
What would you say are your expectations for SPF activities going forward in Iran or in the Middle East?
Dr. Sajjadpour: Now that we have established this very good relationship, first of all we have to preserve it. Preserving a relationship is like nurturing a tree. You have to water it and trim it to keep it healthy. I think preservation requires mutual visits like today when we came here or when SPF Chairman Tanaka goes to Iran, as well as student exchanges. In addition to preserving the relationship, we have to expand it continuously. For that I think education and creating more understanding is key. We are very interested at IPIS in understanding the dynamism and politics in the East Asia region because this region is becoming very significant. Also, we are not only connected because we are on the two sides of a continent called Asia, but we're also connected through a web of international interactions. There is no doubt that East Asia is becoming a strategic pivot point. When I came here, I reached a deeper level of understanding of how different actors interact in the region. I think the same complexity is present in our region as well. Simplification is a disease intellectually, so I think helping each other understand the other's region is a contribution to peace. We should work more on projects and we should make this connectivity on a deeper level.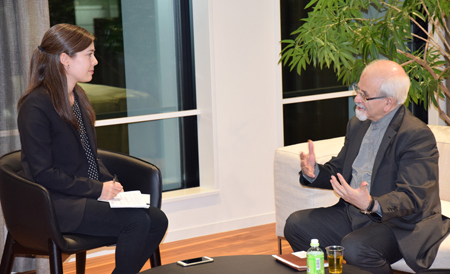 What is your vision for the future of Iran, and what do you see as the biggest diplomatic challenge going forward?
Dr. Sajjadpour: We have so many challenges that we cannot name, but the very important concept is that we can manage all of these challenges. I don't see any challenge which is not manageable. I think maybe we have this perceptional issue as a major challenge, but I think the most important challenge is to create enough will, regionally speaking, for cooperation and understanding.
I'd like to go back to some of the comments in your speech. You said that the recent sanctions re-imposed by the U.S. are not against Iran, but they're against Japan, against Germany, against all of these other countries. Could you talk more about what this means? And from your perspective, what are your expectations for Japan given this new context?
Dr. Sajjadpour: I think that these sanctions are not against Iran per se. First of all, Iran has been sanctioned illegally and illegitimately. We were completely in compliance with the Joint Comprehensive Plan of Action (JCPOA), and then this guy came for very personal reasons, which is hatred toward Obama and what was done by Obama and also for reelection incentives. This is illegal, illegitimate, and wrong. It is also against the others who signed this agreement, who valued negotiations, diplomacy, and international law. Furthermore, he's sanctioning America's friends and allies. In some cases, if there were an interruption of the import of Iranian oil, the ordinary people of those countries would also be punished. I think these are the realities. So, the expectation is resistance. Of course resistance has different qualities, different settings, and is based on the nature of different relationships. I think if you consider all of this together, in defense of international law, organizations, and diplomacy, everyone should resist these unilateral actions.