"Intellectual Dialogue: Prospect of Deepening Partnership of India-Japan" Interview
Dr. Montek Ahluwalia, former Deputy Chairman of India Planning Commission, Dr. Rajat Nag, former Managing Director-General, Asian Development Bank, and Mr. Harinder Kohli, CEO, President, Centennial Group International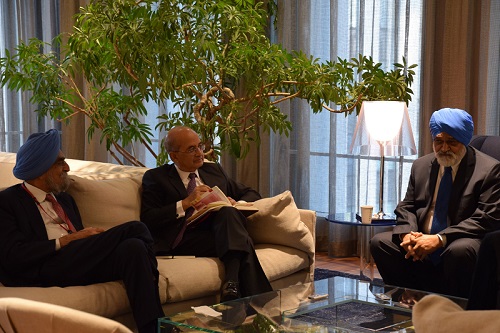 For the Intellectual Dialogue seminar on January 16, 2018, the Sasakawa Peace Foundation invited three distinguished scholars and experts from India: Dr. Montek Ahluwalia, former Deputy Chairman of India Planning Commission, Dr. Rajat Nag, former Managing Director-General, Asian Development Bank, and Mr. Harinder Kohli, CEO, President, Centennial Group International. The following are summaries of the interview conducted before the seminar, which gives a glimpse of insight into global trends and Asian economy for the coming decade and beyond.
Global trend in 2018 onwards

Mr. Kohli In 2018, the world will be economically stable. But on the face of its stability, a lot of changes are occurring underneath. The center of world's economic gravity is increasingly shifting to Asia, where emerging markets continue to gain momentum. The population of these markets is growing as well. They are the countries that will determine a long term future of Asia and Asian economy as a whole. Benefitting from catch-up growth, they grow much more rapidly compared with advanced countries. Growing population, a larger labor force, access to advanced countries' best practice production methods, higher productivity as a result, high saving rates, and quite high investment combined, their GDPs and incomes per capita will definitely grow high. In this light, the current GDP ranking may experience rapid changes in the coming decades.

For example, India's projected annual growth between now and 2050 is an average of 6 percent plus. By then, increasing its income per capita by many folds, India, now the seventh largest economy, will become the world's second largest after China.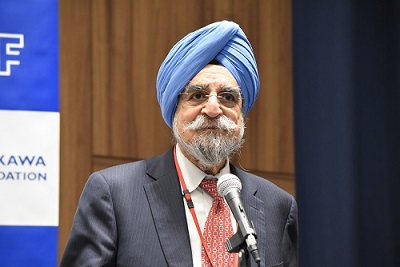 Asia has great potential to do well for next 30 years. The outlook for its economy is positive; however, there will still exist persistent problems along with emergence of new ones despite growing prosperity. These include geopolitical challenges as well as disparity between the rich and the poor, climate change, pollution, urbanization, congestion, and political dynamics reshaped as the emergence of a new middle class. As the center of the world economy is shifting to Asia, the region will have to play a bigger role and take much more responsibility in global issues.

India-ASEAN relation and Japan's role in coming decades

Dr. Nag Along with deep rooted cultural and historical bonds, India and ASEAN countries have developed strategic ties. Since "Look East" policy, India has increasingly come to recognize the significance of India ASEAN relationship thorough policies evolving it. A strong economic synergy has been achieved with expanding investment and strengthening trade relations between India and ASEAN countries. While the ASEAN-India FTA signed in 2009 has remarkably increased trade between the two, the degree of cooperation under the FTA is still far below its potential.

The erosion of the U.S. economic power and the rise of China, the country soon to take over the U.S. in PPP terms, are tipping world power balance, having ripple effects in a broad array of international affairs. In Asia, many contentious issues have surfaced like ones over South China Sea, a great west and east bound artery of Asia on which India and ASEAN nations depend as a lifeline for trading. For such countries, the protection of trade routes is inseparable from the protection of national security.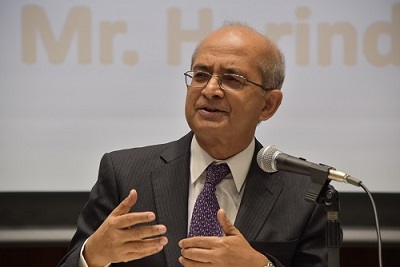 So far, activities of creating greater connectivity in Asia have produced regional and subregional collaborations including ASEAN, BIMSTEC, and Mekong-Ganga Cooperation. While China and India are on the rise, vigorously training their young workforce and upgrading their infrastructure, Japan is hit first in Asia by an aging and shrinking population, declining birth rates, and other issues related to aging society. But its economic power, ample funds, and technological advancement would be less likely to wane anytime soon. As Mr. Kohli pointed out, Japan will still hold its place among one of the five highest GDPs in 2050.

For years to come, Japan's commitment to the development efforts by Asian countries should be made from the perspective of creating a sustainable relationship with these countries. Certainly, open regionalism will be a building block of the prosperity of the Asian region. Neither protectionism nor a 'winners and losers' model should be an option to explore. For Asia to prosper, cooperation between Japan and India, the two liberal democracies which are gateway countries to Southeast Asia and Northeast Asia, will continue to have a significant meaning.

The future of Indian economy and Japan

Dr. Ahluwalia India's projected annual growth rate between now and 2050 is consistently around 6 percent including some ups and downs. This implies that in the future India's economy will become bigger than the Japanese economy. India is a young, growing economy with more catch-up potential, in need of more investments from abroad. Japan, on the other hand, is a country of an aging and shrinking population with surplus capital and advanced technology, which needs to seek potential market outside the country. The two countries have strong potential to complement each other's needs. Recently, India and Japan concluded a Roadmap and a Memorandum for Investment Promotion, which should aid to boost Japan's investment in India for coming years.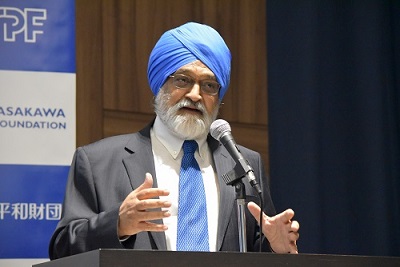 The world is seeing the backlash of the globalization, or the internal mismanagement of the consequence of the globalization, which triggers the public sentiment and a desire to retreat from the open economy. Given the locations of India and Japan at both ends of a major trading corridor in Indo-Pacific, preserving open economy principles is a common interest of the two and thus there should be a clear sphere of interests in collaboration. Now that the WTO negotiation has been deadlocked, RCEP provides a positive signal of progress in trade negotiations that are somewhat unconventional. And Japan can greatly help build consensus among the RCEP nations.

Energy security is also a great area of collaboration of India and Japan. One of such collaborations has recently come in the form of a Civil Nuclear Agreement signed between the two. Another is sought in solar power and associated technologies, in particular battery technology. For all of these, India provides Japan with a huge market, welcoming foreign investment under "Make in India".

Expectations from roles of the Sasakawa Peace Foundation

Dr. Ahluwalia Private organizations like the Sasakawa Peace Foundation can play a major role in energizing a broader appreciation of issues. In the present state of the world, achieving peace requires us to look beyond a narrow sense of peace -conflict resolution- and to set the underpinnings of shared prosperity right. The Sasakawa Peace Foundation should include efforts in such area in its agendas.

Dr. Nag In addition to the points that Mr. Kohli made, an organization like the Sasakawa Peace Foundation may be a big support in synergizing some of dialogs between Japan and India and bring various actors together.

Mr. Kohli In this time of transformation of the global politics and economy, the Sasakawa Peace Foundation can play a significant role as a promoter and liaison outside the arena of the governments that encourages innovative thinking and ways forward to stability and security in Asia. It can bring people across Asia together involving innovative younger people.
ASEAN    Association of Southeast Asian Nations
BIMSTEC    Bay of Bengal Initiative for Multi‐Sectoral Technical and Economic Cooperation
FTA    Free Trade Agreement
GDP    Gross Domestic Product
PPP    Purchasing Power Parity
RCEP    Regional Comprehensive Economic Partnership
TPP    Trans-Pacific Partnership
WTO    World Trade Organization