Interview with Ms. Urvashi Butalia
"Gendering the Perspective on India's Forgotten History for Peace"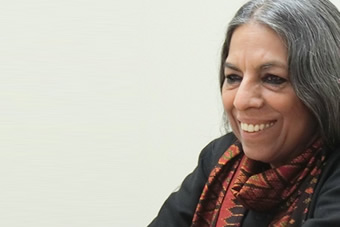 SPF NOW interviewed Ms. Urvashi Butalia, one of India's most prominent feminist authors and historians, during her visit to Japan, which was organized by SPF at the end of 2017. She has also been a leading figure in India's women's movement for many years. Her words are powerful and full of compassion for women and children who have fallen through cracks in the façade of history. She talked with us about her impressions of Okinawa which she visited for the first time, as well as similarities and differences between Indian and Japanese women in the context of her own research.
Women from India have struggled throughout the long history of the women's movement. Could you tell us their current situation?

Women's movement in India has a long history. The more recent movement started in the seventies. Some of the issues that we have been contending with concern equal rights for women and citizenship rights. In these contexts, the issue of violence against women is very important. Like Japan, Indian society is very traditional, and male and female roles are well defined. This makes it difficult to transcend gender ideology. Indian women have a great desire to change their situation. If they are just given the opportunity, they have the courage to struggle to overcome significant obstacles to change.

Japanese women have also struggled in a male-dominated society. What would you like to share with them?

One of the things that I find very interesting about Japanese society is that Japan is a society which has moved a lot into modernity. You can find this in the technological development, in the way cities have grown, in the way people dress and how they travel around the world. Yet, it has been quite difficult for Japanese society to alter the relationship between men and women and change the status of women. It is my impression that marriage and family are very important and women are primarily responsible for caring for the family, just as in Indian society. It's very beneficial for us to learn how Japanese women have dealt with these issues, what have they done that is different from what Indian women have done, and how Japanese women have managed to make changes.

You visited Okinawa for the first time on this trip. Why were you interested in Okinawa and what was your impression?

I was interested in Okinawa because of its history. I learned many things while I was there, but what most moved me were the discussions with Okinawan feminists. There were women who were addressing the issues on war memories, women who were dealing with post-traumatic stress disorder, women who were supporting survivors of violence, and many others. These meetings were very emotional because I felt that they trusted me enough to tell their stories. It was a very valuable trust. I will take this experience back and share it with feminists in India.

It's been about 20 years since The Other Side of Silence was published in India. What would you like to tell the world through your work?

I was really pleased that the book was published in Japan. It is part of a growing interest around the world in women's personal stories and how those stories open up new dimensions in history. In my work, I deal with violence against women, especially sexual violence, at the time of India's independence. Another example from Okinawa is Harumi Miyagi who wrote an account of her life, which is also very valuable. All these works fall into the same broad international category and exploration. I think this is changing the way we look at history and gendering the perspective on history. I believe that this initiative is very important for maintaining peace in the world today. Wars and political conflicts, are often captured only from 'male' perspectives, which tends to focus on battles and peace treaties. However, in reality, war and conflicts transform the whole society in negative ways and have a lasting impact on children. The work of restoring peace and putting together the fabric of society is therefore often left to women. This is why it is so important to bring out the perspectives of women in our world today. I am proud that my work is not alone, but part of a whole body of work spanning the world.