Event Report: "How Women Have Braved Covid: 2X Challenge to Rebuild More Inclusive Economies"
Gender Investment & Innovation
Event Report
"How Women Have Braved Covid"
2X Challenge to Rebuild More Inclusive Economies
The 2X Challenge, an initiative established by the G7 Development Finance Institutions (DFIs) at the 2018 G7 Charlevoix Summit, aims to double the volume and impact of investment in women by catalyzing private sector investment through DFI funding.
On December 3, 2021, Ms. Ayaka Matsuno, director of the Sasakawa Peace Foundation's Gender Investment and Innovation Program, participated as a panelist in the She Loves Tech Global Summit.

In a panel session entitled "How Women Have Braved Covid: 2X Challenge to Rebuild More Inclusive Economies," the speakers discussed gender lens investing and the environment and difficulties facing women.

The panel discussion included Ms. Jen Braswell (co-chair of the 2X Collaborative, Director, Value Creation of CDC, the UK government's development finance institution) and Ms. Jessica Espinoza (Vice President, Investments, Private Equity & Venture of 2X Collaborative).

The event was moderated by Ms. Jugnu Pati, Investment Specialist at ADB Ventures.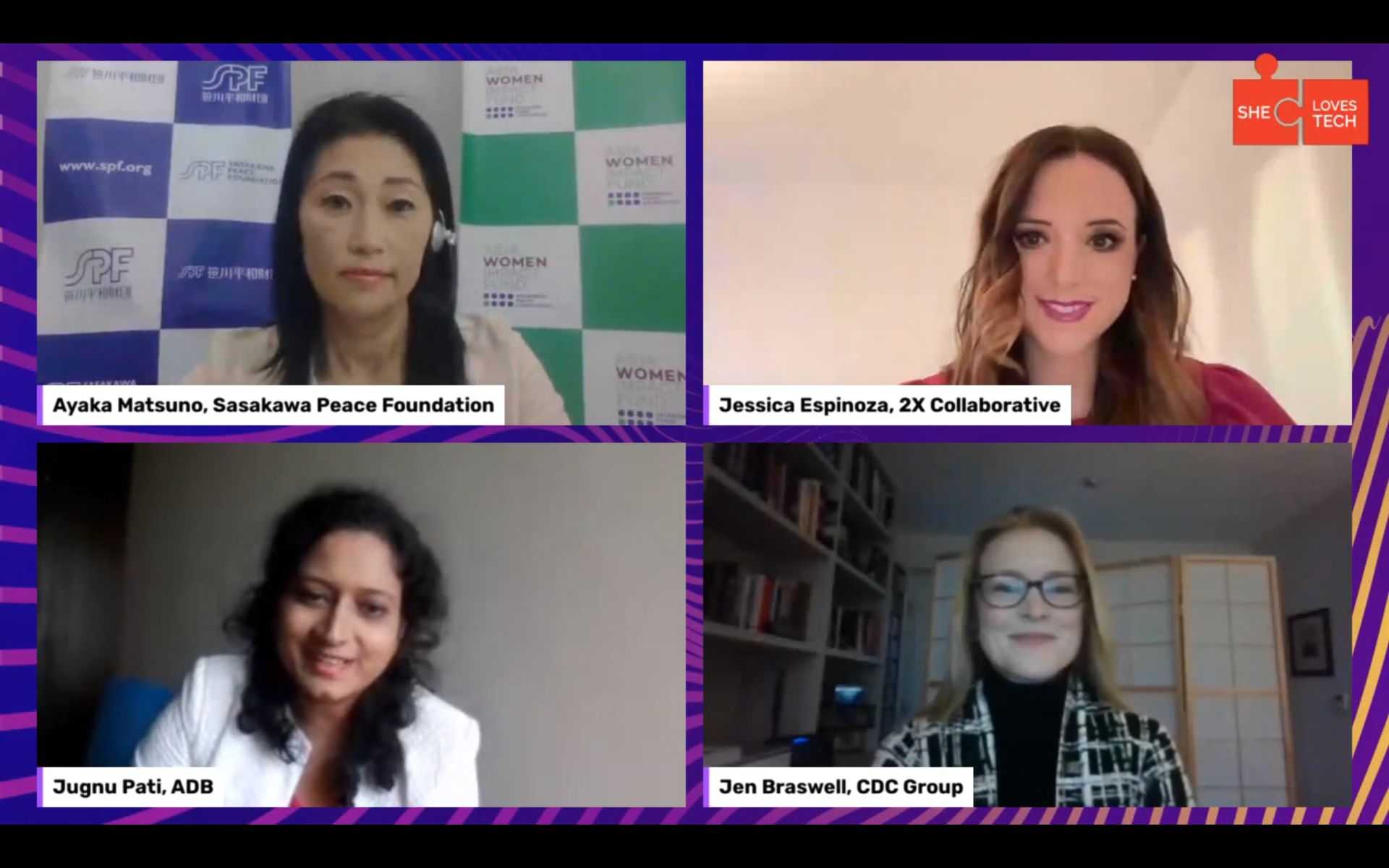 From top left: Ms. Matsuno and Ms. Espinoza. From bottom left: Ms. Pati and Ms. Braswell.
Ms. Pati began by noting that the 2X Challenge has committed a total of $7 billion between 2018 and 2020, more than doubling its goal of $3 billion, and has mobilized an additional $3 billion from private investors. She then asked Ms. Espinoza and Ms. Braswell to comment on the achievements of the 2X Challenge and the future prospects of the 2X Challenge.
Ms. Espinoza first explained how the 2X Challenge began in 2018, when industry standards for gender lens investing did not yet exist, so they began by focusing on women's entrepreneurship, women's leadership, quality employment, and products and services that substantially improve women's lives. She explained that they jointly developed the 2X Criteria, focusing on various areas along the value chain, such as products and services. These criteria have become the global industry standard for gender lens investing and are used today by many industry players beyond the members of the 2X Challenge and 2X Collaborative, she said.  
In terms of future prospects, Ms. Espinoza said that the 2X Challenge could surpass the $15 billion mark by attracting private and institutional investors, and that the 2X Collaborative was established to promote the 2X Challenge. As a global association for gender lens investing, this organization plans to involve pension funds, family offices, foundations, and insurance companies. In addition, they would like to explore new types of investments, such as gender and environmental opportunities and investments in the care economy.  
Looking ahead, Ms. Braswell described the 2X Challenge's new initiative, 2X Ignite. This initiative seeks to move capital into areas where it is not moving as fast as it should or could, and to enter sectors of the economy where it has not been possible to invest in the past by facilitating fund formation and other forms of origination. She also revealed her plans to work with the management team to transform the business to enable women to take on leadership roles, to use various networks and experts to recruit board members, and to design products and services for women, while keeping an eye on their portfolio to identify opportunities and investments coming into the pipeline.  
Ms. Pati then asked Ms. Matsuno about the SPF's gender lens investing initiatives.  
Ms. Matsuno noted that Japan is also contributing to the 2X Challenge through JICA and JBIC, and that SPF is playing a role in mobilizing private funding in Japan.
As a specific example, she introduced the 
Asia Women Impact Fund (AWIF)
, which the foundation launched in 2017. Through AWIF, 
SPF has invested USD 30 million in the Japan ASEAN Women Empowerment Fund (JAWEF)
, which provides funding to microfinance institutions that support women's empowerment in ASEAN and other parts of Asia. Ms. Matsuno also explained that although SPF is not directly investing in women entrepreneurs, the foundation supports gender-smart entrepreneurial ecosystem building in Southeast Asia through technical assistance projects.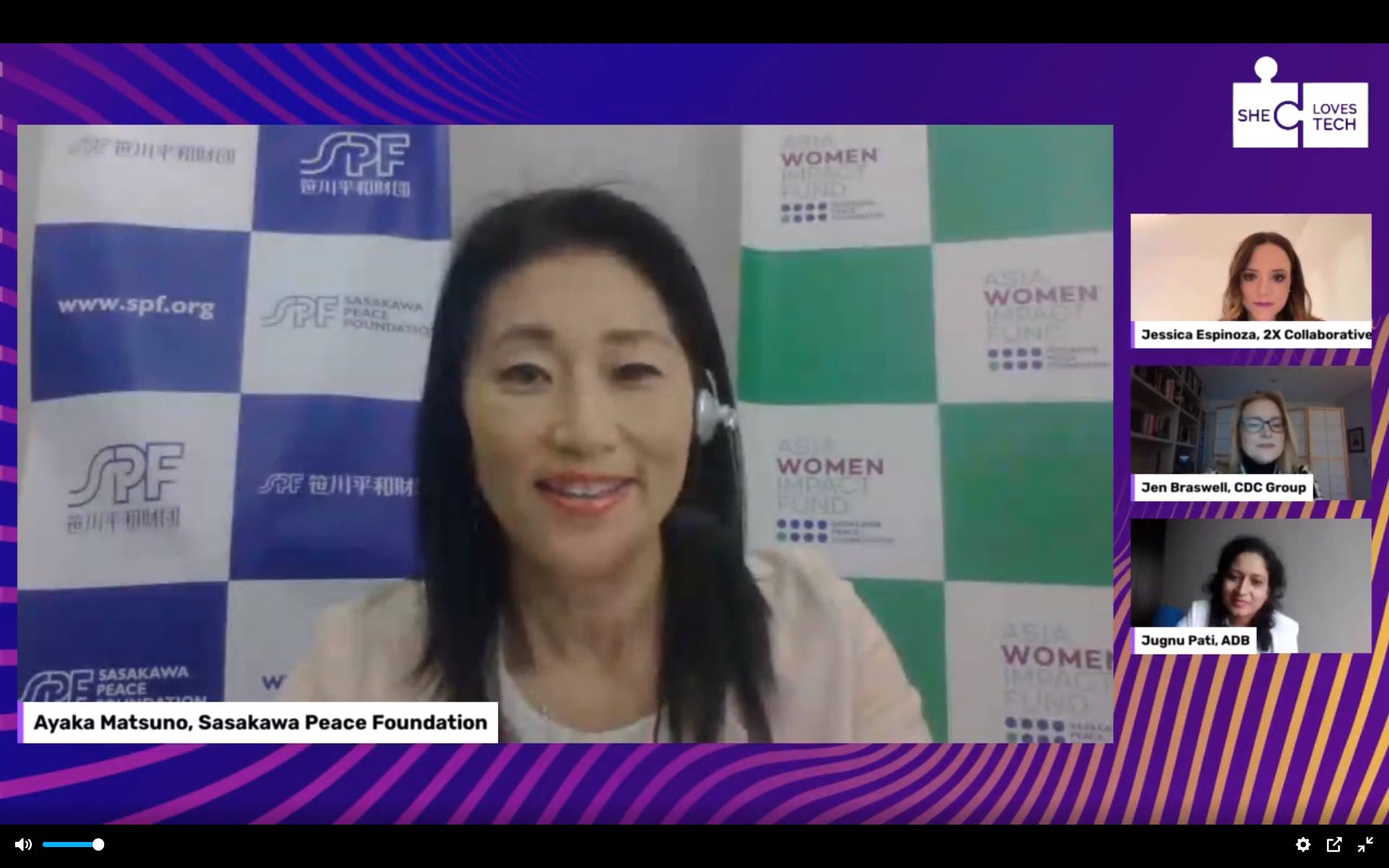 Next, Ms. Pati asked the panelists if there is any risk of "pink washing" in this trend, even though gender lens investing is gaining momentum globally and network organizations are being formed.
 
In response to this question, Ms. Braswell said that the problem is that many investors and institutions see the money flowing into this field and want to jump on the bandwagon. To prevent this, she argued that the next step is to develop an assurance certification mechanism in the marketplace so that companies can be vetted for meaningful initiatives. She also said that for true and meaningful gender lens investing, it is important to ensure that companies have the data they need to demonstrate real results.
 
Ms. Espinoza also said that data-based solutions are very important in promoting gender lens investing, and introduced the Gender Smart Opportunity Assessment, an advisory product developed by 2X Challenge. This product is designed to help investee financial institutions accurately identify market opportunities and benchmarking, and ensure that funds go to women entrepreneurs and gender-smart businesses in a data-driven manner, she said.
 
In response, Ms. Matsuno said that if investments using a gender lens are to be made, fund managers must have a clear intention to support women's empowerment and gender equality, and this must be integrated into their advertising, sourcing, due diligence, monitoring, and evaluation. She also agreed on the importance of data-driven solutions and introduced a study SPF conducted in Myanmar using a lean data approach. This research involved a telephone survey of approximately 400 clients of two microfinance institutions in Myanmar in order to understand how SPF's investments were being used and impacting the daily lives of women and their businesses.
 
Next, Ms. Pati asked each panelist to share their thoughts on how their agencies' strategies have changed to take into account the impact of COVID-19.
 
In response, Ms. Matsuno said that although SPF did not change its strategies for supporting women entrepreneurs in response to COVID-19, the foundation has intentionally incorporated technology into its work due to the pandemic. 
 
On a related point, Ms. Espinoza said that there has been a huge focus on technology in the field of finance as well. She pointed out that while globally we know that there is a huge digital gender gap, at the same time, emerging tech companies are often women-led or founded by women. Further, even companies founded by men often take equal pay for granted. Therefore, there are many opportunities in this area and she would like to see more VCs investing in early-stage women-led technology businesses by focusing more on diversity in fund management.
 
To close the session, Ms. Pati asked each panelist what is needed to accelerate gender lens investing.
 
In response, Ms. Braswell said that it is important for stakeholders to work together in order to speed up gender lens investing, and that the entire ecosystem needs to collaborate and come up with a unified approach, such as building a system for certification.
 
Ms. Espinoza argued that gender equality in SDG 5 is a prerequisite and catalyst for all other SDGs, so it is important to mainstream gender in all types of products and asset classes, even in climate finance.
 
Ms. Matsuno said that it is necessary to make the case that investing in women is not just the right thing to do, but the smart thing to do, arguing that evidence that both financial returns and social impact can be achieved is crucial.
***********************************************
The Sasakawa Peace Foundation's Asia Women Impact Fund, as one of the few practical examples of gender lens investing in Asia, will continue to work to demonstrate the effectiveness of this type of investment by evaluating it in terms of both financial return and social impact.