Toward Further Expansion and Deepening of the Australia-Japan Relationship
No.541 February 20, 2023
Toward Further Expansion and Deepening of the Australia-Japan Relationship

THE HON. Richard MARLES MPAustralian Deputy Prime Minister, Minister for Defence

The Path to Net Zero Emissions in International Shipping

SAKASHITA Hiroaki(President and CEO, Nippon Kaiji Kyokai (ClassNK))

The Impacts of Hands-on Activities According to the Ocean Literacy Questionnaire

TOMAGO HisayoAssistant Professor, Faculty of Law, Chuo University
Toward Further Expansion and Deepening of the Australia-Japan Relationship
[KEYWORDS] Indo-Pacific / security / Japan-Australia Joint Declaration on Security Cooperation
THE HON. Richard MARLES MP
Australian Deputy Prime Minister, Minister for Defence
Japan and Australia have never been more strategically aligned. We describe Japan as an indispensable partner. Japan and Australia share a deep commitment to democracy, an open economy, and free societies, and we are committed to growing this shared cooperation in the years ahead. The Reciprocal Access Agreement and the Joint Declaration on Security Cooperation, signed by the leaders of Australia and Japan in 2022, will provide a roadmap to take our partnership to a very different place – a better place.
Japan-Australia friendship
When it comes to friends of Australia, Japan stands in the front row. And in the world that is before us, friendship – and the strategic alignment that goes with it – is of the upmost importance. It was an honour to speak about this friendship at the Sasakawa Peace Foundation during my visit to Tokyo for the tenth Australia-Japan 2+2 consultations.
This was my second visit to Japan since becoming Australia's Deputy Prime Minister, and my third ministerial meeting with Minister Hamada, following the Shangri-La Dialogue in Singapore and the Trilateral Defence Ministers' meeting in Honolulu in October. This tempo is no accident. It reflects the priority Australia places - and I place personally - on our relationship with Japan. Even more, it reflects the extraordinary evolution of this relationship over two decades.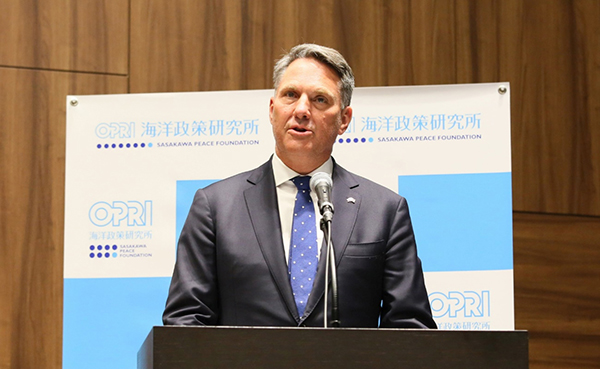 Australian Deputy Prime Minister Richard Marles speaks at Sasakawa Peace Foundation
Two important developments in the Australia-Japan relationship in 2022
Japan and Australia share a profound commitment to democracy, open economies and free societies, and we are committed to growing this shared cooperation in the years ahead. Consider the two key bilateral developments in this year. In January, Australia and Japan signed the Reciprocal Access Agreement, Japan's first effective status of forces agreement with another country, other than its alliance partner the United States. Then in October this year, Prime Minister Albanese and Prime Minister Kishida signed the updated Joint Declaration on Security Cooperation, which will act as a compass for our security relationship and allow us to refine the scope and objectives of our operational cooperation. This is a serious commitment we have made to each other. We describe Japan as an indispensable partner. And this is exactly the way we would describe our alliance partner: the United States.
These two agreements now give Japan and Australia the bilateral architecture to ensure our defence and security cooperation is commensurate with our strategic alignment.
Central to this, will be the increasing interoperability of our defence forces. In Washington D.C. last week, Australia and the United States both reaffirmed our commitment to trilateral joint training exercises with Japan, inviting Tokyo to increase its participation in Force Posture initiatives in Australia. When we look out at a much tougher strategic environment, we come to similar conclusions: that preserving our security and prosperity will require greater ambition to shape the Indo-Pacific region's strategic trajectory by our own actions, rather than resign ourselves to a great power dominance.
This is not just a consensus of the Australian and Japanese national security communities. Recent polling by Sydney University's US Studies Centre underlined increasing popular support for Japanese-Australian security ties. I was struck by the fact that over 60% of voters in both countries support the idea of a security alliance.
Yet at another level, this is no surprise.
On the first anniversary of the Great Sendai Earthquake and Tsunami in 2011, the Australian parliament conducted a condolence session in solidarity with Japan. As I listened to one speech after another, I was moved by the way successive parliamentarians spoke about their personal connections with Japan. After more than 70 years of business and educational ties, there are now strong personal friendships that have formed between many Australians and Japanese. The truth is, today, our bilateral relationship is built upon deep people to people connections. And so it is natural that public opinion in both our countries should support the deepest of security relationships between Australia and Japan.
My intent is to grow defence industry integration with Japan: bilaterally, through our trilateral mechanisms with the United States, and, when ready, via our advanced capabilities work in AUKUS as well.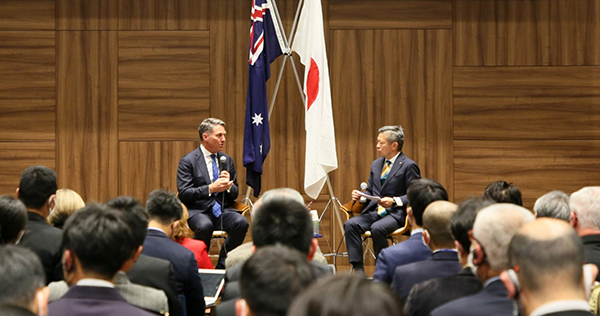 OPRI President Hide Sakaguchi (right) and Deputy Prime Minister Marles in discussion
Deepening our security agenda
This is an incredibly ambitious agenda. But the world is changing and so we must respond. We are seeing this change occurring in Europe, a result of Russia's illegal and immoral invasion of Ukraine, something which Australia and Japan have led the Indo-Pacific region's response to. Both of our nations have demonstrated that likeminded states will not tolerate aggression, even on distant shores.
In our own region, one of the most consequential features is the scale of China's military power. It has engaged in the largest military build-up since World War Two. And it is occurring without transparency or reassurance to the region of China's strategic intent. This is the most significant factor shaping the strategic landscape in which Australia and Japan exist. And to be clear, Australia and for that matter the world, expects Beijing to act in accordance with international rules and norms. Australia remains committed to stabilising relations with China, and we welcome the recent meeting between Prime Minister Albanese and President Xi.
While the way forward is not obvious, what is clear is that Australia must work closely with our friends.
And it is clear that Japan and Australia have never been more strategically aligned. Indeed, I find it hard to think of a country with whom that statement, for us, is more true. Going forward, this partnership will be key to defence and security - for Japan and Australia, but also for the region and the world. We are working together on the emerging realm of economic security: supply chains, critical minerals, rare earths, critical infrastructure protection and our crucial energy partnership.
We are also working on ensuring the Indo-Pacific region never slides into confrontation. This effort will require cooperation among many states, but the Japan-Australia security partnership can serve as a catalyst. We have all benefited from the United States' network of alliances. But now we are poised to build the Japan-Australia relationship as a powerful force in its own right.
Australia's relationship with Japan is foundational. The Joint Declaration on Security Cooperation and the Reciprocal Access Agreement mean we now have the roadmap to take our partnership to a very different place - a better place. Our partnership is becoming indispensable.
1

This article is a summary of the keynote speech delivered at the "Special Lecture by The Honorable Richard Marles, Deputy Prime Minister and Minister for Defence of Australia" held at the Sasakawa Peace Foundation on December 9, 2022.

●

(See: Summary report of the lecture at https://www.spf.org/en/spfnews/information/20230113.html)