More Gender Diversity on Corporate Boards Makes for Better Climate Governance and Innovation
Gender diversity in the senior workforce is important for driving innovation in the clean energy transition and for implementing strategies for timely climate action
Shanghai and Tokyo, December 1, 2020 
– A proportion of 30% or more for women on corporate boards has shown a positive correlation with better climate governance and innovation in the global electric utilities, oil and gas, and mining sectors over the last four years, according to a new report by BloombergNEF (BNEF). Despite an eightfold increase over the last decade in the number of companies having boards with at least one-third of female representation, these still made up only 16% globally out of the 11,700 companies analyzed in this study.
Published today at the BNEF Summit Shanghai, the report, 
Gender Diversity and Climate Innovation
– written in collaboration with the Sasakawa Peace Foundation (SPF) – examines the impact of gender diversity on climate governance, climate performance, innovation, and climate innovation.
Gender diversity does not directly contribute to lowering emissions. But, for instance, leading integrated oil companies with higher female representation at the board level are also more likely to have set decarbonization strategies and to have invested in digitalization activities.
Miho Kurosaki, head of Japan and Korea research at BloombergNEF, said: "Increased and standardized disclosure of gender diversity will be essential, and will ultimately enable companies and financial markets to better assess the linkages between diversity and business performance. Companies should consider setting longer-term diversity goals in the same fashion that they set goals for financial performance and climate governance. Companies can do more than target long-term diversity; they can commit to it. Financial markets can then evaluate the commitments."
Ayaka Matsuno, director of the Gender Investment and Innovation Department at SPF, said: "This new analysis marks an important step forward in tracing the positive correlation between gender diversity and better climate governance and innovation. In particular, the findings show that having a critical mass of more than 30% women on boards makes a difference. In an encouraging sign, over the last 10 years the share of companies around the world with more than 30% women on boards has grown from 2% to 16%, according to data collected by Bloomberg. It is critical to continue this progress to promote gender diversity both at the decision-making level and in the overall workplace."
Legislation and reporting requirements are seen to accelerate disclosure on gender diversity and climate change. European countries have made significant progress through voluntary initiatives since 2011 and by introducing legislated targets for female representation at corporate board level, with 11 EU member countries mandating various levels of female representation on boards. At the same time, Asian nations are lagging on diversity disclosure and performance.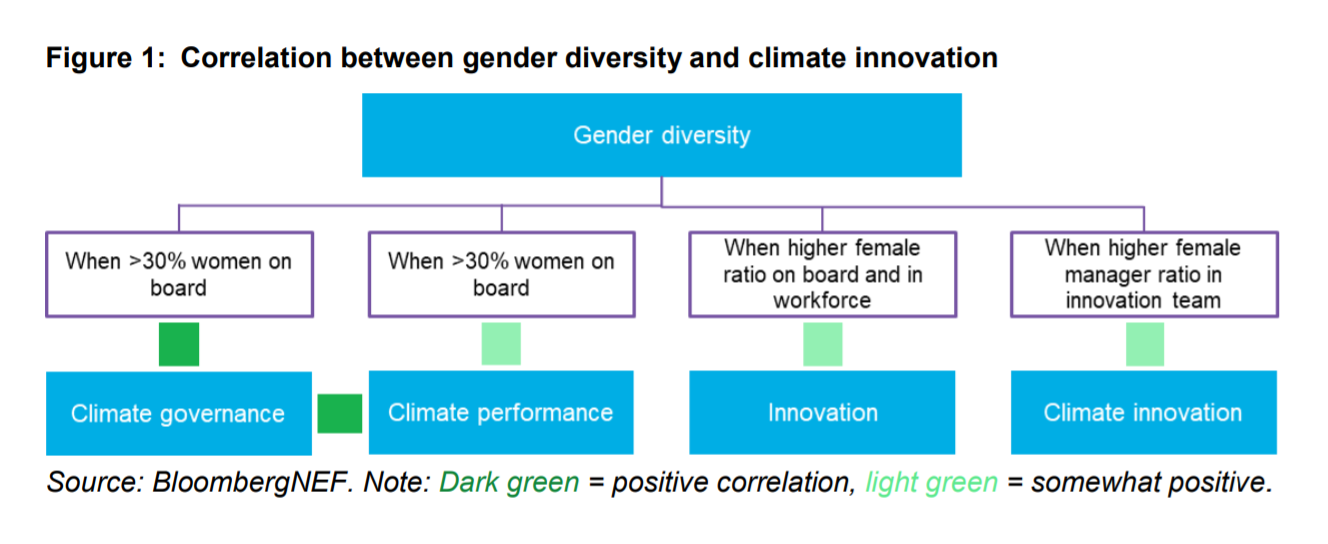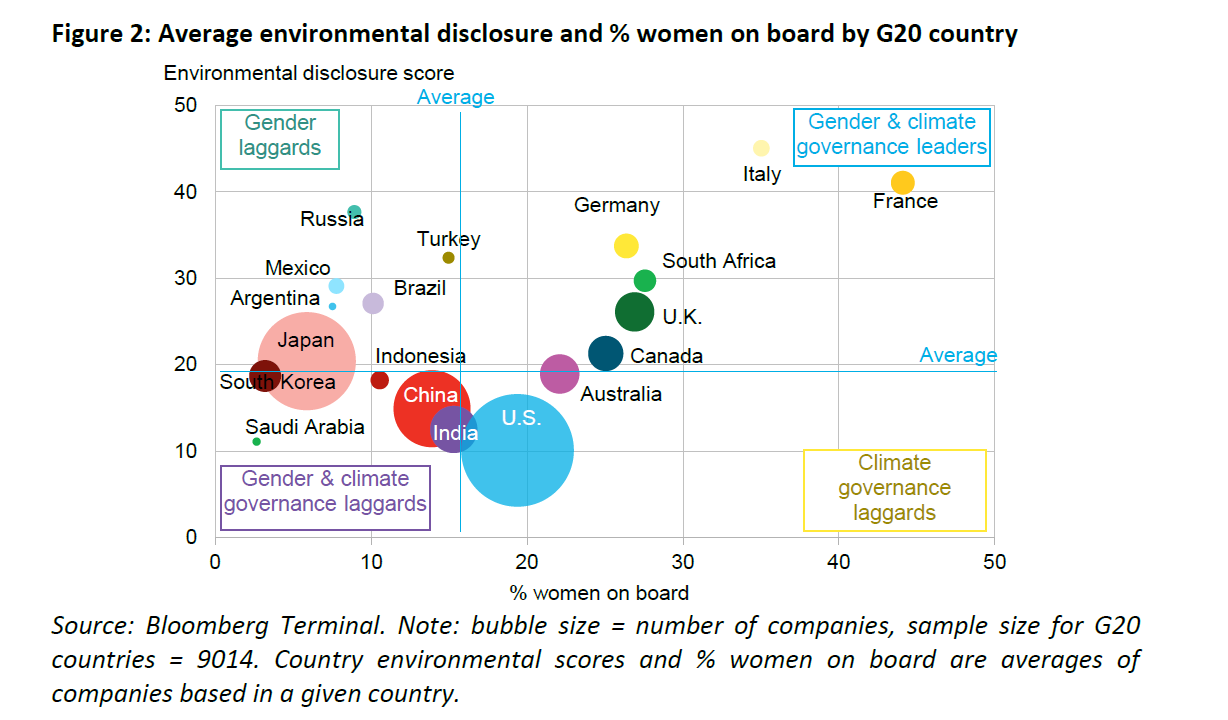 The full report is publicly available via this link.

Media Relations Division
Sasakawa Peace Foundation
spfpr@spf.or.jp

About BloombergNEF
BloombergNEF (BNEF) is a leading provider of primary research on clean energy, advanced transport, digital industry, innovative materials, and commodities. With a team of experts spread across six continents, BNEF leverages the world's most sophisticated data sets to create clear perspectives and in-depth forecasts that frame the financial, economic and policy implications of industry-transforming trends and technologies. Available online, on mobile and on the Terminal, BNEF is powered by Bloomberg's global network of 19,000 employees in 176 locations, reporting 5,000 news stories a day. Visit https://about.bnef.com/ or request more information.

About the Sasakawa Peace Foundation
The Sasakawa Peace Foundation (SPF) is a Japanese private foundation established in 1986 to enhance international cooperation. SPF has set its focus on five priority goals from a mid- to long-term perspective: (1) further strengthening the Japan–U.S. relationship, (2) expanding Japan's presence in Asia, (3) enhancing understanding of and relationships with countries in the Middle East, (4) establishing ocean governance, and (5) empowering women to achieve gender equality in society. https://www.spf.org/en/


Note: This press release was updated on December 6, 2021, regarding edits made to Figure 1.