Gender Lens Investing Landscape – East and Southeast Asia
New report launched by the Sasakawa Peace Foundation, Catalyst at Large, and Sagana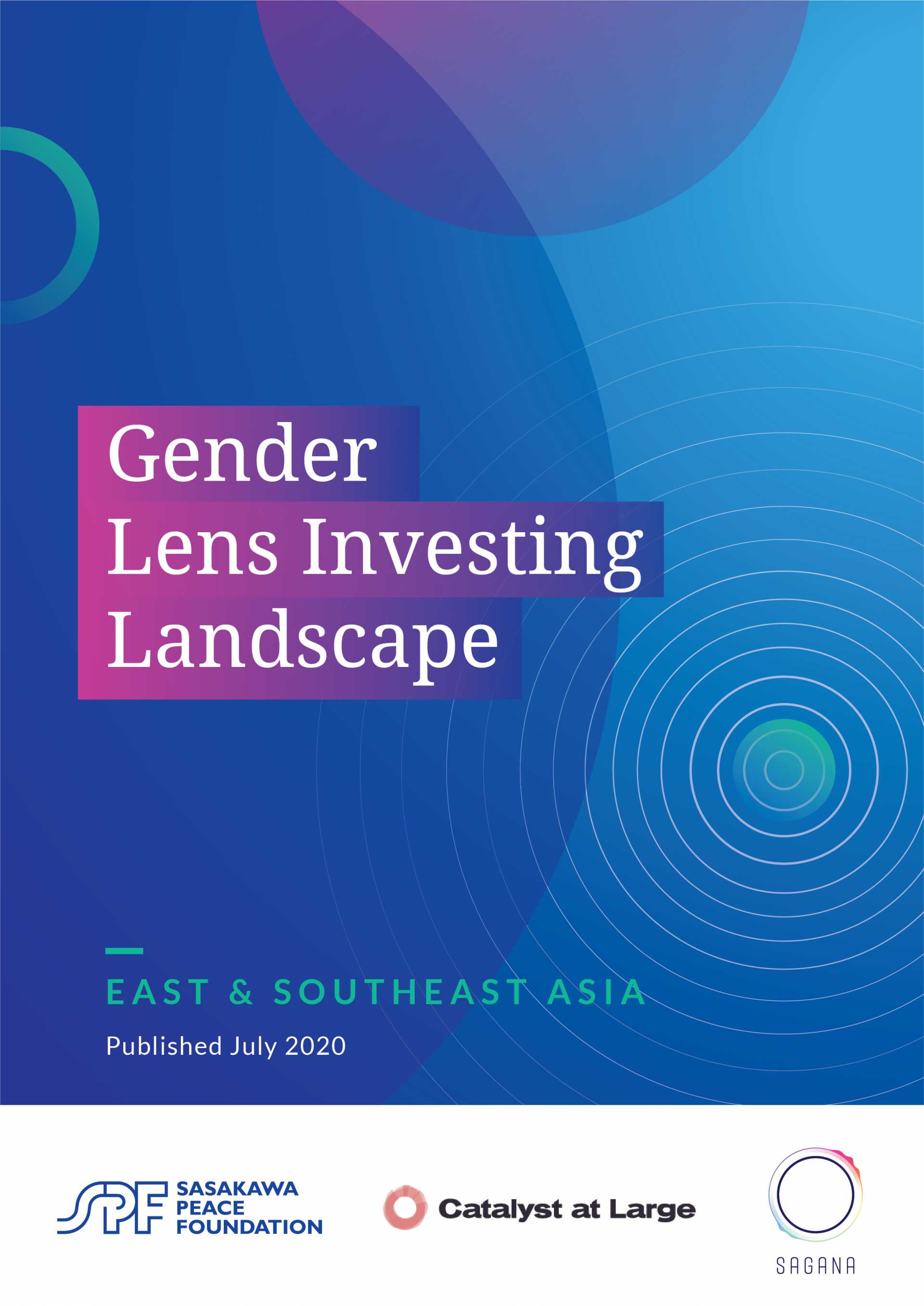 On July 15, 2020, the Sasakawa Peace Foundation (SPF), in partnership with Catalyst at Large and Sagana, launched "
Gender Lens Investing Landscape – East and Southeast Asia
," the first report in the region to provide a landscape of gender lens investing (GLI) investment vehicles in both public and private markets. Serving as a springboard for capital deployment strategies, this report aims to inspire investors interested in GLI and asset managers who wish to create GLI investment vehicles. 
The report can be
downloaded here
.
In recent years, leading mainstream investors have started to incorporate a gender lens into investment decision-making, providing capital to funds and firms that are demonstrating gender equity and equality, as well as recognizing the strength of women as a market force and the risk of not paying attention to gender patterns. In the development space, funders have also begun to widely consider women's entrepreneurship as a key to economic stability and sustainable development. Despite these encouraging developments, progress on gender diversity, especially in the investment market, has been painfully slow and access to capital for women entrepreneurs remains stubbornly low.
Investment can be used as a tool to shift market behavior. According to this new report, currently there are a total of at least 192 "named" GLI investment vehicles across public and private markets globally, where Asia accounts for 42, the second largest region behind North America. East Asia and Southeast Asia are targeted by 33 of these GLI investment vehicles. We hope this report will be useful us a baseline to track the progress made by both public and private investment vehicles over the coming years, and that the success stories featured in the case studies can inspire people as they consider commitments in this arena.   
The private market data is based on the
Wharton Social Impact Initiative and Catalyst at Large Project Sage 3.0
, and the public market data is based on the Veris Wealth Partners Public Market Scan. In addition, we conducted over 20 interviews with fund managers to better understand the motivation, structure, language, and incentives motivating GLI investment vehicles.   
The Sasakawa Peace Foundation (SPF):
SPF is a Japanese private foundation established in 1986 to enhance international cooperation. SPF has set its focus on five priority goals from a mid- to long-term perspective: (1) further strengthening the Japan–U.S. relationship, (2) expanding Japan's presence in Asia, (3) enhancing understanding of and relationships with countries in the Middle East, (4) establishing ocean governance, and (5) empowering women to achieve gender equality in society. In 2017, SPF announced the formation of the Asia Women Impact Fund, which aims to invest up to 100 million USD from its endowment to work toward a future where all women in Asia are empowered to reach their full potential. The fund aims to realize this vision by making investments to achieve favorable outcomes for women across Asia and to support women entrepreneurs in Southeast Asia. For more information, visit
https://www.spf.org/en/
Catalyst at Large:
Suzanne Biegel is the founder of Catalyst at Large and a global leader in gender-smart investing. She is the co-author of Project Sage with Wharton Social Impact Initiative and is the co-founder of the GenderSmart Investing Summit. She leverages her deep networks in finance, philanthropy, development, research, and entrepreneurship to connect public and private investors to the people and information they need to move their capital in a gender-smart way. Suzanne's mission is to increase the flow of global capital to gender-smart investments and initiatives, to make sure this capital is used in ways that will generate the most impact, and to ensure that it reaches the entrepreneurs and innovators who need it in the most efficient way possible. Her work has influenced hundreds of funds and institutional investors, to move capital in a gender-smart way. For more information, visit
http://www.catalystatlarge.com/
Sagana:
A dedicated team of investors, thinkers, and doers, working to unleash the potential of people, capital and business to create a better future for all. Driven by this bold vision, they leverage decades of experience in private equity, impact investing and entrepreneurship to discover, invest in and grow companies that are successfully solving some of the biggest challenges of our time. SAGANA means "abundance" in Tagalog. It reflects our core belief that when we empower today's visionaries with access to the right resources, we can build a world where organizations prosper, ecosystems flourish and human values deliver real value. For more information, visit
https://sagana.com/



Please direct all inquiries to:
Media Relations Division, Sasakawa Peace Foundation
Email: spfpr@spf.or.jp