Discussion between Ronald Cohen and Yoichi Nishimura at the Social Impact Investment Forum 2018
March 23, 2018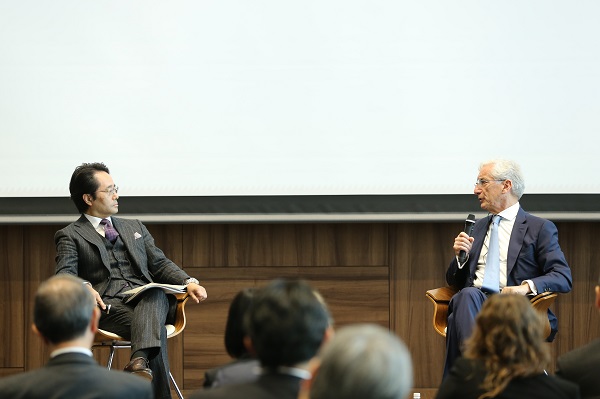 Nishimura: Sir Ronald Cohen is well-known for his passion about social challenges and humanitarian issues, including refugee issue. I suspect his passion reflects the hardships and difficulties he has experienced himself. Before starting discussion on the main topic, I would like to ask him about his life as someone born in Egypt, to understand the background of his commitment to today's social issues.
Cohen: Each one of us who have gathered here today have his or her personal reasons and sense of obligation for coming here. We all want to pass what we have gained back to society, and do something more meaningful than simply making money. In my case, the Suez Crisis in 1956 forced the British, French and Jewish people to leave Egypt. My family and I lost everything and relocated to Britain as refugees. Each person was only allowed to carry one suitcase and ten Egypt pounds. I remember clutching my postage stamp collection so that no one would take it away from me. This experience fostered my passion for impact investment.
 Another thing I want to mention is the special connection between our generation and the Millennials. In the 1960s, I was studying at Oxford University. It was the age of idealism. My generation became teachers for the Millennials. That might be why we have a sense of mission to deliver messages to the Millennials.
 Economic disparity widened over a decade that preceded the global financial crisis of 2008. The sight of people's hardships throughout the world led to recognition that the world is interconnected. That is why impact investment has emerged as a major global movement.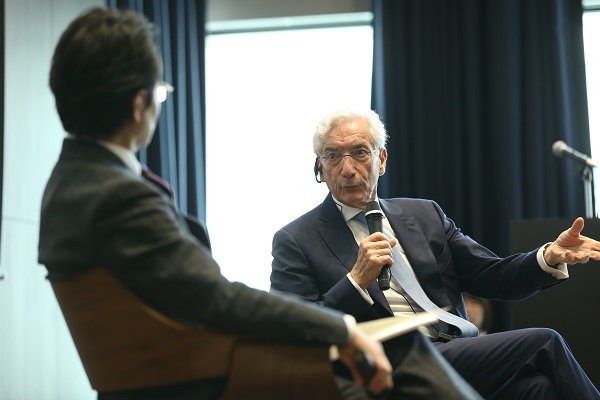 Nishimura: Sir Ronald has shared his life story, having lived through events of world history including Suez Crisis and Lehman Shock.
 Budget allocation from the national and local governments is far from enough to address social issues. In his keynote lecture, Sir Ronald presented a "trinity" approach of "risk, return and impact," which was never seen in the concept of capitalism until now. Why is the methodology of social impact investment effective in resolving social issues?
Cohen: One of the lessons I have learned over the last few years is that the philanthropic model has completely collapsed. It has been collapsed for several centuries. For example, people might donate money to charity organizations. They might do so for 2 or 3 years, but then say, "I'm sorry I cannot donate anymore because there are other places I want to donate." What happens then?
 Charity organizations and other entities in the social sector have two characteristics. They are small and have no money. Their systems have already collapsed. Charity organizations assess the services of social service providers and follow those that produce results. The same applies to the allocation of government budget. I predict that, in 10 or 20 years, 20% of government budget will be allocated on the basis of outcome and achievement.
 Everyone is working toward achieving a goal. Yet, funding for such efforts would only come after the goal is achieved. In other words, money only comes after success.
The power of Social Impact Bond (investment scheme in partnership between the public and private sectors; Private-sector funds are used to implement a social project, and the government will reimburse the fund if the project produces results.) lies in transforming social and environmental issues into investment opportunities.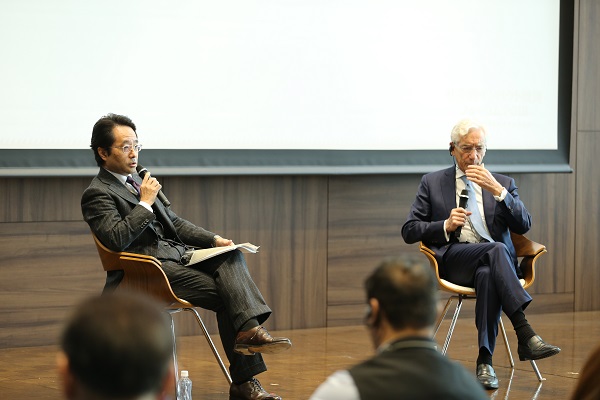 Nishimura: SDGs are 17 Sustainable Development Goals adopted by the United Nations to resolve issues in areas including the environment, gender and poverty. The goals are supposed to be achieved by 2030. On the other hand, Sir Ronald sets the year of turning point for social impact investment as 2020. How do the U.N. development goals relate to impact investment? Why and how is the year 2020 going to be a turning point? Can you share your vision?
Cohen: By 2020, we will be reaching a crossroad with rapid market growth. There is some evidence to suggest that we are already nearing the crossroad. We will approach even closer if outcome-payment funds are set up in Japan, India and Africa and start drawing a substantial amount of money.
 If Japan's pension fund chose to allocate 5 - 10% of its fund toward social impact investment and created a system covering ESG considerations (investment with emphasis on environmental, social and governance criteria), that would also be a strong push toward the crossroad.
 The U.S. Ford Foundation has already allocated one billion US dollars. If fifty foundations adopted the same policy, the rest would follow suit. If helping poverty-stricken families can generate investment returns, we will be able to help even a greater number of families.
 There is a USD 30 trillion shortfall in funding to achieve the United Nations' development goals. That translates into a shortfall of approx. USD 2.5 trillion per year. That is why we must get large corporations involved. More large corporations must participate. They must think what they can do toward improving social and environmental issues. By 2030, laws will be pushing businesses into this direction. There comes a time when they could no longer talk only about making money.
Nishimura: Britain was ahead of Japan in starting the use of unclaimed fund in dormant accounts. Japan is launching the system in the fall of next year. Advance examples around the world are seen in Britain and South Korea, but I have heard that the system is not working well in South Korea. Can you tell us why it is working in Britain and what the key to success has been, along with your advice to Japan?
Cohen: Britain has a dormant deposit utilization fund called Big Society Capital. I am one of its co-founders. It started with the capital investment of 600 million pounds, including 400 million pounds that came from dormant accounts. If we invest, others will join in, doubling or even tripling the investment. Tapping into fund in dormant accounts will create a very large opportunity for Japan.
 If Japan sets up an outcome-payment fund and attracts investments, other investors will definitely follow suit. Investments will come also from pension funds and foundation funds to generate a synergistic effect. The influx of fund into the fund would make it possible to broaden the range of issues to be addressed, including youth unemployment and aged care. It is important to create such an ecosystem.
 The key is to set up impact investment managers. In the case of Britain, there are around 40 organizations managing impact investments.
Nishimura: How do you connect Millennial entrepreneurs with existing financial organizations?
Cohen: I see young entrepreneurs in the Millennial generation every day. They bring suggestions about projects for helping specific groups of people. Various people are devising various projects every day for supporting poverty-stricken families, for example. They want to earn money and do something good at the same time to improve our society. The problem is the scarcity of available fund.
Nishimura: Today, Sir Ronald has shared a lot of his in-depth insight based on his personal experiences. I hope he will maintain his passion and continue to communicate with Japanese entrepreneurs, financial institutes, government and media. Thank you very much.
<Profile>

Sir Ronald Cohen, Chairman, Global Social Impact Investment Steering Group (GSG)

Born in Egypt in 1945 and graduated from Oxford University (UK) and Harvard Business School (USA), Sir Ronald Cohen is the co-founder of the Big Society Capital, which is Britain's dormant deposit utilization fund, and the chairman of the Global Social Impact Investment Steering Group (GSG), which evolved from a taskforce set up by the then British Prime Minister Cameron to promote social impact investment. He dubbed the "father of social impact investment", and currently lives in London with his wife and two children.

Yoichi Nishimura, Managing Director in charge of content management and editing, The Asahi Shimbun Company
Corporate Representative Director, The Huffington Post Japan

Graduated from the Faculty of Arts and Sciences, Tokyo University in 1981 before joining Asahi Shimbun, Mr. Nishimura worked at the company's political affairs department and Moscow Bureau. He served as the General Manager of the U.S. Bureau, manager of the political affairs department, General Editor, and concurrently serving as the General Manager of the News Compilation Division and senior visiting scholar of Tsinghua University, Beijing. Mr. Nishimura became the Managing Director (in charge of digital content and international news) in June 2013 and Managing Director in charge of editing in September 2014, before assuming the current position in July 2017.
※This article describes discussion between Sir Ronald and Mr. Nishimura, which took place at the Social Impact Investment Forum 2018 (February 19 and 20, 2018).