[Social Impact Investment Forum 2018] Transforming society with investments and economic returns
March 12, 2018
The international community continues to face numerous social issues including poverty, population aging and global warming. Global attention is now drawn to "social impact investment," which involves investing in initiatives for resolving these issues to pursue outcomes that brings improvement to the current status while also generating financial returns (revenues).
With the aim to deepen understanding social impact investment and explore its future potential, The Sasakawa Peace Foundation and the Japan Social Impact Investment Foundation held the Social Impact Investment Forum 2018 on February 19 and 20 at The Sasakawa Peace Foundation Building (Minato-ku, Tokyo). Approximately 300 people packed the venue on both days, reflecting a high level of public interest.
Following pioneers
In opening remarks, President of The Sasakawa Peace Foundation, Mr. Shuichi Ohno said, "Social impact investment" is still not a commonly-used term in Japan. Yet, despite it being a relatively new field, there are many pioneers in Western nations and even in Japan, working in a wide variety of positions."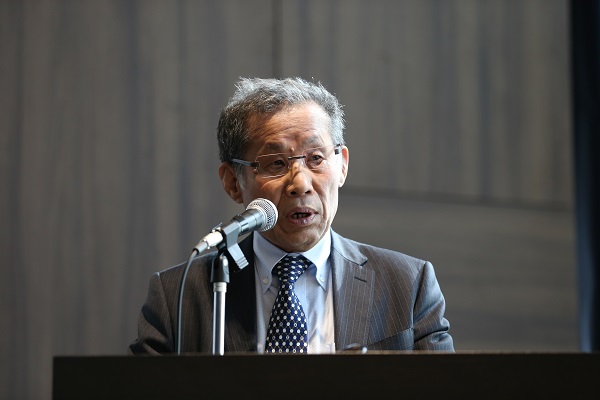 He went on to say, "The foundations based in Western countries, in supporting public interest activities, are increasingly complementing the conventional approach of extending grants to not-for-profit organizations, with the approach of providing investments, loans and credit guarantee to a growing number of "social businesses" operating for the purpose of serving public interest."
Last year, The Sasakawa Peace Foundation announced its decision to set up the 10-billion-yen the Asian Women Impact Fund to support the economic activities of women in Asia. Commenting on this project, President Ohno said, "This project invests part of The Sasakawa Peace Foundation's endowment in female entrepreneurs in Asia, and directs returns from the fund to foster and support female entrepreneurs in developing countries with emphasis on Southeast Asia. While the actual deployment of assets has yet to start, this is the first full-fledged impact investment fund in Asia by a private-sector foundation."
2020 as the turning point of investment
Next at the podium was Sir Ronald Cohen, the Chair of the Global Social Impact Investment Steering Group (GSG), newly established to promote social impact investment globally. As an example of successful social impact investment in Britain, Sir Ronald cited the case of the first social impact bond, a British program for preventing prisoners from reoffending, highlighting the fact that it actually led to the reduction of reoffending rates. He said, "In the social field, it was once said that social impact could not be measured. However, it is possible to produce measurable results in many cases."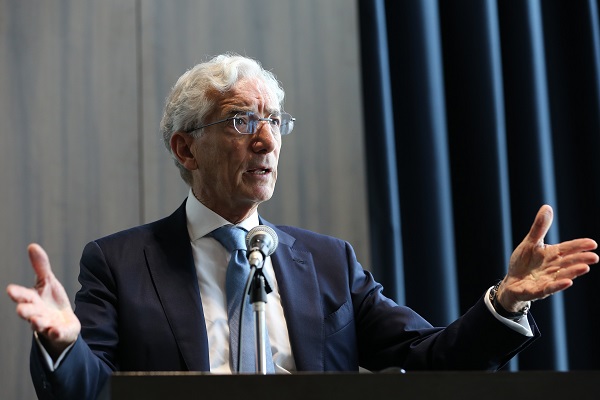 He then stressed the importance of strictly evaluating investment outcomes, saying "Previously, investment decision-making was based purely on risk and return. However, we are now considering risk, return and impact, which can be described as a revolution in the way we think. It has been proven that these three factors can be optimized."
In Britain, unclaimed money held in dormant bank accounts that have not been accessed for an extended period of time are already used for resolving social issues. Japan is following suit by enforcing the Act on Utilization of Funds Related to Dormant Deposits to Promote Public Interest Activities by the Private Sector in January this year. Focusing on this development, Sir Ronald expressed high expectations for Japan's future roles and market expansion, saying "Japan has the opportunity and largest potential for becoming a world leader in this field."
He also engaged in discussions with Mr. Yoichi Nishimura, the Managing Director of Asahi Shimbun, which was the Forum's media partner. Sir Ronald defined the year 2020 as the "year of change for social impact investment," saying "I believe the market will make a dramatic growth in around 2020. There is evidence to suggest that we are already nearing the turning point."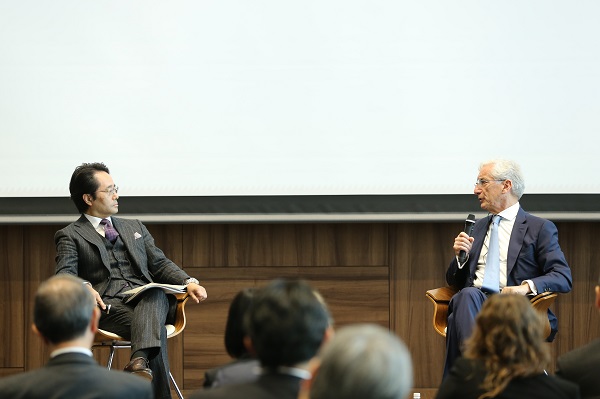 "Powerful tide" toward investment in women
On Day 2 of the Forum (February 20), the Forum hosted a panel discussion under the theme of "Gender Lens and Social Impact Investment," examining topics including considerations for a gender, especially women element in investment.
The Sasakawa Peace Foundation's Director of Gender Investment and Innovation Group, Mari Kogiso, acting as the moderator, opened the panel discussion by saying "Gender Lens is a very fresh-sounding phrase." The pioneer in gender lens investing, Ms. Suzanne Biegel, pointed out that paying attention to gender is also a way of identifying various risks. She stressed the importance of gender perspectives, saying "Investors are constantly aware of risks and returns. They must consider the risks of failing to consider gender diversity and women, i.e. the possibility of overlooking something relevant to their business operation."
Mr. James Soukamneuth, Director of Impact Investing Partnership at Investing in Women, an initiative by the Australian Government, said "We invest in women to support women's empowerment. In general, female entrepreneurs are producing more results than male counterparts. There is a market opportunity in adopting gender lens in making investments. New funds are being set up one after another, creating a powerful tide toward investing in women."
At the same time, Co-Founder of KL Felicitas Foundation, Mrs. Lisa Kleissner said, "We need investments that are meaningful for women. People want outcomes with social values, and women are emerging as the driving force for such change in the finance industry."
Ms. Kogiso concluded the panel discussion by saying, "We set up the Asian Women Impact Fund out of belief that making gender considerations will produce positive outcomes. That is our vision. We want to invest in women, connect with a diverse range of people and turn the trend into a mainstream movement."
(Nobuyuki Aoki, Senior Advisor)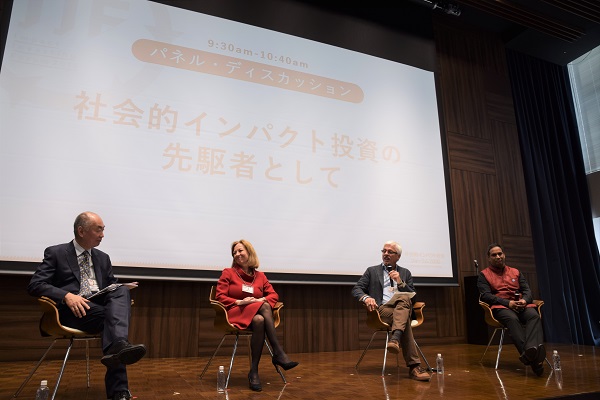 Scale of the social impact investment market

The market is projected to expand from USD138 billion in 2015 (approx. 14,860 billion yen) to USD307 billion (approx. 33,060 billion yen) in 2020. The Japanese market has grown from 17 billion yen in 2014 to 33.7 billion yen in 2016.
---
Source: "Current State of Social Impact Investment in Japan 2017", The Global Social Impact Investment Steering group Japan National Advisory Board.)