Hillary Rodham Clinton at SPF event on progress toward gender equality
In conversation with UN Under-Secretary-General and High Representative for Disarmament Affairs Izumi Nakamitsu
By Jackie Enzmann, Chief Editor
---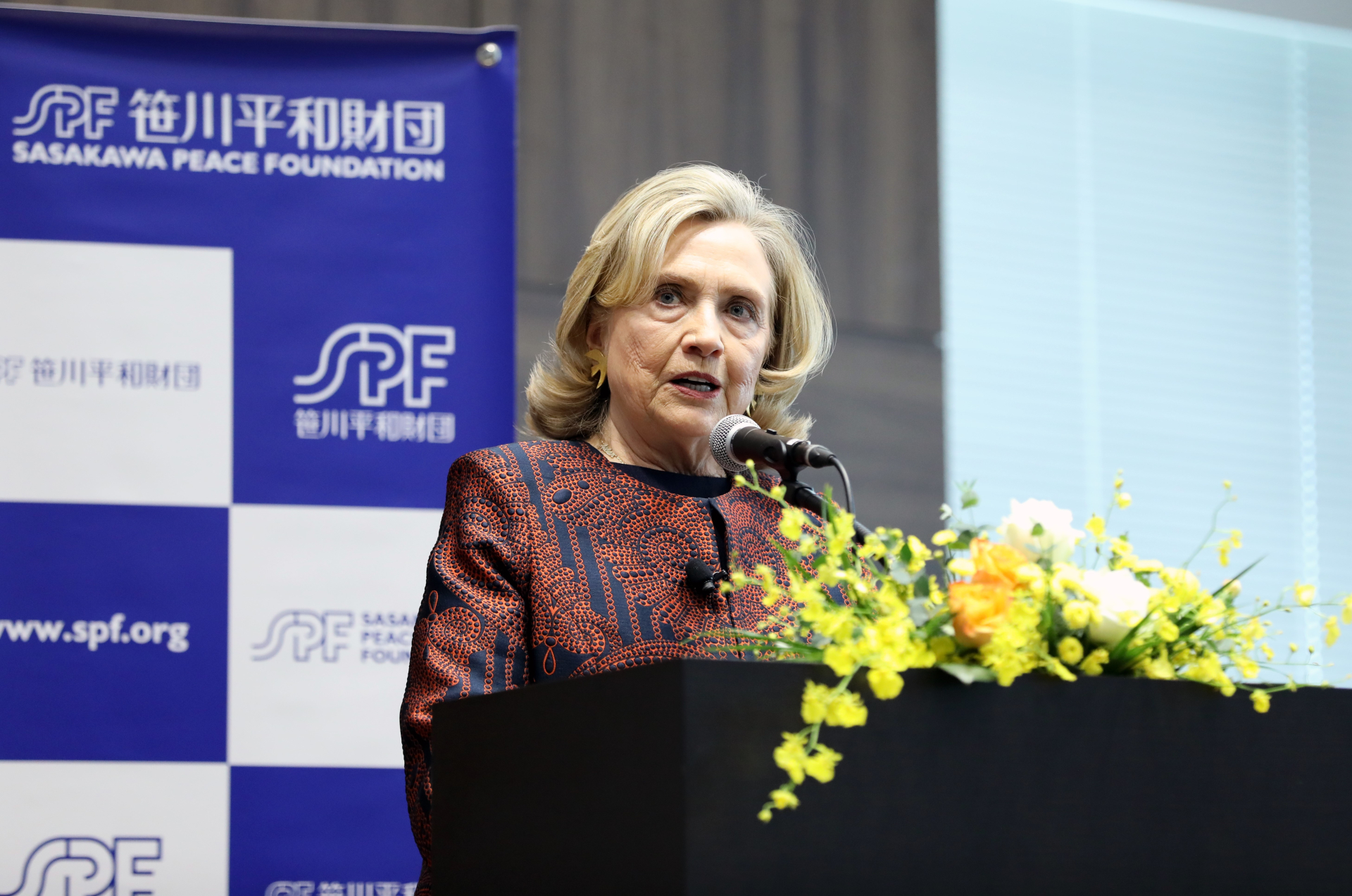 Former U.S. Secretary of State Hillary Clinton
On October 20, 2022, the Sasakawa Peace Foundation (SPF) was thrilled to welcome the Honorable Hillary Rodham Clinton, former U.S. Secretary of State, and Ms. Izumi Nakamitsu, UN Under-Secretary-General and High Representative for Disarmament Affairs, for a discussion at the foundation focusing on gender equality.
 
Nearly two decades after the fourth UN World Conference on Women in Beijing, where then First Lady Hillary Clinton declared to the world that "women's rights are human rights," Secretary Clinton took stock of the current state of gender equality, warning of new challenges including the catastrophic impact of the COVID-19 pandemic on women and the threats posed by a "growing autocratic mindset" around the world. At the same time, she underscored the vast untapped benefits to be gained in Japan and around the world through the full social, economic, and political participation of women, and urged more women, particularly younger generations, to be active in pushing toward gender equality. She also pointed to the opportunity to "come together across national borders, across all the divisions among us, to try to imagine, envision, and pursue a better world," emphasizing that this is a central goal of SPF.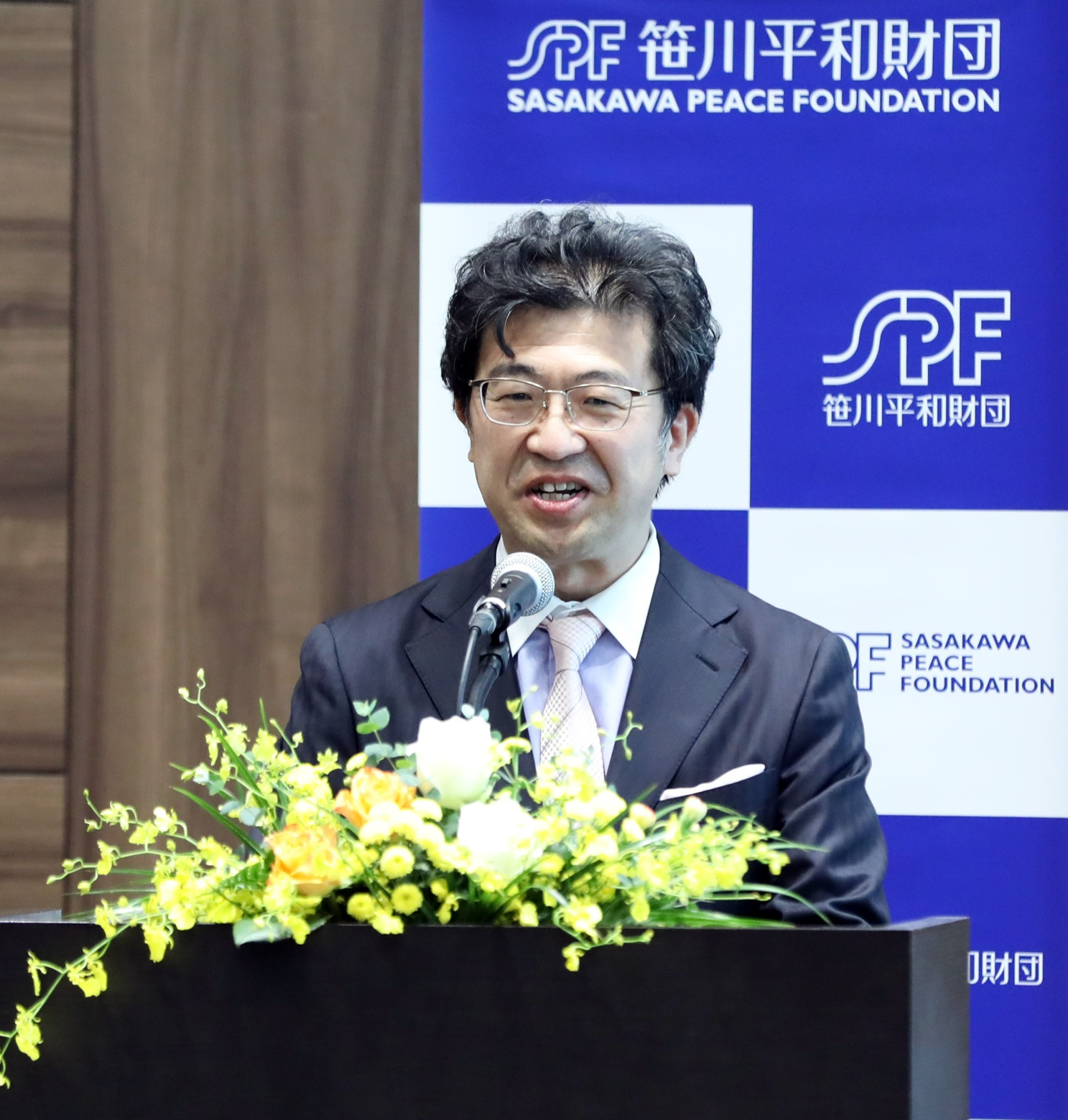 SPF President Atsushi Sunami giving opening remarks
To open the event, SPF President Atsushi Sunami welcomed the esteemed speakers and reiterated SPF's commitment to supporting women's empowerment through projects including training aspiring women politicians in Japan, promoting gender lens investing in Asia, as well as supporting women's participation in peacebuilding. "I am sure that this event will be a huge inspiration to all of the women struggling in Japan to change their homes, local communities, or the world for the better despite discrimination and difficulties, and to all the men working together with them" he said.

Japanese Prime Minister Fumio Kishida relayed a message to Secretary Clinton and the audience through Special Advisor to the Prime Minister Masako Mori, pledging to push forward efforts toward women's empowerment during the year of Japan's G7 presidency and to contribute to the Women, Peace, and Security (WPS) agenda as a Non-permanent Member of the UN Security Council.
 
During the lively discussion led by Ms. Nakamitsu, Secretary Clinton began by discussing the threats facing the women's empowerment movement. "Today we face more complex challenges, from cultural backlash to the advancement of women, to a rising tide of authoritarianism," she said. This pushback, which can be seen around the world, "goes hand in hand with a political and cultural agenda to try to control women."

In the U.S., she argued that efforts to control women can be seen with the reversal of Roe v. Wade, which removed the constitutional right to an abortion. She described that decision as the "culmination of 50 years of effort to impose a certain religious belief on the entire country," and placed it within the larger struggle between democracy and autocracy in the U.S.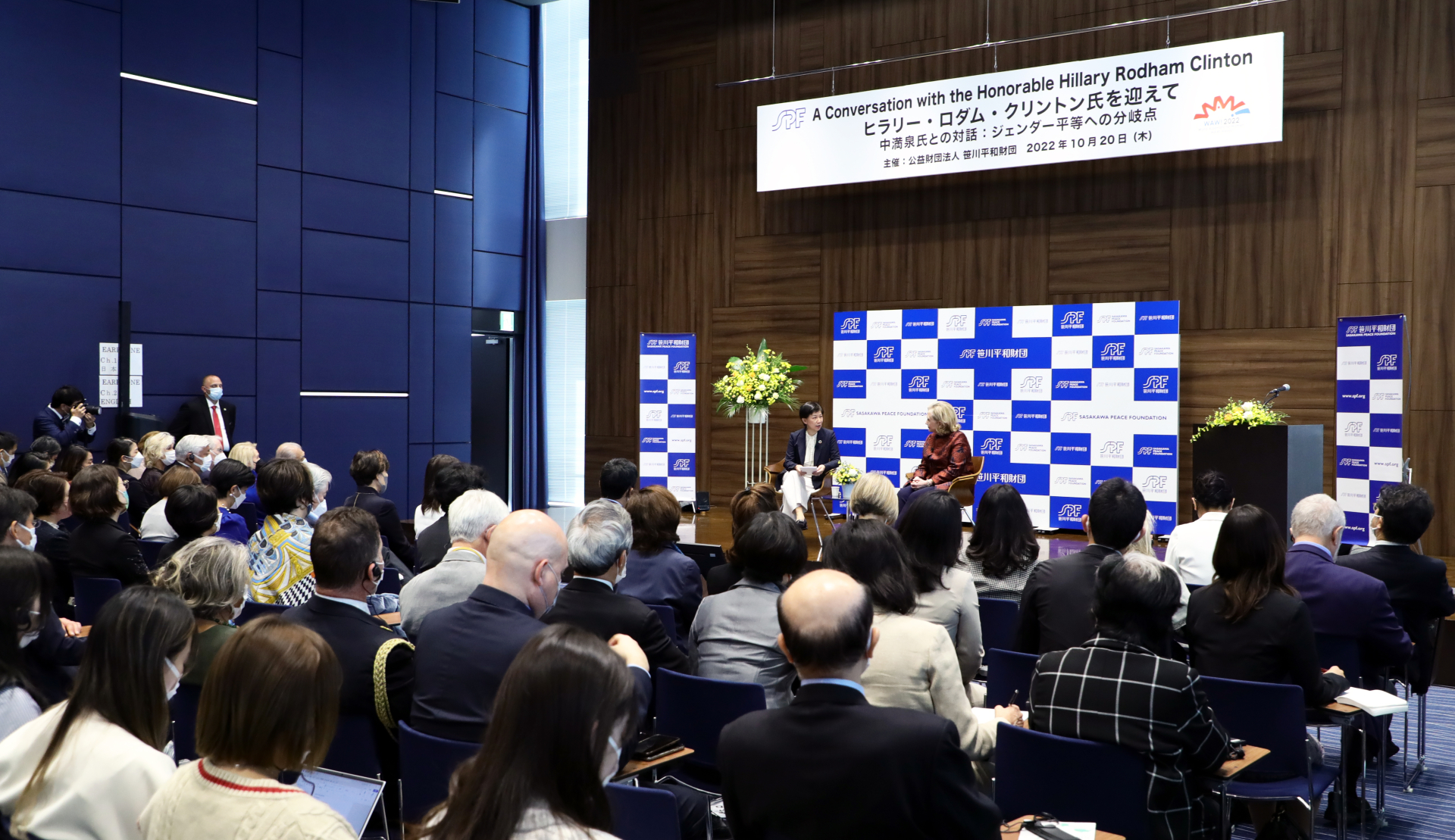 Secretary Clinton also underscored the outsized impact the COVID-19 pandemic has had on women, exacerbating economic and social inequalities faced in particular by poor and low-income women. In 2020, more than 64 million women around the world were forced out of the workplace, costing over $800 billion in lost earnings. Further, the World Economic Forum now estimates that reaching gender equality will take over 130 years, an increase of more than 30 years from predictions before the pandemic.

Turning to women's roles in peace and security, Secretary Clinton warned of the changing nature of warfare, which increasingly targets civilians – primarily women and children – as seen in the harrowing images from the war in Ukraine. In order to address this evolution in conflict, she emphasized the critical role of women in peacebuilding processes.
 
"Having women involved in the conversations during and after conflict will make it a much more likely outcome that will protect civilians and not just deal with the military needs," she explained, citing her recent conversations with Ukrainian President Zelensky's wife, Olena Zelenska, regarding the needs on the ground in Ukraine. While men often prioritize weapons, Ms. Zelenska requested equipment for pregnant women and intensive care units for babies. "[Women have] a different perspective [than men]. One is not better than the other, but we get a much clearer idea of the costs of war if we bring them together."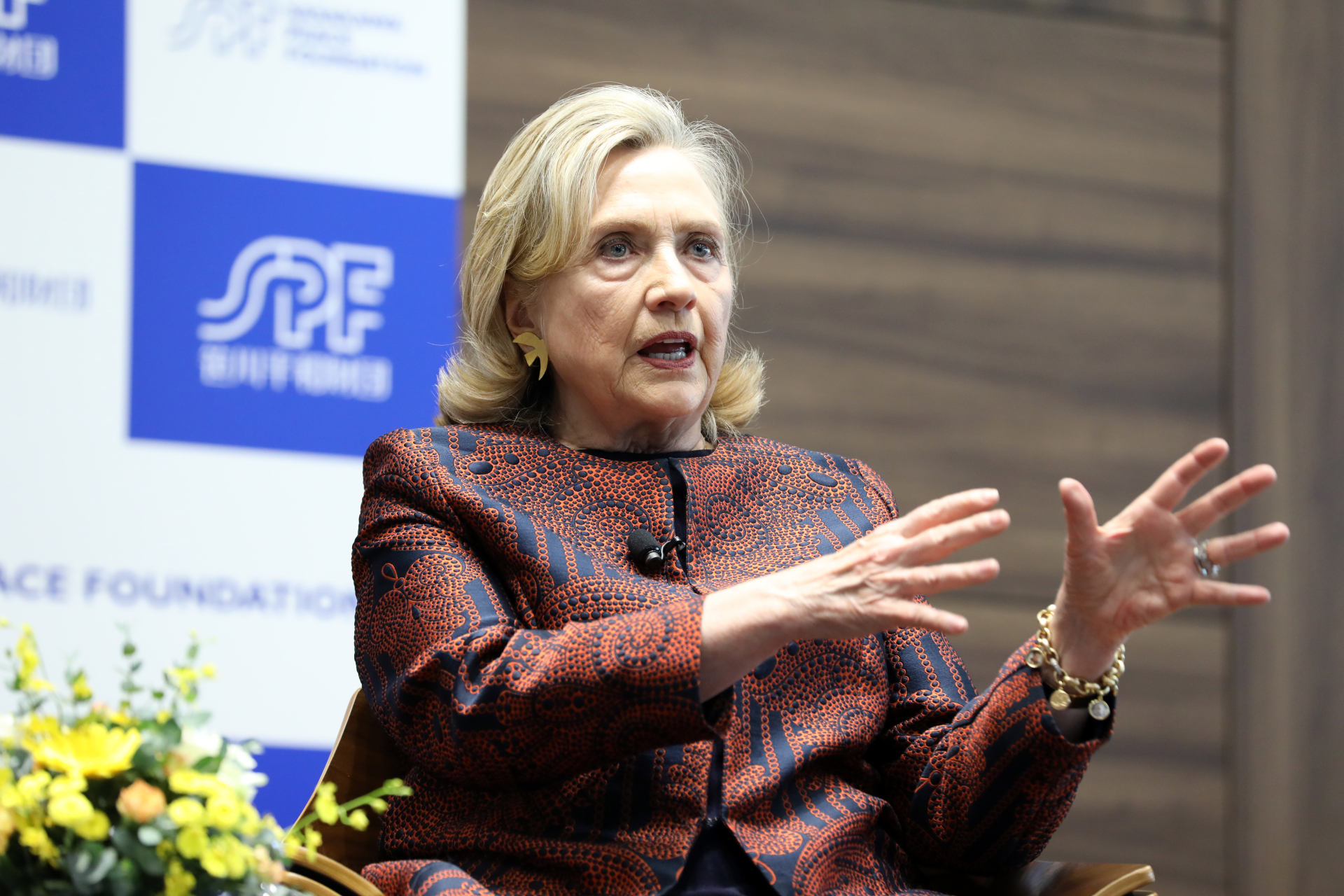 Ms. Nakamitsu brought the conversation to Japan, which currently ranks 116th out of 146 countries in the World Economic Forum Gender Gap Index, the lowest position in the East Asia and Pacific region. When asked how she might advise Japan in contending with this persistent gender gap, Secretary Clinton commended former Prime Minister Abe for prioritizing women's participation as a central pillar of his economic agenda. However, she observed that certain cultural signals about a woman's role in the workplace and structural impediments, such as a lack of childcare and eldercare, may disuade women from returning to work.

"Everywhere has politics and every place has difficult decisions to make, but you have one of the most highly educated populations, men and women, and you're making it very difficult for women once they get married to continue in the workforce. I think that's a loss for Japan, not just a loss for individual women and their families." She also pointed to SPF's central goal of women's empowerment, suggesting that the foundation bring together stakeholders to discuss a national mission toward gender equality, which may encourage politicians to take action.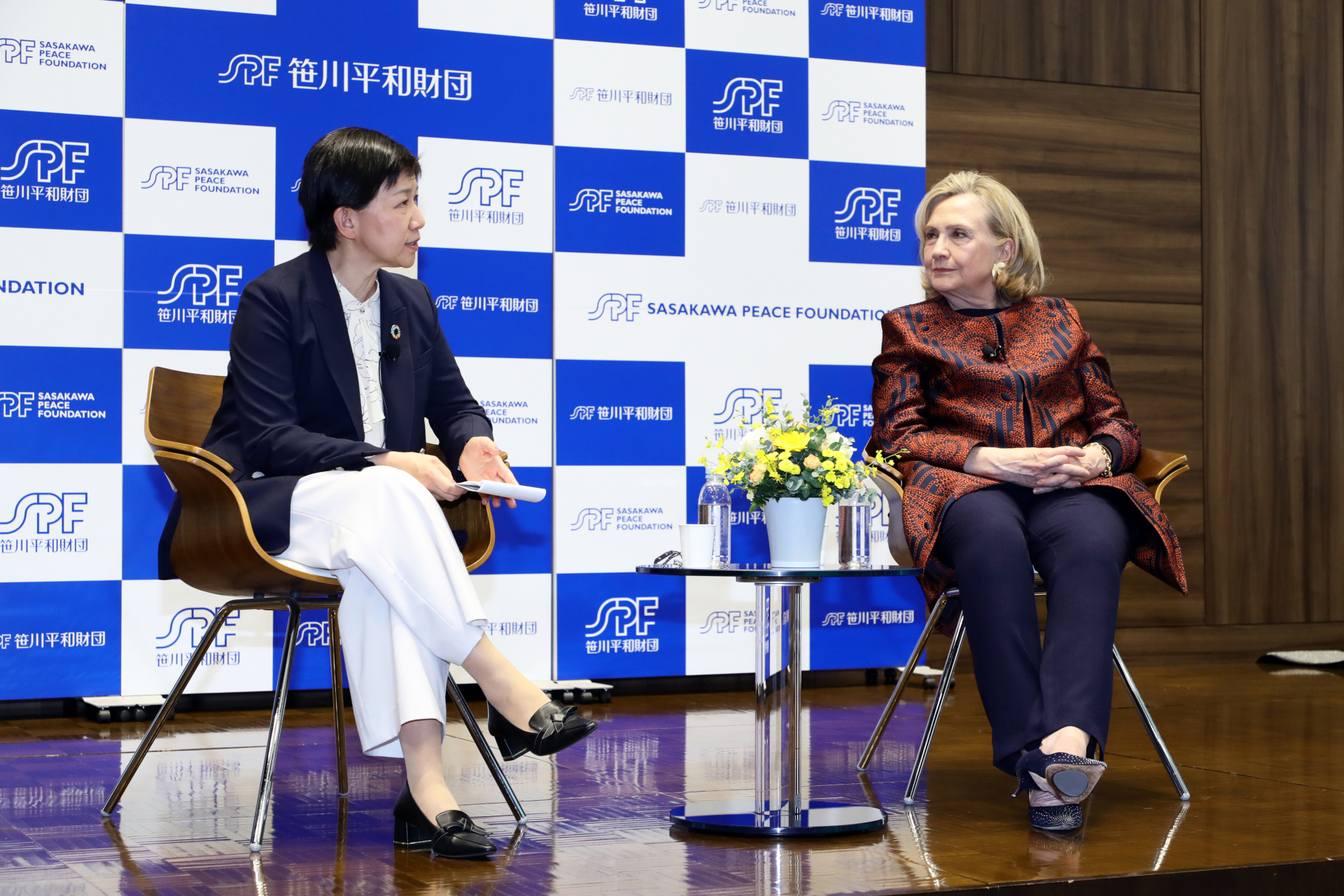 Secretary Clinton and Ms. Nakamitsu (left) in conversation
The conversation concluded with a discussion of U.S. politics, including the importance of encouraging women to participate by voting and running for office. When asked when the U.S. might elect its first female president, Secretary Clinton laughed, saying that she would like to be able to vote for her one day, provided she agrees with the candidate's policies. In response to the final question about Secretary Clinton herself joining the presidential race in 2024, she replied with a simple, but straightforward "No."