Asia and Middle East Program
How to Confront Perpetrators of Domestic Violence and Abuse
Discussions on Rehabilitation Programs and Systems
Pre-event of the 14th United Nations Congress on Crime Prevention and Criminal Justice
By Chizuko Muranaka, Journalist
---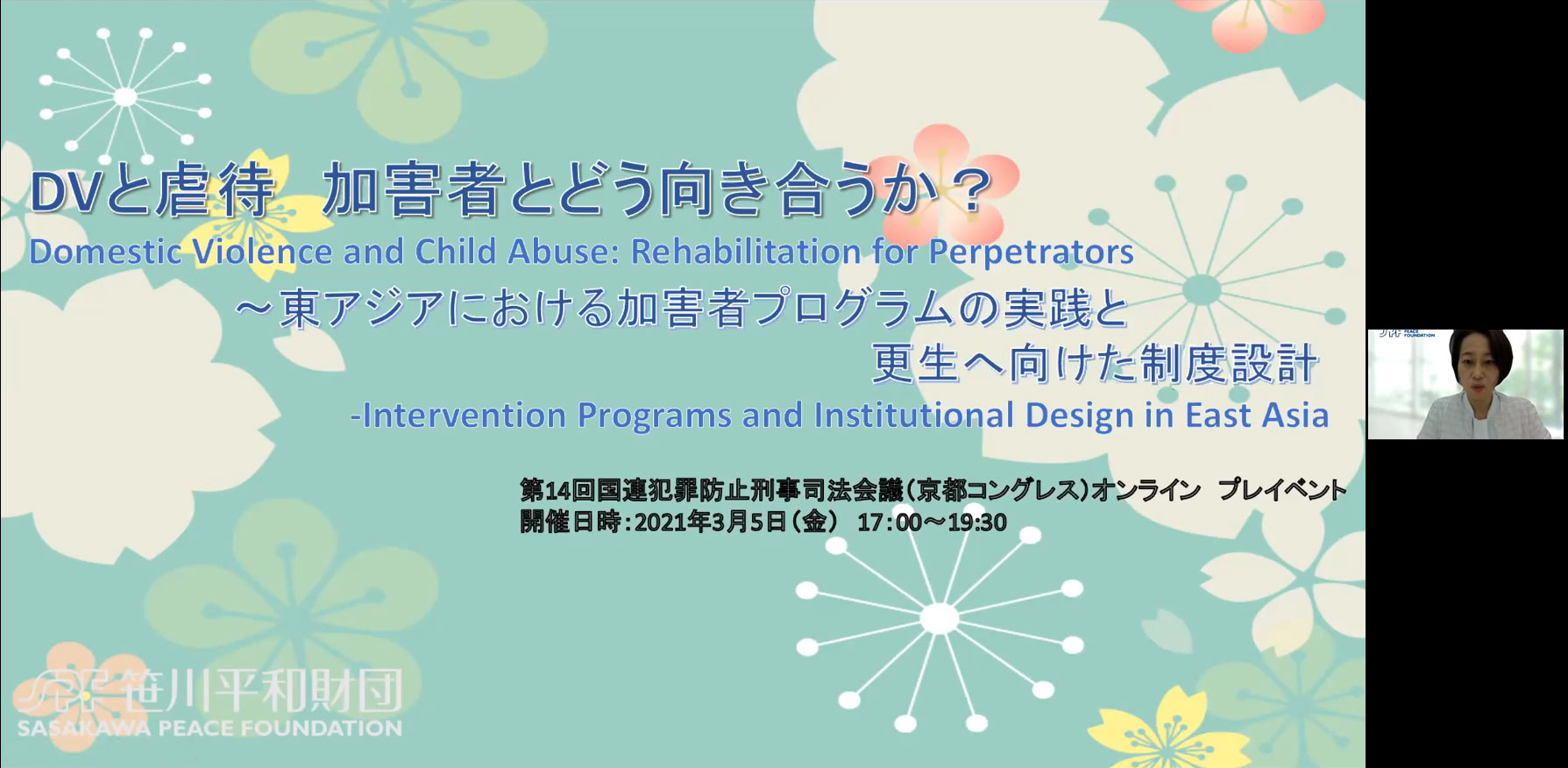 The Sasakawa Peace Foundation (SPF) held an online conference as a pre-event for the 14th United Nations Congress on Crime Prevention and Criminal Justice (Kyoto Congress) on March 5, 2021. In this event, experts from Japan, South Korea, and Taiwan held discussions to consider systems to rehabilitate perpetrators who have committed violent acts to their partners in household environments and abused their children.
 
During the opening remarks, H.E. Ms. Yoko Kamikawa, Minister of Justice at the time, stated in a video message that domestic violence (DV) and child abuse are "common global issues" and pointed out the importance of "a perspective that not only focuses on the support for victims, but also on perpetrators so that further harm can be prevented."
 
H.E Ms. Kamikawa also mentioned that due to prevention measures for COVID-19, concerns regarding the potential risk of harm in households will increase and become more serious, and that the current system to prevent child abuse is insufficient. As women often become victims of domestic violence and bear the burden of this harm, H.E Ms. Kamikawa emphasized the importance of cooperation between related organizations, counseling services as preventive measures, and collaboration among international networks as well as the public and private sectors.
 
Atsushi Sunami, president of SPF, discussed a proposal that was introduced in the policy recommendation "Men's New Roles," published on March 2020. The policy recommendation was based on research results on gender equality and the concept of masculinity that the foundation had conducted. The proposal recommended the establishment of a system that legally mandates DV perpetrators to participate in rehabilitation programs. With efforts by western countries progressing in this field, President Sunami pointed out the significance of using this online conference to discuss systems for rehabilitation of perpetrators as a common topic in Asia, which has a "strong family-oriented tradition."
The conference consisted of two sections. In section one, "Learning from the experiences of East Asia," experts from South Korea and Taiwan explained the legal frameworks and perpetrator rehabilitation programs in this field.
 
Dr. Hyun-Jong Song, investigator at the Incheon Family Court in South Korea (equivalent to a family court), explained that a unique feature of South Korea is that domestic violence is treated as a criminal case. Prosecutors decide whether to pursue criminal punishment or send the case to family court for protective measures in order to uphold "the state's responsibility to protect victims and allow families to recover."
 
Since the 1997 Special Act on Domestic Violence, rehabilitation programs for perpetrators have been conducted within the six-month period of supervision as one of the protective measures, which also includes restraining orders and medical treatment. In 2018, perpetrators of around half of the approximately 18,000 cases were ordered by the family court to attend the program. The perpetrator rehabilitation program is paid for by the government, but failure to attend can result in fines and even criminal prosecution. Dr. Song said that an "integrated approach" is needed in the future to deal with family issues that are associated with domestic violence, such as divorce and delinquency.
 
According to Dr. So-Hyun Park, general manager of the Legal Aid Department II at the Korea Legal Aid Center for Family Relations, which was established in 1956 as South Korea's first counseling agency specializing in family issues, the perpetrator rehabilitation program consists of six stages. These include individual, group, and couples' sessions, based in principle on a total of 60 hours and 20 sessions. In 2006, 2008, and 2018, the perpetrators and victims who participated were surveyed six months after the end of the program. According to Dr. Park, the results showed "a decrease in the recurrence of not only physical violence but also verbal violence."
 
On the other hand, Dr. Park raised various issues that need to be addressed, such as the need for more active reporting of domestic violence, increased awareness and financial support for counseling, and legislation regarding monitoring after a perpetrator completes a rehabilitation program.
 
From Taiwan, Mr. Ping-Chan Lee from the Department of Mental and Oral Health, Ministry of Health and Welfare (equivalent to Japan's Ministry of Health, Labor and Welfare), explained that the application of the Domestic Violence Prevention Law enacted in 1998 was expanded to include unmarried people in its amendment in 2016. Furthermore, medical institutions, daycare centers, and front-line organizations of social welfare services are now "responsible for reporting suspected domestic violence within 24 hours of becoming aware of it," with violation of this provision resulting in a fine. After the amendment, the number of reports increased by 9% to just over 120,000 cases (from 2016-2019). Each year, 97,800 victims of domestic violence are reported, of which about 16% are given court protection orders. Perpetrators must participate in a rehabilitation program within one to two years, with non-participation resulting in fines and imprisonment for violating the protection order.
 
Ms. Chun-Ying Peng, director of the Shiuhli Foundation, which was established in 1978 and has been running a program on behalf of the Taipei city government for the past 10 years, said, "A surprisingly large number of abusers do not understand the law or protection orders." Ms. Peng explained that in the rehabilitation program, perpetrators must understand the protection orders, recognize their own acts of violence, learn how to control their emotions, and "communicate in ways other than violence," while also receiving parenting education.
The second session, entitled "Issues on Designing the System in Japan" and covering the theme of "Offender Rehabilitation Programs on the Ground," representatives from three non-profit organizations that are implementing programs based on North American models explained the current situation in Japan and raised issues that need to be addressed.
Adopting a program she studied in Los Angeles, Ms. Noriko Yamaguchi of "AWARE," a program that has been run in Tokyo since 2002 with 400 male perpetrators (at the time of this event), argued that perpetrators are "normal people with high education and social status" and "not sick, but have a pattern of distorted thinking and behavior." The program requires participants to attend at least 52 meetings and to discuss their experiences in groups, reflect on themselves objectively, and change their values, attitude, and behavior by becoming aware of the other person's position. Ms. Yamaguchi also mentioned that psychological violence is on the rise, and said that violence against women "stems from social structures that discriminate against women and assign roles based on gender."  
On the other hand, Ms. Eko Koga of the Respectful Relationships Program (RRP) Research Group, which has been implementing a program to rehabilitate perpetrators since 2005, said that it is important for people to recognize that "violence is not a disease but a responsibility, and that being a good husband means being a good father." In the RRP Research Group's program, perpetrators participate in groups of 8 to 10 people, meeting once a week for 2 hours for a total of 18 sessions. Ms. Koga mentioned that the number of participants is small so it is "frustrating that we are only dealing with the tip of the iceberg," and also pointed to difficulties in securing space, labor costs, and personnel.  
Mr. Tadashi Nakamura, director of the Center for Liberal Arts Education at Ritsumeikan University and chair of the Cabinet Office's Research Group on Actions to DV Perpetrators, discussed the current situation where child abuse and domestic violence overlap, mentioning recent cases of child abuse deaths as examples. Mr. Nakamura started the "Men's Parent School" in Osaka 15 years ago, which aims to help people break free from violence committed by men. Men meet in groups twice a month for two hours at a time to discuss child rearing and strategies for rebuilding marital relationships. Since "child-rearing support alone puts a burden on mothers and wives," Mr. Nakamura presented a perspective that incorporates both "vertical child-rearing support and horizontal DV education for prevention." Mr. Nakamura also suggested structuring the program to include DV prevention education in parental guidance orders, since the family court can be involved in child abuse cases.  
Ms. Chisato Kitanaka, associate professor at the Harassment Consultation Office in Hiroshima University and joint representative of the All Japan Women's Shelter Network, discussed the Japanese law on DV (Prevention of Spouse Violence and Protection of Victims), and pointed out that protection orders issued by courts are only applied to physical violence and do not apply to non-married couples. She also pointed out many issues that need to be addressed, including the fact that (1) public counseling centers do not specify the services they can offer, (2) there is no comprehensive support for those who want to get divorced or to work, (3) the non-profit sector is small and volunteer-based, (4) there is no place for young women to go who have been abused by their parents or siblings, and (5) the concept of social work is not well established. Stating that the "support for victims is too weak," she proposed the establishment of public-private partnerships to provide comprehensive support.  
Ms. Akiko Kikuchi, chief of the Education Development Unit at the National Center for Cognitive Behavior Therapy and Research, spoke about the need for a commonly available risk assessment. When contending with DV is considered as "public health prevention," she explained that "primary prevention is psychological education and awareness-raising education to prevent cases; secondary prevention is early detection, intervention, and implementing perpetrator rehabilitation programs to prevent conditions from deteriorating; and tertiary prevention is court-ordered mandatory perpetrator rehabilitation programs." Furthermore, she suggested the use of risk assessment and training programs.  
In response to the previous presentations, Dr. Yanshu Li, a visiting researcher at the Hokkaido University Center for Ainu and Indigenous Studies, said, "Although there is a difference between the two countries in that South Korea's approach emphasizes more on criminal punishment while Taiwan's approach focuses more on the side of civil law, the two countries have in common a unique East Asian culture in which the law does not enter the home and the family is viewed as a unitary entity, which means that the punishment for the perpetrators is minor." As for Japan, he said, "we have to do our best" in comparison with South Korea and Taiwan, where investments have been made in legal funds and institutional progress has been made.  
Lastly, Mr. Hiroki Hayabuchi, counselor at the Ministry of Justice, spoke about the need for the private sector, local communities, and the government to deepen their cooperation. He also noted that on the civil side, concrete efforts are being made to ensure safe and secure visitation, adding that the interests of the child should be the top priority, rather than the conditions pertaining to visitation and child support after divorce.
(The 
original Japanese article
 was published on March 17, 2021.)