Rising "maritime identity" of islands amidst increasing competition in the Indian Ocean
SPF Visiting Fellow Darshana Baruah on the strategic significance of islands in the Indo-Pacific framework and the outlook for great power competition in the Indian Ocean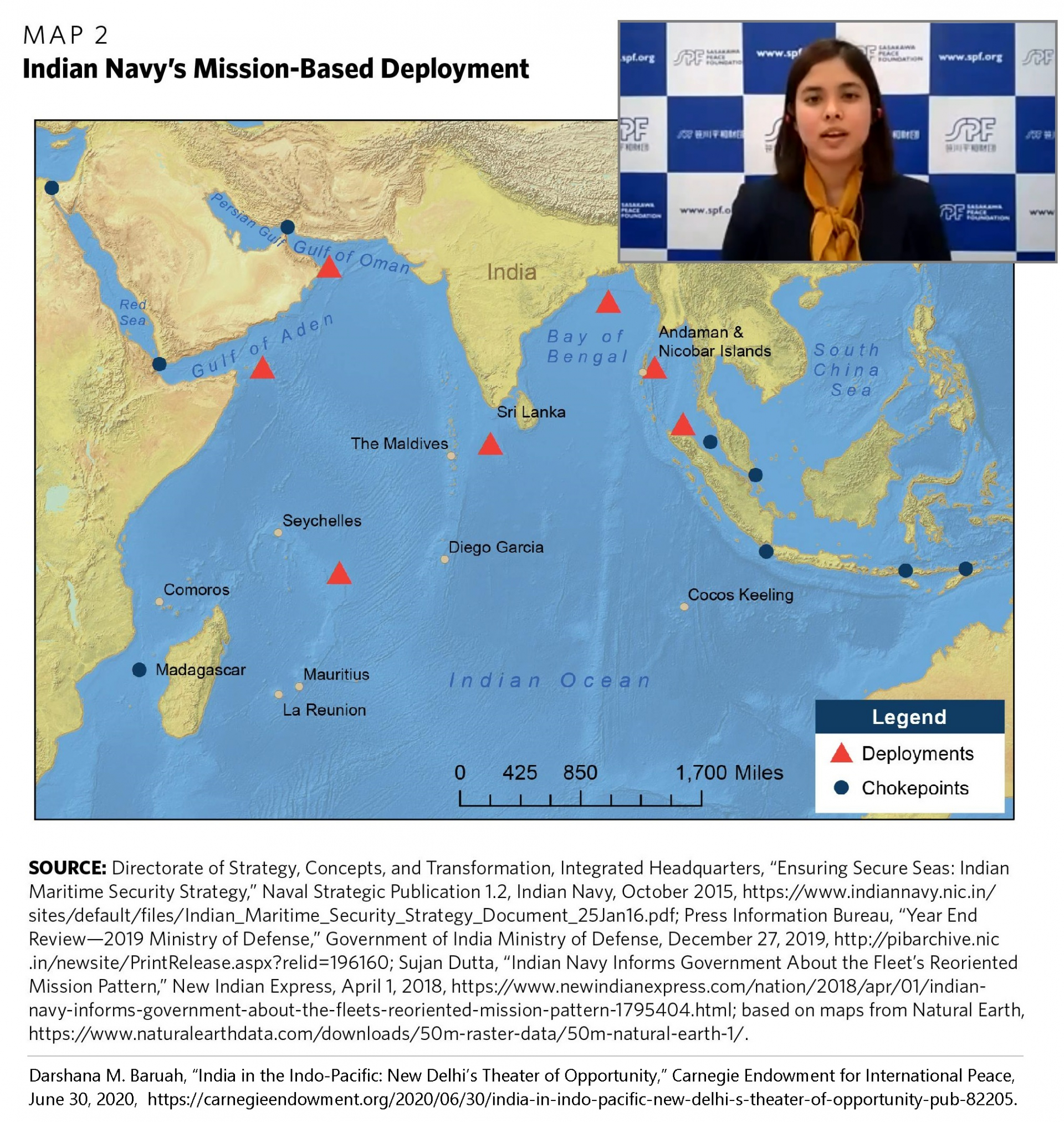 In recognition of the critical nature of island nations in the Indian Ocean, the International Peace and Security Department of the Sasakawa Peace Foundation (SPF) welcomed SPF Visiting Fellow Darshana Baruah for a discussion entitled "The Indian Ocean in the Indo-Pacific framework: How islands shape great power competition." Ms. Baruah, an associate fellow with the South Asia Program at the Carnegie Endowment for International Peace, has spent over two years conducting research in Japan regarding the strategic significance of island nations in the Indian Ocean for a forthcoming book. The online session was moderated by SPF Executive Director Junko Chano and also included comments by SPF Senior Fellow Tsuneo "Nabe" Watanabe.
As great powers vie for tactical advantage in the world's oceans, island nations continue to play a vital role in global maritime strategy. Traditionally, islands were treated as access to bases or wayward stations, allowing partners to protect their own sea lines of communication or disrupt those of adversaries. In spite of this critical role, islands — and particularly those in the Indian Ocean — have often been sidelined in the broader security dialogue, which historically focused on the priorities of larger countries and regions. Further exacerbating the problem, these islands lack a regional forum to amplify their voice and allow for collective action akin to the Pacific Island Forum in the Pacific.
 
However, as competition ramps up around the world, island nations in the Indian Ocean have begun to come into their own strategic significance, according to Ms. Baruah. While many islands had been preoccupied with domestic issues after emerging from colonial rule, in recent years they have experienced a "rise of their maritime identity" alongside a growing recognition of the significance of the Indo-Pacific strategic framework writ large, and more specifically the Indian Ocean region.
 
"Islands today, as sovereign nations and members of the United Nations, carry a lot of impact and they can influence the conversation on the ground," explained Ms. Baruah. "If countries are really serious about collaborating with island nations, it's not enough to enter into a race to build ports as a response to China's Belt and Road Initiative and Maritime Silk Road...It will be necessary to understand the islands' security challenges and threats."
 
Accordingly, island countries now have the opportunity to leverage their strategic significance to ensure that international frameworks reflect their priorities, which tend to emphasize nontraditional security challenges such as illegal fishing, drug smuggling, human trafficking, and climate change, which poses an existential threat to the islands' survival.
Mr. Watanabe agreed that Japan has historically emphasized the Pacific side of the Indo-Pacific framework, paying closer attention to challenges in the East China Sea and South China Sea. "Beyond the Malacca Strait, the Indian Ocean is not [the main focus for Japan] unless something happens in the choke points, which Ms. Baruah showed, like the recent tragic incident in the Suez Canal when a Japanese vessel got stuck," he explained. He also agreed that nontraditional security threats have a critical role to play in future strategic collaboration among major powers and island nations.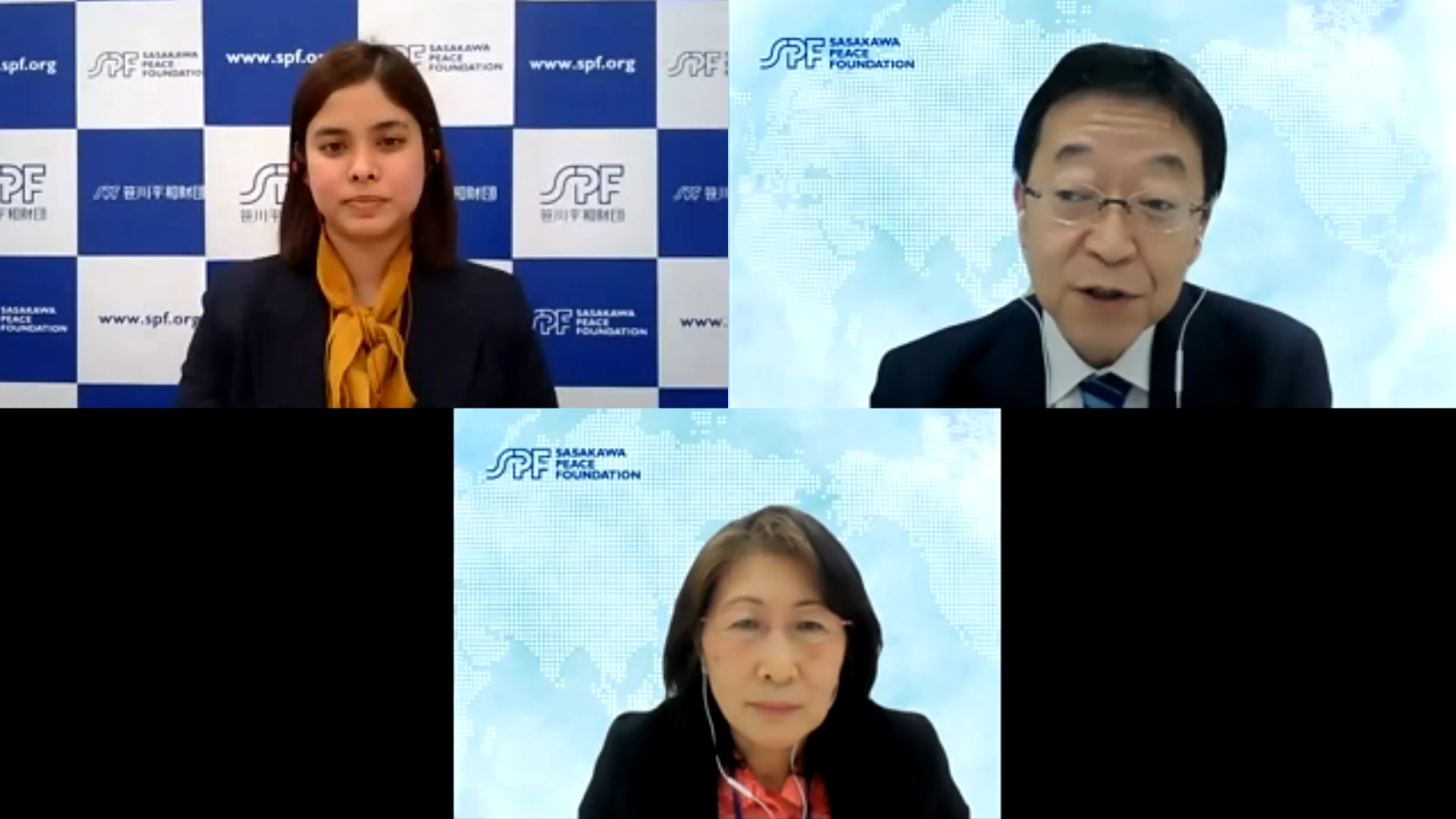 Clockwise from upper left: Visiting Fellow Darshana Baruah, Senior Fellow Tsuneo "Nabe" Watanabe, and Executive Director Junko Chano
Strategic competition in the Indian Ocean and China's ambitions
The Indian Ocean has become an increasingly important venue for competition among major powers, further raising the profile of island nations in the region. Beyond actors that have been active in the Indian Ocean after the Cold War such as India, the U.K., France, and to a certain extent the U.S., recent years have seen increased interest in the region, according to Ms. Baruah. Russia has become more proactive in deepening ties with countries in Africa, including acquiring a base in Sudan on the Red Sea. Turkey and Saudi Arabia have also worked to bolster economic and cultural engagements across the region.
 
Another major player is China, a country that has made moves to realize its ambition of linking Eastern Asia with Europe through its Maritime Silk Road Initiative as part of the Belt and Road Initiative (BRI). This policy has guided China in its development of a robust overseas presence by securing access to strategically located ports in locations including Sri Lanka, Pakistan, and the country's first ever overseas military base in Djibouti along the Red Sea.
 
While much debate has focused on China's intentions in the Indian Ocean, Ms. Baruah maintained that China's actions should not come as a surprise. "China articulated very clearly and for a long time now that it wants to see itself as maritime power and it wants to see itself as a global power. In order to do that, it has to not just be dominant in the South China Sea, but it has to be dominant in the Indian Ocean region," she said.
 
Instead, she asserted that "what China is doing today is no different than what any nation with great power ambitions has done throughout history. It's just that we're seeing in a different world. We're seeing it in a post-WWII era and a post-Cold War era, so the security architecture is different. But what China essentially is trying to do is secure its own position and its own trade across the Indo-Pacific."

For countries that aim to balance against China's maritime ambitions, Ms. Baruah pointed to the importance of collaboration among likeminded partners to boost capacity and overcome limited resources. "At the end of the day, the Indian Navy has a very limited budget. It gets 14% of the defense budget. The only way it can address a rising China challenge or a rising threat is to work with partnerships." One example of this kind of partnership is the development of resource and logistics exchange agreements like those that were reached between Japan and India as well as the U.S. and India.
Areas for further collaboration between India and Japan
Given the increased competition in the Indian Ocean, Japan is one of many countries now seeking to boost ties with island partners in the region. As one example, in April 2021, Japan for the first time provided development assistance totaling 4.02 billion yen to South Andaman Island, a territory administered by India. This island is strategically located northwest of the Malacca Strait, a narrow waterway between Malaysia, Indonesia, and Singapore that is vital for global trade and also acts as a critical chokepoint for naval vessels seeking to transit between the Pacific Ocean to the east and the Indian Ocean to the west.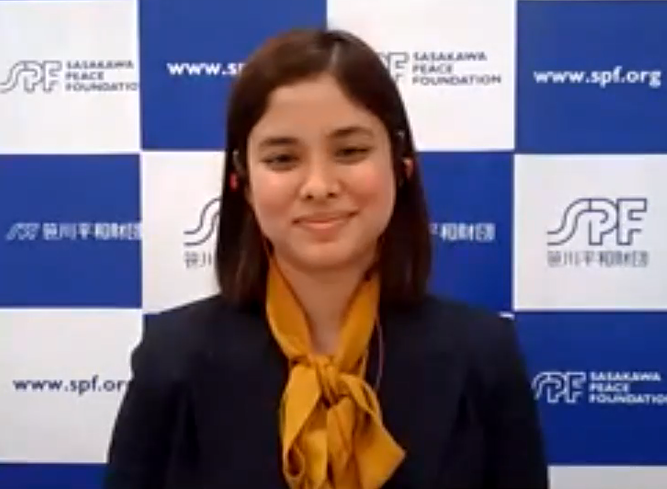 Ms. Baruah argued that this kind of collaboration provides a promising roadmap not only for collaboration between Japan and island nations, but also for a partnership between Japan and India to pool resources to contend with common challenges. "Borrowing [Japan's ODA] experience to address India's challenges I think could be one of the best ways to work together, which is each country leveraging their own priorities, expertise, and capabilities," explained Ms. Baruah. Ultimately, India receives access to expertise and investment for its development projects, and Japan deepens ties with a partner that can provide security and potential surveillance capabilities in the Indian Ocean.
Given the win-win outcomes of this kind of arrangement, Ms. Baruah believes that this model for cooperation will likely increase in the future. Conversations between the two sides are continuing about projects in Kenya, Sri Lanka, as well as in Northeast India, opening avenues for future collaboration across the region.
Jackie Enzmann, Chief Editor
Additional links:
For more from the International Peace and Security Department, visit the program page.