Deradicalization and social reintegration in Pakistan, Indonesia, and Japan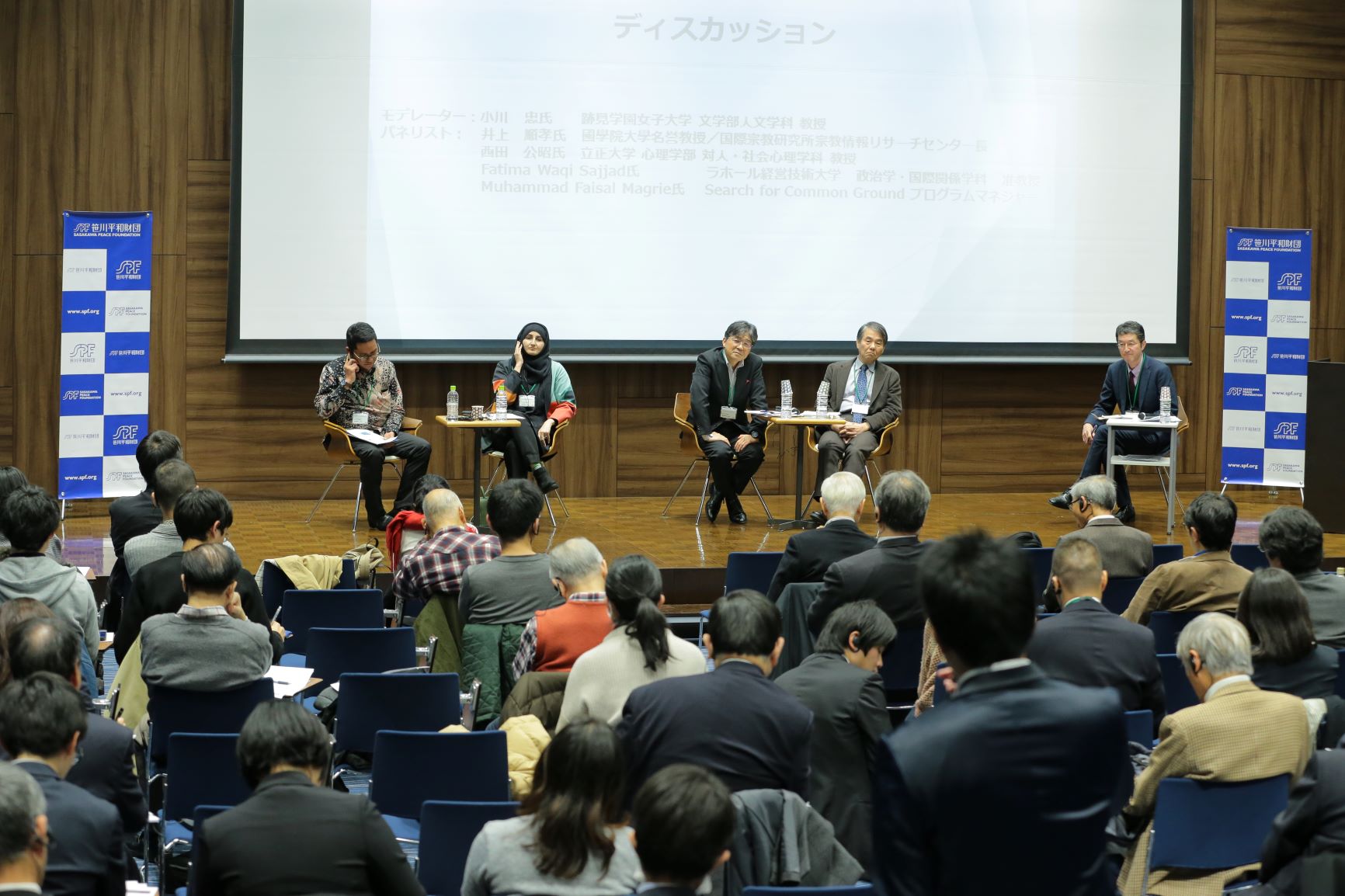 On January 17, 2020, the Asia Peace Initiatives Department of the Sasakawa Peace Foundation (SPF) hosted a seminar entitled "Violent Extremism and Social Integration: Pakistan, Indonesia and Japan's Aum Shinrikyo." The event provided an opportunity to take a fresh look at the causes of radicalization and the ways that this challenge has been approached in the three countries, each with its own unique context and experience.
 
The event began with remarks by Maho Nakayama, director of the Asia Peace Initiatives Department. She set the stage for the following discussion, noting that growing social inequities around the world compounded by rapid technological advancement and increased global communication online have opened the door to greater marginalization of certain populations, making them vulnerable to radicalization.
 
Japan also faces challenges in this area as the society undergoes a significant shift with the increasing number of immigrants and migrant workers, which has the potential to create isolated subsets within the broader population. Given this context, consideration of Japan alongside other countries that have dealt with marginalization and radicalization remains a critical topic for discussion.
Contending with radicalization in Pakistan and Indonesia
Dr. Fatima Waqu Sajjad, Assistant Professor at the University of Management and Technology in Pakistan, delivered a presentation outlining her research into the factors leading to radicalization on college campuses in Pakistan and proposing ways that education can counteract extremism.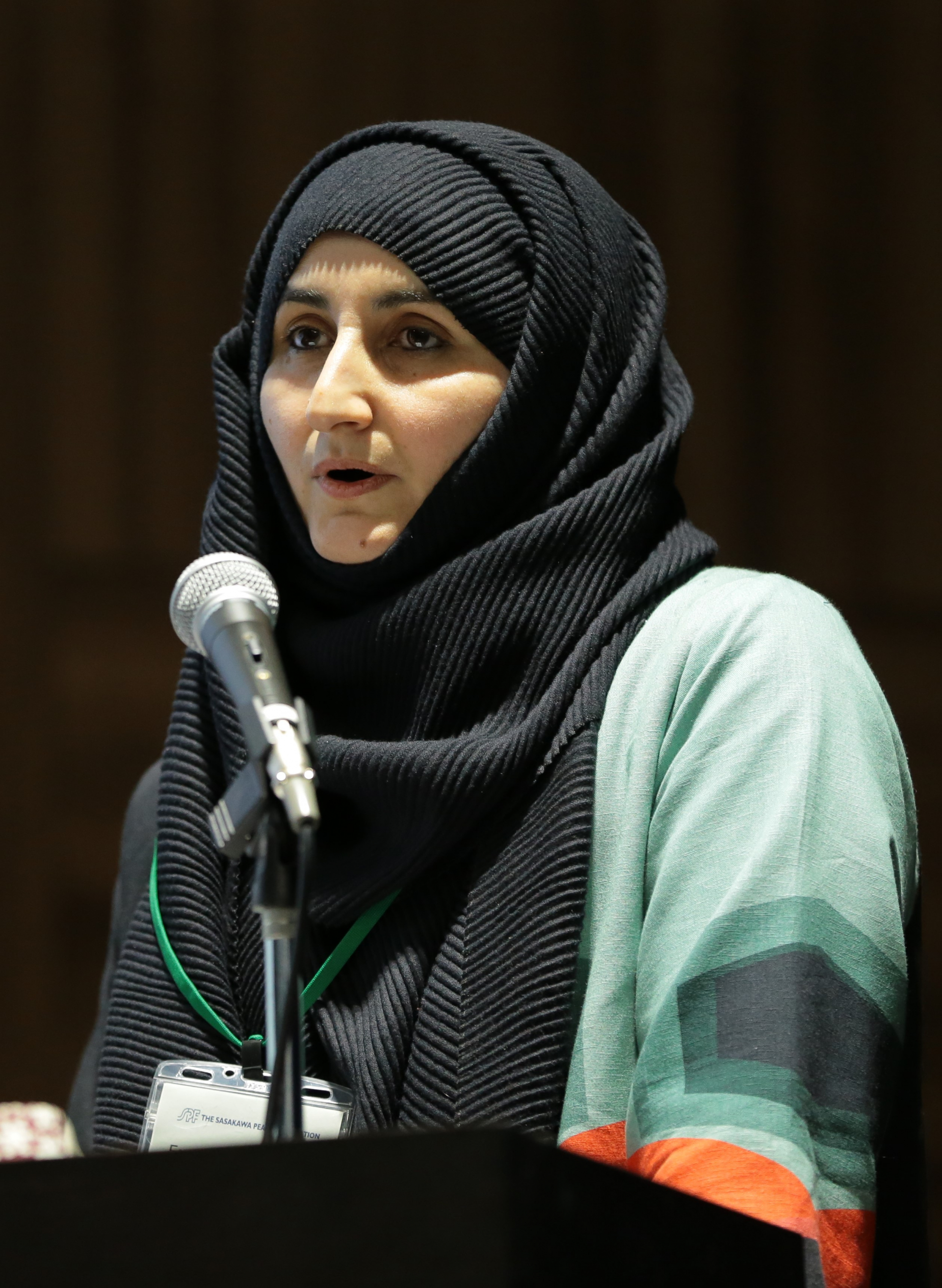 Dr. Fatima Waqu Sajjad, professor at the University of Management and Technology in Pakistan
While much of the literature often points to poverty, a lack of education, or broader marginalization within society as key contributors to radicalization, these triggers fail to explain why college students who are well educated, presumably financially stable, and on the verge of a career in their field of choice are also drawn to extremism. To account for this contradiction, Dr. Sajjad argued that those who are radicalized on college campuses may be attempting to find meaning in life by fighting back against what they perceive to be a longstanding injustice or perhaps something as simple as boredom caused by a life without hardship.
 
Given these potential causes of radicalization, Dr. Sajjad argued that "the most effective strategy to counter violent extremism among the educated is to allow them to think for themselves and teach them how to think rather than what to think...If young minds have legitimate ways of questioning, challenging and transforming oppression in the real world, if education provides them ample opportunity to challenge domination, they would not support violence to achieve their goals."

Mr. Muhammad Faisal Magrie, a program manager for Search for Common Ground in Indonesia, gave a presentation outlining the current state of radicalization in Indonesia as well as his work developing programs to rehabilitate prisoners and former terrorists.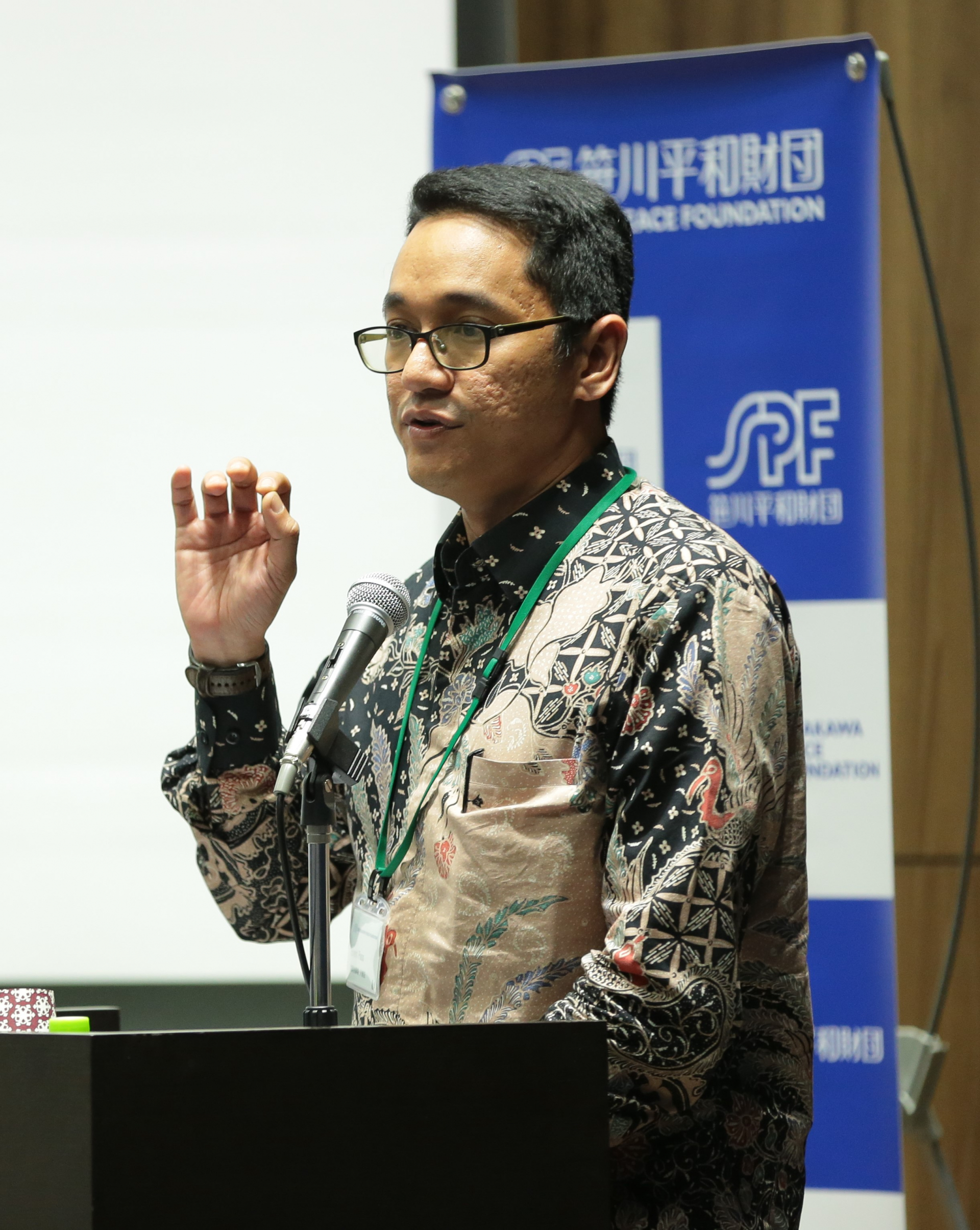 Mr. Muhammad Faisal Magrie, program officer for Search for Common Ground in Indonesia
Indonesia has a long history of contending with extremism, but in recent years a group supporting the Islamic State (IS) called Jamaah Ansharu Daulah (JAD) has carried out a number of terrorist attacks including a bombing in Surabaya in 2018 that killed 28 people and injured 50 others.
 
In addition, around 1000 Indonesian men, women, and children are estimated to have left the country to join IS in Syria and Iraq as foreign fighters. Subsequently, more than 500 of those fighters are believed to have returned to Indonesia, requiring efforts to reintegrate these potentially radicalized individuals back into Indonesian society. In light of these challenges, Mr. Magrie argued that government agencies, civil society, and academia must coordinate rehabilitation and reintegration efforts to support these populations.
 
He concluded his remarks by outlining the work that his organization, Search for Common Ground Indonesia, is undertaking to adapt its prison rehabilitation program for former terrorists by offering training in life skills including empathy, time management, and active listening. The organization has also created a new program providing intervention for the wives of incarcerated terrorists that focuses on giving psychological support alongside training in critical thinking, religious tolerance, and parenting.
Perspectives from Japan informed by Aum Shinrikyo
Following these presentations, Professor Kimiaki Nishida of Rissho University and Professor Emeritus Nobutaka Inoue of Kokugakuin University gave responses informed by their research about Aum Shinrikyo, a cult based in Japan that carried out a sarin gas attack in a Tokyo subway in 1995 that killed 13 people.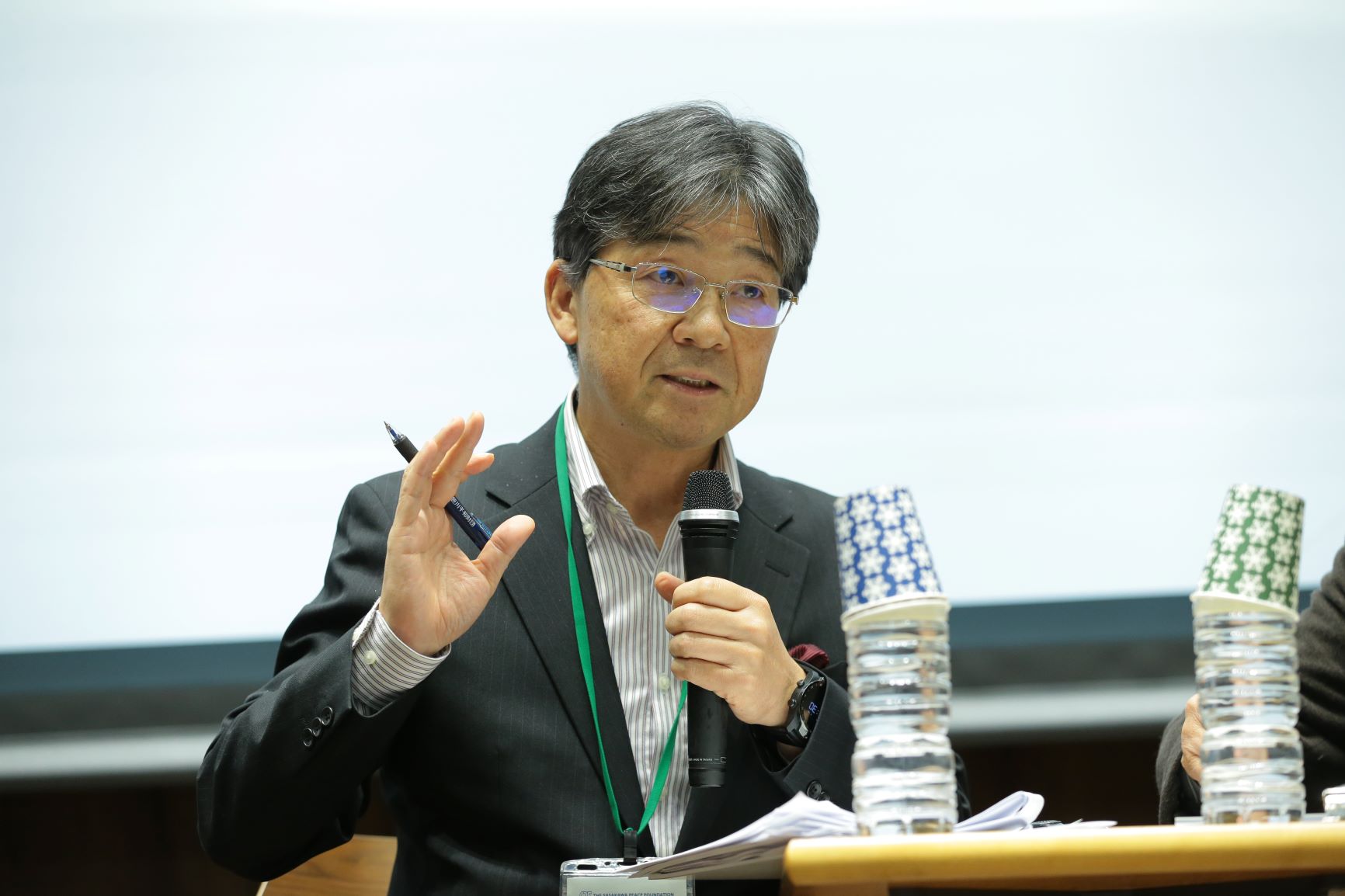 Professor Kimiaki Nishida of Rissho University
Professor Nishida found particular relevance in Dr. Sajjad's research into the links between education and radicalization. He pointed out that many members of Aum Shinrikyo were also highly educated individuals, which seems to substantiate the case that academic background does not necessarily have sway over vulnerability to radicalization.

In response to the presentation about Indonesia, Professor Nishida contrasted the gap between sentencing procedures of the two countries regarding radicalized individuals. In the case of Aum Shinrikyo in Japan, all but one of the convicted terrorists were sentenced to death, whereas in Indonesia many cases ended with a prison sentence of under 10 years. Professor Nishida, who has experience counseling prisoners on death row, argued that in fact many of these radicalized individuals can also be seen as victims of psychological manipulation, calling into question the validity of the harsh sentencing in Japan. He concluded by arguing that "this is the time for Japan to give full thought to this issue and to think about how to deal with terrorists, including sorting out the law as to how to deal with these people."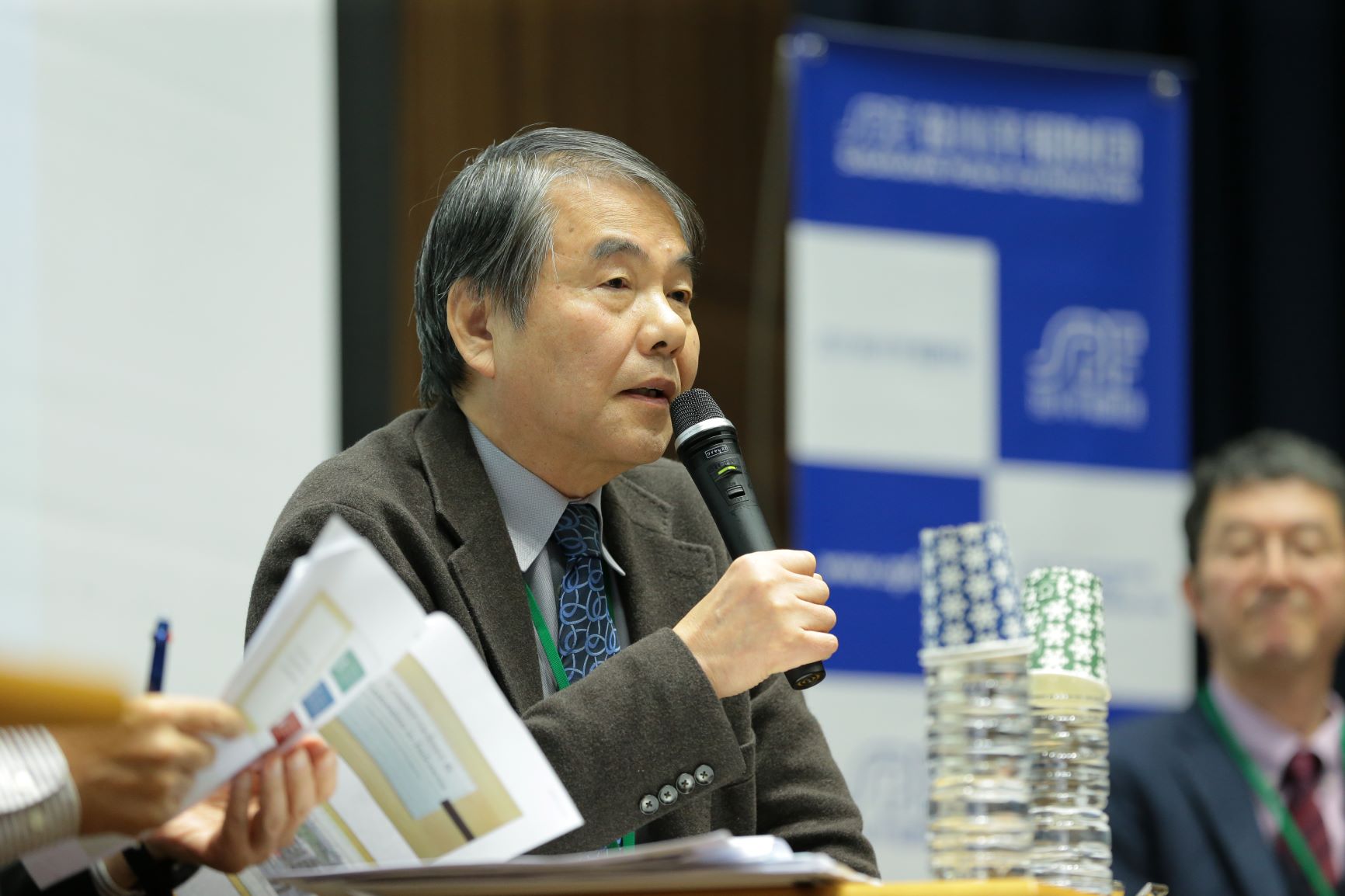 Professor Emeritus Nobutaka Inoue of Kokugakuin University
Professor Inoue's response took a broader look at the psychological underpinnings of radicalization by examining the intersection between radicalization and cognitive science. He argued that human brains are in a sense hardwired to respond in predictable ways when confronted by extreme emotions such as fear. In the case of Aum Shinrikyo, he argued that the leader, Shoko Asahara, was adept at exploiting this common reaction to fear by inflicting a sense of anxiety on his followers to manipulate them into attacking a perceived enemy.

While Professor Inoue argued that these tendencies are intrinsic to human nature, he also asserted that a deeper awareness of these intertwining forces is the key to preventing manipulation. Accordingly, in order to contend with these psychological vulnerabilities, deeper discussion and proactive education are both critical.
 
The event concluded with a discussion between the audience and four panelists. Many of the questions touched on a broader concern over a conflation of the religion of Islam and terrorism. In response, Dr. Sajjad stressed that in many cases, people with a limited understanding of Islam or religion in general are the most susceptible to manipulation based on a distorted interpretation of religion, again emphasizing the critical role of proactive education about religion as an important way to counteract these trends.
Jackie Enzmann, Chief Editor
To watch the keynote addresses by Dr. Sajjad and Mr. Magrie, visit the SPF video page.