Women's empowerment through social enterprise
A closer look at Indonesia
Part 1: Social enterprise as the new way of business
How the next generation of businesswomen are building a better Indonesia
The Gender Investment and Innovation Department of the Sasakawa Peace Foundation (SPF) conducts research and supports programs throughout Southeast Asia guided by the central idea that entrepreneurship unlocks opportunities for women.

As part of this work, SPF has partnered with Frontier Incubators, an initiative of the Australian Department of Foreign Affairs and Trade (DFAT), to produce the Gender Lens Incubation and Acceleration (GLIA) toolkit. This interactive resource, informed by extensive consultation with local partners, helps intermediaries better incorporate gender considerations into their support of entrepreneurship in Southeast Asia to ensure that businesses that bring value to women are able to thrive. 

To set the stage for the launch of the GLIA toolkit, this article series takes an in-depth look at Indonesia to spotlight the ways that women-led and inclusive businesses are blazing a trail in social enterprise and to demonstrate how angel investors and intermediaries can support this mission to build a better future for the country.
Throughout Southeast Asia and in Indonesia specifically, entrepreneurship has emerged as an attractive career path for young professionals. However, as more young people decide to start their own businesses, profits are not necessarily the only thing on their mind. Social enterprises — startups that aim to have a positive impact on society while also generating financial returns — are becoming increasingly popular. How are women taking up this challenge in Indonesia? We spoke to three entrepreneurs to learn more about how they are using their businesses to give back to the community.
Du'anyam — supporting children and mothers with local handicrafts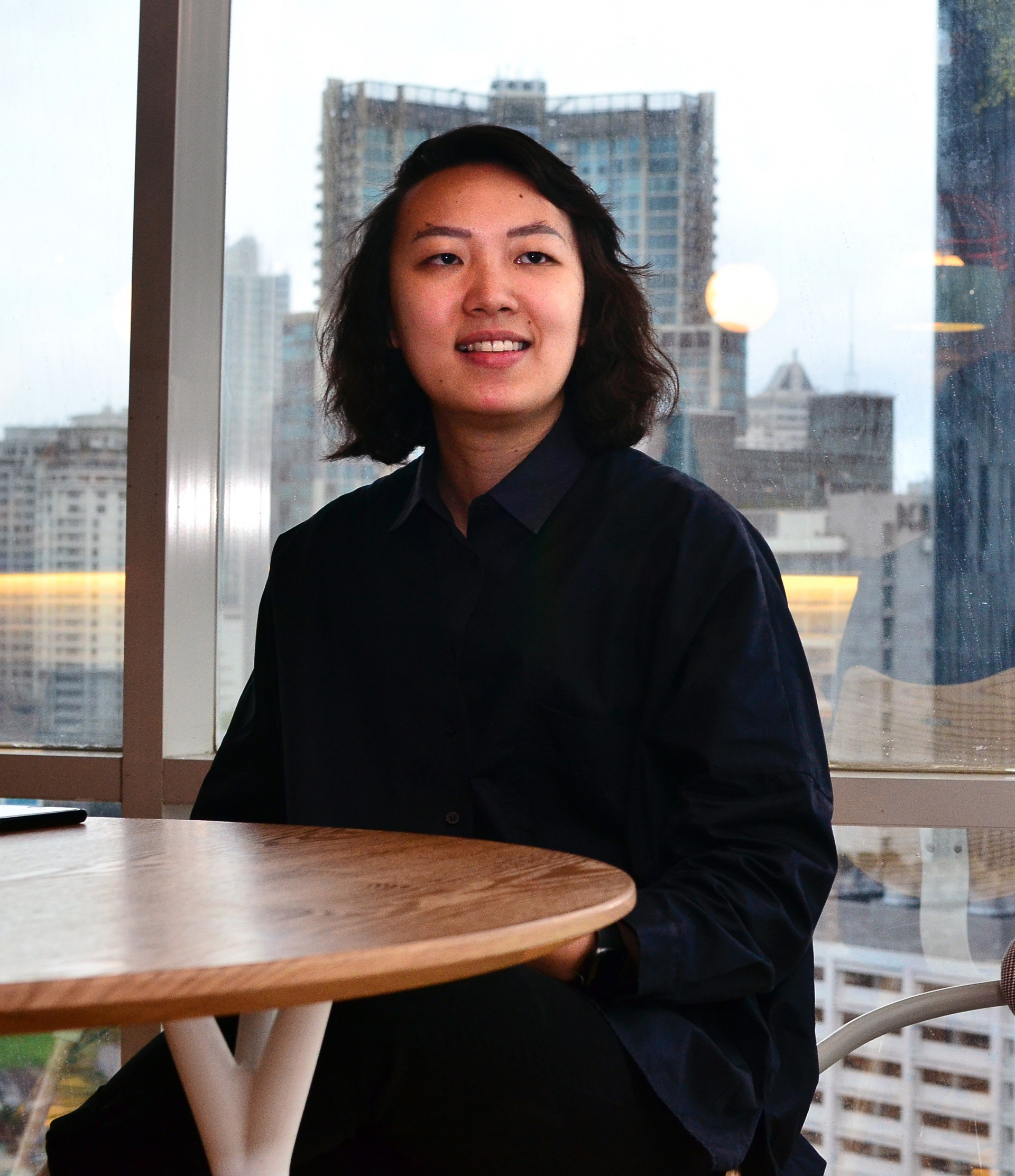 Melia Winata, Chief Marketing Officer of Du'anyam
"We believe that social entrepreneurship or the social enterprise concept, that's how business should work in the future," said entrepreneur Melia Winata when looking back at the reasons why she and two of her high school friends decided to forgo a more traditional career path to start their own company.
 
Ms. Winata is now the Chief Marketing Officer of Du'anyam, a company that sources woven materials crafted by women in rural areas of Indonesia to be used in products from hotel slippers to baskets. Du'anyam's three founders —Ms. Winata, Chief Executive Officer Azalea Ayuningtyas, and Chief Community Officer Yohanna Keraf — all attended university abroad and returned to Indonesia with a desire to create a business that addressed the issues facing their communities.
The team decided to focus on Flores, an island two hours east of Bali. While interviewing people in the rural villages on the island, they found that many women and children were suffering from malnutrition. In addition, pregnant women often did not have enough money to travel to medical facilities after going into labor, leading to high maternal and infant mortality rates across the island.
 
Ms. Winata recalled the story of one women who went into labor while travelling to a hospital in the nearest city, ultimately losing the baby due to complications. "We were shocked that this was still happening," she said, noting that this type of tragedy was all too common. "That made us realize that these maternal and children health issues are something we need to solve."

As the three founders looked for a potential business opportunity, they discovered that the women of Flores are skilled in weaving, a practice used to create baskets, mats, and other household items using Palmira leaves, a type of palm tree widely available in the region.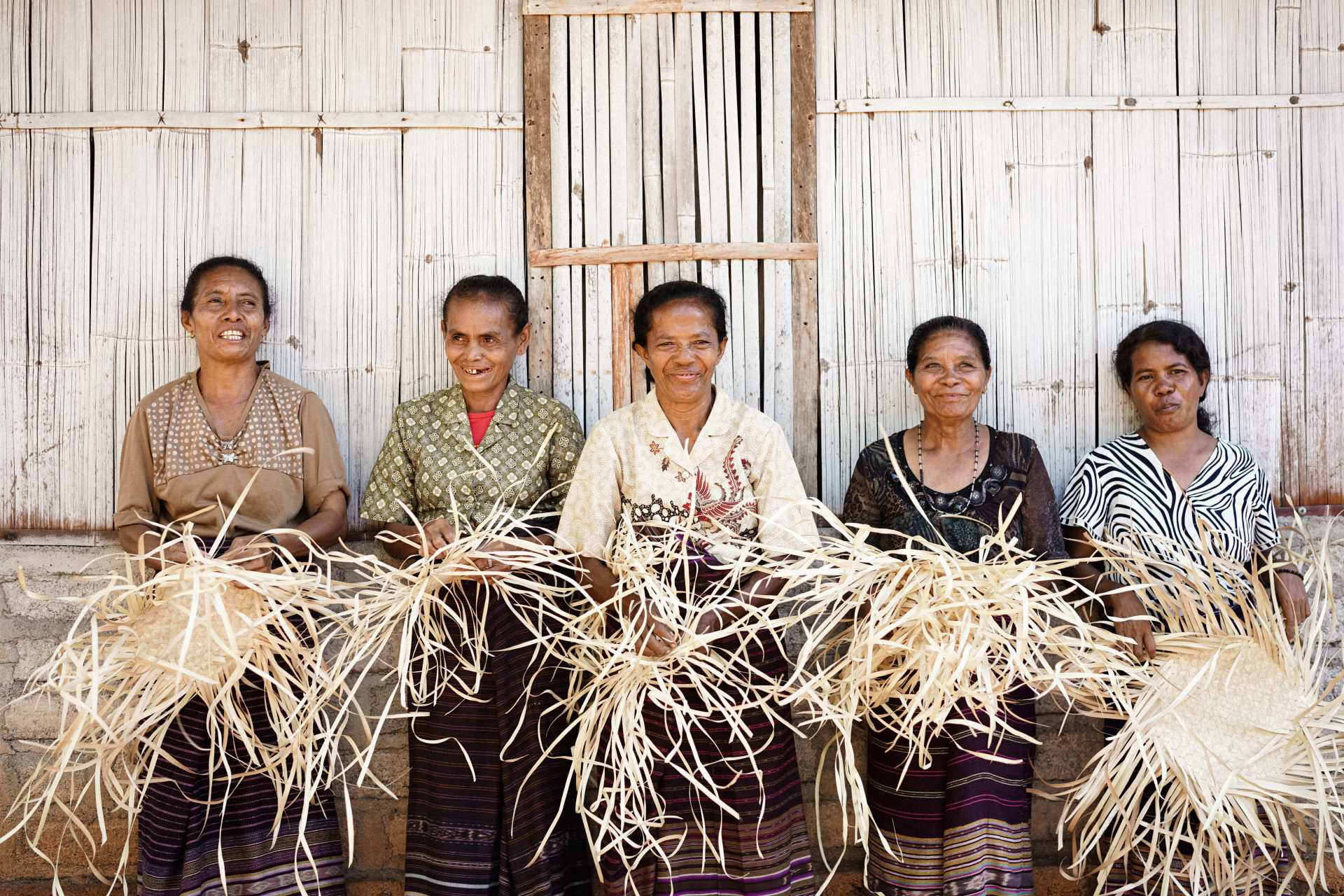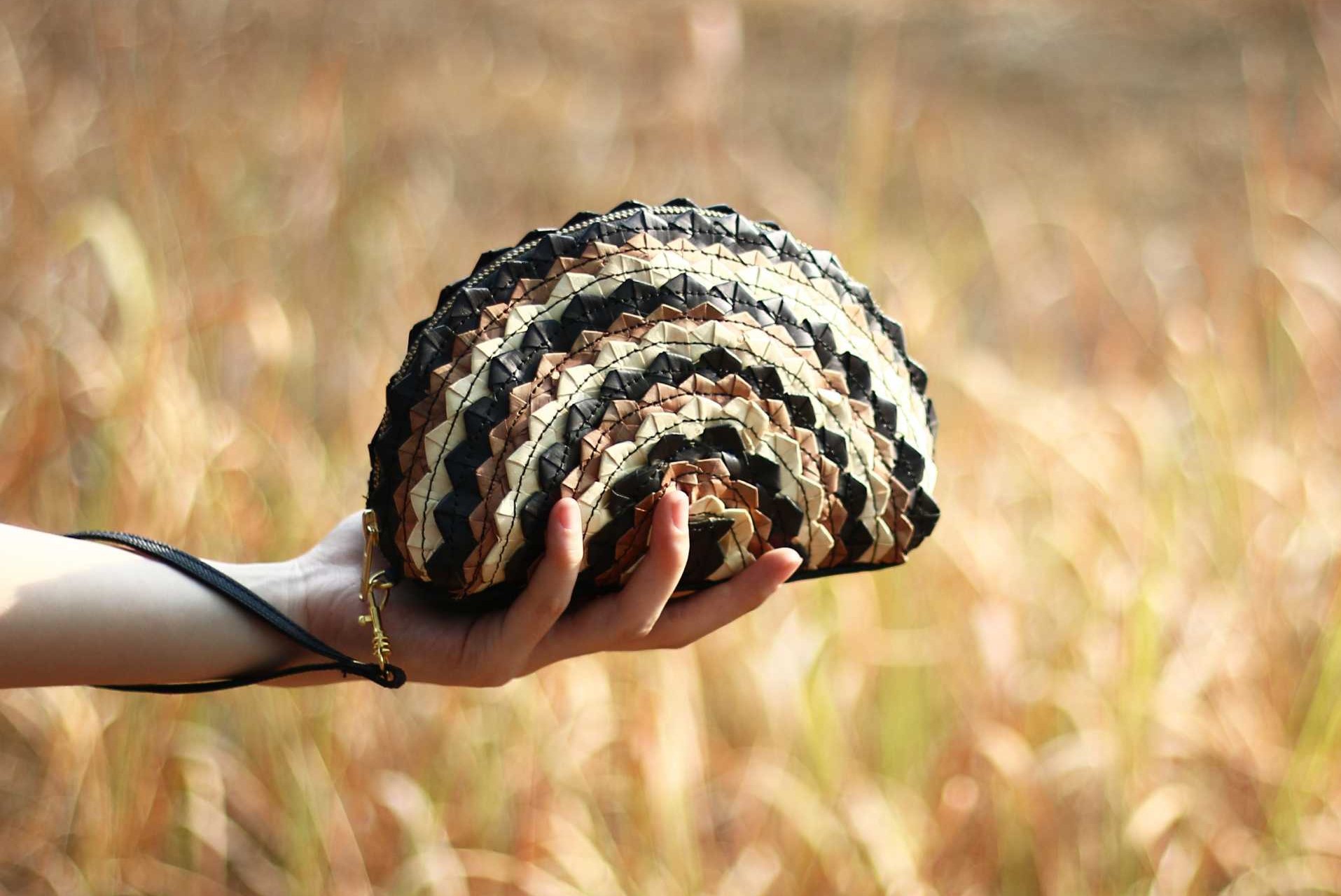 Local craftswomen from Flores weave Palmira leaves into the raw materials used in a range of handmade products.
(Photos courtesy of Du'anyam)
They decided to use these woven materials to create a range of consumer goods to meet the growing demand for Indonesian crafts and handmade products while also boosting the income for the local craftswomen. Since the business began in 2014, Du'anyam has grown to employ more than 1150 weavers from 50 villages across Flores, with sales in 2019 surpassing 37,000 products.

Looking to the future, Ms. Winata hopes to expand this business model across the country. "We would like to empower more women in different regions and cities in Indonesia while promoting the culture of crafts and the local wisdom to the global market. We would like to promote Indonesia as a country through crafts."
Sunkrisps — healthy food for healthy families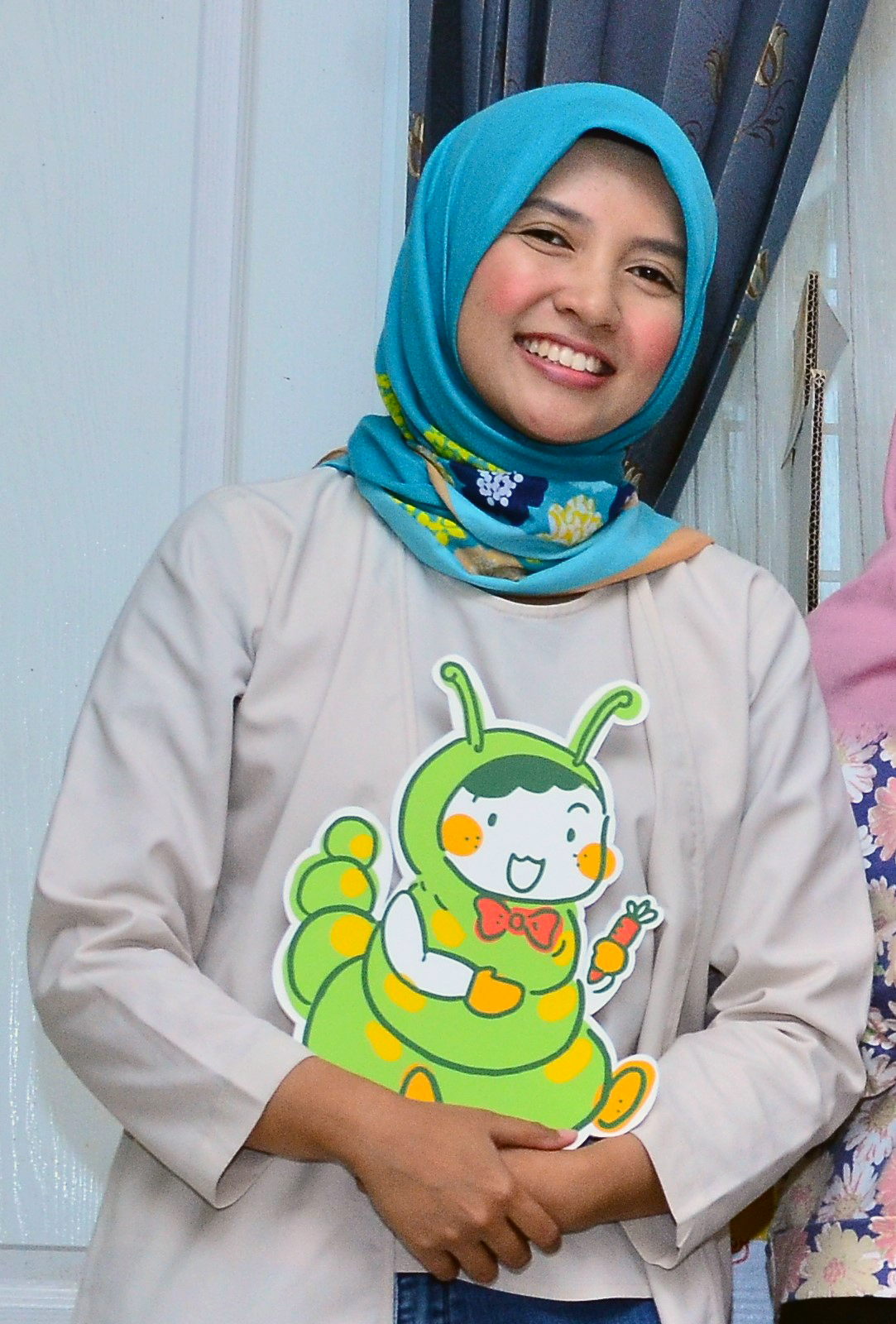 Sandra Alfina, co-founder of Sunkrisps
With the tagline of "when veggie becomes tasty," healthy snack production company Sunkrisps has been on the forefront of developing the healthy food market in Indonesia. The key ingredient to these snacks? Kale, which is exclusively sourced from local organic farmers.
 
"We want to nourish children in the world so they can be the brightest generation," explained Sunkrisps founder Sandra Alfina, crediting her own experience with cooking healthy foods as an inspiration behind starting the company. She decided to make kale her centerpiece ingredient. However, she quickly realized that she needed to educate the broader Indonesian population about not only the health benefits of kale, but also ways to enjoy the products. She did this through an ambitious outreach program and promotion through recipes for foods like Japanese onigiri (rice balls) flavored with tuna and kale seasoning.

Since its founding in 2015, Sunkrisps has grown from a microbusiness with all food products made by Ms. Alfina herself into a company with products in 300 stores across Indonesia and processing more than 300 kilograms of vegetables every month. While the current customer base is still relatively niche, the health food market in Indonesia continues to grow and Sunkrisps is looking to shift to a wider audience using more familiar foods like popcorn and rainbow puffs, a popular local snack.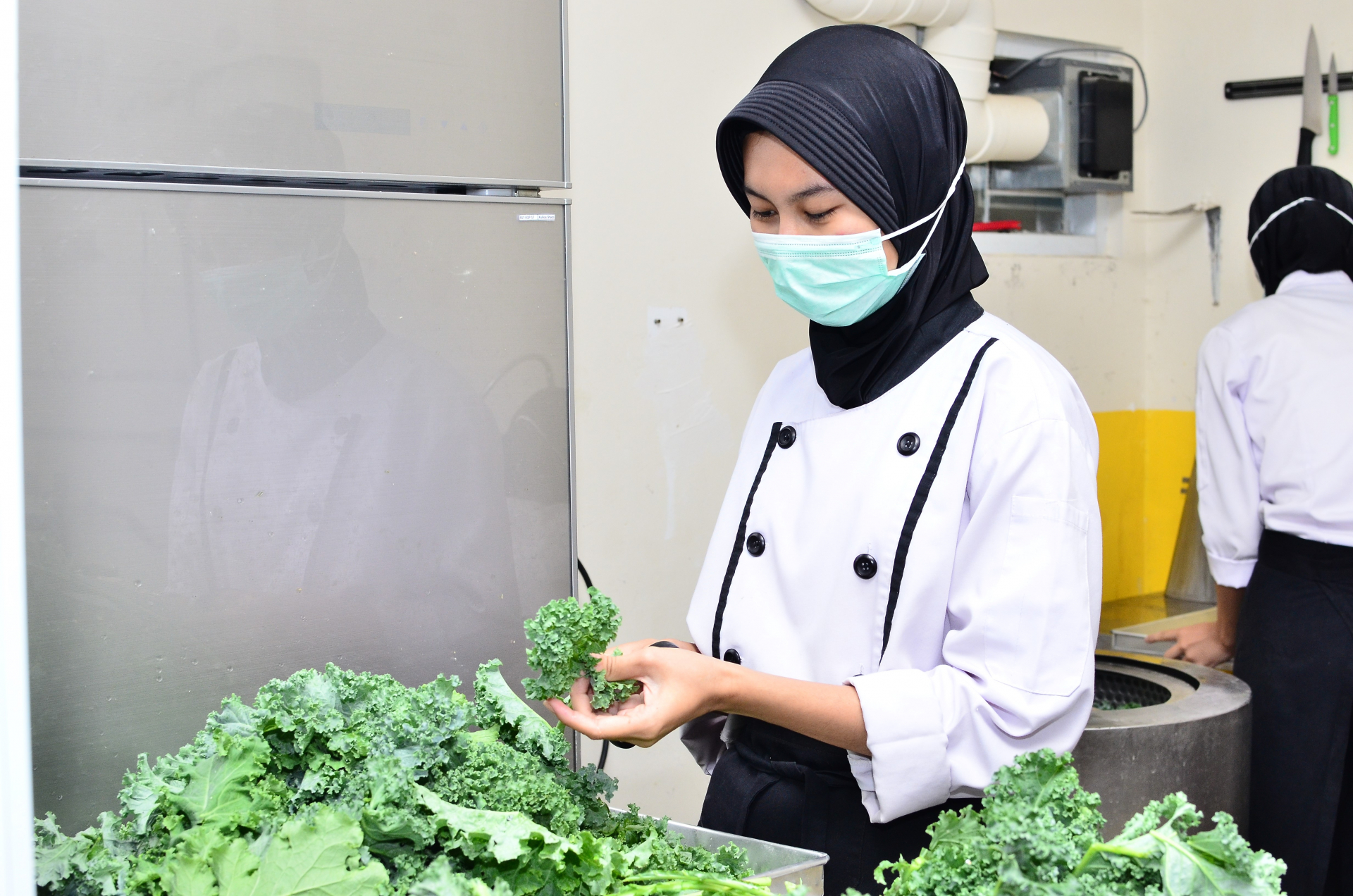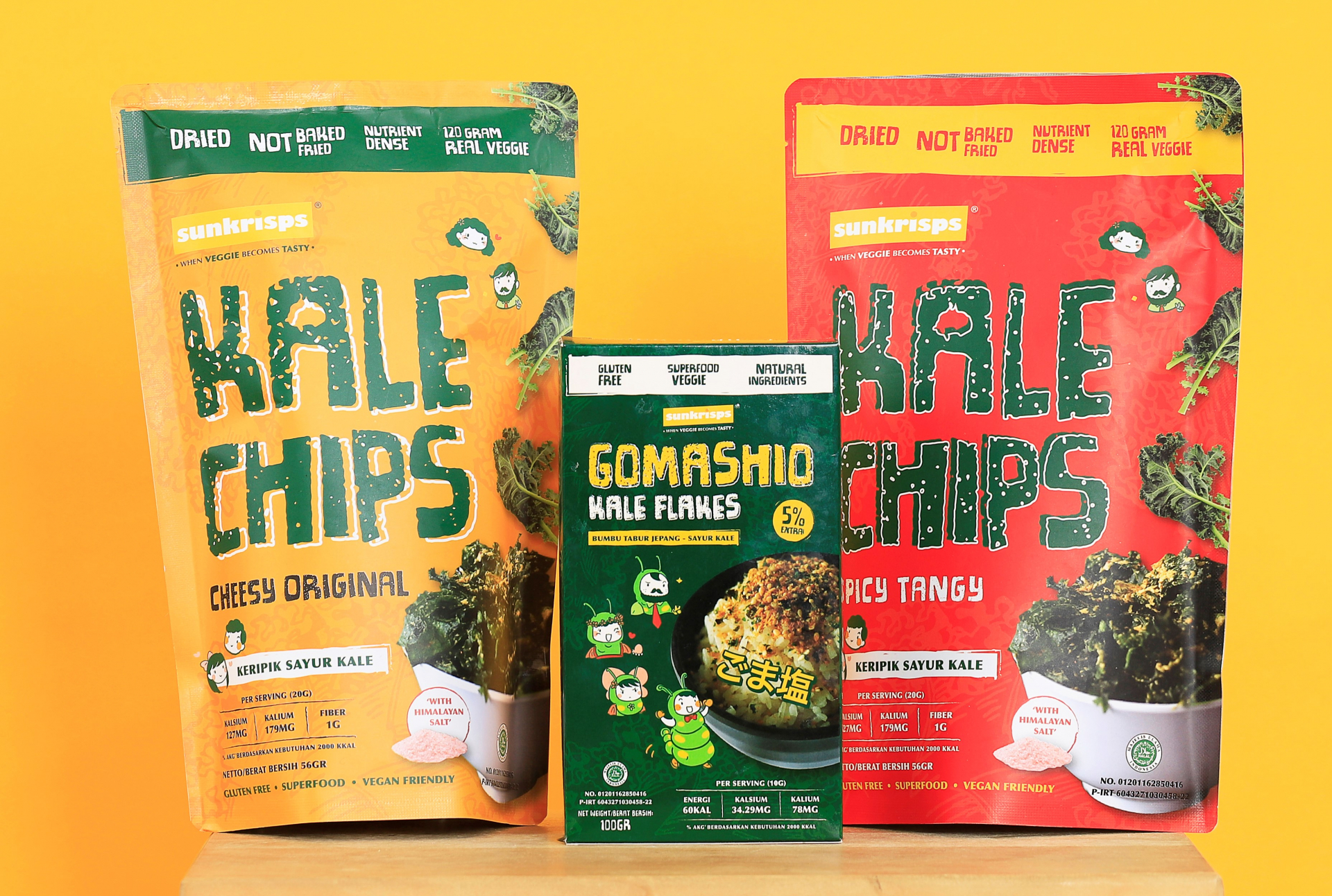 Sunkrisps makes a range of healthy snacks using kale. (Product photo courtesy of Sunkrisps)
In addition to providing nutritious food to its customers, Sunkrisps is also committed to providing professional development for its employees, most of whom are vocational school graduates, by creating a promotion scheme that brings workers from production to more specialized jobs in distribution, research and development, and other positions as the business continues to grow. This dedication to human resource development has had an outsized effect on women, who make up 13 of the 15 Sunkrisps employees, 90% of the consumer base, and more than half of the farmers and suppliers.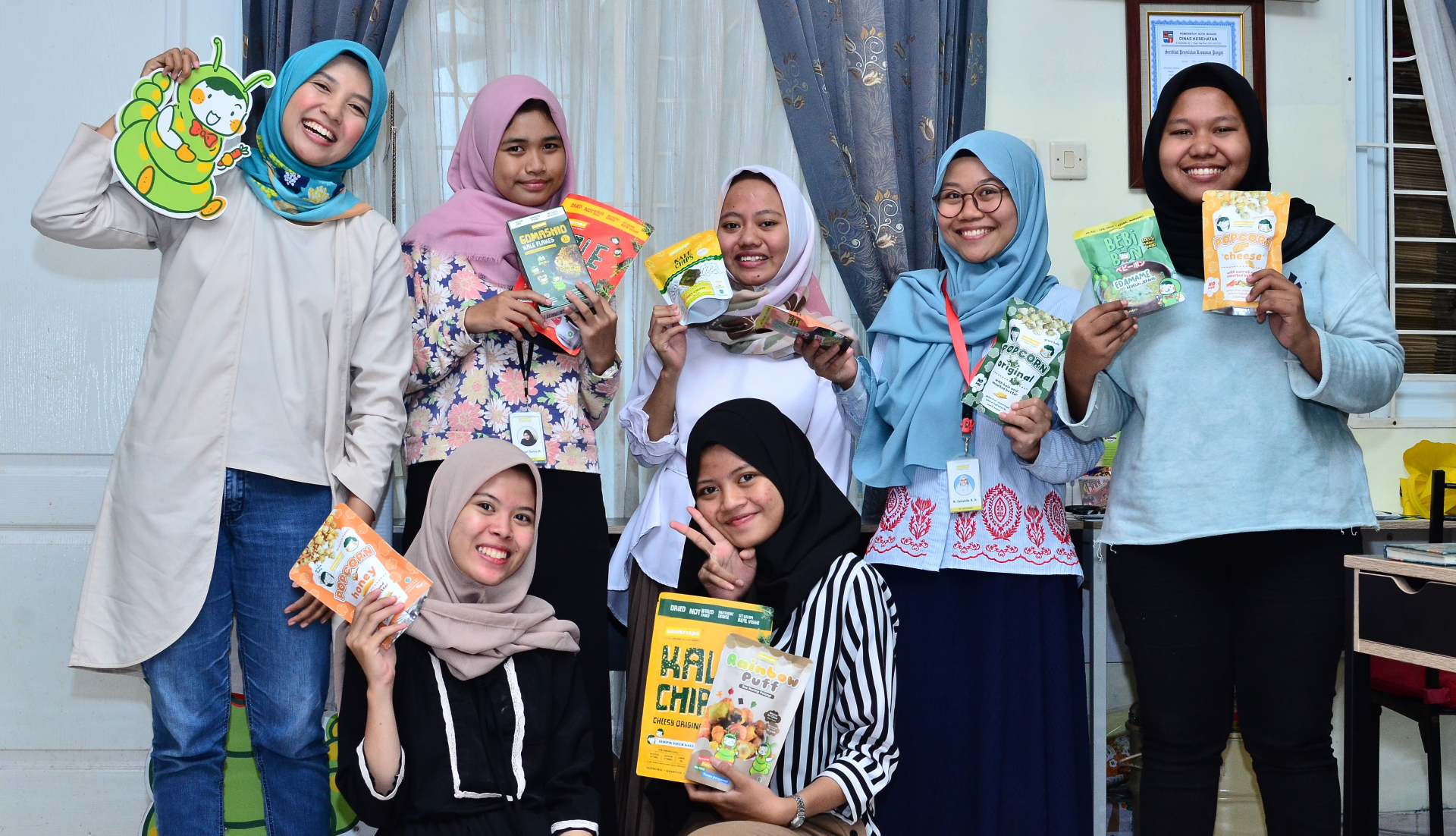 Sunkrisps has made professional development a central element of its business.
"I didn't intend to hire more women actually at first, but maybe because I am a hardworking woman, maybe the employees that are attracted to Sunkrisps are women also. It is a privilege for me and Sunkrisps to have them in our company," said Ms. Alfina, noting the unique role social enterprises have in supporting women. "I think it's true that when we are entrepreneurs, we can do more impact."
GandengTangan — online crowd-lending for underserved businesses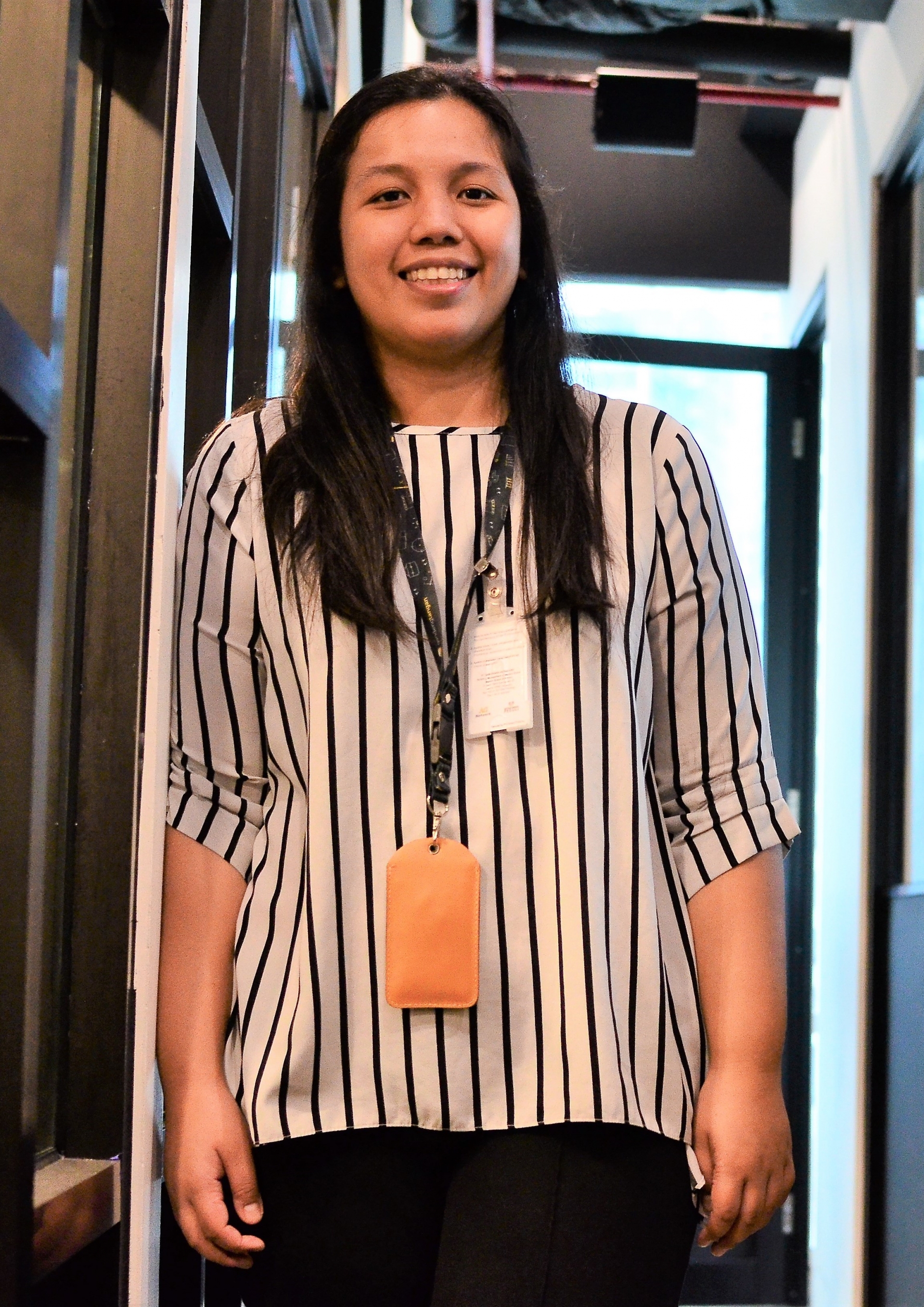 Jezzie Setiawan, founder and CEO of GandengTangan
Jezzie Setiawan, founder and CEO of the peer-to-peer cloud lending service GandengTangan, or "hand in hand" in Bahasa, originally intended to work in the traditional financial sector in Indonesia. However, while studying abroad in the UK, she felt increasingly troubled by the discrepancy between Indonesia's growing economic clout on the international stage and the reality that more than half the population continues to live in extreme poverty.
 
"I think that the people who get some kind of privilege or opportunity to be able to study abroad, it's their duty to contribute to the more than 50% who still live below two dollars per day," explained Ms. Setiawan. To help solve this issue, she turned to social enterprise.

The company she helped to create, GandengTangan, is an online lending platform that helps provide loans to the approximately 97% of the workforce in Indonesia that are what she called "informal entrepreneurs." The recipients of these loans are often the individual kiosks that sell consumer goods.
As one example, a kiosk owner might receive a loan worth 1,000,000 rupiah (80 USD) to buy merchandise in bulk, creating a higher profit margin and allowing the business owners to repay their loans in a shorter time. This system also creates the opportunity to access funding through non-cash vouchers, giving greater financial freedom to borrowers who cannot qualify for bank loans. In practice, this lending strategy has had an outsized impact on women, who make up approximately 70% of the borrowers.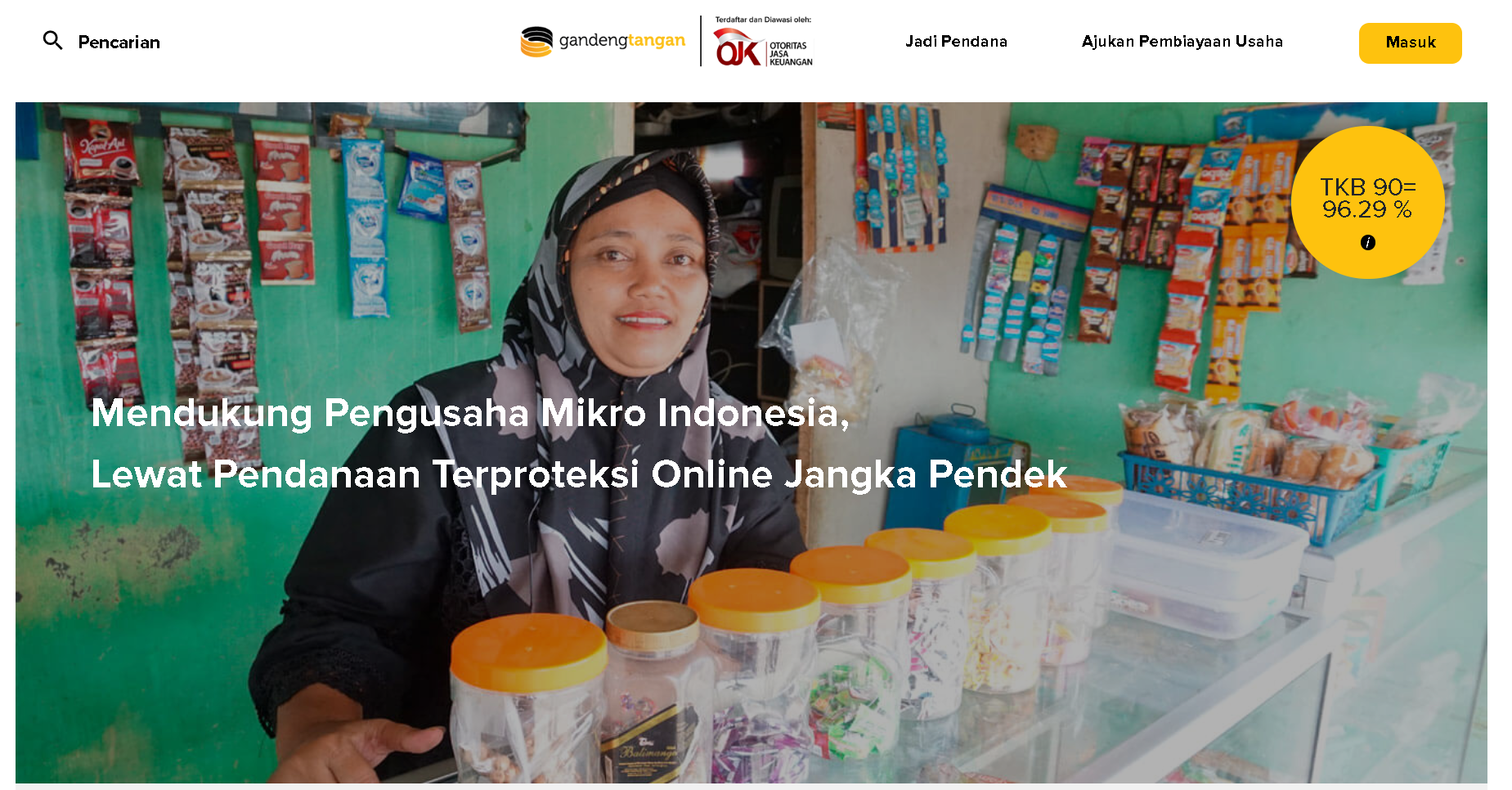 GandengTangan, an online lending platform that helps provide loans to "informal entrepreneurs" in Indonesia
(Photo courtesy of https://gandengtangan.co.id/)
In addition to providing capital for underserved businesses, the company also manages a system of local trustees who act as human intermediaries between potential borrowers and the lending platform. Through training and support programs provided by GandengTangan, these trustees are able to develop their own business expertise, providing them with marketable skills and boosting their confidence.
The critical impact of mentorship and support
While each of these founders embarked on their own unique journey to social enterprise, all of them benefited from the support from mentors, giving them a leg up in the ultra-competitive world of startups.
 
For Ms. Winata of Du'anyam, the input provided by incubators and angel investors proved critical to keeping the business competitive. "We have all the energy, we have our idealism, but the business experience of running a company was very lacking at the beginning," she explained. "In this era, it is very easy to access information, so we need to move fast. That's how we learn and we keep learning from mentors and investors, the ones who has more experience than us."
 
Ms. Alfina of Sunkrisps also opted to take advantage of incubation and acceleration even from the early stages of the business, allowing her to tap into the extensive support network in Indonesia. As her business continued to grow, she participated in several capacity building programs through Indonesian incubator Instellar and also entered the Indonesia Impact Accelerator Program (IIAP) run by Kinara, ultimately walking away with $25,000 in funds to expand her already growing business. However, beyond financial support, the creation of a network of entrepreneurs allowed for a collaborative environment that supported not only the business side but also the mental wellbeing of the business owners.

SPF has recognized the critical role played by mentors and intermediaries in supporting an entrepreneurial ecosystem that provides opportunities for women-led and inclusive businesses. "SPF is committed to bringing lasting impact to the people and communities that we serve throughout Southeast Asia," explained Ayaka Matsuno, Director of SPF's Gender Investment and Innovation Department. "As part of this work, we aim to enable social entrepreneurs to provide sustainable solutions and impact to their communities, and we believe that supporting intermediaries is crucial to create an environment where these social enterprises can succeed."
 
The GLIA toolkit, which will be launched on February 13, 2020, at the Asian Venture Philanthropy Network (AVPN) Southeast Asia Summit in Bali, Indonesia, is a key component of the foundation's commitment to supporting intermediaries. This interactive resource provides guidance to accelerators and incubators across Southeast Asia in an effort to create a more inclusive business ecosystem and support ventures that leverage the power of entrepreneurship to create a better world.
Jackie Enzmann, Chief Editor
Photos by Agus Sanjaya
For more from the Gender Investment and Innovation Department, please visit the program page.